Good evening!
Wow what a day…a hot, hot, hot day in the bakery! I even had the A/C on and I was still hot and flustered all day long. The thermometer read 37C at the peak of the day today. I was like a worried mother watching over her child whenever I thought about my dear Basil plant in this sweltering heat. I made sure to water it at lunch! So far so good.
I want to give a huge shout-out to my early morning run for keeping me energized all day long! I think I am going to be hooked on AM workouts again. I felt so great today.
For tonight's dinner I dreamed up this fun veggie pie. I don't think I have ever made a veggie pie before so I thought it would be fun to combine two of my favourite things- In A Jiffy Spelt Veggie Burgers and my spelt pie crust.
This is just a first trial version and I am open to your ideas/modifications/suggestions below!
First things first, I have transitioned to Iced Green Tea during this heat wave!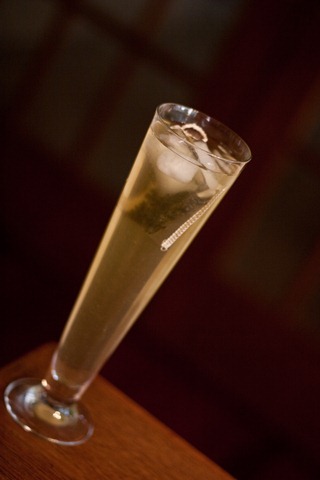 I made a huge pot of green tea last night (when I prepped my VOO!) and then I chilled it in the fridge overnight. This morning I simply poured my green tea into a glass, added 1 Mighty Leaf Spring Jasmine tea bag, and ice, ice baby. So refreshing!
I added this tea bag to add more flavour because the ice waters the tea down and you know how strong I like my green tea!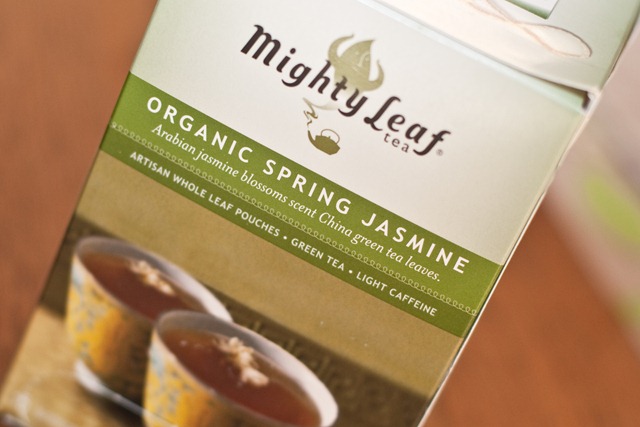 This Mighty Leaf Organic Spring Jasmine tea is EXCELLENT! The jasmine flavour and aroma is truly relaxation in a cup. Mmmm.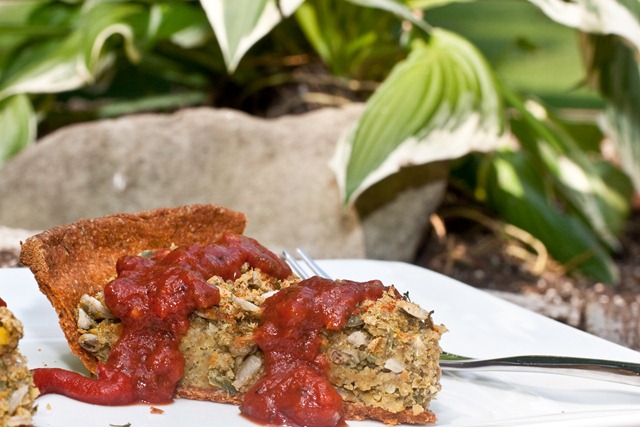 In A Jiffy Spelt Veggie Pie
Spelt Crust:
1 cup spelt flour
1/4 cup ground flax
2 tbsp cold-pressed sunflower oil (or EVOO)
1/4 cup almond milk
1/2 tsp sea salt
1 tbsp tomato paste
1 tsp dried parsley
Directions: preheat oven to 400F. Grease a pie crust with oil.  Whisk the spelt flour and ground flax in a large bowl. In a small bowl mix the oil, milk, salt, dried parsley, and tomato paste together. Add the wet to the dry and mix well, using hands if necessary. Roll into a ball and then roll out with a rolling pin or simply use your hands to flatten into a pie crust. Pinch the edges with your forefinger and thumb.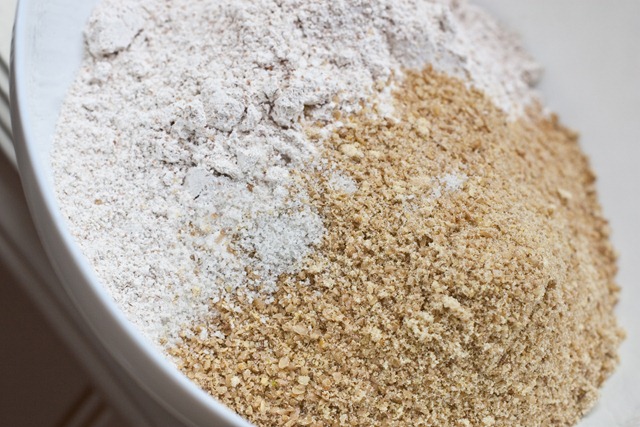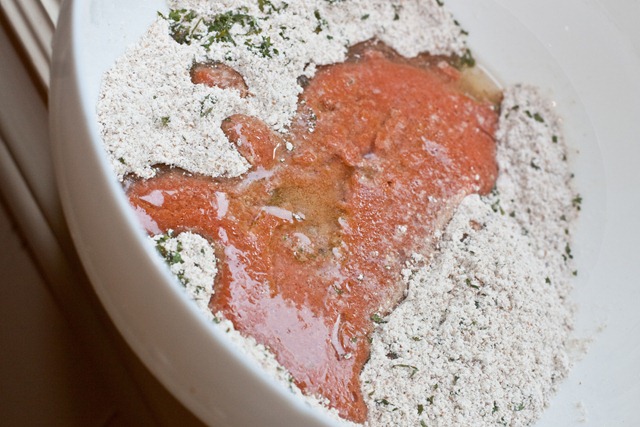 Roll into a ball…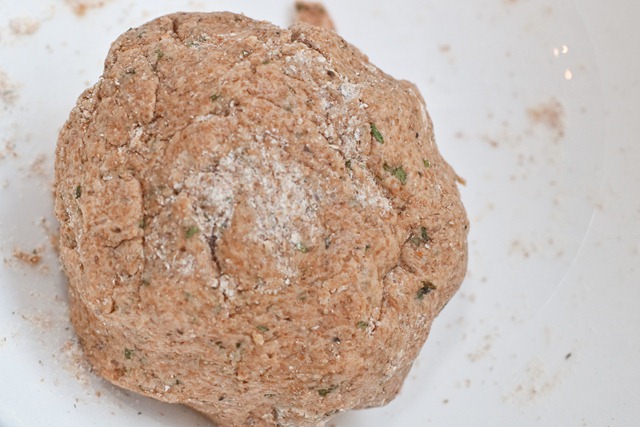 Roll it out or simply press into pie pan with fingers.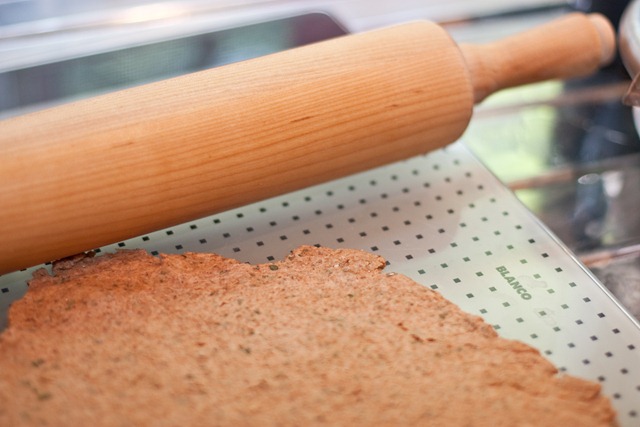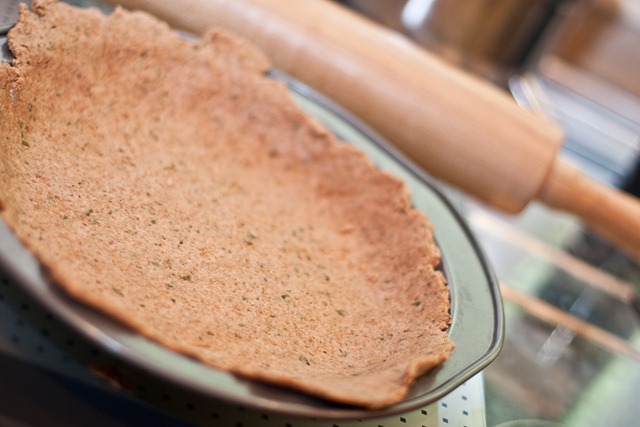 Pinch edges with thumb and forefinger..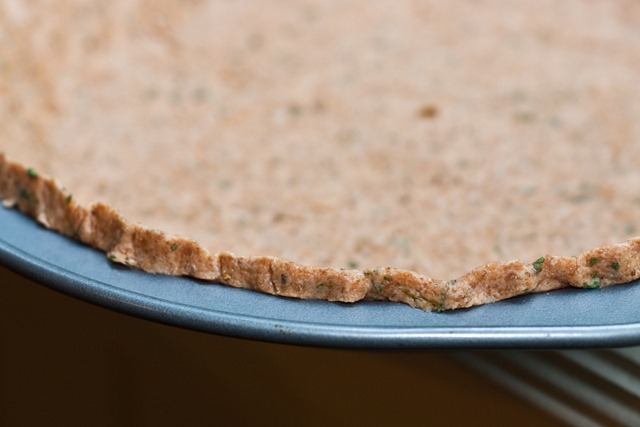 The tomato paste gave the crust a beautiful shade!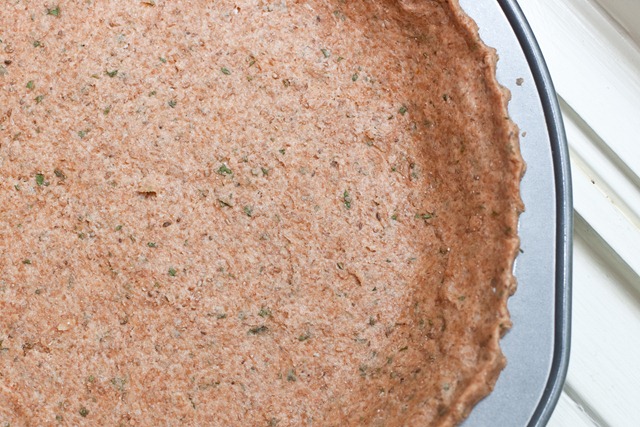 For the pie filling, I used the In A Jiffy Spelt Veggie Burgers. For the recipe, see here. I dumped the entire batch into the pie crust like so…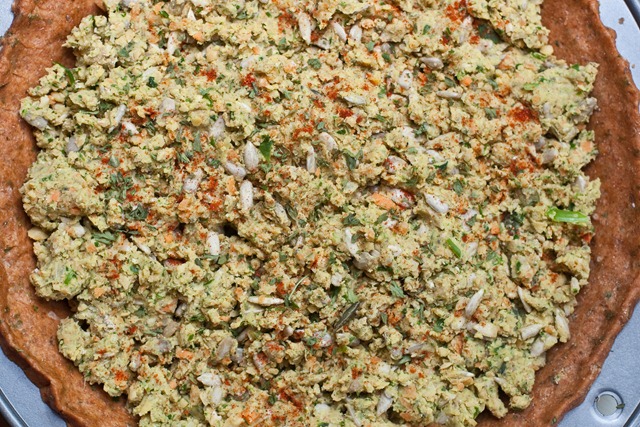 and I sprinkled it with paprika…LOL.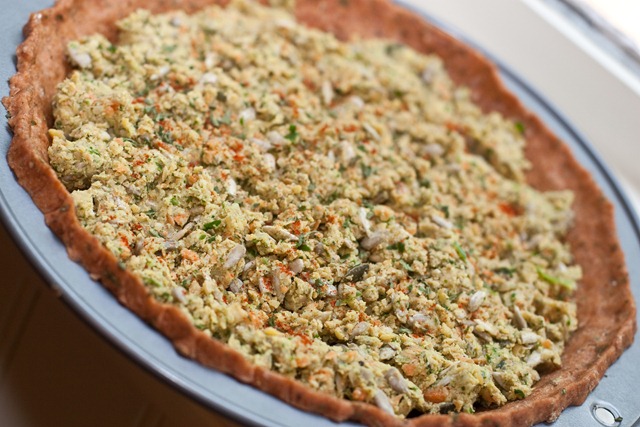 I also made an oat-based crust using 1 cup oats, 1/2 cup flax, 1/4 cup sunflower oil, and 1/2 tsp sea salt– processed in a blender until smooth.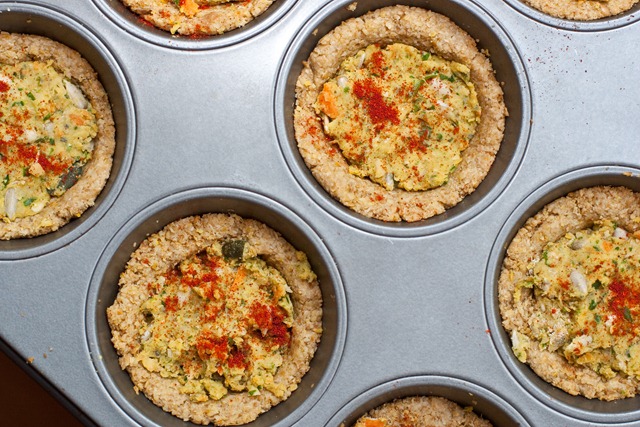 I took a muffin pan and shaped little tarts with the crust (about 1 heaping tbsp per muffin) and then topped them with more veggie burger mixture.
I baked the veggie pie and tarts in the oven for 20 minutes at 400F.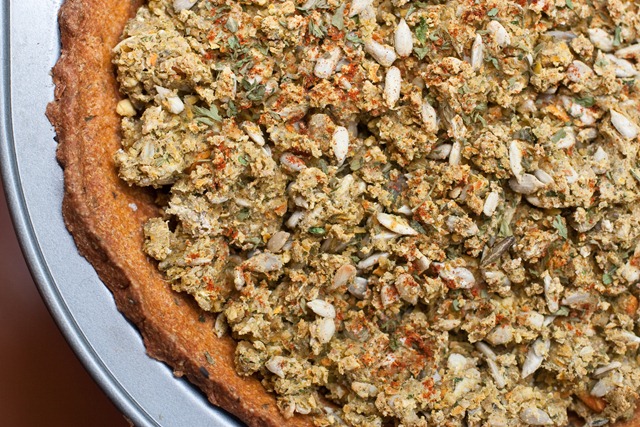 I actually baked the pie for 30 minutes and it was way too long. I browned it a bit too much and it dried out as a result. Next time I will stick to 20 minutes and possibly incorporate some of the changes below…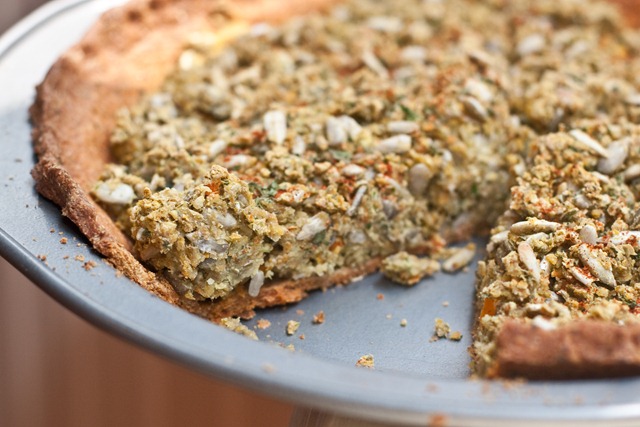 Ways to make the pie more moist/less dry:
Possibly adding oil/water/milk to the veggie burger mixture to thin it out a bit and give it some moisture
For non-vegans you could try adding an egg
Add chopped tomato to the veggie mixture
Adding a layer of tomato sauce on top and a layer of hummus on bottom
Any other ideas?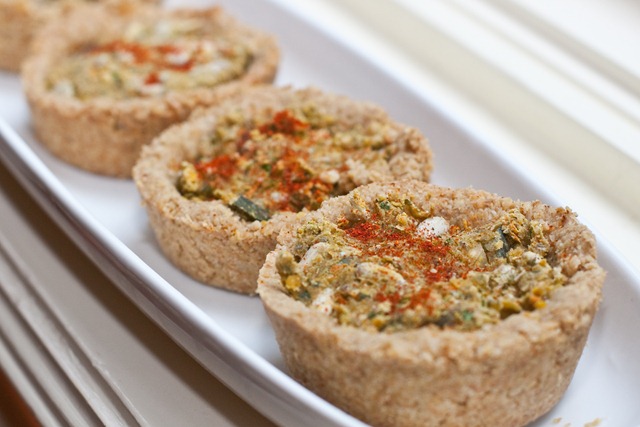 Both turned out great tasting, although they were dry and need some tweaks!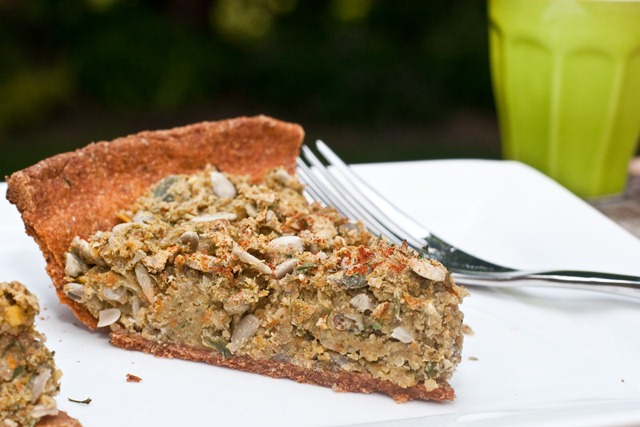 I tried ketchup and pasta sauce and they were both pretty good.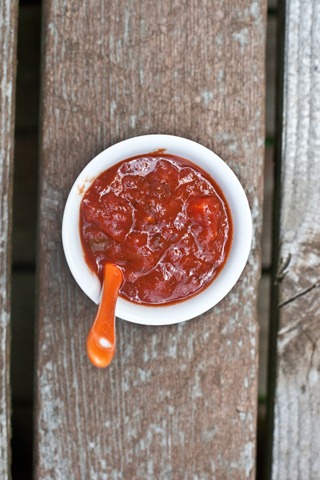 However, I added a thick layer of hummus on top and I liked the hummus the best by far! It made the whole veggie pie come alive. It could be really delicious to spread a layer of hummus on the bottom of the pie before baking! The possibilities are endless.
All I craved for dessert was dried fruit…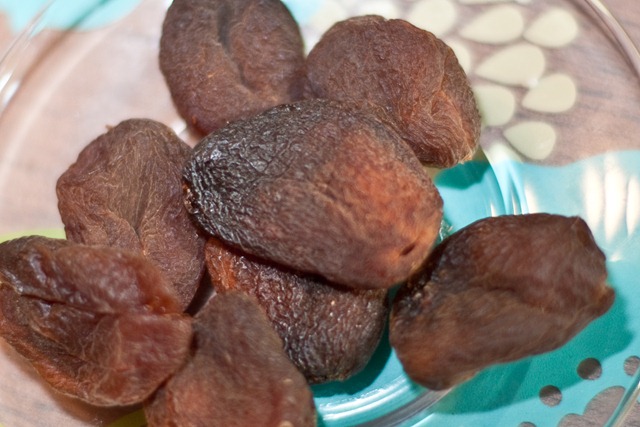 Did you know dried apricots are really high in iron? They are a great way for anyone, especially women, vegetarians, and vegans to get a boost!
Here is a handy iron guide that I found the other day: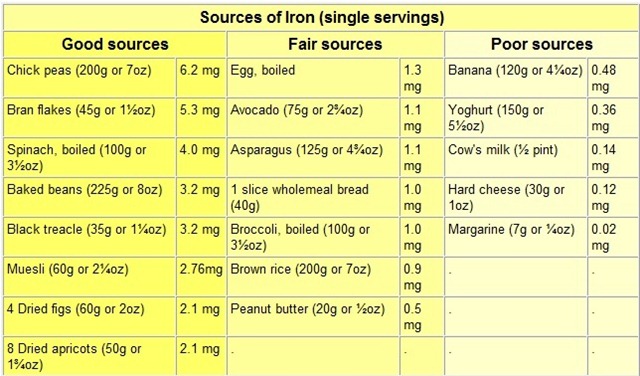 [source]
I also devoured this dried fruit bar from Trader Joe's…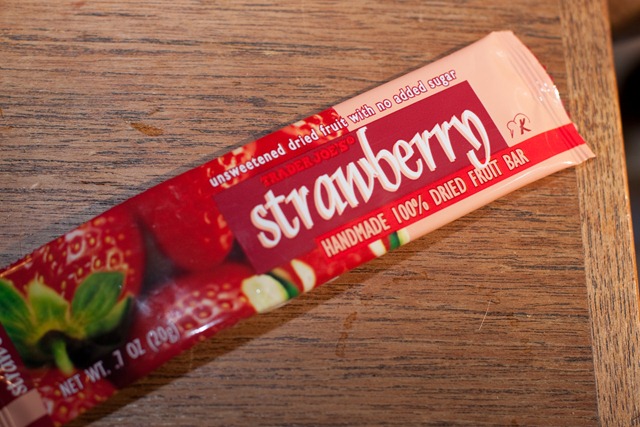 I think my body was telling me something!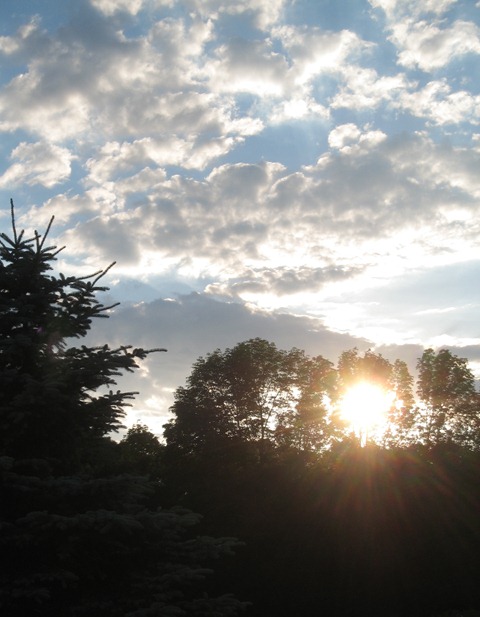 Tonight's questions: Do you pay attention to what vitamins you need/obtain from food or do you just try to eat balanced and not worry much about it? Do you take vitamin supplements?
Generally, I don't worry much about tracking my vitamin intake, however I do supplement with B12 (once a week), calcium/magnesium (daily), and vitamin D (in the winter) just for peace of mind. I also believe that our bodies will crave certain foods based on what it needs. I have my vitamin levels assessed yearly at my doctor's office and I have yet to be told that I am low in anything, so I figure the variety of plant-based foods I am eating must be keeping me on track. My iron is actually higher now than when I was an occasional meat-eater (I used to be anemic for a while in university). My doctor always says, 'Keep doing whatever you are doing!' 
I'm off to relax outdoors with Eric…Stay COOL out there!  :cool: