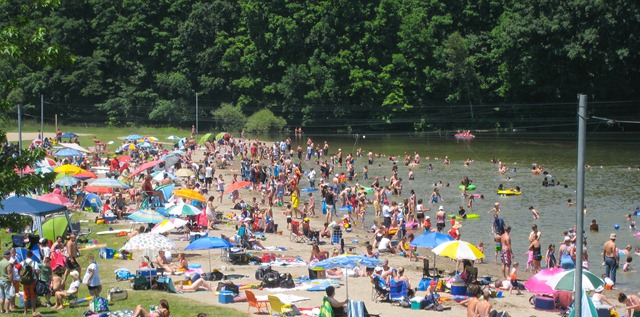 Yesterday was a smokin' 36C/96F and beach was packed! We went to Kelso beach once again to practice our open-water swim.
Thankfully it was flooded with lifeguards! There were even lifeguards farther out where we did our practicing.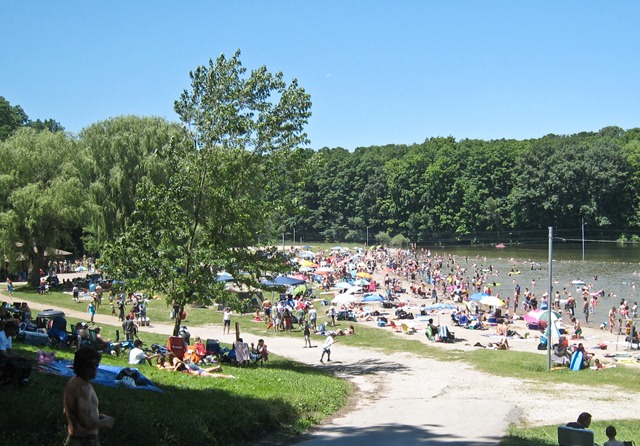 I admit, I had butterflies in my stomach. I always have butterflies before open-water swims!!! The swims do get easier though, I will admit. All in all, I am much more comfortable in the lake now…I don't even get frazzled by seaweed on my face now, which is a victory in itself. We were in the middle of our swim and Eric was near me and he started cracking up because apparently I had seaweed ALL OVER MY FACE and HEAD…and I had no idea it was even there! How hardcore am I?!  :lol: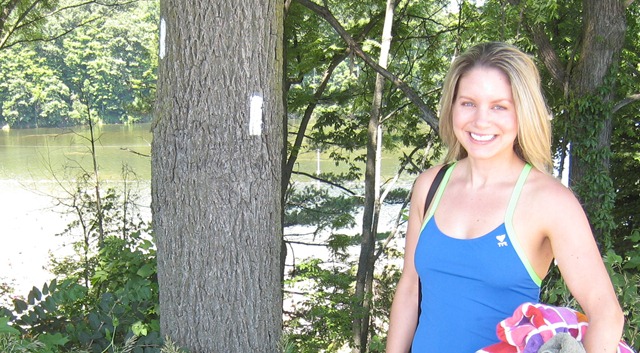 As I mentioned previously, if you swim along the buoys (near arrows), there and back = 350 metres which makes it a great place to train for a try-a-tri (375 metres)!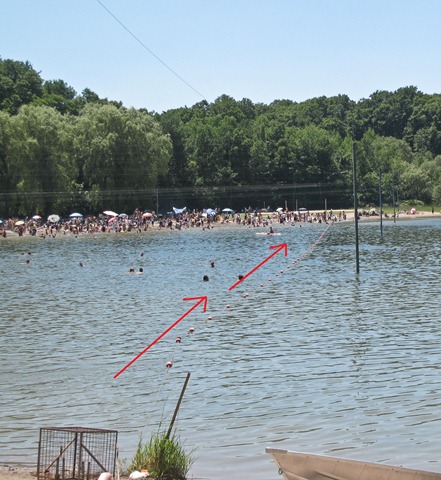 Oh it was COLD getting into that water yesterday because the air was sooo warm it made the water feel like ice. Totally the opposite of our try-a-tri when the air was freezing and the water felt like bath water.
During our last open-water swim, we made the mistake of trying to swim the entire 350 metres right from the start and we felt a bit overwhelmed. Today, we made sure to warm up first by doing small 'laps' of about 25 metres or so until we got comfortable. After the warm-up we swam about 50 metres at a time, there and back and overall we felt like this swim went better than the last. We swam for around 30-40 minutes, but I honestly have no idea as we didn't have a watch on hand!
Our Belwood try-a-tri is quickly approaching and we are both feeling a bit nervous because we haven't had much time to practice lately. We are really going to have to amp up our training over the next couple weeks if we are going to be ready.
POST-SWIM HUNGER!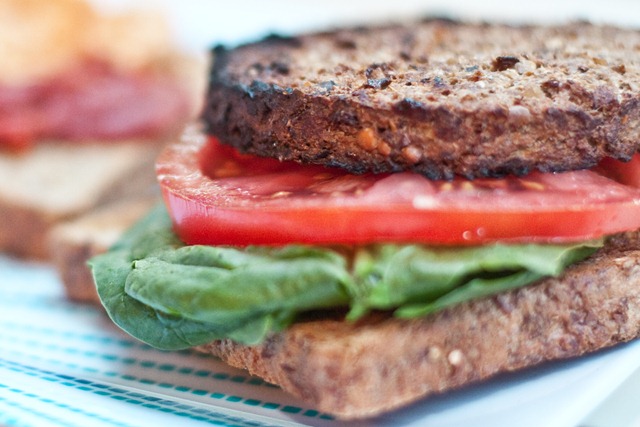 Eric fired up the grill as soon as we got home!!! Bless his kind soul.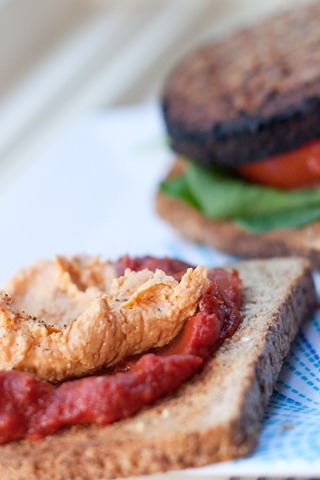 He made me an Amy's Texas burger and I topped it with spinach, tomato, tomato paste, sea salt, and red pepper hummus. WOWIE!!!! This was awesome. On Ezekiel toast of course.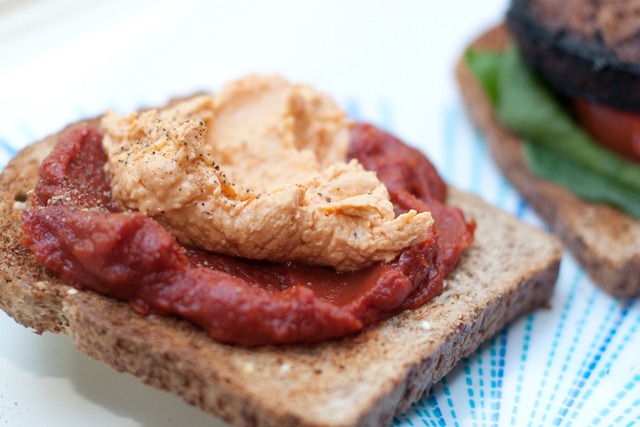 He also grilled zucchini…it was SO juicy it squirted me in the eye!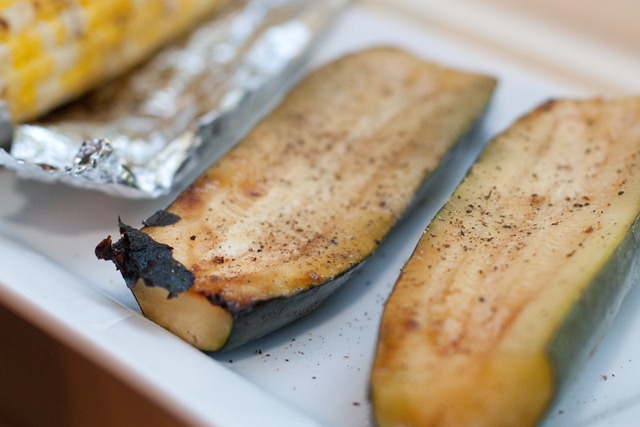 drizzled with EVOO, S + P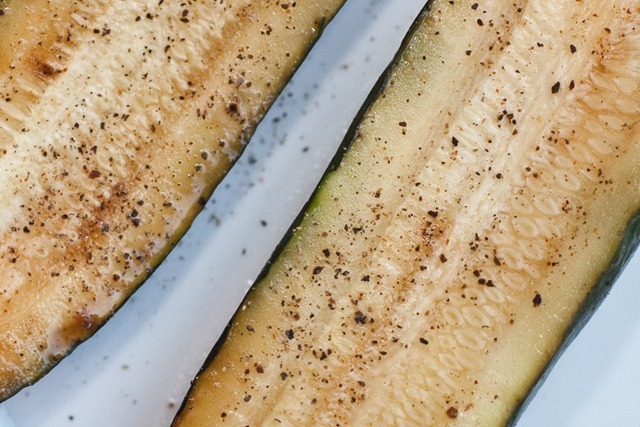 and corn on the cob slathered in earth balance…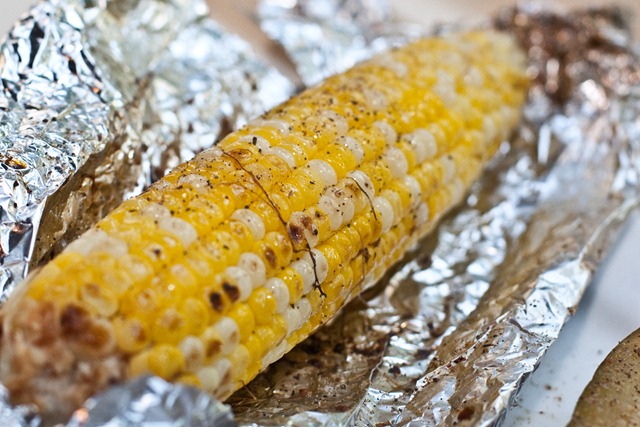 I almost burned my mouth on this because it was just so good and I couldn't wait patiently!
Incredible post-swim dinner, it was.
Then we ran some errands and we were pretty much zonked after that so we decided to have a movie night, watching Mr. and Mrs. Smith, while eating some Cherry, Banana, and Coconut Butter bread!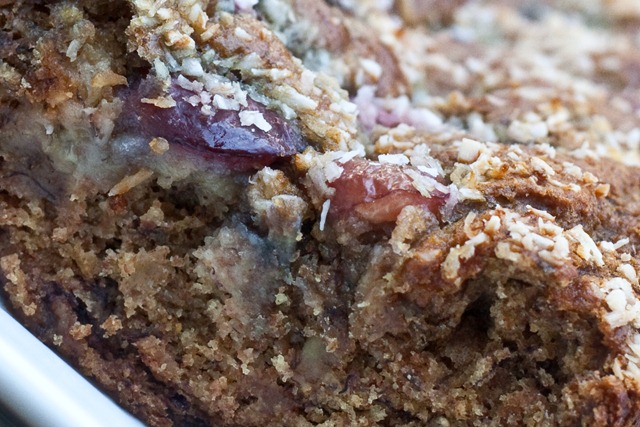 I proceeded to eat two huge slices the size of my arm (how is that for portion control!!) and then pass out on the couch at 9pm! I don't think I have been to bed earlier than 11pm in a dog's age.
I stumbled into my bed around 11pm and slept until about 6am when I naturally woke up. I felt sooooo much better this morning. I really needed that break yesterday, especially now that I am working on Saturdays I don't get much time away from work. I didn't so much as touch the computer yesterday morning after I posted. It was awesome and much needed disconnect.
Today is another scorcher outside, however unlike yesterday today is humid, humid, humid! YUK! I knew I had to get in my run asap this morning, so I headed out around 6:30am. Before my run I snacked on a new raw + GF Glo Bar flavour I am working on. Any guesses as to what flavour this is??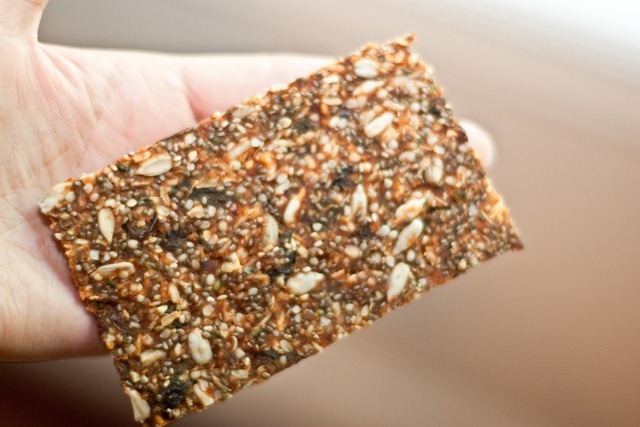 I walked outside this morning expecting to find a crisp and cool morning, but I was met with humid air so thick I could have sliced a piece and had it for lunch. Thank goodness for Camelbaks!
My goal for this run was to challenge myself to stay under 9 minute miles. My Camelbak was full and I was ready to go!
The Run:
Distance: 3 miles
Time: 26:15 mins
Avg Pace: 8:45 min/mile
Mile splits:
Mile 1: 8:59
Mile 2: 8:51
Mile 3: 8:24
What a beautiful negative split this run was!!! After almost a year and a half of running, I finally feel like I am getting a handle on running negative splits. It makes runs a lot more challenging and I highly recommend them if you need to add some interest into your routine runs.
I came home and sweat poured out of my pores as fast as I could replenish my body with water. No joke. This humidity is sickening! I need some nice dry heat….
Or a Green Monster will have to do!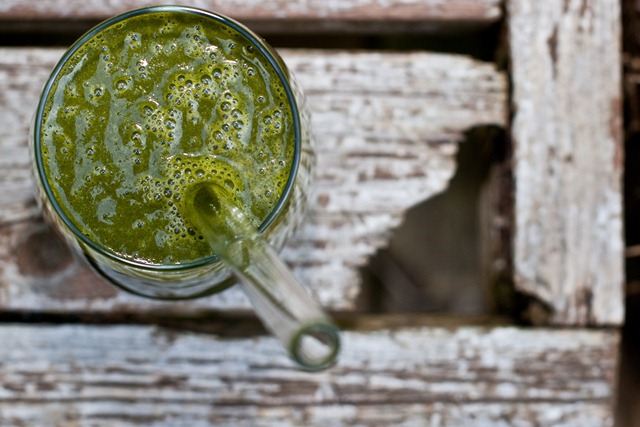 Green monsters are pretty much the perfect post-run snack!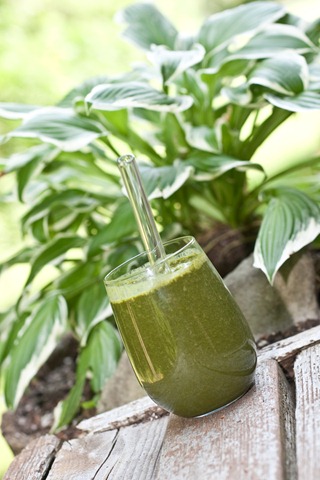 In this bad boy was: 1 cup almond milk, 3 kale leaves, spinach, 1 frozen banana, 4 pitted cherries, 1/2 scoop Amazing Grass wheatgrass powder, 1 tbsp chia seeds.
Today's question- Do you have to modify the time you workout in the summer? Do you have to switch to evening workouts or get up earlier before it gets hot? What are your summer workout strategies?
This was one of my first early morning workouts in a long time. With myself being so time-crunched in the mornings to get my orders out, it is difficult for me to squeeze in workouts before 6:30am, but I really enjoyed being done my workout by 7am this morning! I might see if I can work it so that I switch to a few early morning workouts each week. It is so nice not to have it hovering over me the whole day!
"Even if I don't reach any of my goals, I've gone higher than I would have if I hadn't set any"
-Danielle Fotopoulos, soccer player