One of the reasons why I love Eric is because he is fearless. He has gone Skydiving in Australia, bungee jumping in Niagara, and whitewater rafting in Ottawa. He is a thrill seeker by nature and nothing really seems to frazzle his nerves.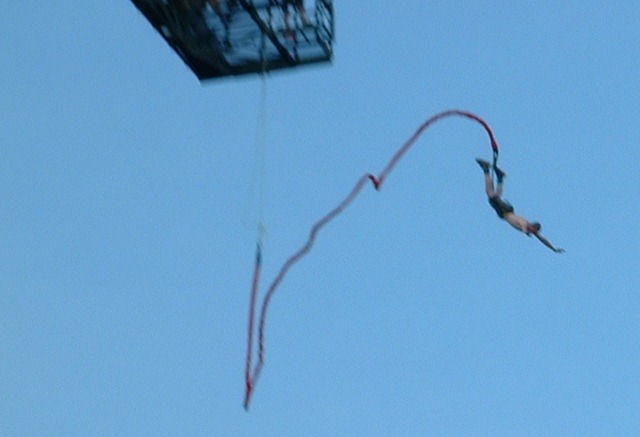 Wheeeeeeee.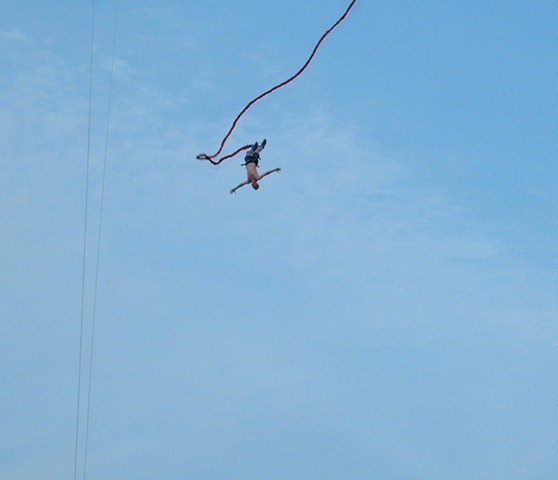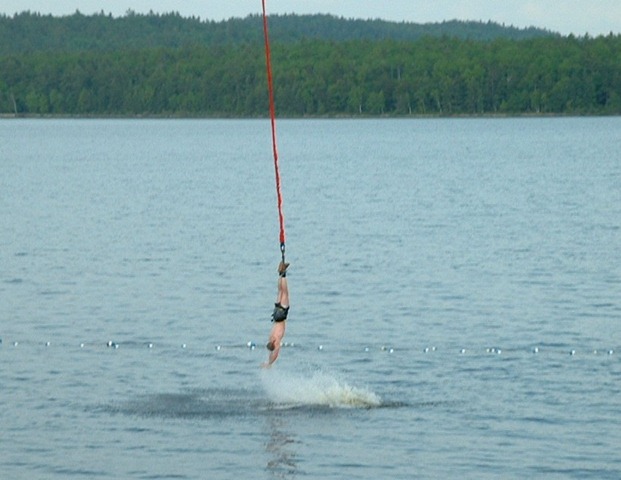 PS- I'm trying to get him to upload his skydiving video too…it's crazy!
So yes, he is fearless, or should I say mostly fearless. Everyone has a demon that they fight…
Eric fears monsters.
Not the kind that sleep under your bed at night though, but the kind that sleep in bed with you.
The PMS Monster.
The PMS monster is a term that Eric uses to describe the monthly occurrence when his wife turns into a somewhat less pleasant, irritable, and hormonal version of herself (to put it kindly).
Eric and I generally have a very fun-loving and playful relationship. We joke, we laugh, we are sarcastic as hell, and we make fun of each other all the time. It is all in good fun. However, Eric always knows when the PMS monster has surfaced when his normally funny jokes are met with the look.
When Eric sees the look, he slowly backs away from the PMS monster. It can strike at any time, without warning.
While I have never suffered from crippling cramps or other horrible PMS symptoms, I would say that I do have a moderate amount. I get lots of abdominal cramps, bloating, lower back pain, moodiness/irritability, tenderness, and a tiredness that I can't shake despite getting a full 7-8 hours night of sleep. Every morning for a week I wake up feeling like a zombie.
Every month, without fail, the PMS monster strikes whether I like it or not.
This morning I woke up irritable, bloated, and with lots of cramps and lower back pain. I woke up on the wrong side of the bed, that is for sure. I decided that today I was going to do everything in my power to fight the PMS monster and to turn my mood around.
I told Eric that I was going to write a post on How To Beat PMS…and he goes, 'Ummm…I wouldn't say that you beat PMS….'
Touché.
I said, 'Yea, well I know that you suffer from P-'man'-S!'  I learned in a psychology course that there is a male form of PMS when men experience hormonal shifts on a cyclic basis. Male PMS explains so much!!!
How To Beat the PMS Monster:
1) As soon as you wake up make a Green Monster packed with greens or make a fresh vegetable juice. This morning when I got up I made a juice with spinach, lemon, beets, ginger, and carrots and I felt so much better after drinking it.
2) As soon as you can (preferably the morning), get in a hard, sweaty, tough workout. Normally I skip my workouts when I have cramps, but this morning I vowed to get outside and get in a tough workout to whip my mood back into shape!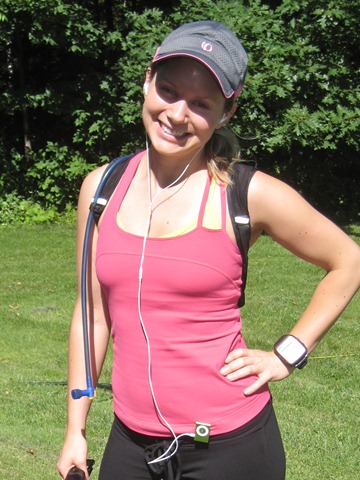 I kept telling myself, 'You will feel like a million bucks when you are done!' over and over and over. I had to believe that a miracle was possible. 
Eric is on vacation today so he came along on his bike to keep me company. We did the murder hill route and I managed to run a hilly, 7.5 miles in 1 hour 7 minutes. It was a very tough workout but once I got 3.75 miles out and turned back, all I had to do was make it back home! The run back was deceiving this time though because it is all uphill from miles 3.5-7!
The run:
Distance: 7.5 miles
Time: 1:07 mins
Avg Pace: 9:01 min/mile
Avg heart rate: 155 bpm
Mile splits:
Mile 1: 8:53
Mile 2: 8:59
Mile 3: 9:01 (from mile 3 murder hill began and then it was uphill until mile 7!)
Mile 4: 9:18
Mile 5: 9:17
Mile 6: 9:21
Mile 7: 8:50 (started to pick up my pace to finish strong)
Mile 7-7.5: 3:56 (equals a 7:53/mi pace)
Eric was biking beside me when I was sprinting and he kept saying 'Come on is that all you got!? Feed the warrior!!!!' I was laughing so hard and trying not to wipe out in the process. Nothing like giggling when you are trying to sprint!
As I predicted, I felt on cloud nine after this run and my mood was lifted the entire day. My cramps also went away by the time I was home too. I will have to remember this for next time!
3) Eat energizing foods. For lunch I had this amazing bowl of stir-fry leftovers from last night mixed with my Canadian Maple Baked Beans. It was awesome! So many great flavours.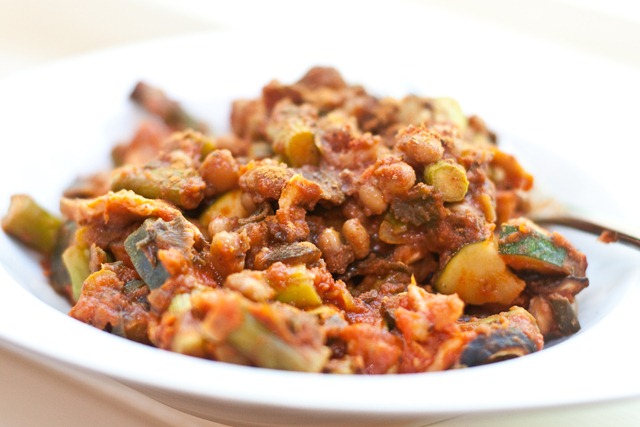 4) Have an Epsom salt bath. My sister Kristi got me hooked on Epsom salt bath soaks! I have an Epsom salt bath after long runs and after races. A rich source of magnesium, Epsom salts relieve pain and muscle cramps and relax the body, mind, and soul. I highly recommend them if you haven't tried one before!
5) Indulge your chocolate craving. In the past I used to try to deny my chocolate cravings, but now I always allow myself a bit of chocolate when I crave it. I love intense dark chocolate and my 3-ingredient chocolate covered raisins when a craving strikes.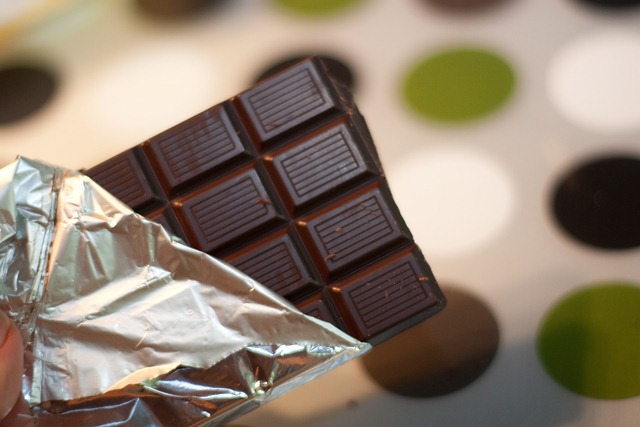 Do you suffer from PMS? What are your tips and tricks for beating the PMS monster?
I have heard of many women using herbs for PMS and I have always been interested in learning more. I also used to know a lady at work who used to swear by a shot of rum or warm Baileys to cure menstrual cramps.  A woman after my own heart!  :lol: