Good morning!
It's Day 2 of the Oakville Organic Farmer's Market! 
This morning, I had something that lured me out from underneath the covers at 5:30am…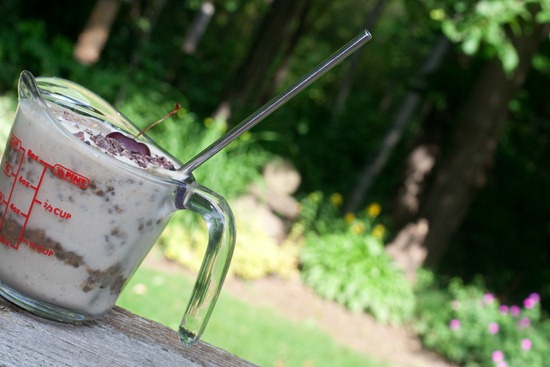 I mixed up the VOO last night and then threw a frozen banana in the processor for a minute or two this AM.
But it wasn't just any frozen banana…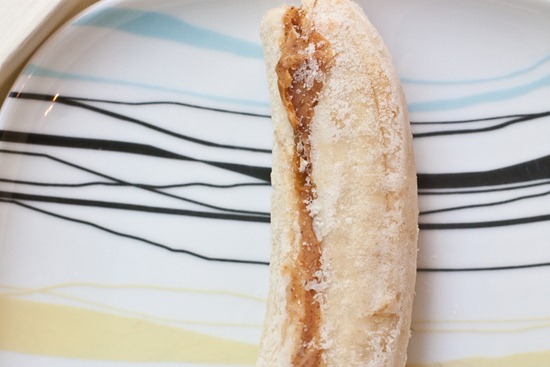 It was a frozen banana stuffed with peanut butter!
Last night I spread a layer of peanut butter in between the banana before putting it in the freezer. So in the morning all I did was toss the banana into the processor and go!
Instant Peanut Butter Banana Soft Serve.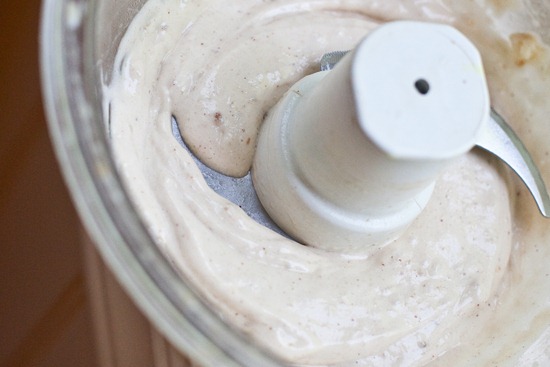 If you are a Banana soft serve fan, you must try it with peanut butter! I have tried it with peanut and cashew butter, and I think I prefer peanut. Has anyone tried it with almond butter? I need to buy some almond butter as I have been out for ages now.
With one of the last cherries!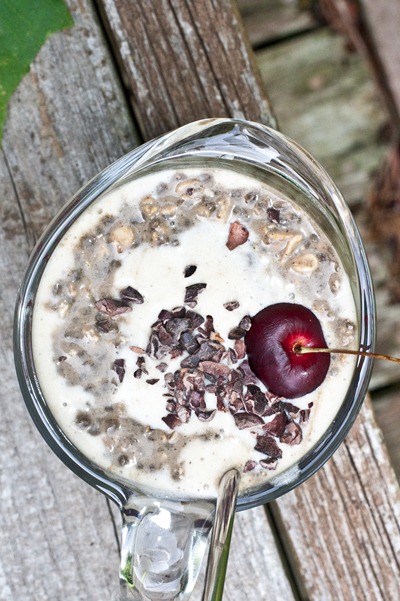 I need to pick up more cherries today. I heard that the market is expected to have a lot more farmer's and produce this week, so that is very exciting! Last week the pickings were a bit slim. I had a couple readers come up to me last Saturday and tell me that they bought out all the garlic scapes! :lol: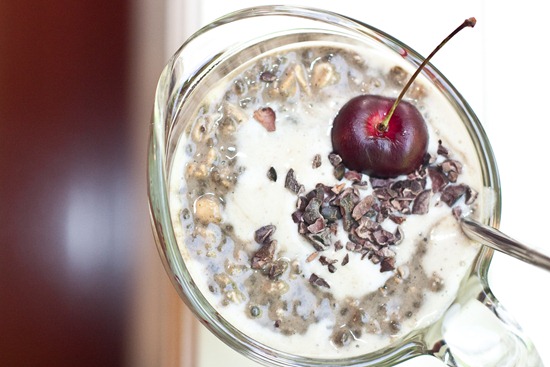 It's supposed to rain today, so I am hoping that it doesn't scare everyone off. :ermm: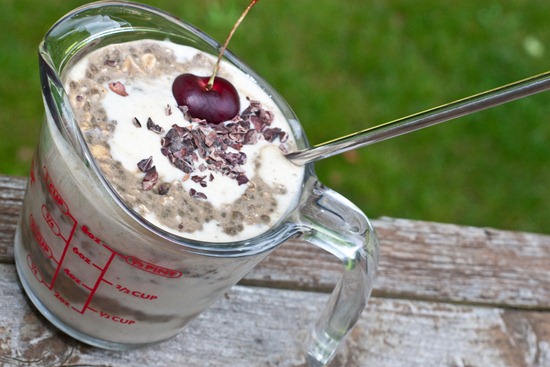 Simple Tricks To Inspire A Workout
Last night, I managed to get outside for a speedy workout. I was going to skip my workout and do it today after the market, but I visualized how nice it would be to come home from the market today and not have a workout looming over my head.
This simple visualization trick was all it took to motivate me to get out there. I told myself I could have a fun reward of relaxing on the couch with a movie after the market today. That sounded really nice to me!
I was supposed to do a brick workout, but I compromised and just decided on a quick run because I didn't have much time on my hands.
The run:
Distance: 3 miles
Time: 25:37 mins
Avg pace: 8:32 min/mile
Max pace: 6:20 min/mile (sprinting last 400 metres)
Avg heart rate: 157 bpm
Max heart rate: 183 bpm
Mile splits:
Mile 1: 8:39
Mile 2: 8:48
Mile 3: 8:10
It was an awesome finish to the run…I am loving the strong finishes lately. It really makes the run seem much more satisfying when I go out with a bang like in a race.
My experience last night made me think about other tricks I have used to get myself motivated to workout.
Here are some of the tricks/strategies I have used in the past:
1) Visualize yourself working out and enjoying it, having the time of your life, smiling, rocking out to music. Now picture how amazing you feel afterwards!
2) Lay your clothing out. If working out early in the morning, lay out your workout clothes directly beside your bed. Or better yet, sleep in your workout clothes! I used to do this for really early workouts when I was commuting 2 hours into work.
3) Reward your hard work! Pick an activity that you could enjoy after your workout. Maybe it is a night out at the movies, lying on the couch for a couple hours just reading a good book, or trying out a new restaurant that just opened up.
4) Wear workout clothes that you love. If you feel good in what you are wearing you won't have any excuses like, 'Oh I don't want to be seen in this at the gym'. Dress for success.
5) Make a workout piggy bank. For every workout you do, add a specified amount of money into the bank (e.g., $1, $5, etc). You can make certain workouts worth more money, so for example if you have a challenging long run or 90 minute hot yoga class you can make it worth $10. Pop the money in the piggy bank or jar after each workout and at the end of the month take the money and paint the town red!
6) Find a workout buddy. Make a date with your buddy and mark it in the calendar. It's never a good feeling bailing on a friend so you will be more likely to stick to your workout dates than if you were flying solo. I have experienced this with Eric…when we plan to go for a swim on a certain day, it is really hard to back out once we have made the plan!
7) Use the 5 minute rule. If all else fails, tell yourself that all you have to do today is 5 mins of whatever exercise you had planned. 5 mins of running, swimming, biking, yoga, walking, etc. Whenever I tell myself this, I always end up doing more because the endorphins kick in and it just feels good to be sweating and moving.
8) Compromise. As I did last night, I compromised with myself. I knew I didn't have time for a brick workout so I said I could just do a shorter run instead.
9) Keep a journal and write down how you feel after each workout. Re-read the entries when you are feeling unmotivated for a quick pick me up.
What about you? Do you use any of the above tricks? Do you have any tricks of your own to add to the list?