Hellloooooooooooo!
[After some careful thought, I believe this is my favourite way to greet you, said of course in a Jerry Seinfeld voice]. :biggrin: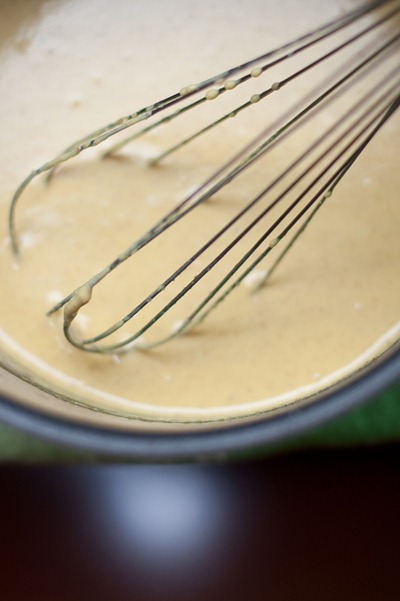 Apparently, I need to wear a bib on days like today because I have done a whole lotta drooling. Wait, that is every day actually.
One of my favourite discoveries as a vegan is nutritional yeast. I have used it countless times and it never disappoints me. It adds a cheesy and savoury taste to any dish and it is also an excellent source of protein, vitamins, and minerals.
Tonight I was craving Macaroni and cheeze, but we didn't have any macaroni, so couscous + cheeze it was! Oh, and some veggies for good measure. :tongue: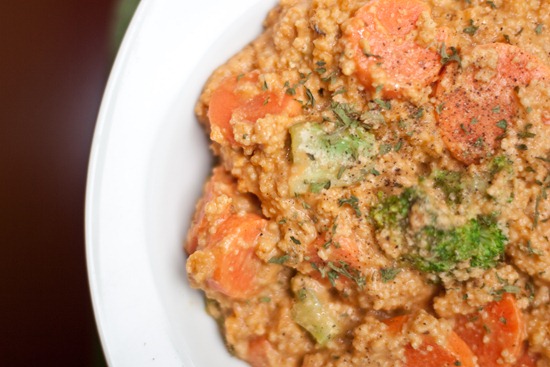 Vegetable Couscous + Cheeze Sauce
Ingredients:
1.5-2 cups cooked couscous
1/2 cup (or a bit less) homemade cheeze sauce (see below for recipe)
1 cup Vegetables, cooked (I used frozen and heated them up)
Seasonings of your choice (sea salt, dried parsley, etc)
Directions: After making cheeze sauce and couscous, leave about 1/2 cup of cheeze sauce in the pot over medium to low heat. Mix in couscous and vegetables and heat. Serve immediately. Refrigerate remaining cheeze sauce.

Cheeze Sauce
[Adapted from PPK]
I have made a few cheeze sauces now, and I think this one was my favourite so far! It was very rich and creamy tasting thanks to the Earth Balance and flour.
Ingredients:
1/2 cup nutritional yeast
1/2 cup flour (I used whole grain spelt flour)
1 cup water
Pinch sea salt
2-3 tbsp Earth Balance (or margarine/butter)
Squirt of yellow mustard (1/2-1 tsp)
1 tbsp hummus (optional)
Directions: Mix flour, salt, and nutritional yeast in a pot. Slowly add water, mixing well with a whisk to get the clumps out. Turn the heat on medium and whisk well until sauce thickens to desired consistency. Whisk, whisk, whisk. Remove from heat and stir in Earth Balance (or margarine/butter of choice), mustard, hummus (optional), or other spices as you wish.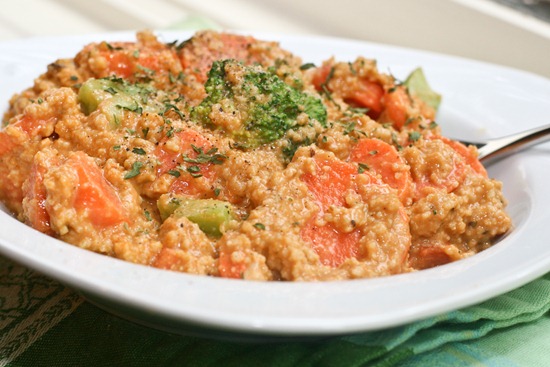 This dish pretty much blew my mind. If I could describe it in two words it would be Creamy Delight. Wait, make that 3 words: Creamy Cheezy Delight.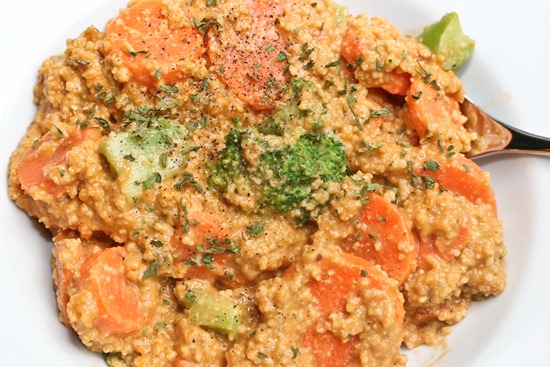 I can't wait to use the cheeze sauce on other concoctions. It would be awesome poured over roasted veggies, on kale chips, or over nachos and salsa. It is just waiting to be experimented with!
Now for some fun health links of the week!
Health News Round Up
Spotted:
And now I have a date.
A romantic date with my kitchen sink, a little something called 'every dish in the house', and some soap. You'd think the Brady Bunch lived here if you saw how many dishes a food blogger and bakery owner went through in a day.
BUT….it's nothing a little impromptu Boom Box party in the kitchen can't fix…muahuha.
Have a great night!