That's how my day went!
I will save the story for a tell-all book when I am 90, crazy, and bored in a retirement home. :lol: You won't know what hit you.
Until then, I will tell you about my night…which trumped the DAY by a landslide!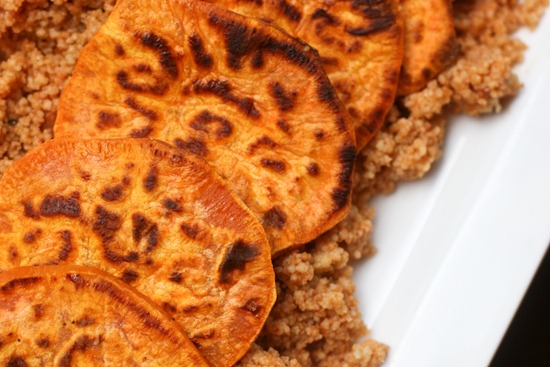 I made thick sweet potato chips… I have never cut the sweet potatoes like this before, but my recent bowl at Kindfood inspired me to cut them this way.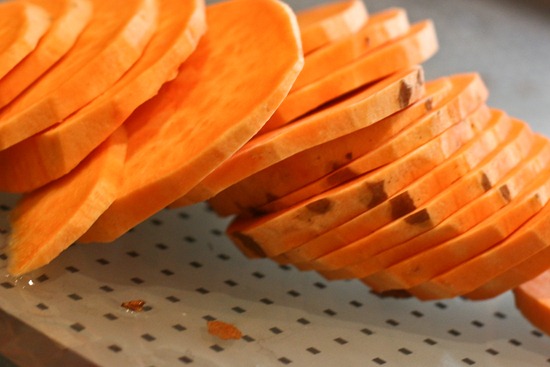 .
Round and round we go.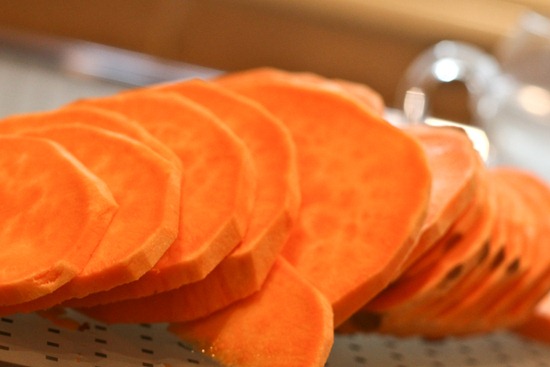 I find chopping is very soothing at times. It is a bit like mountain biking; it takes all of your focus and brings about an inner peace.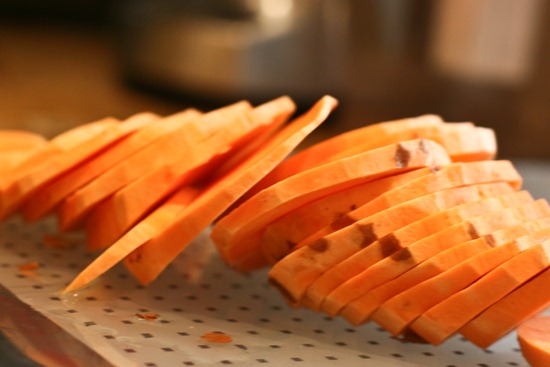 I put the rounds onto a baking sheet and drizzled extra virgin olive oil over top along with sea salt and freshly ground black pepper. Into a pre-heated oven they went at 400F for 15 mins. on each side. Watch carefully because all will be well until this happens.  :whistle: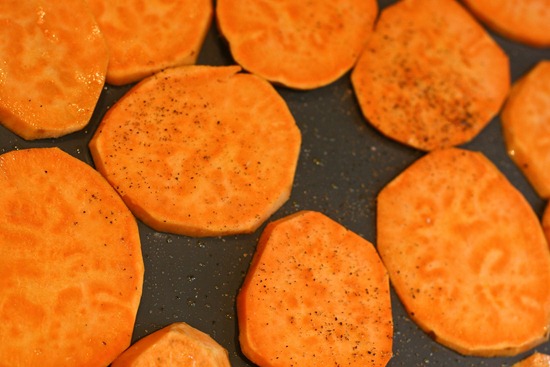 Sweet potatoes just make my heart warm and tingly inside!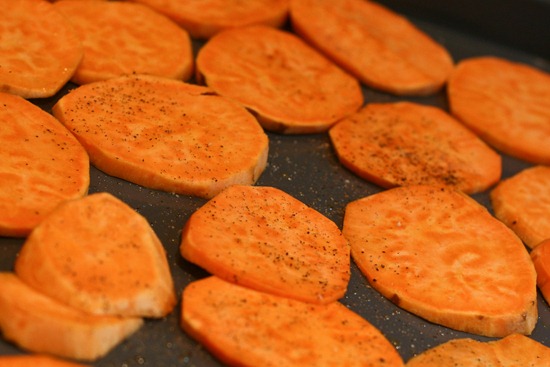 As they were baking, I made a huge batch of couscous continuing my love affair for this fluffy, cloud-like grain.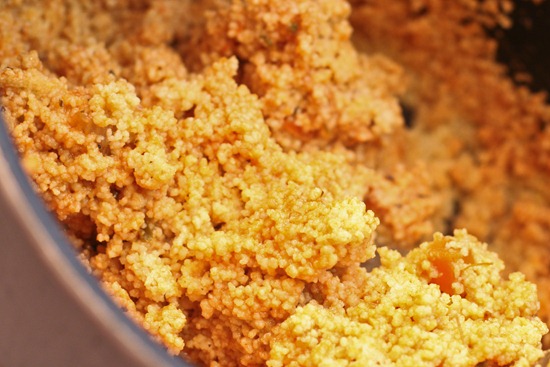 Then I poured half of a bottle of PC Organic Pasta Sauce and a tiny sprinkle of curry masala and mixed well.
Before I knew it, I had a dinner…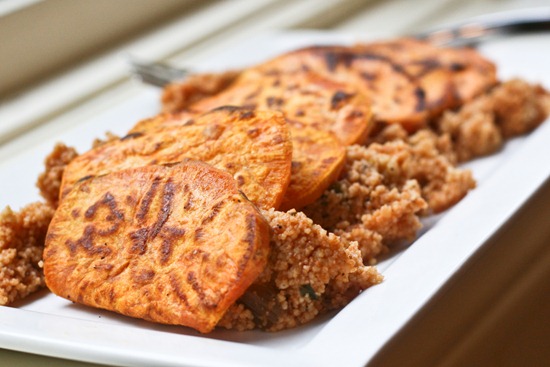 It was pretty good for randomly throwing things into the pot. It wasn't life-changing or anything though so I wouldn't go rushing to make it. :tongue: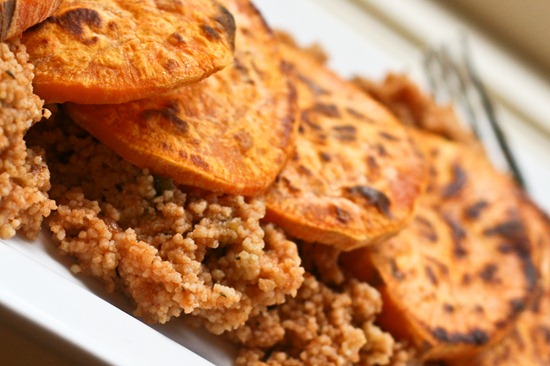 And this little gem is what I would like to call SUNFLOWER SEED BUTTER FAIL.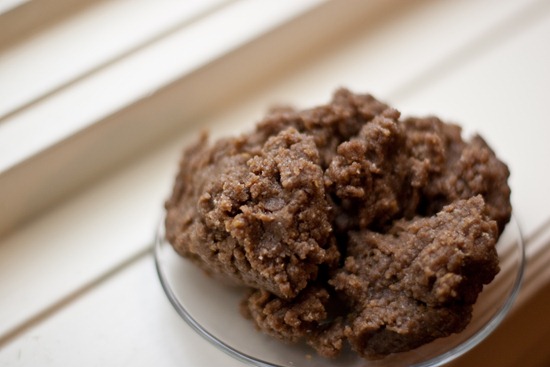 I know, EW. :sick: I was going to throw it into the garbage but I figured you might get a laugh out of it.
I was all excited because I thought I was going to have a fun recipe to show you tonight, but no such luck!
This was my first attempt at making sunflower seed butter.
I threw in 2 cups of sunflower seeds and processed for a loooong time. I scraped the sides over and over and nothing. No 'butter' formed. I added some cinnamon, vanilla, and maple syrup for sweetener and I was left with a very bad tasting LUMP of brown POO. :lol: Even the sweetener couldn't make this taste good. Maybe I should have looked for a recipe first! I'm all impulsive like that.
Eric said, 'It looks like canned cat food….or something a Hummingbird would eat.' LOL…what!?
After digesting, I somehow managed to get Eric to go on a RUN with me!
He was SUPER SPEEDY again tonight! He actually sprinted for a bit and he was FLYING!!!! I couldn't keep up. I am SO humbled running next to a 6'2" giant. I told him I would pay good money for those legs.  :lol: I think he was a bit creeped out….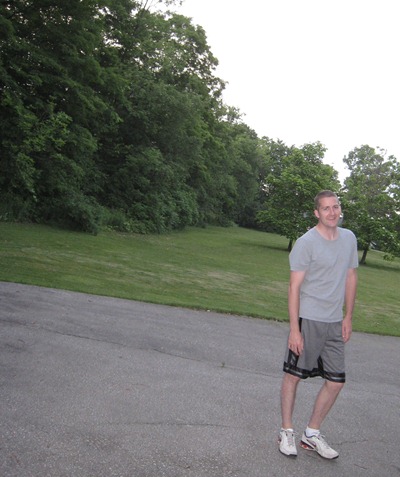 He has so much natural ability with running though. I tried not to drool too much and scare him away. I did 2 miles with Eric and then I dropped him off and ran another mile to round out 3 miles.
The run:
Distance: 3.05 miles
Time: 28 mins
Avg pace: 9:12 min/mile
Avg heart rate: 155 bpm
Max heart rate: 178 bpm (sprinting at end)
Mile splits:
Mile 1: 9:42
Mile 2: 9:26 (Eric ran a strong 2 miles in approx 19 mins…this included lots of walking breaks too!)
Mile 3: 8:34 (I wanted to finish very strong)
Mile 3-3.05:  6:51 (sprinted!)
It was an awesome run! I have really been making an extra effort to run negative splits and run my last mile the strongest. It feels good working on my speed again. All my workouts will be updated in my training plan too.
I came home to find Eric with a total RUNNER'S HIGH rocking out to BTO. My dad would be so proud. I finished off the run with Polly's Yoga for Runners while listening to Twist and Shout…it doesn't get much better than that.
Shall we…
Swoon.