Today it was time to show the world what I was made of…
wearing a cheeky, yet meaningful, 'Queen of Tarts' apron that OSGMOM gave me at my wedding shower in July 2008…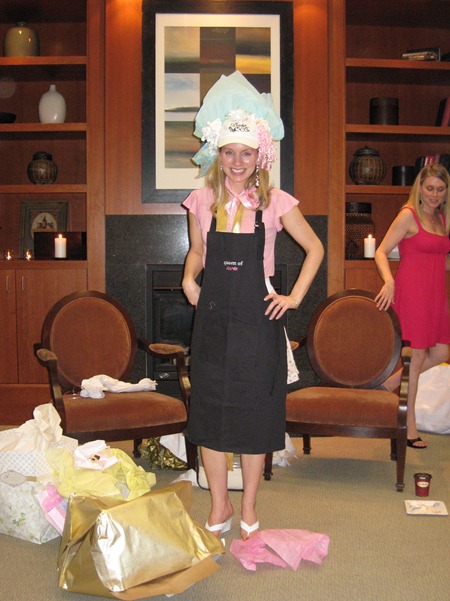 Did my mom know something that I didn't long before I had the courage to leave my research job?
Clearly, she had other plans for me in mind!
It took an army to set up shop today! Luckily Eric and I rolled in about 80 minutes early. It took us almost 1 hour to set up today.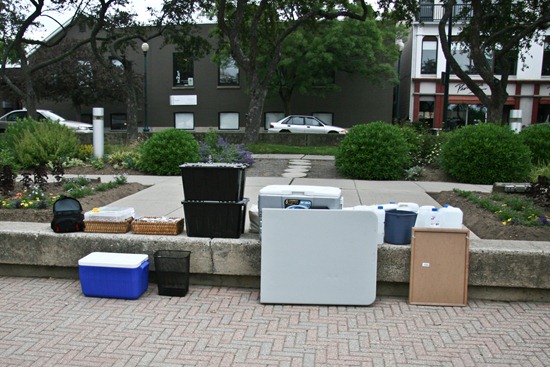 I decided to go with three Glo Bar samples today- Empower, Chi, and Liberate. I am going to alternate the sample flavours each week, as per a reader suggestion!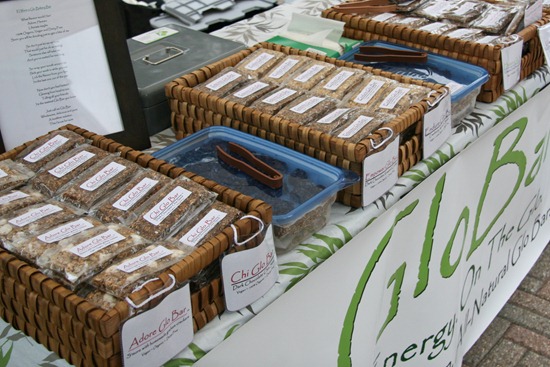 I had my fabulous TEAM GLO with me! Karly and Stacey…they are AWESOME ladies!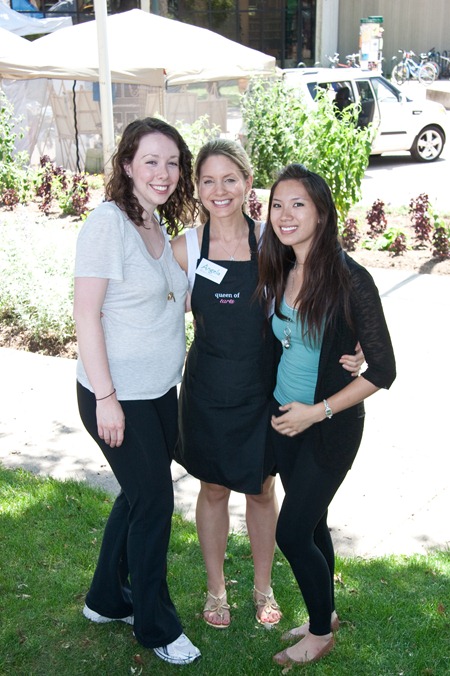 Eric was amazing too….and he is very good at sales. An untapped talent perhaps?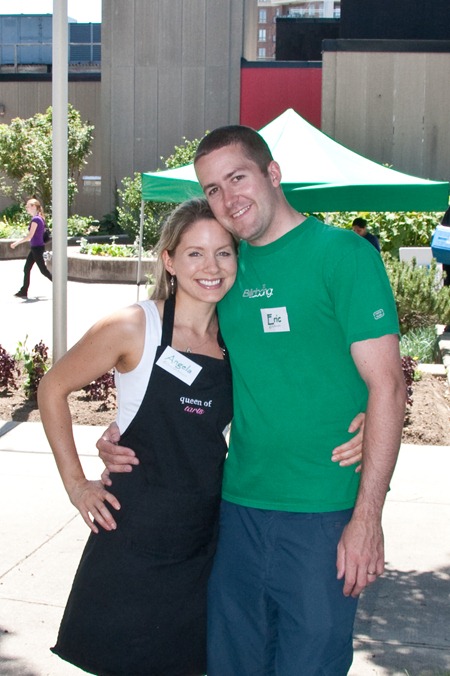 Yes, he even wore the name tag I made him. Bonus points noted.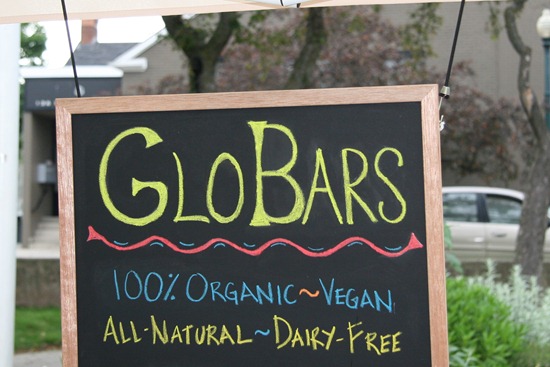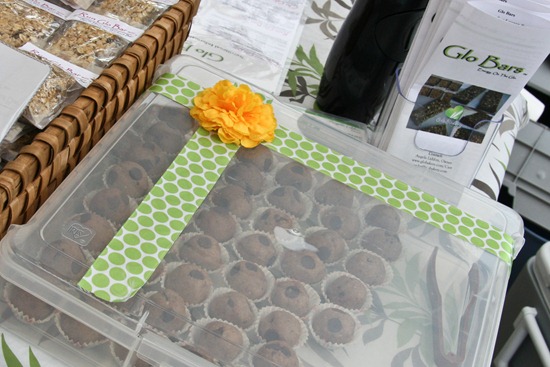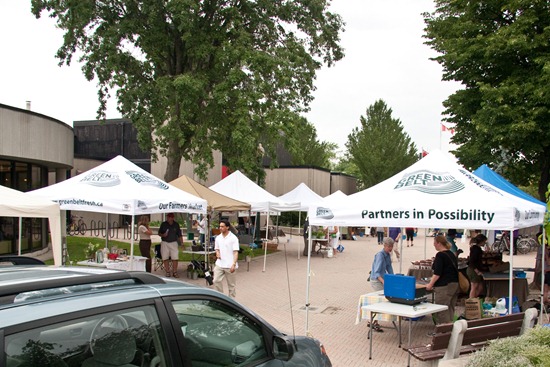 The Oakville organic market is a small one- only in its' 3rd year and has just 20 vendors. Since it was the opening day we were expecting it to be slow, but it was actually steady right up until 12:30. Then it died off until closing at 2pm. I spoke with a few vendors and we all wished that the market closed at 1pm as there was no one around after lunch. Personally I would rather the market start earlier and end earlier because by the time we got home it was 4pm. It made for a really long day!
Let's just say I BAILED on my scheduled workout today big time! Sometimes rest is needed more than a workout, right?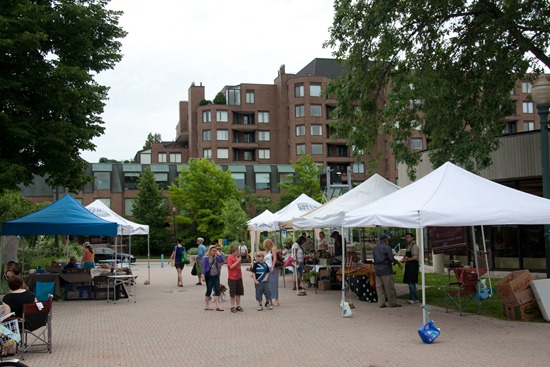 Eric was the photographer too. :biggrin: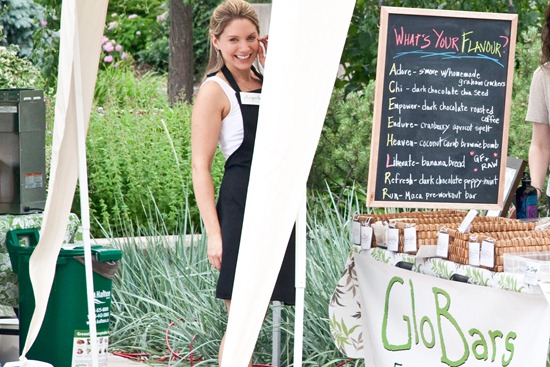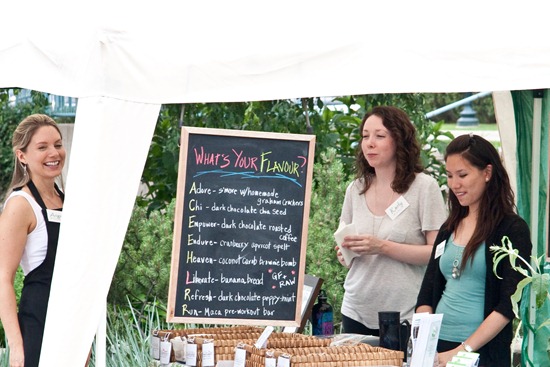 We met some very nice people. About 7-8 OSG readers come to visit to say hi and buy some bars! It was very exciting to meet everyone and have their support (hi ladies!!).
On the sign below, 3 bowls = 100% organic! Every vendor also has to adhere to the market's zero waste policy. I bought all biodegradable and compostable pouches and bags.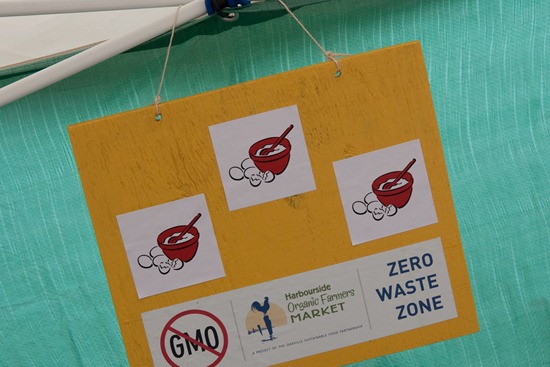 The Glo Dough was a huge hit. We sold all but 3. I initially didn't have samples, but once we started cutting some up they sold like hot cakes. Samples are key!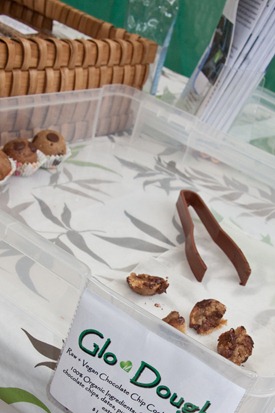 We had samples of Chi, Empower, and the new GF + Raw Liberate Glo Bar. The best-selling Glo Bar was LIBERATE (GF + Raw Banana Bread) and the second best-seller was Adore (s'more) followed by Empower (choc coffee). We sold almost 200 Glo Bars today! I was quite happy with that for the first day of the market.
I bought some of the most amazing spices that have ever crossed my nose…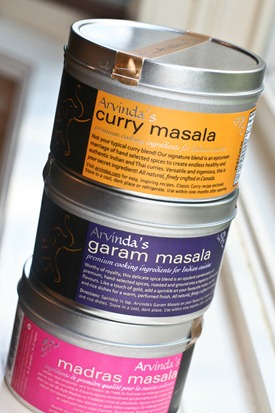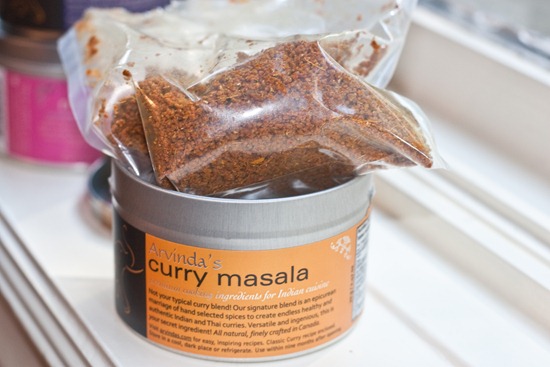 Coming up tomorrow morning, I will show you what I made! Mmmmm.
I'm off to watch TRUE BLOOD with Eric. We watched Episode 1 (Season 1) last night (we need a new show for the summer!)…Let's just say I was a bit horrified after the first 15 minutes and then strangely left wanting more after the episode ended. It seems to be one of those shows that you can't look away from. I think they could be onto something here….
This will be consumed…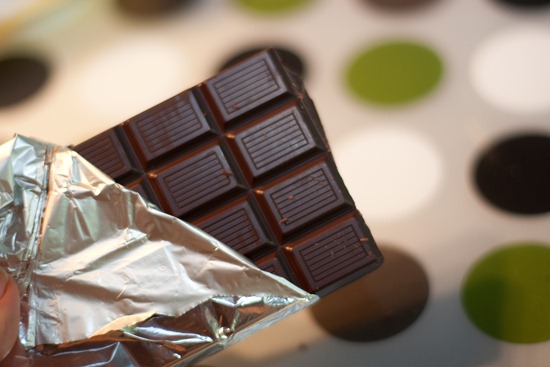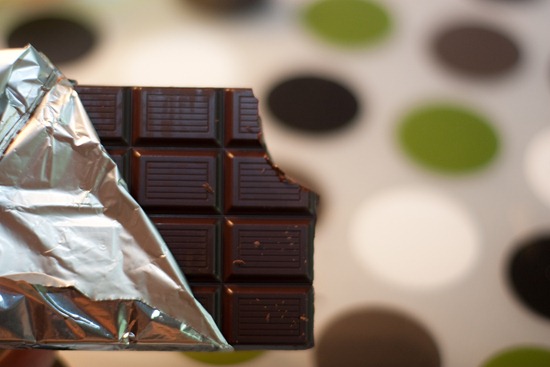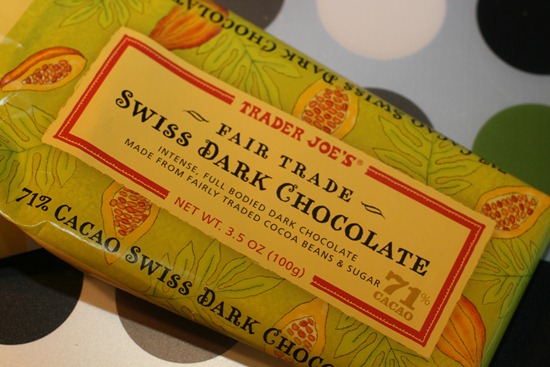 Mmmmmmmmm.