Ashley and I had a grand 'ol time today!
After the volcano erupted inside, we headed outside for a scenic hike.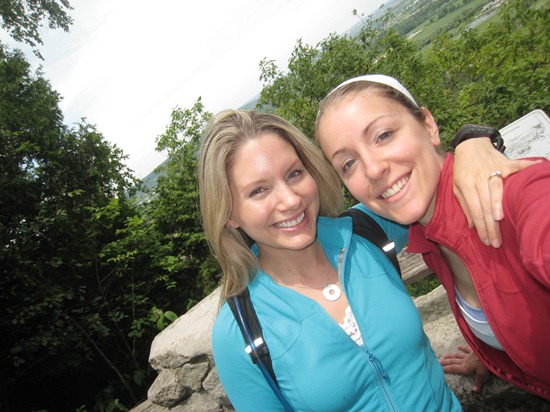 It was US vs. Nature. Nature won. More on that in a minute.
It was gorgeous outside…finally!
Ashley wore her Vibrams!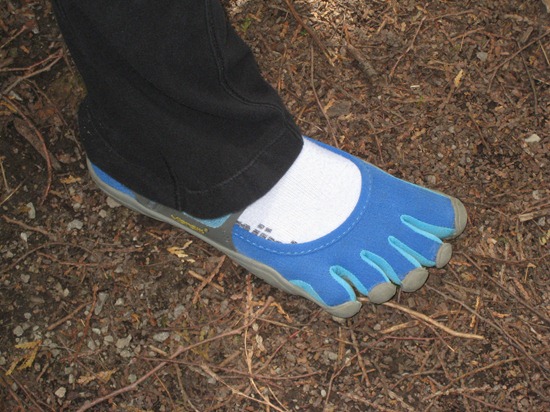 I must admit, I am tempted to try these out- at least for walking anyways. Anyone use these bad boys?
Awesome views…!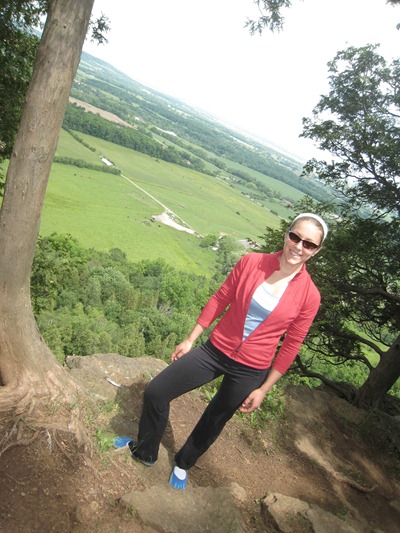 I put on a brave face…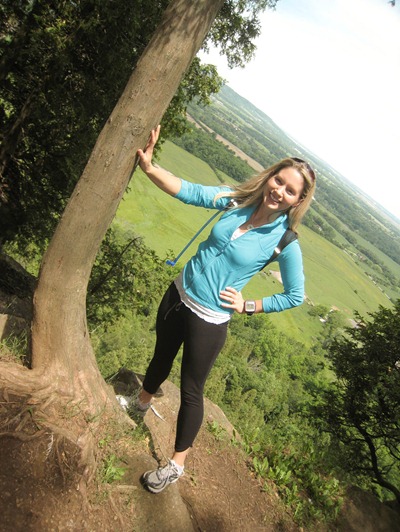 but was shakin in my boots…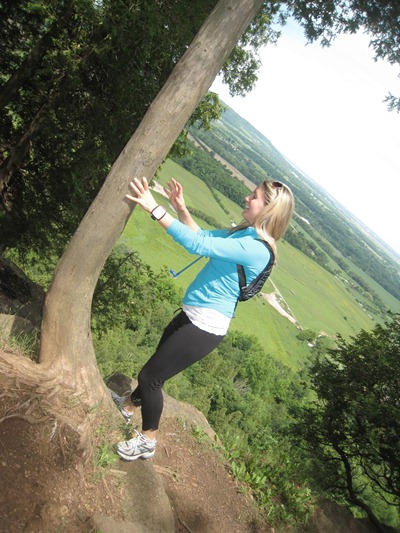 We are both blessed with a sublime sense of direction, so naturally we somehow got off the beaten track!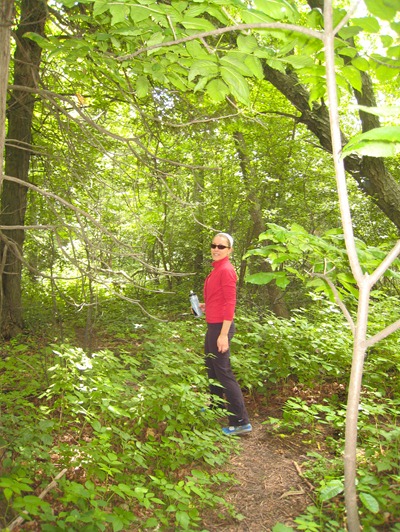 Ashley was in front and consumed massive quantities of cobwebs. Never a good sign.
We channeled our inner Ralph…. 'Do not go where the path may lead, go instead where there is no path and leave a trail.'  :lol:
It was nothing short of a miracle, but we made it out of the cobwebs and back onto the trail.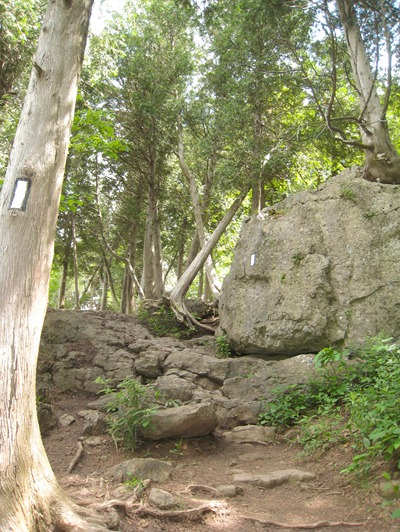 All in all we hiked about 1/4 of a mile in 1 hour and 43 minutes.
hahaha…I'm joking, but that would be funny!!! We did 2 miles in about 40 minutes. :biggrin:
I re-fueled with a Liberate Glo Bar…and Ash with an Empower Glo Bar!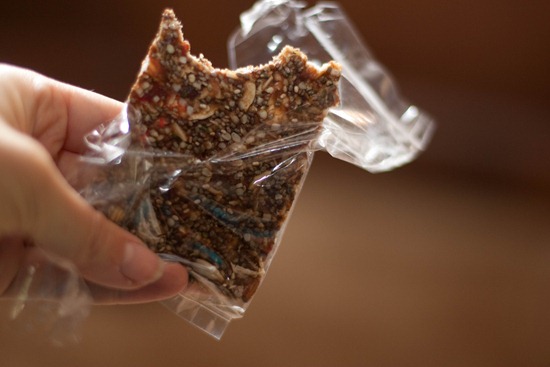 For a late lunch we headed to a new vegetarian restaurant that recently opened up in Burlington called Kindfood.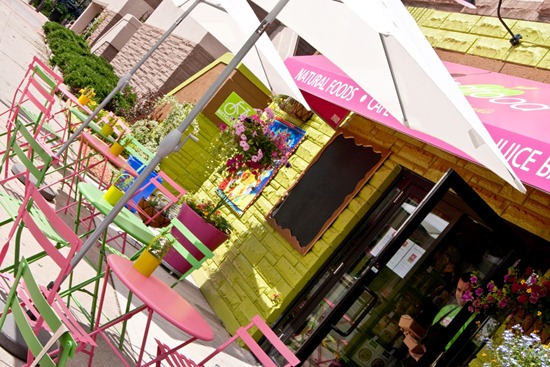 Lots of curb appeal!!!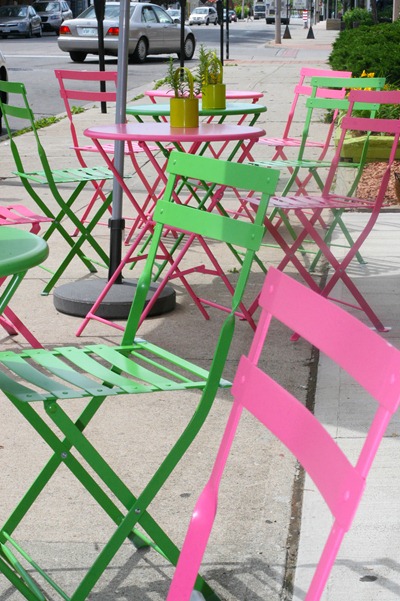 From their website: "At Kindfood, we are committed to the belief that food is an essential source of our energy, health, longevity and happiness. Our food choices are an indication of our respect for ourselves and for all living things. We prepare and provide fresh plant-based foods made without any animal products, dairy, eggs, refined sugars, additives or preservatives."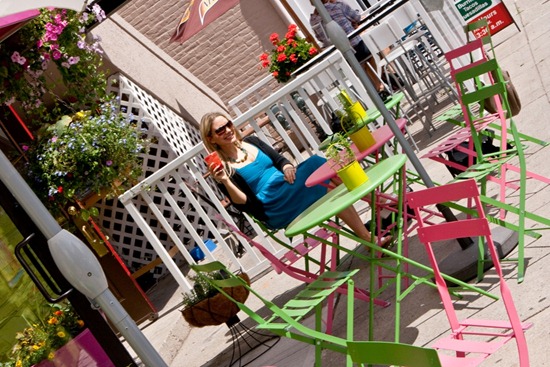 I have been so excited to try this place out ever since I heard about it. The cafe has a juice bar, fresh baked goods, and a natural food store all in one. The menu is very small so we hoped that the limited selection equaled the best of the best & the cream of the crop! It was just oozing with potential.
I cheated on my beet juice with a new friend…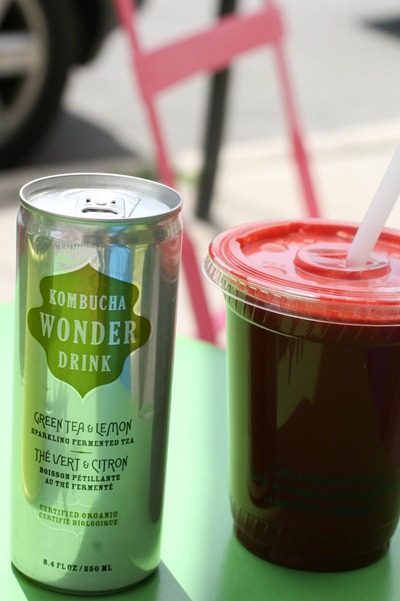 When I cracked it open, I was instantly taken aback by the strong vinegar smell and I was shakin' in my boots…but once I got past that, I really enjoyed it! It was slightly sweet, slightly tart, and not too fizzy. I'm not sure about all of the health claims it makes (the can said fountain of youth!?), but it was pretty tasty.
For the juice I got the Beets Me– Carrot, beet, apple, lemon and ginger.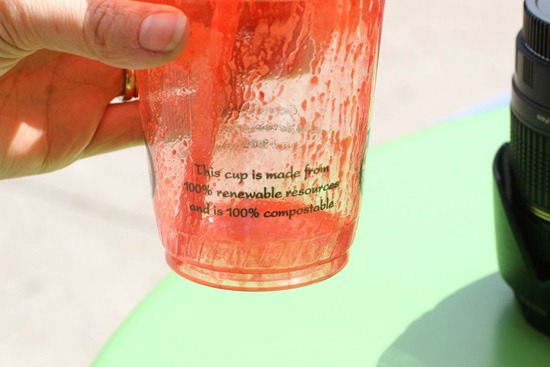 We both ordered the Happy Buddha Bowl –> Steamed brown rice, roasted sweet potato, chopped onion, tomato, almonds, sunflower seeds, cilantro, basil, olive oil, sprouts and tamari.
It sounded like a bowl from Fresh, so I wanted to try it out to compare!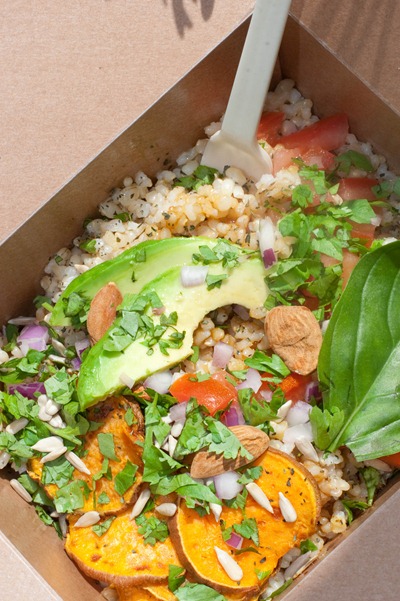 This bowl was a bit disappointing. It was very low on veggies and the rice was drenched in olive oil, resulting in a very bland dish. I'm hoping that our bowl was just a dud and the other items are delicious! I will have to give it another chance sometime.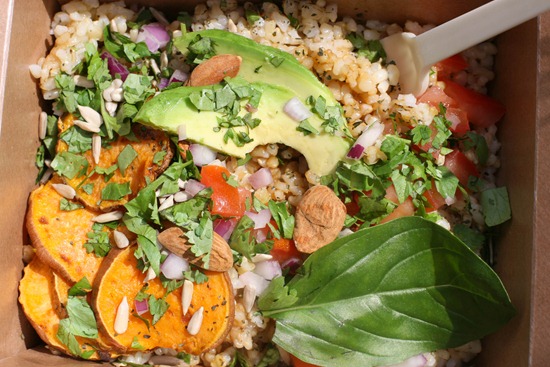 However the company was absolutely lovely and Ash and I chatted away for a couple hours. We have so much in common, it is a bit crazy.
Crazy Blogger Lady in action.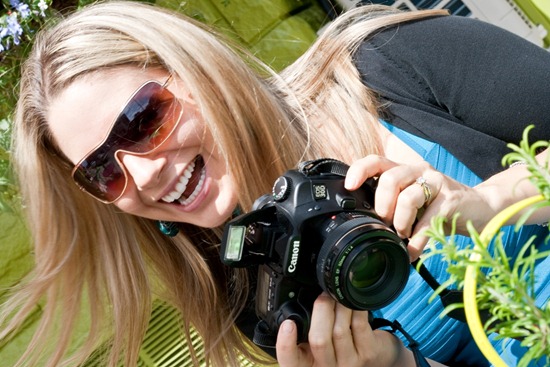 We left hungry (never a good sign!) and got home and made a snack of Dr. Kracker's spread with Ash's homemade nut butters and a side of carrots and hummus. Did the trick!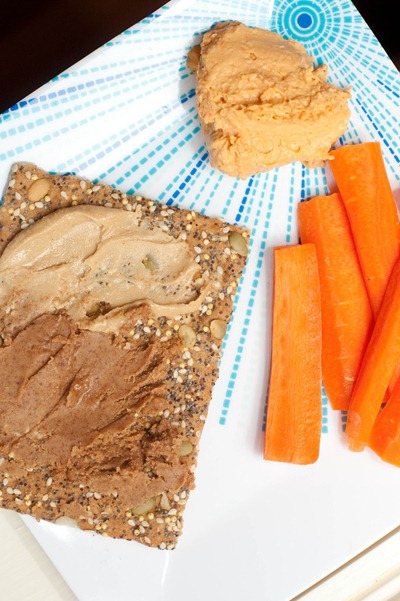 Note to self, make Ashley's Cinnamon Maple Almond Better ASAP!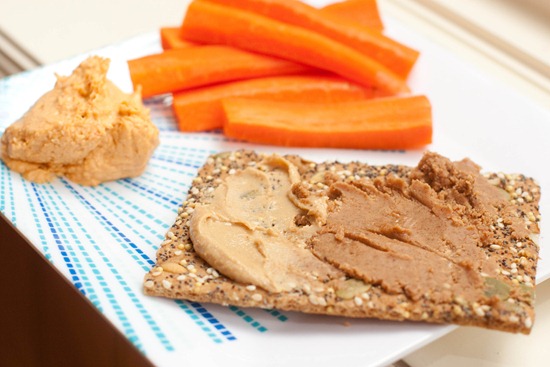 Hunger demolished.
And Sencha green tea for an afternoon pick-me-up!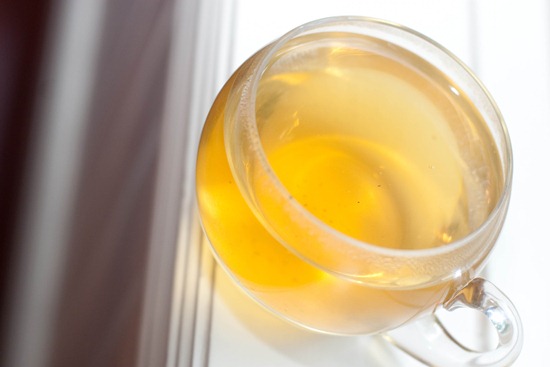 Not long after that, Eric got home and it was time to eat again!
Eric fired up the BBQ and impressed Ash with his mad skillz.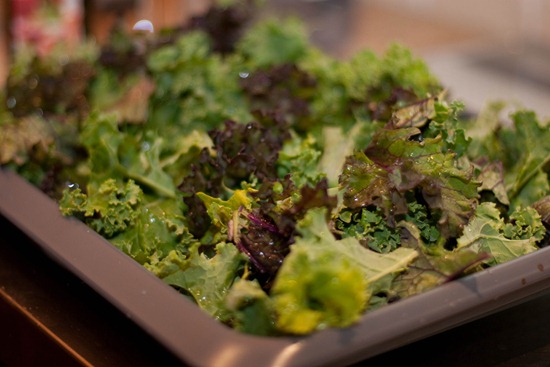 I have never made KALE CHIPS before and Ashley insisted that we must make them tonight! I have been meaning to make them for ages now, so I was game.
Basic Krispy Kale Chips
[Courtesy of Ashley]
Ingredients:
1 head of kale
Sea salt
Black Pepper
Extra Virgin Olive Oil
Directions: Preheat the oven to 350F. Take several kale leaves (I think we used 8), wash, and rip off the leaves and place on baking sheet. Toss the stems. Rip into small pieces about 3 inches in length. Drizzle extra virgin olive oil over top and then sprinkle kosher sea salt and ground black pepper over top. Bake for 10-15 minutes and then remove from the oven and flip, and then bake for another 10-15 minutes until very crispy.
Massaging the kale!
I topped mine with salsa…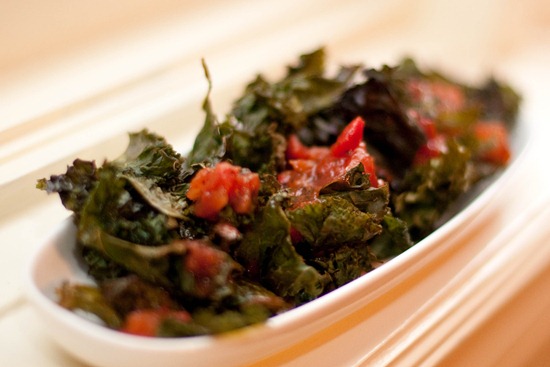 Kale chips rocked my world!!!!!!
I cannot believe that I haven't had these before. Addicted after 1 bite. Can you believe that ERIC loved Kale Chips? Blown away. I can't wait to top them with cheeze sauce!
Eric BBQ'd veggie burgers and some red peppers…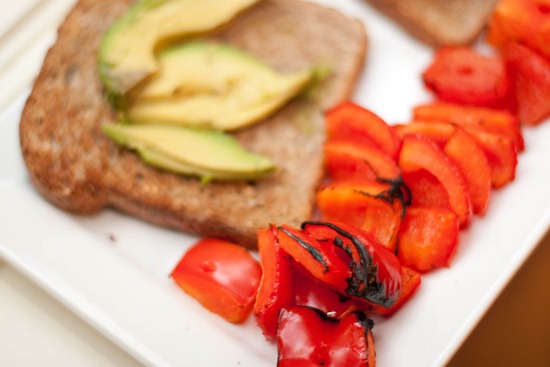 It was such a satisfying and easy dinner!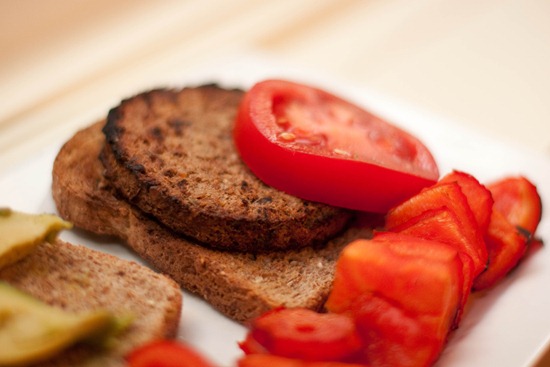 We gabbed and gabbed and by the time we left the table it was after 10pm!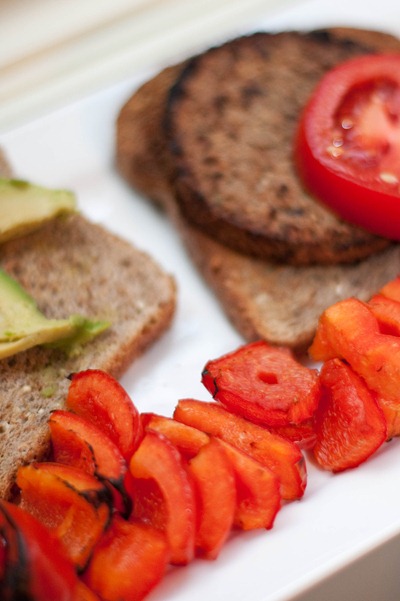 We cuddled on the couch and did our blog thang while watching a movie with Eric.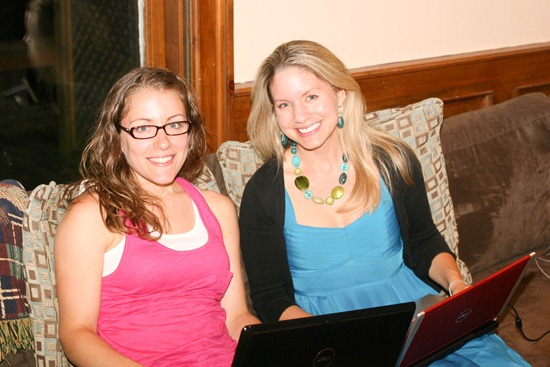 I am sad Ashley has to leave tomorrow. I feel like the fun has just begun!