Good morning!
I feel like I got cheated out of a weekend since it was spent working and cleaning, but I am keeping my eye on the prize- I have a very special visitor arriving in just over 12 hours and then Tuesday is a day off with lots of fun things planned. I can't wait!
Yesterday, I baked a bunch of Raw and gluten-free Liberate Glo Bars…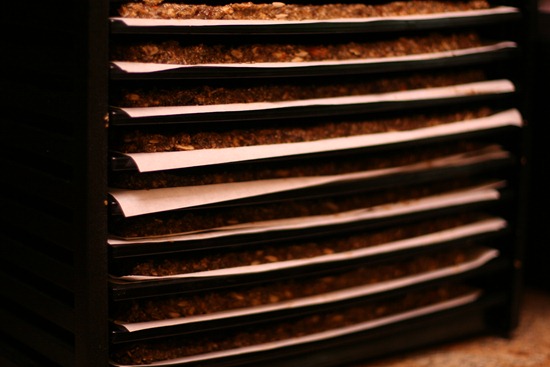 Well, technically I only got through Part 1 on Sunday! These bars are very intensive and require 3 separate parts. I will do parts 2 and 3 today.
I also finished up some market signs…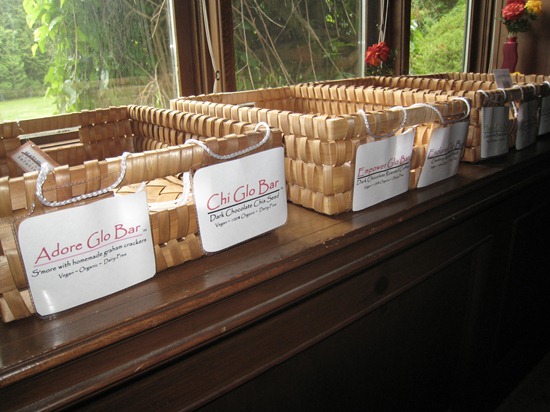 Afterward, Eric and I set out on one of our run + bike outings…him on bike, me on foot. Today's run was a 5-miler- the same distance I will be racing in a week and a half with my friend Jess. I am really excited about racing a shorter distance. The shortest race I have ever done was a 10k. I'd like to sign up for a 5k soon too. I like speedy runs! I used to do a lot of short distance sprints for track and field when I was young and I always loved the rush.
Look what tee I found when I was cleaning out my closet on Friday! I had no clue where this tee went and couldn't find it anywhere. Lo and behold it was forgotten in an overnight bag after a trip to the in laws.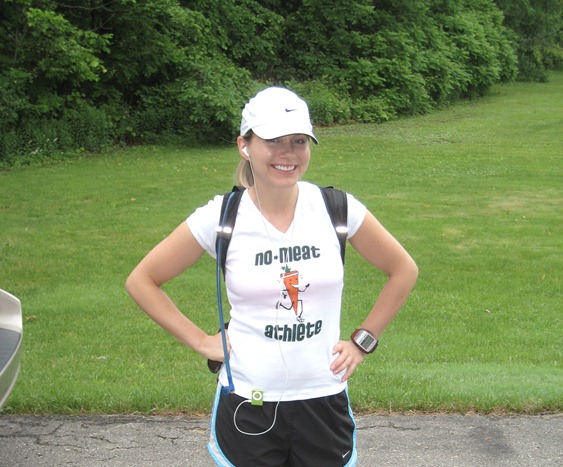 This is Matt's No Meat Athlete tee that he sent me a while back.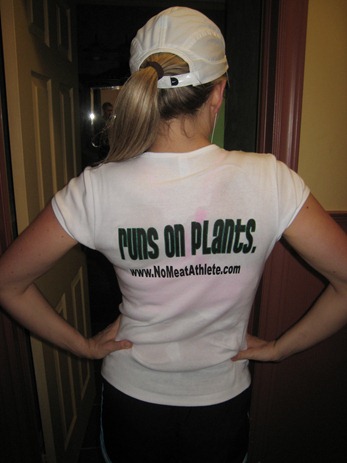 Remember the pink Target sports bra I bought in FL? Well, the pink dye RUNS on my clothes when I sweat! Luckily the dye comes out in the wash, but what a bummer!
Check out the pink spots around Mr Carrot Runner…
The run was a good one, although we went in the afternoon and for some reason my runs in the afternoon are a struggle. I am much better in the morning when I have a fresh set of legs and not as much food sloshing around in my belly.
The run:
Distance: 5 miles
Time: 46:08
Avg pace: 9:13 min/mile
Avg heart rate: 151 bpm
Max heart rate: 171 bpm (hill on mile 4)
Mile splits:
Mile 1: 9:11, ascent 158 ft
Mile 2: 8:59, ascent 75 ft
Mile 3: 9:21, ascent 105 ft
Mile 4: 9:43, ascent 194 ft
Mile 5: 8:53, ascent 61 ft
Mile 4 was KILLER! Luckily I had Eric there encouraging me. Although once he offered to bike me home (riding on his handlebars) and I was seriously considering it! :tongue:
When I returned, I was craving Polly's Yoga for Runners to stretch out my tight legs.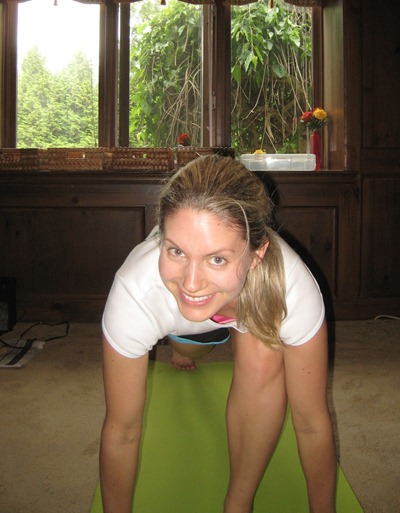 I VOWED that I will do this video after each run. I felt so good and my muscles aren't nearly as sore or tight as they usually are. I LOVE the FROG POSE Polly does!!!! Best stretch ever for my groin muscles. Try it out, you will love it. Today is a rest day for me, but I am going to probably do this stretching video again because I love it so much.
After the video, I had lunch. I started with some Amazing Grass Wheatgrass powder + H20 to re-hydrate.
One of these things doesn't belong here… :whistle: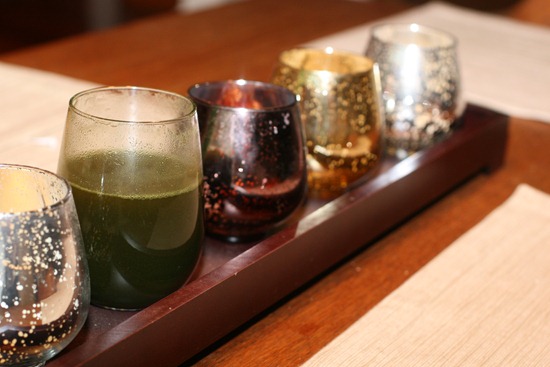 Just keepin ya on your toes on a Monday morning!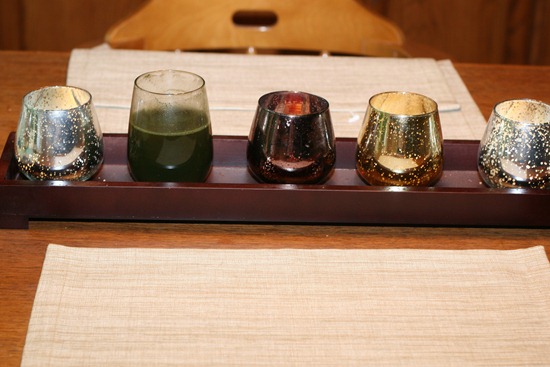 For lunch, I had some Ezekiel toast with a black bean + pasta sauce mixture.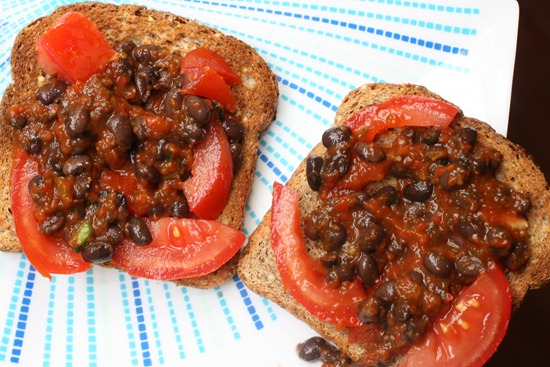 and a mixed green salad with warm pasta sauce and pesto…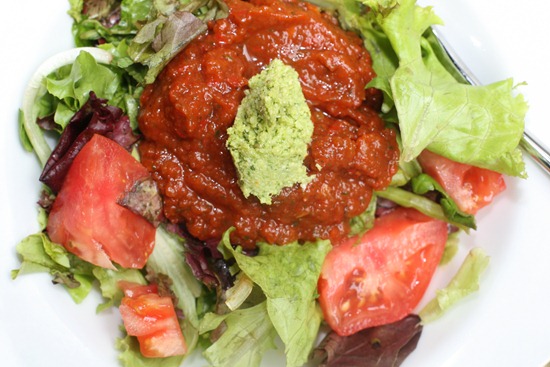 Eric really has me loving the hot on cold combos!
Dessert was a new raw cookie I am experimenting with for the market…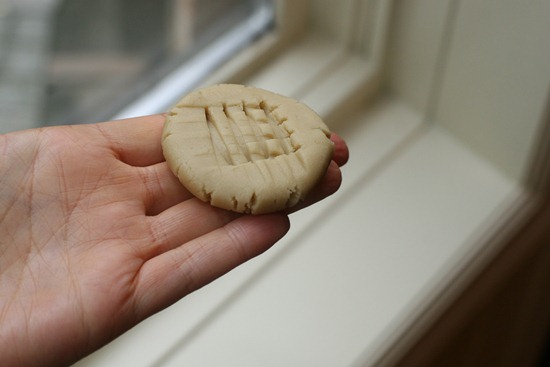 x 2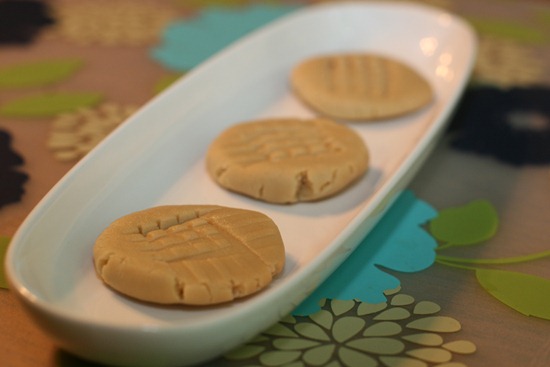 For breakfast this morning I made a Green Monster.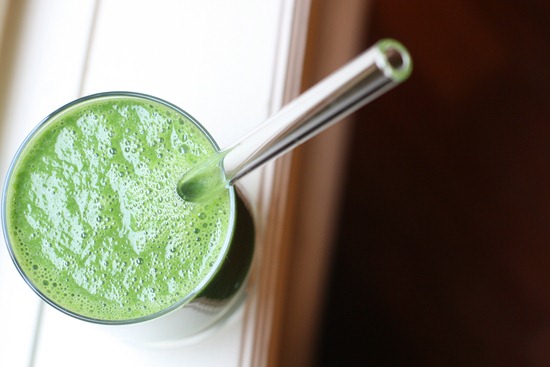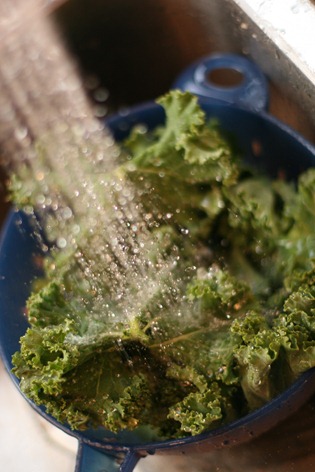 Chocolate Peanut Butter Green Monster:
3 kale leaves
1 cup almond milk
1 tbsp peanut butter
1/2 scoop Amazing Grass Amazing Meal Chocolate Powder
1 tbsp carob powder
Ice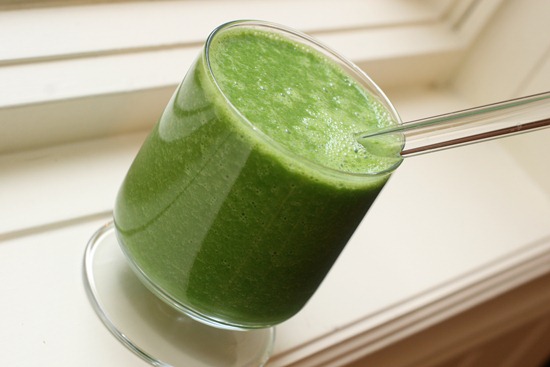 I'm still loving the Glass D'harma glass straws for my GM's and juices!
Just a tip- if you use these straws for green monsters and juice make sure you rinse them immediately after use with hot water. If you just throw it in the dishwasher and let it sit for hours, you will have a very hard time getting it clean. Come to think of it, rinsing dishes immediately is a great timer saver for any type of dish! It is what keeps me sane when cleaning up monstrous piles of dishes in the bakery each day.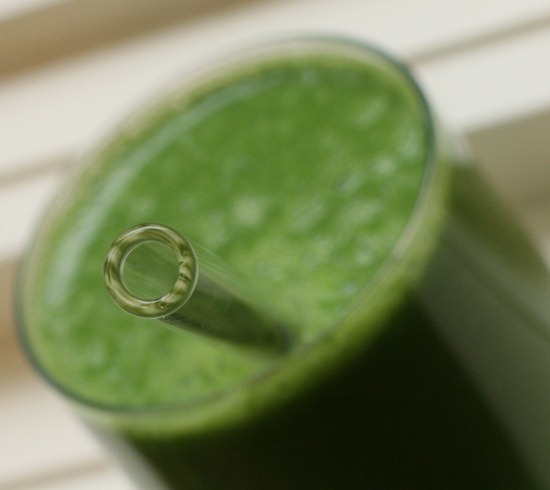 On the side, I also had something new + deelish! I have been seeing coconut butter and jam on a lot of blogs lately, so I thought it was the perfect time to try it myself. I think I first saw Gina use CB + jam on toast.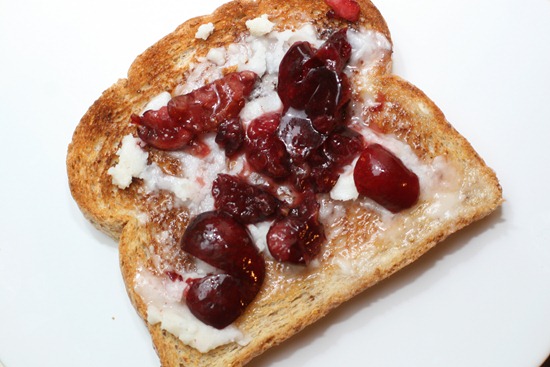 I decided to make a homemade cherry jam to go with the coconut butter!
Homemade Cherry Jam:
5-6 pitted cherries
Sweetener (optional, to taste)
Directions: Take 5-6 pitted cherries and place in bowl. With a fork, mash up the cherries. Add sweetener to taste if preferred.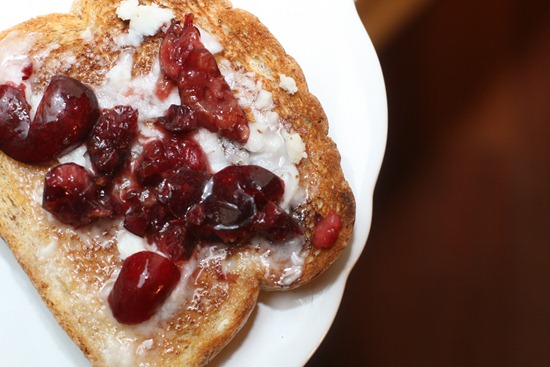 Sweet, buttery bliss. What a great breakfast this was!
Updates:
The interview I did for Fitness magazine ('Confessions of a Cardioholic', March 2010) is finally up on my Press page. Sorry it took me so long to scan it, I completely forgot about it. I was interviewed on my Superwoman Syndrome article and my story with over-exercising. I have a couple short blurbs in the article. Check it out here.
I'm off to work! See you later today for my Sprint Triathlon PLAN and more yummy food. Enjoy your day!