Good morning!
Shortly after I posted yesterday, I hit a major wall. I was exhausted from being up at 5am and working all day. My muscles were also feeling quite tight from my speedy 10k run on Thursday……sooooooo……
I decided to do Polly's Yoga for Runner's video! I haven't done the video in a long time, but I always enjoy it.
I am going to start doing this more…I always feel so good after doing this video! I just stayed there on my yoga mat for a good 5-10 minutes afterwards. It was so peaceful.
After this relaxing yoga, I had no desire to make dinner! I was going to settle on Vegan Garlic Scape Pesto and Dr. Kracker's for dinner…and call it a night…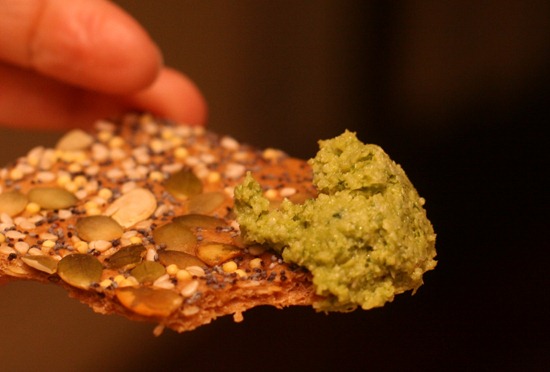 [Incredible combo by the way!]
and then Eric said he would make dinner! :shocked:
Before I knew it, he was in the kitchen chopping away like a pro…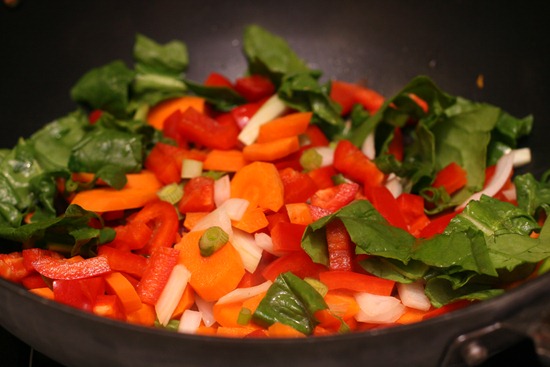 Eric has never considered himself a cook; he never learned the basic skills and when he did have to cook he often got very stressed out. As a result, he only cooked a handful of times for us during the 10 years we have been together. He cooked for me on Valentine's Day back in 2008, and he made this incredible gourmet salmon with lots of side dishes and I felt so bad because he was so stressed out while cooking. Although, I must say the meal he made me was amazing. I knew he had a talent just waiting to be cultivated!
Over the past year he has started to cook a little bit here and a little bit there. His fear was simply a result of lack of practice and a basic knowledge set. It only makes sense to fear what you don't know, right? I started to show him some basic skills over the past several months and before I knew it his confidence was blossoming in the kitchen! It has been really fun to see him having more fun with cooking. I think I would go as far to say as he actually enjoys making a few dishes now. I would love to take some cooking classes with him!
Last night, I just watched him cook and kept him company. Well, to be fair, I also ate Vegan Garlic Scape Pesto and Dr. Krackers. :biggrin: I was livin' the high life and lovin' every second!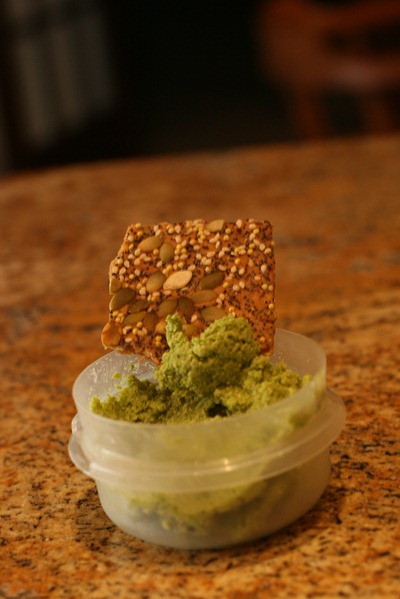 For an appetizer, he presented me with a mixed green tomato salad drizzled with my homemade dressing: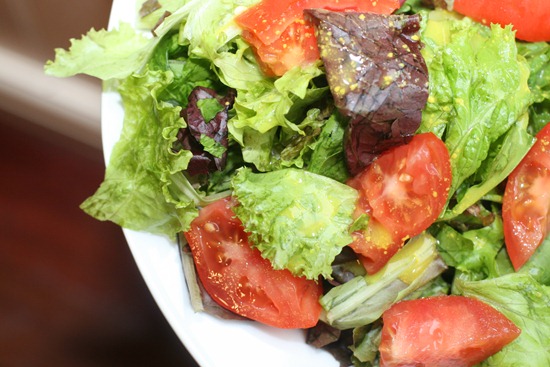 It was gooooood. CSA veggies taste better than any veggie I have had all year.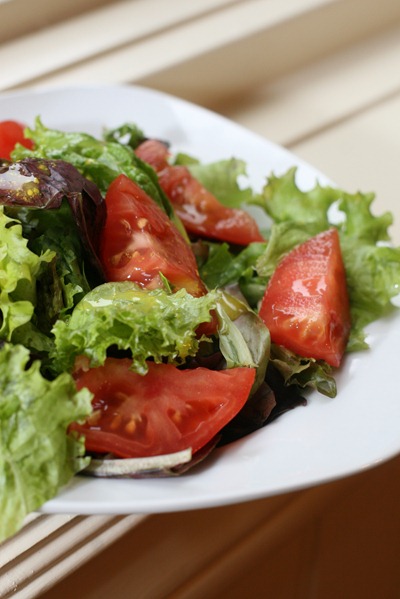 For dinner, he made a stir-fry featuring those Garlic Scapes!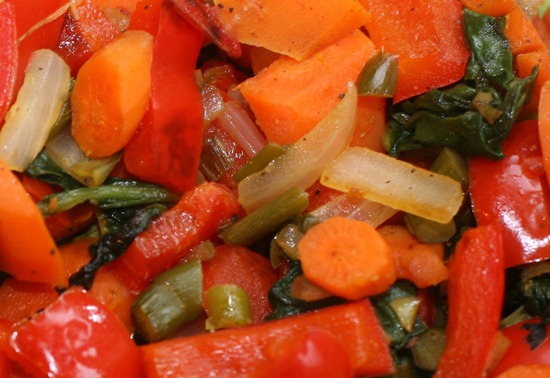 The stir-fry included: Red peppers, 3 garlic scapes, 1 sweet onion, spinach, carrots, EVOO, sea salt, and black pepper. Then he drizzled some EVOO + balsamic over top and more sea salt.
He served the stir-fry over a bed of greens- it was genius!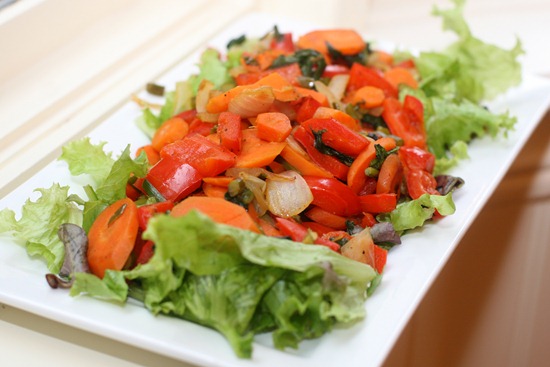 Eric always does this thing with hot foods and salads…he will take a hot pasta dish and eat it on top of a bowl of cold salad. I've always watched him do this, but never tried it myself…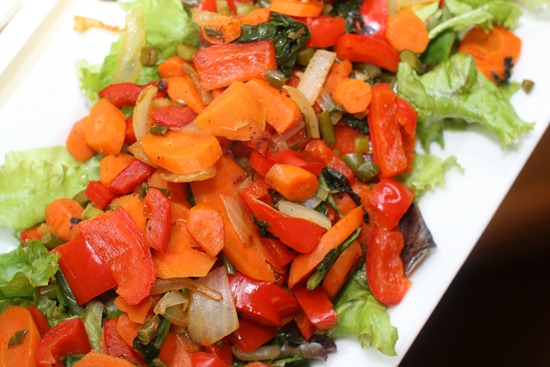 I actually really liked it! I didn't think I would like the warmness on the lettuce, but it was actually wonderful.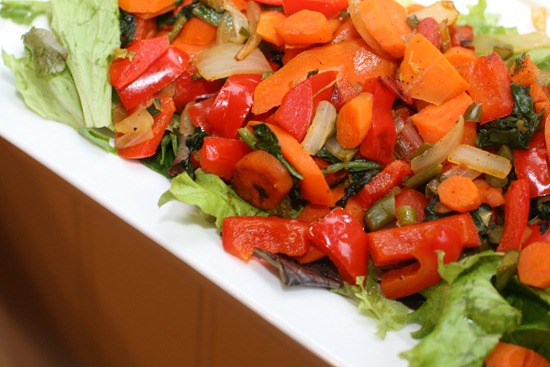 For dessert, a Glo Ball!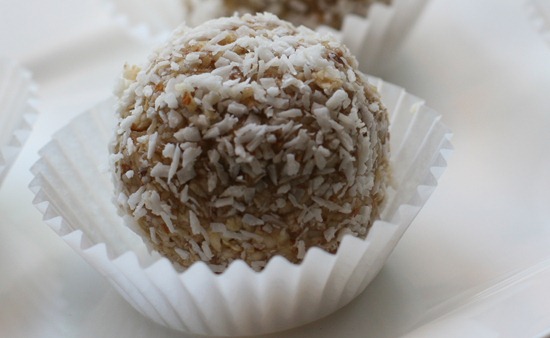 and then throughout the night, I had 3 Organic Mill St Brews! I had a huge food and beer belly and we all had a competition to see whose was bigger. I think I won. :lol:
Last night before bed, I prepped my cherries by pitting and freezing them. I had my heart set on making a Cherry Bomb Vegan Overnight Oats.
Cherry Bomb Banana Soft Serve:
process 1 frozen banana with about 1/3 cup frozen cherries
Kristen started the famous Cherry Chocolate Bomb Shake, so I thought it would be fun to make a Cherry Bomb VOO today!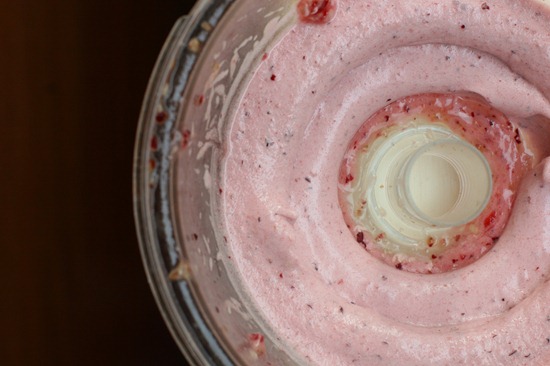 BOOM.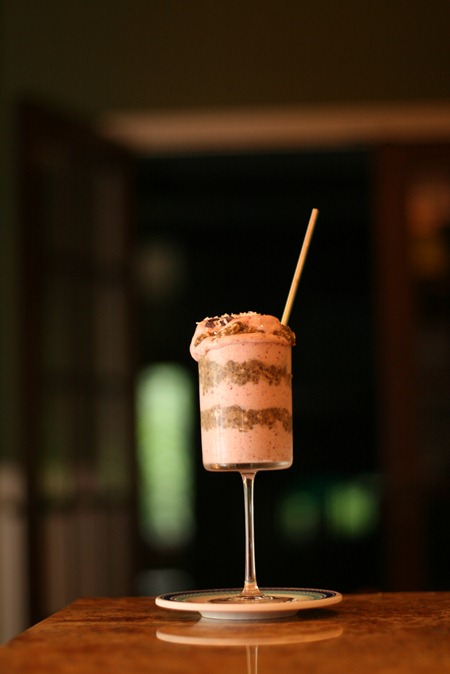 Cherry Chocolate Bomb Vegan Overnight Oats
Adapted from Kristen's Cherry Chocolate Bomb Shake.
Ingredients:
1/2 cup regular oats
1 cup Almond Milk
2 tbsp Amazing Grass Amazing Meal Chocolate Protein Powder
1/2 tsp pure vanilla extract
Pinch of sea salt (tiny!)
1 tbsp chia seeds
Directions: Whisk together the dry ingredients in a bowl and then add the wet ingredients and whisk. Place in fridge overnight or for 45 mins-2 hours in the fridge. Make Cherry Bomb soft serve (above) and layer in a dish.
Oh hell yesssssssssss.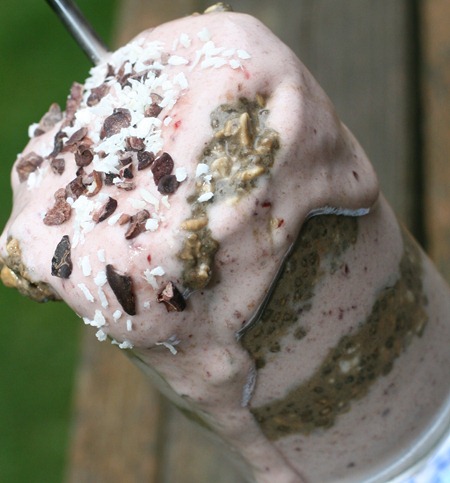 Uh oh, we have a situation here!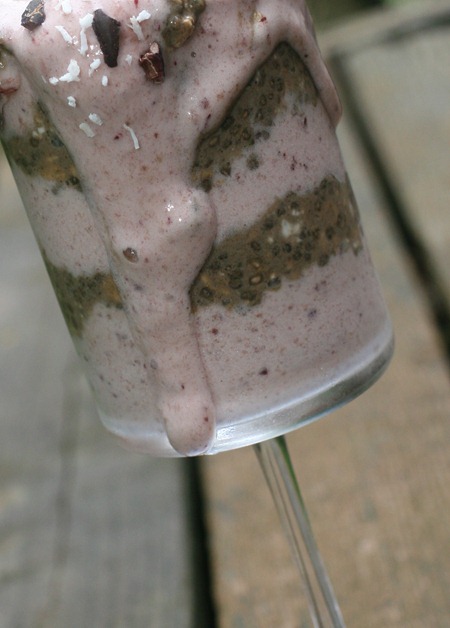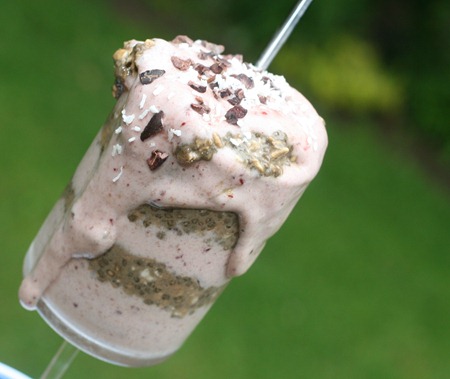 Needless to say, I devoured this beauty! It was SOOOOO GOOD!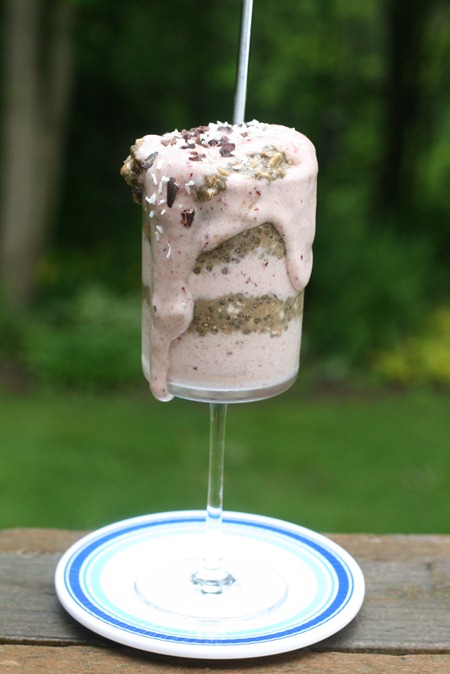 My belly is singing right now.
I'm working in the bakery today because I am taking Tuesday off for a very special visitor this week! Eric and I also hope to squeeze in an open-water swim if this weather improves or a run. I will be talking about my Sprint Triathlon training tomorrow too! I'm excited for it.
Have a great day!