Happy Friday!
Wheeeeeeee. Man, the weeks are flying by…I just hope the summer doesn't fly by too. :ermm: I hate when that happens, don't you?
I whipped up a delicious batch of Vegan Overnight Oats last night before hitting the hay…
Before going into the fridge last night…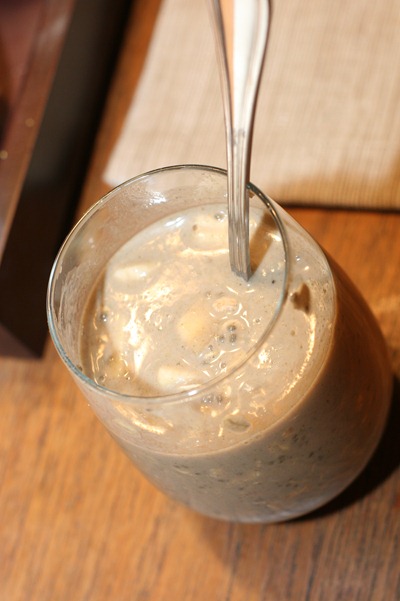 I chopped a large banana and let it marinate overnight in the mix. Mmmm.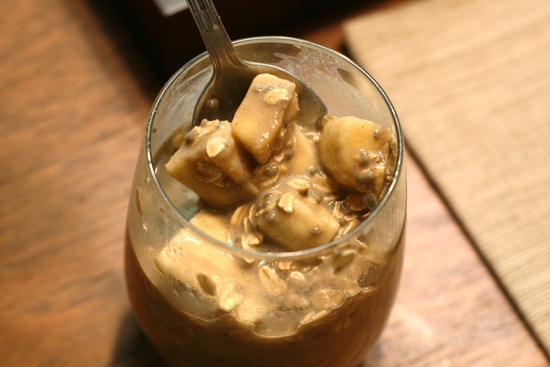 In this batch went:
1/2 cup organic oats
1.25 cups Almond Milk
1 tbsp chia seeds
Very tiny pinch of sea salt
1/4 scoop Amazing Grass Chocolate Protein Powder
1/2 tsp pure vanilla extract
1 large banana, chopped or mashed
Directions: Mix dry ingredients together and then add the wet ingredients (milk, vanilla) and WHISK! Add chopped banana and stir. Place into fridge overnight.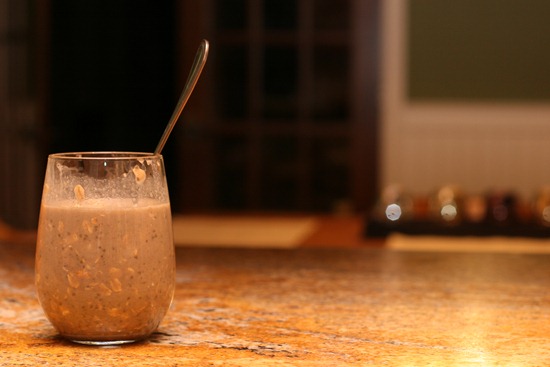 It is very liquidy when you place it into the fridge, but when it comes out in the morning it is thick, thick, thick. Give it a good stir and then add your toppings!
The key topping this morning was maple peanut butter. I mixed 1 tbsp of peanut butter with 1 tbsp of pure maple syrup.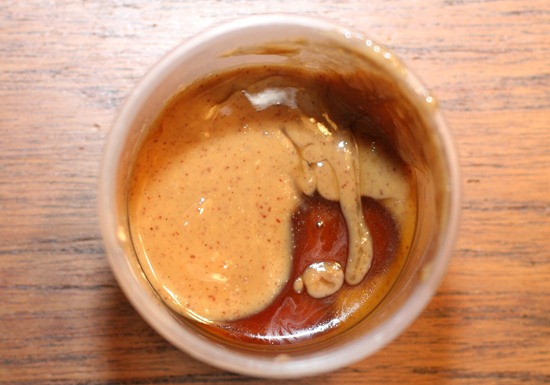 I also sprinkled some coconut on top.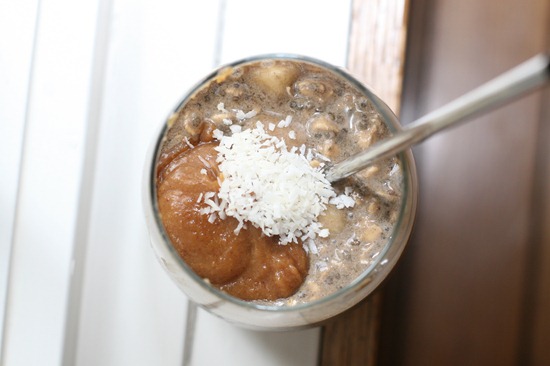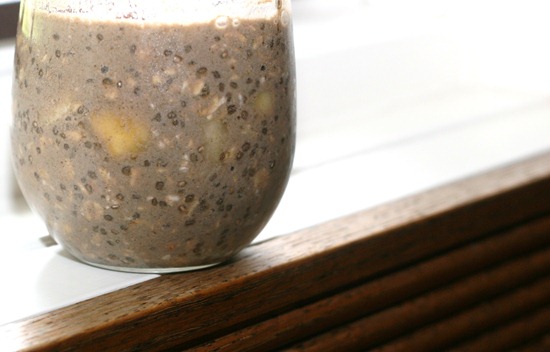 Before & After comparison…from PM to AM…
You can see that the volume from the PM to AM actually appeared to decrease as the oats and chia seeds expand and soak up the almond milk. This makes it very thick!
Do Vegan Overnight Oats have to sit in the fridge all night long before they are ready (aka 8 hours)?
I have had a few readers email me and let me know that the Vegan overnight oats can be ready in as little as 30-60 minutes in the fridge! Good news if you are desperate for them in the AM or want to make them for an afternoon snack. They won't be as thick, but they will be close enough.
Women & Breakfast
I recently came across an article in a UK newspaper called The Independent. Dr. Nerina Ramlakhan was being interviewed on her book called Tired But Wired. One of the things that Dr. Ramlakhan claims is that it is crucial to eat first thing in the morning if you want a better sleep at night.
The evolutionary-based theory is that 'eating breakfast first thing in the morning calms and reassures the part of your brain that still thinks you're a cave person, living day to day on slow-running game and avoiding predators.' Dr. Ramlakhan calls this crucial period in the morning a 'metabolic window'. This window is a timeframe in which you can give your body an important message telling it "there is an adequate supply of food, it can relax, and that it can fall into sleep mode when it needs to."
When I suffered from an eating disorder, I used to either skip breakfast or not eat for an hour or two after waking and when I did eat, it was often just 1 apple. When I was commuting into Toronto for work, I would workout, get ready for work, and then eat my breakfast running out the door (I do not recommend this!). My energy levels were always very low and I was unhappy and irritable, not surprisingly. However, when I decided to recover, one of the things I did was learn to enjoy breakfast again, just like I did as a kid. I think most of us start off as children who have a huge love for breakfast. I have lots of good memories of breakfast as a child…I would often help my parents make pancakes or eggs and toast on the weekends, or I would eat a huge bowl of my favourite cereal during the week. As a child, breakfast was a positive way to start each day.
When I started to eat breakfast again, I realized that fueling up first thing in the morning gave me so much more energy and started my day off on the right foot. Now that I have gotten into the habit of eating when I wake up, I find that I wake-up very hungry in the morning and my body seems to be in a better schedule. For so long, I consumed most of my calories after 3pm, but I feel like now I eat a large portion of my calories in the morning and at lunch and less in the evening hours. I feel better this way, even though at first I was absolutely terrified of eating a large breakfast.
As for improving my sleep, I am not sure on that one, but it sort of makes sense to me that if you don't deprive your body, you will be a more balanced person overall.
What does breakfast look like for you- do you fuel up or skip out? How soon do you eat breakfast after waking up? Have you ever changed the way you approached your breakfast, such as by eating more or different foods?
See you for 1,000 words this afternoon- I need your help with this one! Have a great day :biggrin: