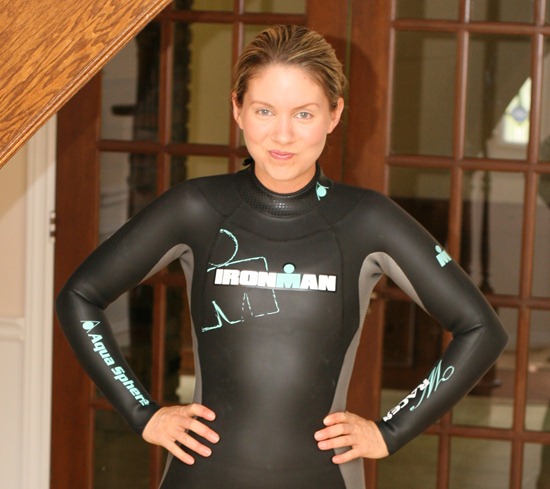 I unleashed my fierce determination when I got my wetsuit on this morning!
I like the 'fake it til you make it' approach when trying something new. It also helps if you let out a 'rawr' or big growl.
Of course, a little swimming fear crept up on me…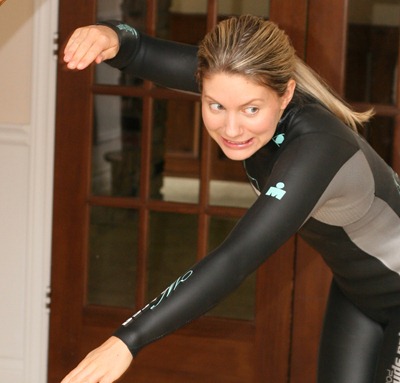 After practicing putting on and taking off our wetsuits we headed off to the race site!
When we arrived my heart started beating VERY fast! It was one of those, 'Oh my gosh what have I done?' moments.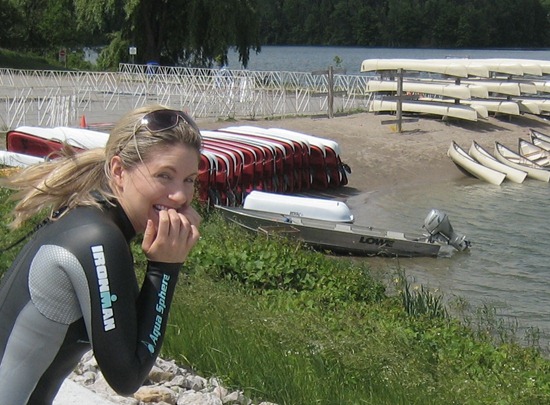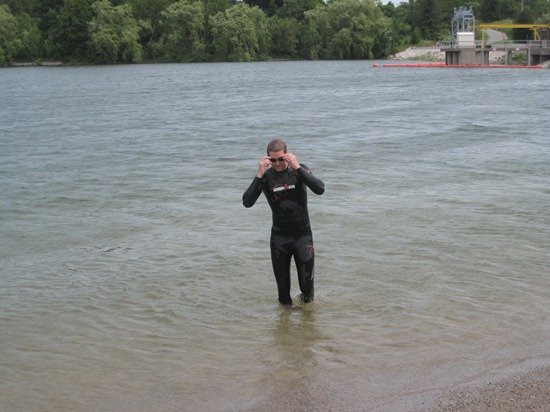 Part of the try-a-tri transition area.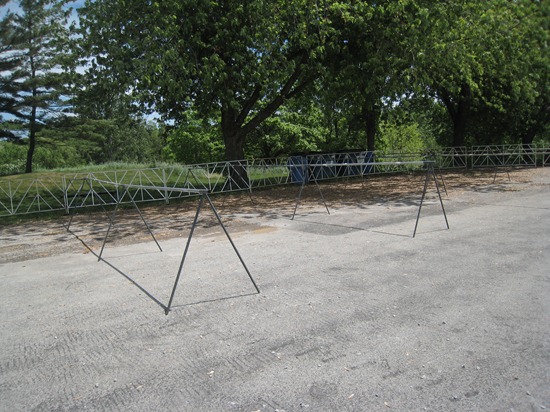 Here's where the magic happens!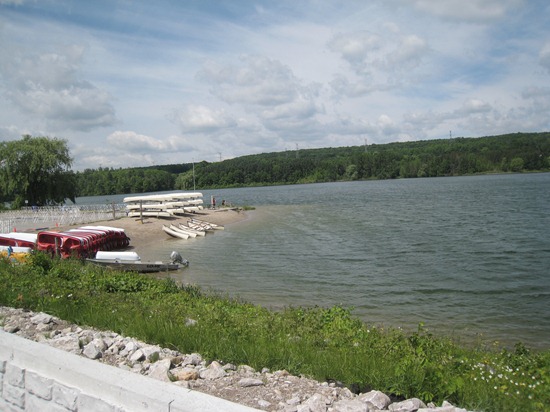 Luckily the weather turned out gorgeous today for our dress rehearsal.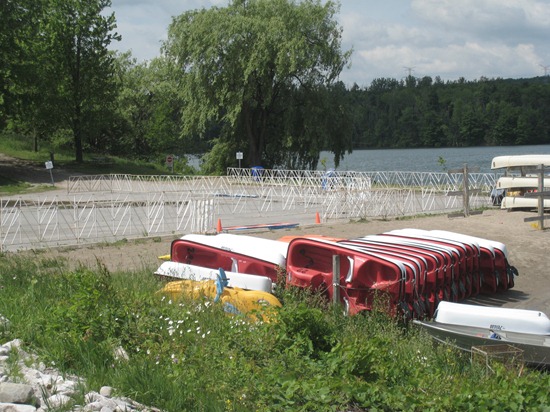 We put together a video of the swim! [I apologize about the very low volume– it was SUPER windy today and I couldn't get the video to be any louder.]
Swim Verdict –> Eric was much more comfortable swimming in the open water than I was. He has had a lot of time in lakes as a kid so I think he has the upper hand! He was really fast in the water too. I felt like I had to keep my head out of the water much more than usual because it kind of scared me when I was looking into the dark water below me.
Wetsuit verdict –> Much warmer and lots of buoyancy. Two thumbs up!
Unfortunately tomorrow's weather report isn't looking so stellar! :ermm: BOO, Hiss.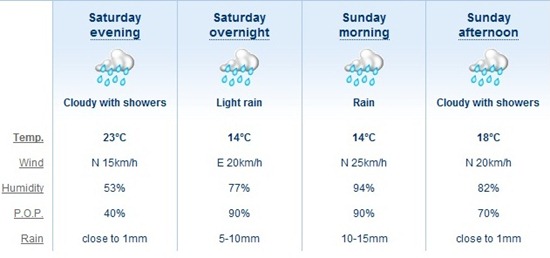 Anyone have any tips on the bike portion in triathlons? Should I stay on the inside if I am slower?
When we got home we made lunch ASAP!
I had a huge salad.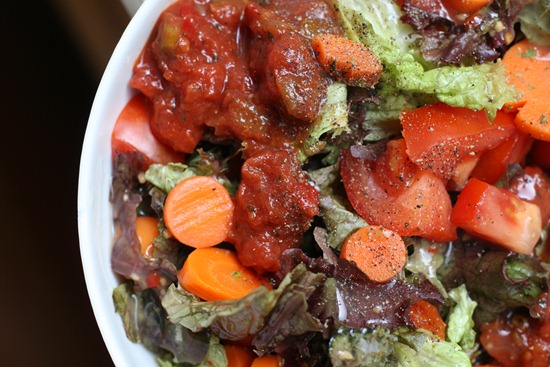 It contained CSA lettuce (2/3 of a head!), salsa, carrots, tomato, homemade dressing, and about 1.5 cups of leftover quinoa.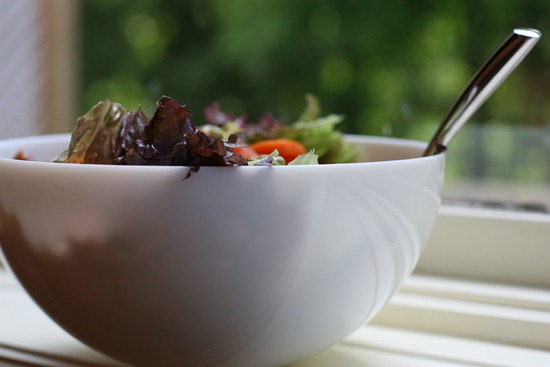 I also had an Ezekiel wrap with 1/2 of a large avocado and 1/4 cup of roasted red pepper hummus.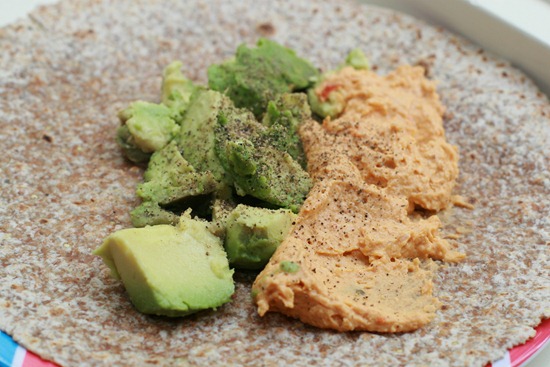 Afternoon snack was this bad boy: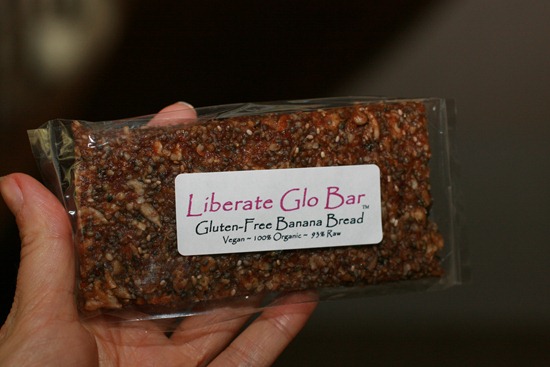 I am off to go prep some last minute things. I am going to try and post tomorrow AM before we leave. I will hopefully be showing you some pre-race eats, what I am bringing to the tri/what I am wearing, and tell you what approach Eric and I have decided to take for this event. I think you might be surprised! :devil:
Have a great night!