Good morning!
We ended up watching The Devil Wears Prada last night. It is one of my favourite movies. I think I have seen it over 10 times now!
Eric will vehemently deny this, but he loves the movie too. [You didn't hear that from me, mmm kay?]
This morning I wanted a Green Monster and I wanted one badly. It had been over a week and a half since my last one (I know!!) and I needed some green in my life. I decided to make one, broken, leaky blender and all.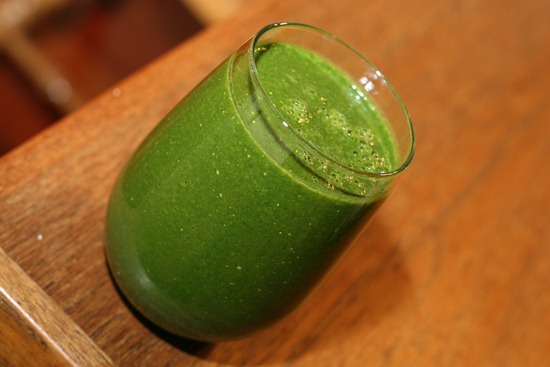 It was a mess, but it was worth this little green drink of pure delight.
In the green drink of pure delight: 2 handfuls spinach, 1 cup almond milk, 1 tbsp chia seeds, 1 tbsp cashew butter, 1/2 frozen banana, 1 scoop Amazing Grass Wheatgrass powder, 1 ice cube.
Heaven. on. earth.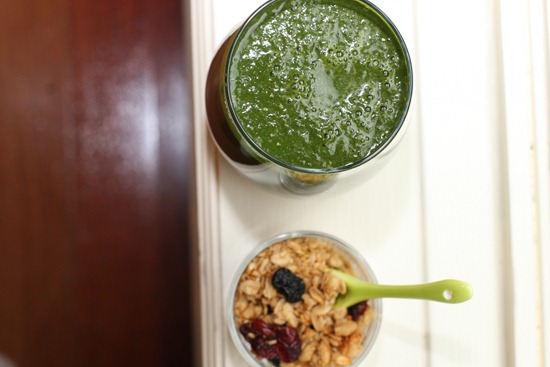 I had it with a 1/4 cup homemade glo-nola (it is a Glo Bakery recipe that I am still playing around with, my apologies!)
And now for my second graph. For the first graph, see here. All future graphs and comics will be placed in a new category on the right called 'Angie's Funnies'.
Here is, How I picture my husband's desire to attend another race as a spectator across time.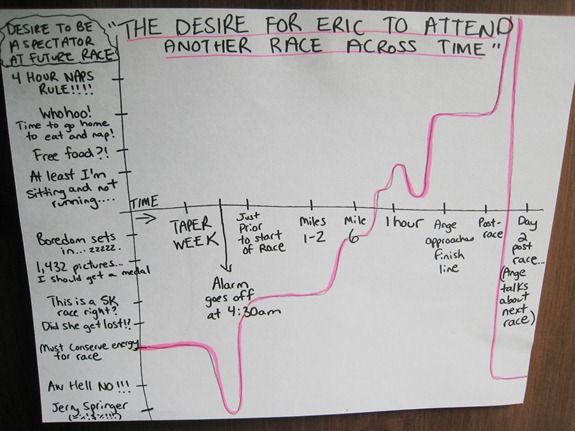 He would like you to know that he had no involvement in this. :lol:
How do I stay motivated with workouts?
I am often asked how I stay motivated with running and other forms of exercise and one thing that has really helped me has been racing. Signing up for a race gives me a clear deadline and a goal of where I would like to be at a certain point in time. Racing gives me focus and new challenges. I used to absolutely dread my workouts in the past. I did the same exact workout every time. It was so boring! Once I discovered racing, I completely fell in love with exercise again and it gave me confidence to try new things.
Aside from our Try-a-tri tomorrow, what will my next race be?
I signed up for an early evening 5-miler run in Toronto called The Night Crawler on June 23rd. The course is in a great area of Toronto along Lakeshore.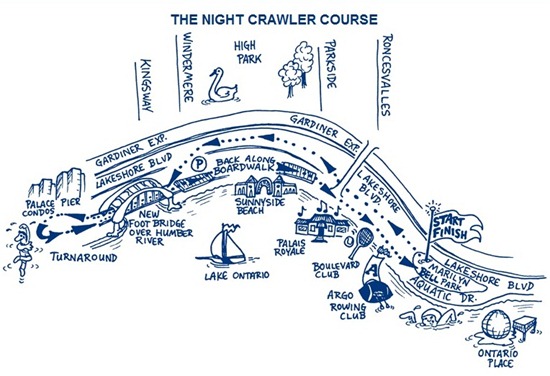 I am especially excited to cross the bridge!!! This is the same bridge where Sarah had her Summer Glow Photoshoot!!
The great thing about it is that it is not far from Eric's work, so he said he will just meet me at the race site. After the race we can grab a bite to eat in Toronto. I'm excited! :biggrin:
If anyone is running this race and wants to meet up beforehand, please give me a shout ([email protected]).
I have a couple long-term summer races that I am eying right now, but I haven't made any plans yet. I have a few crazy ideas up my sleeve and I am really hoping one of them will work out.
We are off soon to do a bunch of last minute's try-a-tri things as well as attempt an open-water swim! The weather looks like it may rain, so hopefully it holds off. :ninja:
Hope you have a fun day in store!