Greetings!
Happy weekend to you. :biggrin: Anyone doing anything fun this weekend?
After work tonight, I set out for a quick run before I started to think about dinner. I was a bit shocked to find that my legs felt like BRICKS on this run! The only workout I did post-race was the bike ride Tuesday and the rest were rest days, so I thought I would be fine today, but man were my legs t-i-r-e-d. When I got back from this 2 mile run my whole body felt stiff. I guess my body must still be remembering what I did to it on Sunday…needless to say I did lots of stretching when I got home!
I got a newsletter today from Plan B Organic farm regarding the CSA share for this week.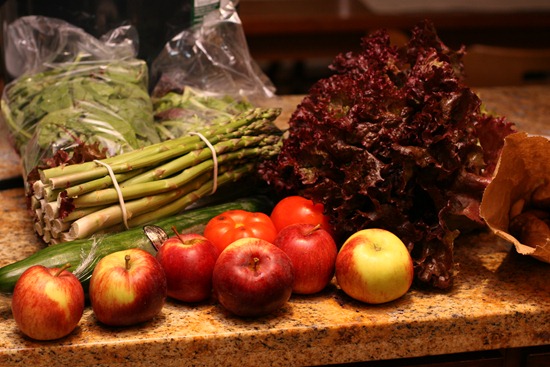 This Week's Summer Shares Feature:
Asparagus – The Peter's Family Farm, Vienna Ontario
Tomatoes – Gideon Stoll & Family, Aylmer Ontario – hothouse grown
Cucumbers – Gideon Stoll & Family, Aylmer Ontario – hothouse grown
Leaf Lettuce – Plan B – grown in unheated polyhouse
Baby Salad Mix – Plan B 
Spinach "red veined" – Plan B
Shiitake Mushrooms – Weth Farms, Goderich Ontario
Apples – Tansy Farm – Flesherton Ontario
It actually was a type of spinach in that bag on the left- 'red veined' spinach…who knew!?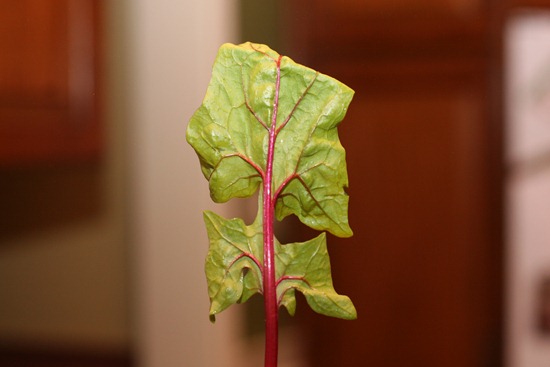 Why hello there new and interesting GREEN in my life.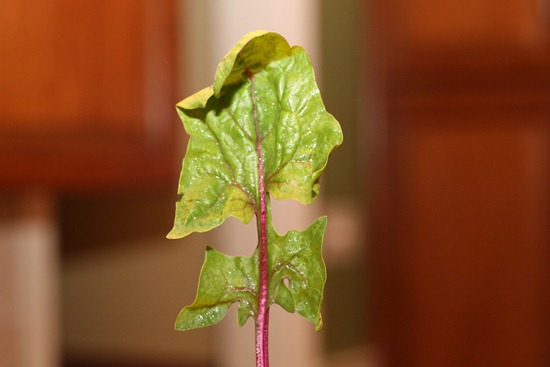 I was actually excited to cook dinner tonight…and that is very rare after a long day in the bakery!
Shiitake Mushrooms…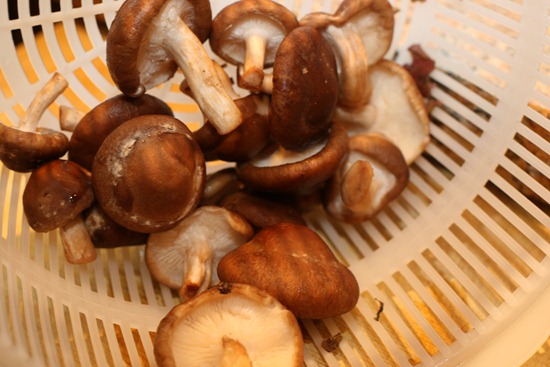 I now believe there is something very magical about eating from local farms. It makes the cooking (and eating) process so much more enjoyable.
Dancing in the olive oil…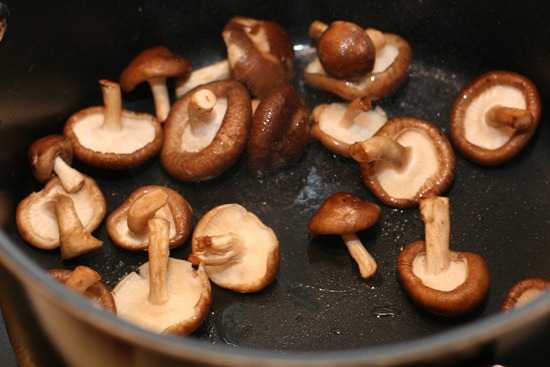 Apparently red-veined spinach is good in mixed green salads, but I wanted to cook with it instead.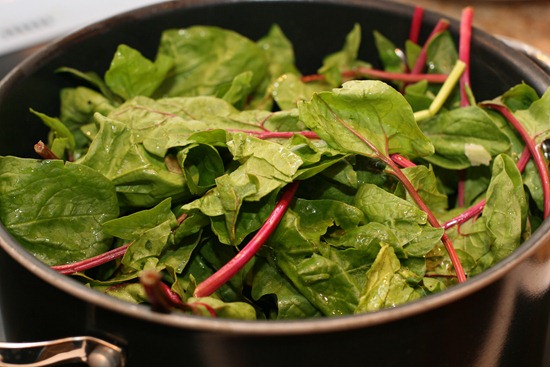 The taste is quite similar to regular baby spinach, although perhaps more bitter when cooked. I couldn't find much info on it on the Internet. I'm sure the proper way to cook this spinach is to remove the stems, but I was very short on time, so I just went with it.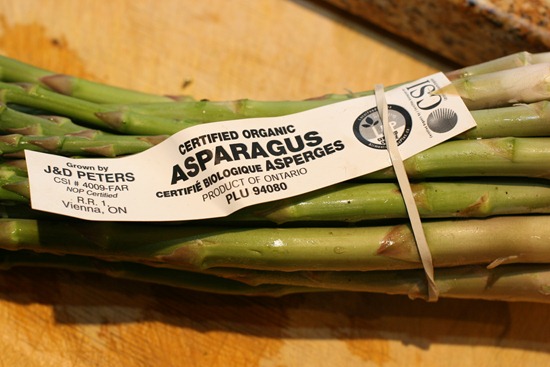 Thank you Mr. Peters!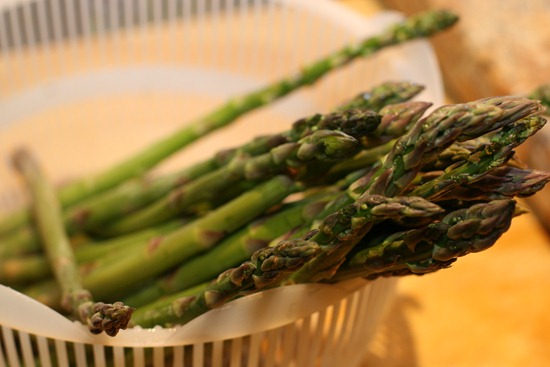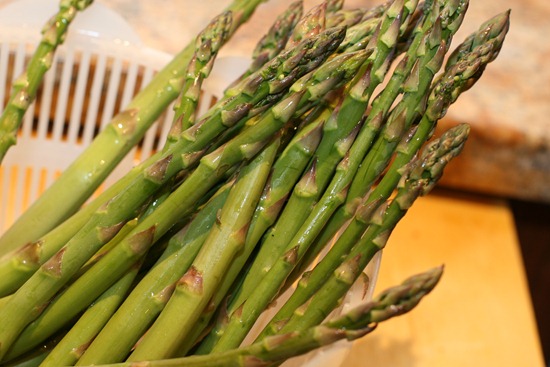 Eric told me that the proper way to get rid of the ends of asparagus is to break it with your hand. The asparagus will naturally break at the weak/soft part and all of the tough end will be removed.
Of course, he wasn't home when I was cooking so I cut it with a knife. :biggrin: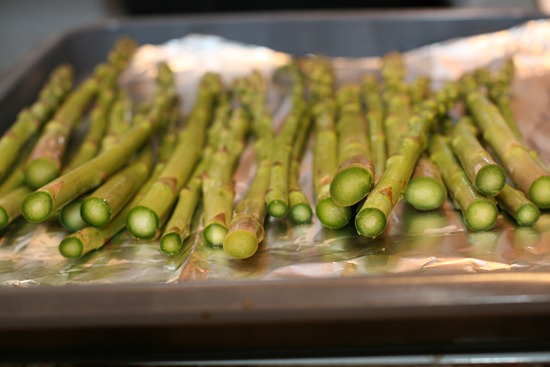 "When preparing to cook asparagus, break the spear at the tender point (by bending the spear it will break naturally at its most tender spot). Its amazing to discover that almost all the spears in a bunch will generally break at about the same point, and that when standing the bunch up, all will be almost equal in height." [source]
I sautéed the Shiitake Mushrooms and spinach in a skillet with 1 tbsp extra virgin olive oil, 1 clove minced garlic, and lots of coarse sea salt.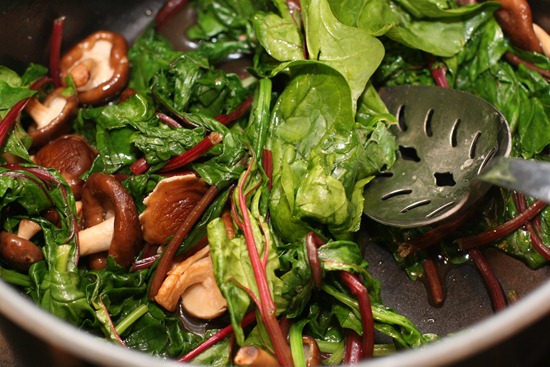 For the asparagus, it was very similar. I preheated the oven to 425F. After rinsing and removing the ends, I poured about 1-2 tsp of extra virgin olive oil and a couple pinches of sea salt and mixed it with my hands. Into the oven they went for about 20 minutes or so.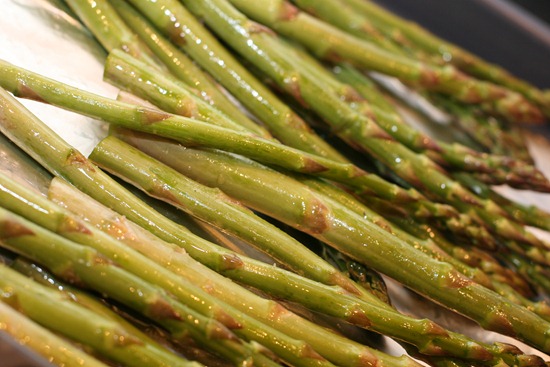 Oh, I also squeezed a small amount of lemon over top.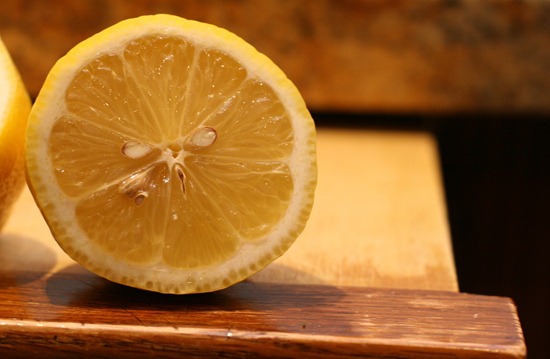 Coming out…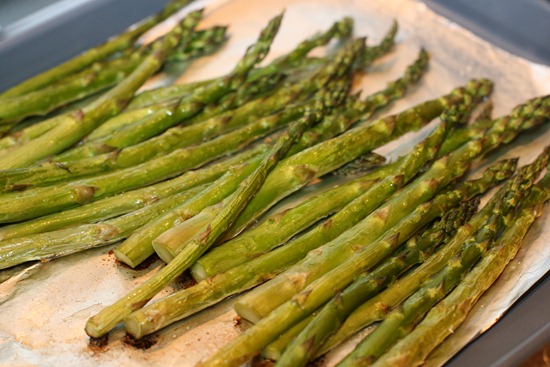 It was getting HOT UP IN HERE so I made some cold icy lemonade…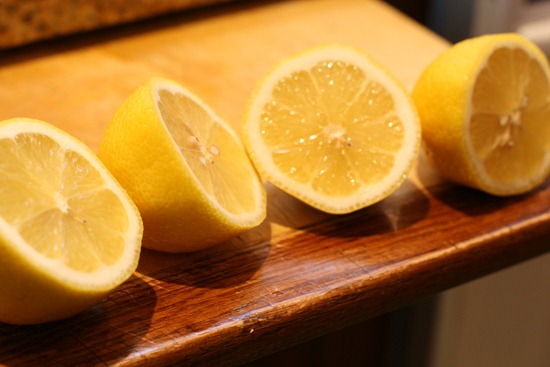 The juice of 2 lemons, a pitcher of water, organic cane sugar (to taste), and ice.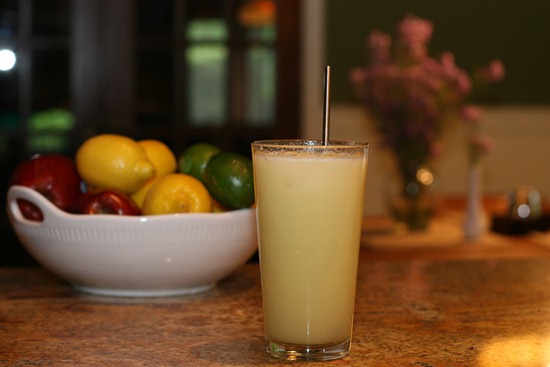 I cooked a big batch of quinoa for some healthy grains.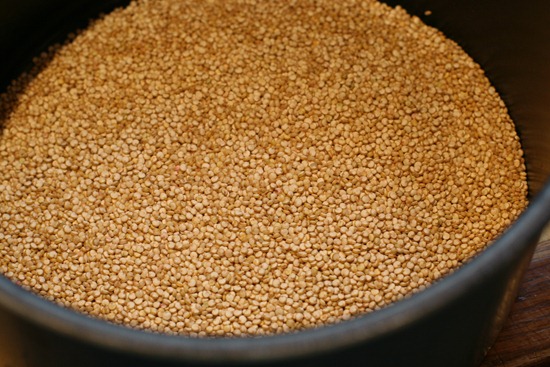 Instead of cooking it in plain 'ol water, I cooked it in vegetable broth and it turned out magnificent!  It had so much flavour. I dissolved 1 vegetable bouillon cube in boiling water and then stirred well before pouring the quinoa into the pot. Amazing.
Before I knew it, Eric was home for the weekend and dinner was ready! I cracked open one of these for both of us: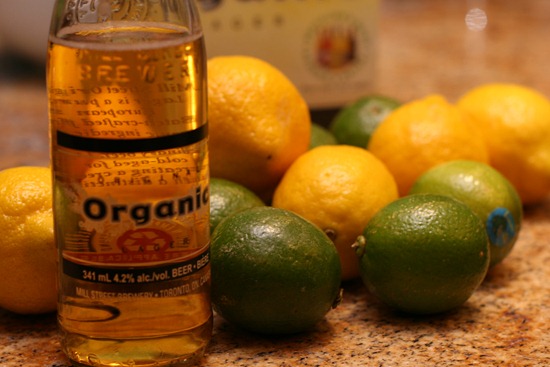 Dinner was served!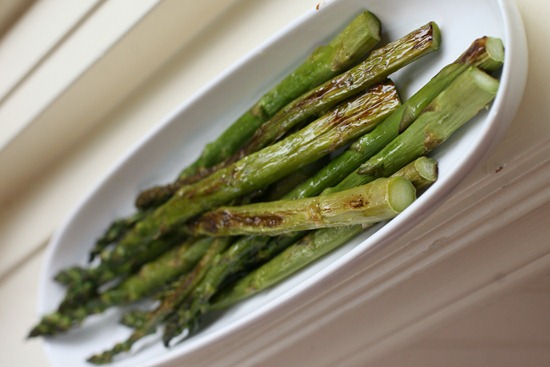 I cannot begin to even describe how good the roasted asparagus tasted. It was sheer perfection! Sea salt is key when roasting vegetables.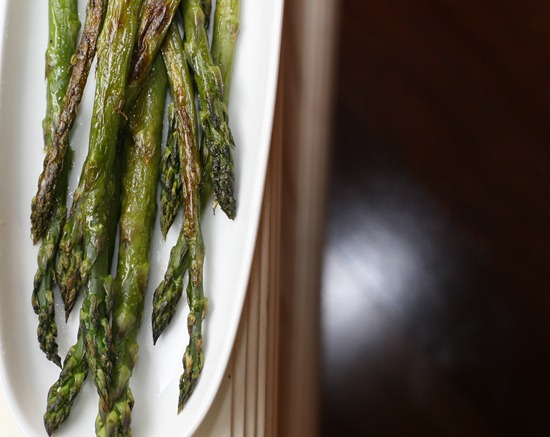 The spinach & mushroom sauté was also lovely over a bed of quinoa.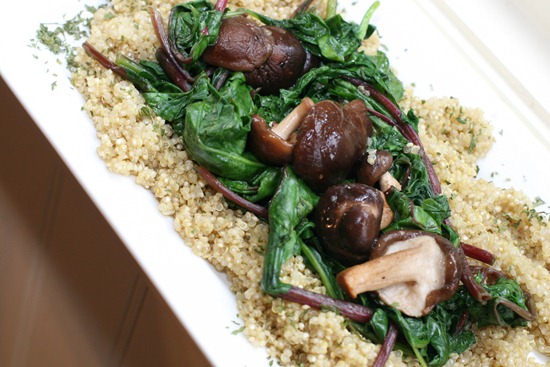 I shared an Adore Glo Bar with Eric for dessert.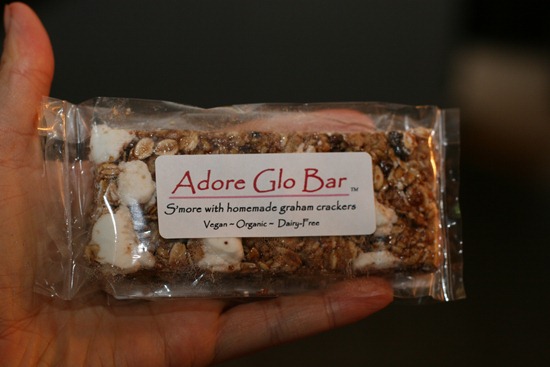 Let's just say the weekend has kicked off on the right foot!
Plans tonight include a walk and having some friends over for a movie. I can't wait to relax…this has been one of the craziest weeks in the bakery.
See you tomorrow AM…I will be telling you about some race plans for the summer and showing you my next graph. Oh yes. Ange's Comic Tour 2010 continues.
Have a lovely evening!