Happy Friday- and happy Victoria Day long weekend to my fellow Canadians!
I am especially excited for this weekend because Eric took today off work, so I have him around for 4 whole days! :heart:
But first, Cookie Friday. Despite being the huge cookie monster that I am, I don't think I have ever officially done Cookie Friday. Well, today that changes. Sort of. I actually made this cookie on Thursday. Does that disqualify me? :biggrin: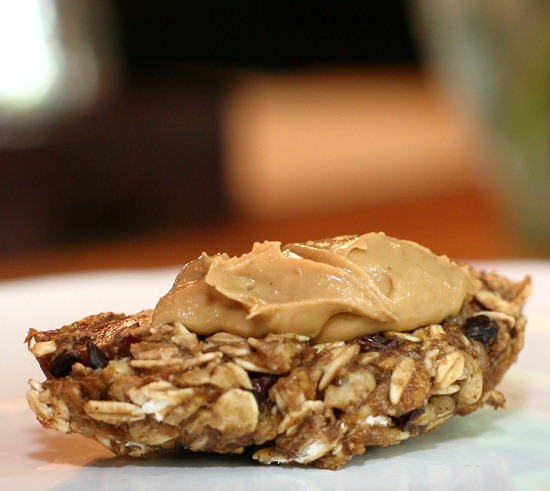 Let's begin.
A while back I spotted a creation by Tina called the 3-Minute Oatmeal Raisin Cookie.
A cookie…in 3 minutes? Naturally, I was game. I told myself I was going to make a vegan version of the cookie.
Well, you know how it goes. Hours turn into days and days turn into months. Dish water blonde hairs become grey hairs.
Until yesterday. 
I was struck by a cookie craving, but I didn't have the time to make an entire batch of cookies. I just wanted 1 cookie. One GINORMOUS cookie all to myself that I would not have to share with my husband. (insert evil witch cackle here). :devil:
I immediately looked for Tina's 3-Minute Oatmeal Raisin Cookie and I decided that today would be the day I would try my hand at making a vegan version.
My challenge was to replace the egg white. I used to assume that it was impossible to replace an egg white in a recipe. Its' thick, binding, gooey texture is not found in many foods!
However, there is a way to replace an egg white and it is actually very easy!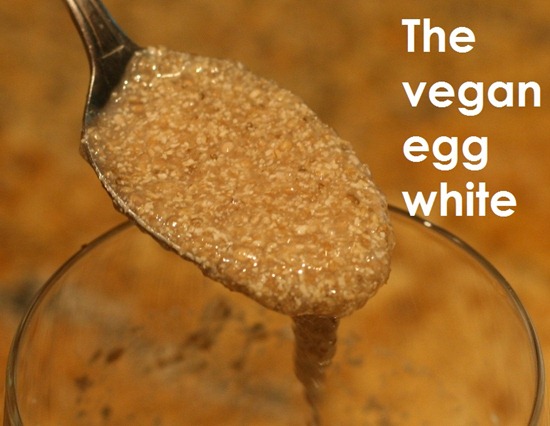 You need chia seeds and water.
I used 'chia flour' which is simply ground up chia seeds. Regular chia seeds or ground flax seed would also work too!
Ground chia seed and water: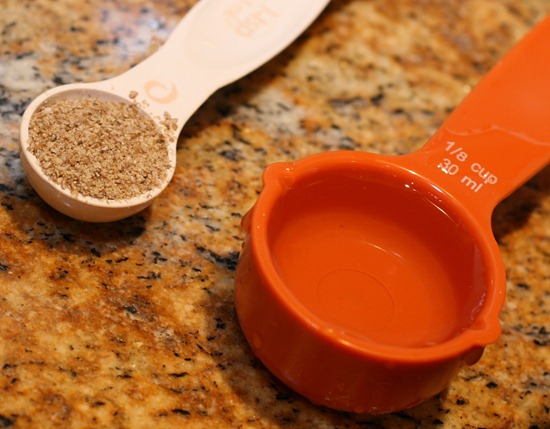 Vegan Egg White
1 tsp chia flour (or 1 tsp ground flax or 1 tsp chia seeds)
1/8th cup water
Directions: Mix water and chia together in a small bowl. Set aside for 2 minutes and whisk again for 20 seconds. The egg white consistency will form before your eyes! Note this recipe is the equivalent of replacing 2 egg whites.
Voila, Egg white texture.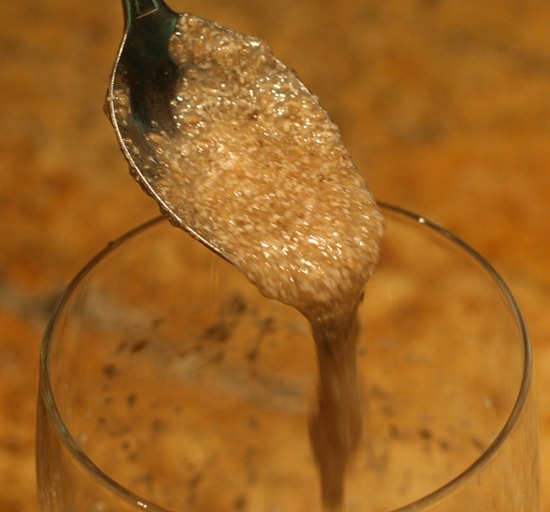 I have also talked about using this method to replace entire eggs in recipes, otherwise know as the chia or flax egg. As a rule of thumb I try not to replace more than 2 eggs in a recipe for best results.
Now back to the cookie.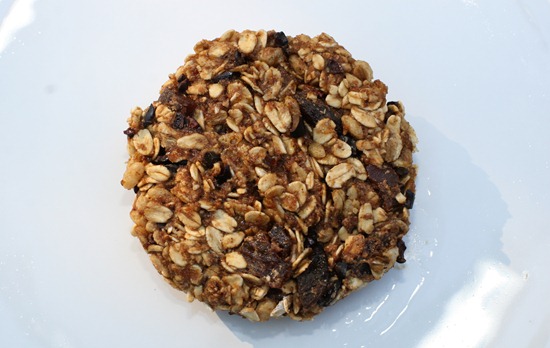 3-Minute Vegan Maple Oatmeal Cookie
Adapted from Tina.
Ingredients:
1/4 cup regular oats
1 vegan egg white (combine 1 tsp ground chia, chia seeds, or ground flax + 4 tbsp water)
1 tsp sucanat (brown sugar works)
2 tsp whole grain spelt flour
1/2 tsp vanilla extract
1/4 tsp baking powder
1 tbsp dried fruit like raisins (I used chopped dried apricot)
1/2 tsp cinnamon
1 tbsp Nature's Path gluten-free rice crisp cereal
1/2 tbsp cacao nibs (or dark chocolate chips)
1 tbsp pure maple syrup
Pinch of sea salt
Directions: Mix the dry ingredients together and then pour on the vegan egg white, maple syrup, and all of the vanilla. Mix well. Microwave for 60-80 seconds. Let it cool for several minutes and gently pop the cookie out with a spoon. It will look like a big oatmeal cookie!
Nutritional info: 197 kcals, 3 g fat, 41 g carbs, 6 g fibre, 18 g sugar, 4 g protein.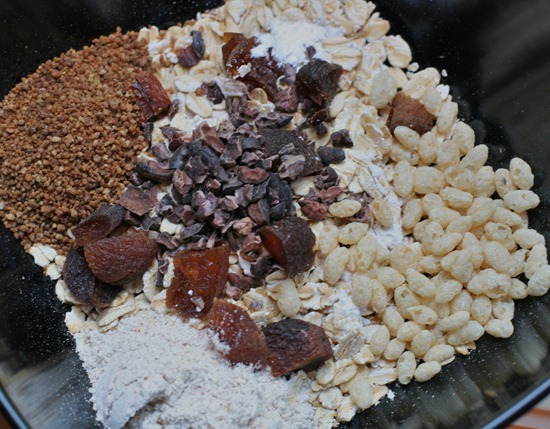 The modifications I made were using spelt flour, dried apricots, sucanat, maple syrup, and adding rice crisp and cacao nibs for crunch. The cookie had a great texture!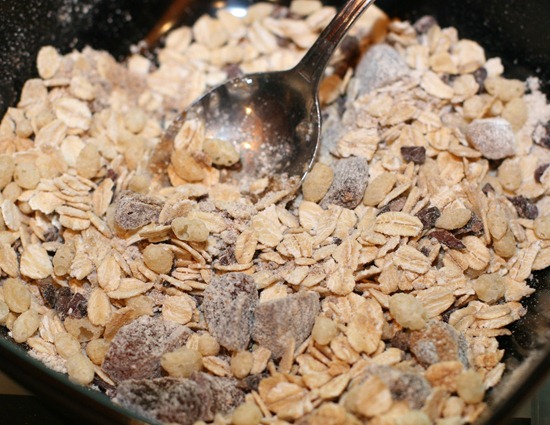 Adding wet ingredients…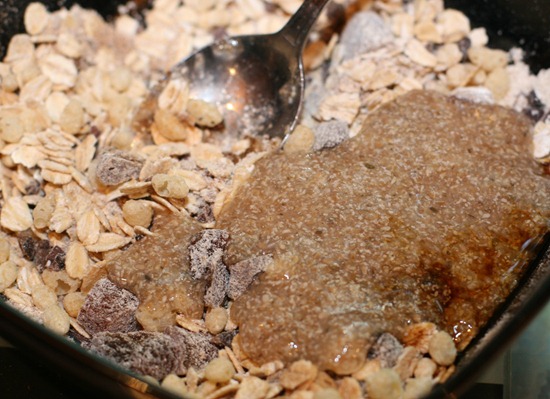 Put the mixture into a small bowl and microwave for 60-80 seconds.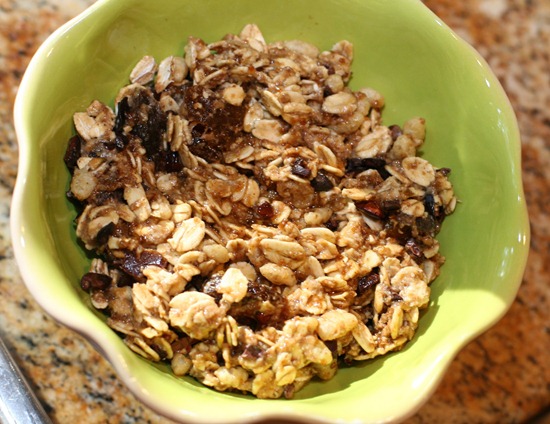 Let it cool.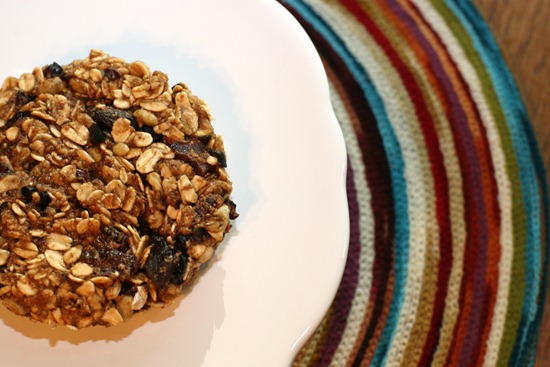 I was quite pleased with how well the cookie held together! It looks like the vegan egg white was a success.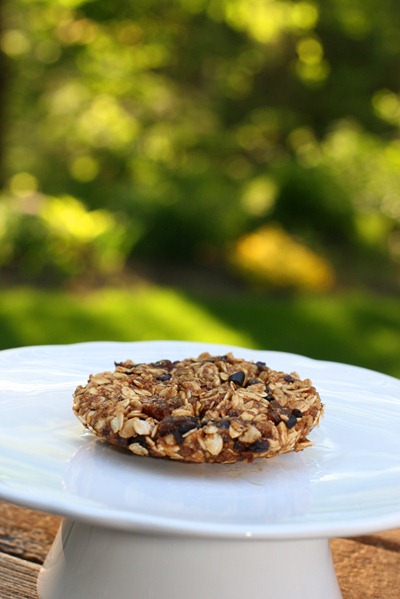 This is the bottom side of the cookie. As you can see it is very gooey as the bottom didn't cook as much as the top. I was not complaining.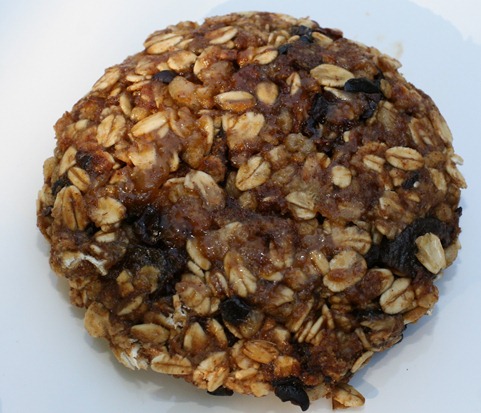 What did I think?
I think this was a good first attempt, but I would make modifications for the next one. Next time I think I would use raisins (hmmm maybe chocolate coated ones??) and replace the sucanat with a bit of smashed banana. For a banana chocolate raisin oatmeal cookie. Yes, that shall be my next version!
Oh by the way, as you may have noticed in the very first picture, I put a blob of cashew nut butter on top. Swoon.
In honour of cookie Friday, I'd like for you to tell me what you all time favourite cookie recipe is! Bonus points if you link to it or tell us where we can find it.
I have a lot of favourite cookie recipes, but my two most recent favourites are Dark Chocolate Peppermint Cookies and Banana Apricot Spelt Oatmeal Cookies. Mmmmmm.
Here's to COOKIES!