Good morning!
I got up this morning around 5:45 because I have a few big orders to get out by noon today. I started my morning with an energizing fresh lemon juice. It is simply a juiced lemon and water. I have had this drink several times now and I think my taste buds are already adapting to the sour taste. Funny how that works! This 'taste-bud adaptation' has happened to me with other foods too!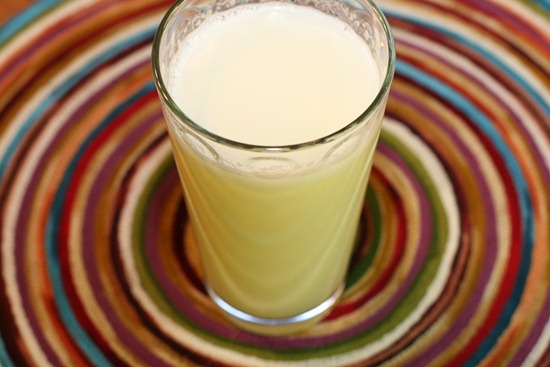 I worked for a couple hours and I was strangely not very hungry this morning. When my hunger decided to show itself, I composed my Banana Soft Serve Vegan Overnight Oats!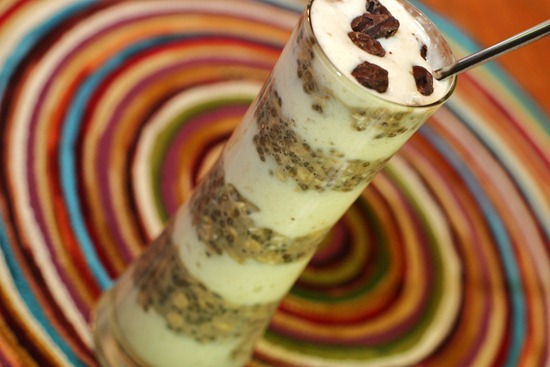 Recipe is found here. I had it with a hidden layer of cacao nibs in the middle and then I sprinkled the top with a few chocolate covered raisins.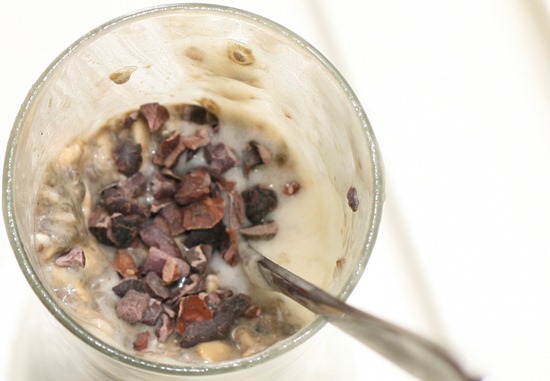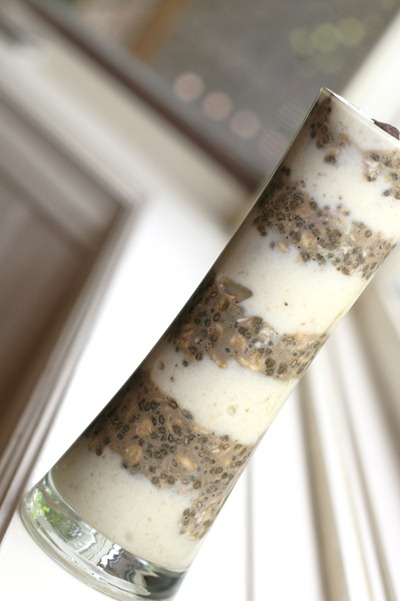 It occurred to me that this Thursday Eric and I are donating blood. I am going to amp up my green monsters over the next couple days! I'll probably have a big one for an afternoon snack today.
Updates:
Last week I meant to mention that the Read page is now up-to-date based on the emails you sent me! I think I have over 300-400 blogs on there now! I can't promise when I will be updating it again because it was hugely time consuming and I spent many hours on it. Should I be placing another call for blogs, I will post about it on OSG!
Eric's Kick-the Pop habit update: STILL POP FREE! He told me he almost cracked yesterday because a coworker almost 'slipped' him one when they were working and he was super thirsty. He said he almost just opened the can and gulped it down without even thinking about what it was. But he caught himself just in time. GO ERIC (and all of you who are doing the same!!!). He now drinks juice when he wants something sweet and he is drinking more tea lately too.
Don't forget Thursday is the last day you can send in your Shop 4 A Cause 2 submissions! I am still looking for A LOT more so please take a look and see if there are any books, fitness gadgets, clothing, services, etc you can part with for a great cause! Thank you!
Today's question- Have you ever experienced 'taste-bud adaptation' with certain foods? Foods/drinks that you used to hate but grew to love over time? or used to love but now hate?
A few that stand out for me:
I used to hate, but now I love…
Tea without sweetener– I used to be the queen of putting artificial sweetener in my tea from green tea to black tea and any herbal tea in between. Now I love tea without sweetener and I find that my taste buds actually appreciate the taste of the tea more now.
Beets– over time my taste buds got used to them
Non-sweet Green Monster's – I have cut down the amount of fruit I need to put in the GM to enjoy the taste.
Lemon water – my taste buds adapted to the sour taste
All veggie juices
Tomato paste
Hummus 
Guacamole/avocados