Greetings!
Yesterday, was quite the interesting day and I am glad I finally have a chance to sit down and write about it.
The sun finally peaked out just before lunch hour yesterday. Actually, it wasn't just peaking out, it was glorious outside. I was so excited to get out there and go for a run after a week of rain and cold.
Before I left, I had a raw and gluten-free Glo Bar for fuel, since I would not be having my lunch until I returned.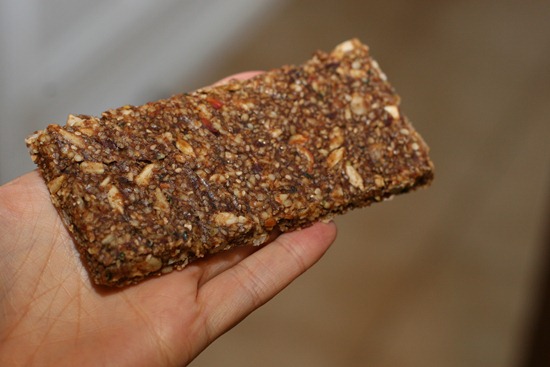 I am finally in love with this bar with 100% of my heart and it feels so good. I will be announcing the release date on Tuesday!
I got my running stuff on, including my favourite Lululemon mesh shape jacket.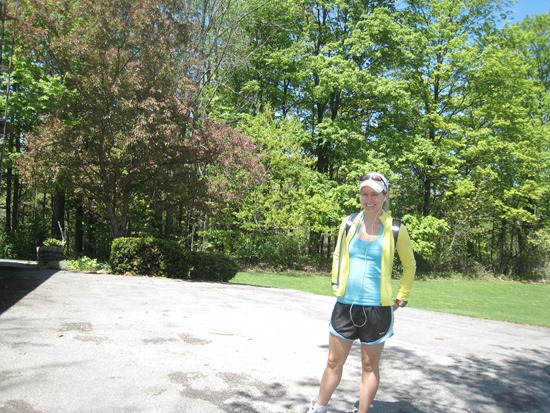 However, about 15 minutes into the run, I got really warm. I decided to put my jacket by the woods under a couple of sticks. I would pick it up when I returned. There was this gravel pull-over spot where fishers sometimes stop to go fishing in the creek below, so it was probably about 30 feet away from the road and the jacket wasn't very visible. I also moved a bigger stick over top of it in case the wind blew hard at some point.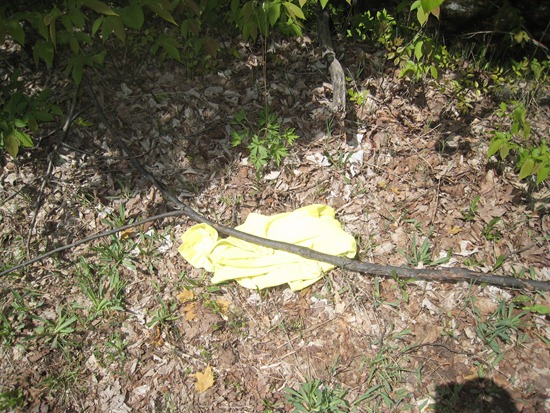 Then I was off for the rest of my run! I was super happy on this run for a few reasons:
The sun and warmth
My groin was 100% pain free and remained that way after each mile
I didn't feel as winded on this run as the other night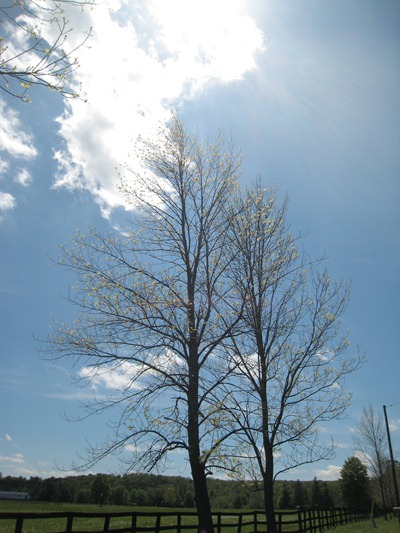 I rocked the hills…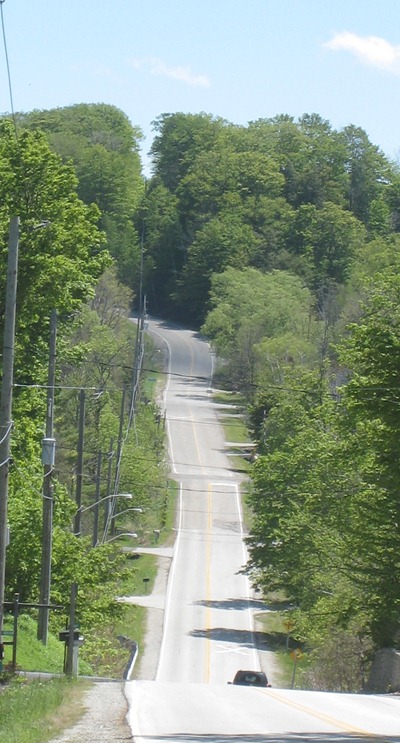 and I was just feeling all around good.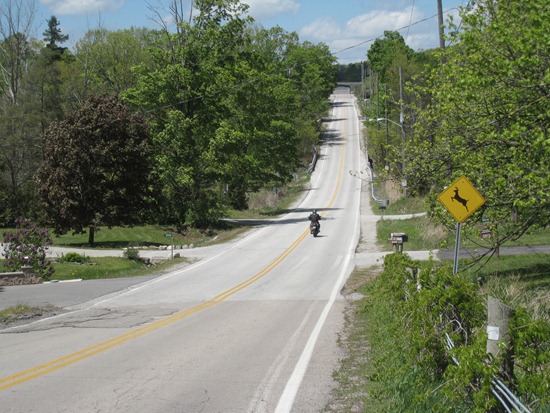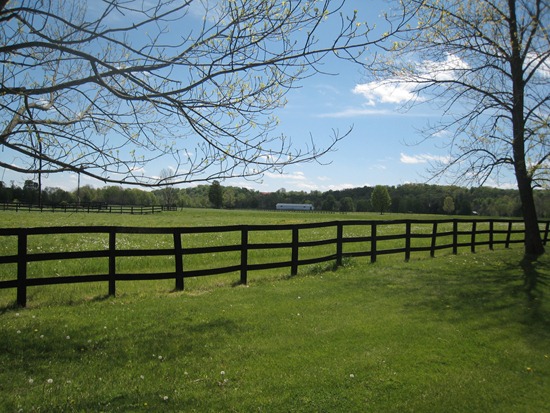 After going out and back for about 25 minutes, I returned to where I dropped off my Lululemon jacket.
It was gone.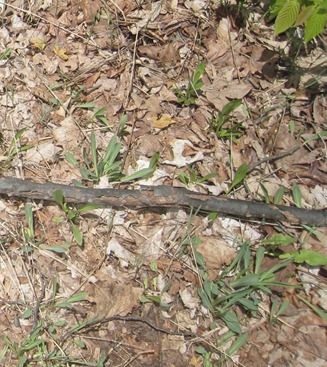 There was also a car parked about 15 feet away from where I dropped my jacket and I assumed that it was a fisherman who had parked and gone to the creek.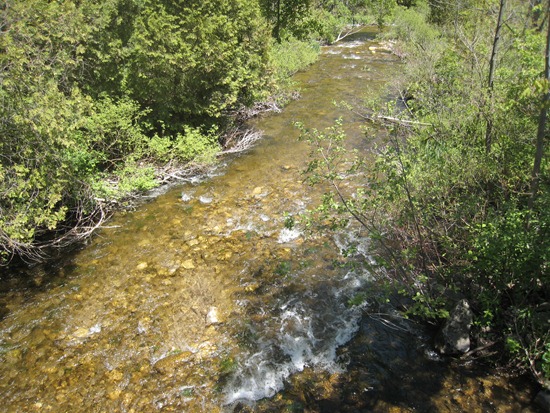 But I didn't see anyone fishing.
I looked around for 10-15 more seconds and I did not see the jacket anywhere. Then, I noticed that someone was sitting in the car.
I decided to ask the person in the car if they had seen my jacket, but I kept back at least 6 feet from the car. There was a man in the car and I instantly regretted approaching the car at all. Instantly my guard went up, like hairs going up on a dogs back. I asked if he had seen a yellow jacket, and he said no, but there was just something very in strange about his response. He did not seem genuine, or at least, that was what my instincts were telling me. I said thanks anyways and I started to distance myself from the car about 20 feet or so, and then the man got out of the car, through the passenger side door which was facing the woods. Something about that was very strange to me. The man started looking for the jacket.
My gut was telling me one thing and one thing only- something is not right here. My body was screaming loud and clear, so I listened. I remember watching an Oprah show years and years ago on self-defense, and the man on the show said that women often get into trouble when they don't listen to their gut feeling. I decided to listen, so I took off running.
Not more than a minute after I left, the man in his car drove by and continued on his way, wherever he was going. I didn't make eye contact.
Adrenaline was pumping through my veins as I ran home. I was angry. I was upset. I was cursing being a woman and having to go through life feeling vulnerable and scared. I started thinking about all kinds of reasons that man was there in his car and why my jacket went missing. I tried to reassure myself that it was just a coincidence, but I couldn't deny the feeling I had about the whole thing. The whole way home I watched my back and looked for his car, but did not see it. I wanted to make sure I wasn't being followed.
I got home and the first thing I did was call the local police. Note, I did not call 911- I called the non-emergency number. I didn't think I was in immediate danger, but I wanted to report what happened because I did feel like it was suspicious and who knows, maybe someone else called in something similar, you never know.
The lady I spoke with said that someone would check the area, and then a couple hours later a policeman ended up coming to our house to speak with me. He said that you should always, always report something that you feel is suspicious and he said I did the right thing. He told me a couple things that made me feel better:
He said the area we live in is very, very safe and generally I don't have anything to worry about (but obviously no one knows for sure)
He said since Ontario banned the use of cell phones in vehicles, many people are pulling off to the side of the road to make a call, at what seems to be, very random places. He said they see all kinds of cars pulled over in strange areas since the implementation of this law.
So yes, it could have been something very innocent, or it could have not. I was not going to take the chance and find out. For a split second I hesitated and I actually tried to deny what my gut was telling me. I think women do this A LOT for fear of insulting the other person or making them feel badly. For a split second, I thought, 'If I run away this man is going to feel badly!', but I had to ignore that thought. Women are naturally people pleasers. We are always, always thinking about other people first.
Well, I think we need to put an end to that NOW.
No one else is going to look after our safety except us!
Maybe that man did feel bad that I took off or maybe he was embarrassed that I seemed scared of him, but that is not my problem. My focus is keeping myself safe first and foremost.
Morale of the story: Trust your gut, always. If the hairs on your back go up and you feel uncomfortable leave the scene immediately!
A few things I learned from this situation that I wanted to share with you:
Never, ever approach a car. Thinking about it in retrospect makes me feel like a fool for what I did. Even though I stayed back a good 6-7 feet from the car, I should have never approached a suspicious vehicle (or any vehicle). Do not make the same mistake as me!
Do not abandon layers while on a run. If someone does have bad motives and they see a piece of women's workout clothing left somewhere, it could be an invitation for trouble. I will never leave a piece of clothing on the road again.
Think about safety options to carry with you on your run. Eric and I are going to pick up a couple things today (I will blog about what I get) and I will be doing my long runs with him (on bike) for the next while. My shorter runs will be run in busier neighbourhoods.
Some of the things I already do when going on a run:
Let Eric know when I am leaving, when I plan to return, and the route I am taking (ALWAYS!)
I carry ID
I carry my cell phone
It was a bittersweet run because the run itself was actually the best one I have had in over 6 weeks!

I did just over 8 miles in about 1 hour and 15 minutes. Dwight says 7.58 miles, but that is because I was running with my watch paused for about 1/2 a mile. I felt really strong on this run and it made me feel much more confident about my half marathon on May 30th.
Today's question: Do you feel like women have a 6th sense when it comes to potentially dangerous situations? Have you ever listened to your gut and got out of a bad situation? Do you carry any safety devices when running?