Helloooooo!
Today has been a busy one and I thought my head was going to spin off a few times, but I am here and relatively all intact. :lol:
I could not bring myself to go near the kitchen tonight. Luckily Eric saved the day and cooked up some Amy's Veggie burgers for us for dinner. I don't think I have ever been so grateful to have a meal cooked for me!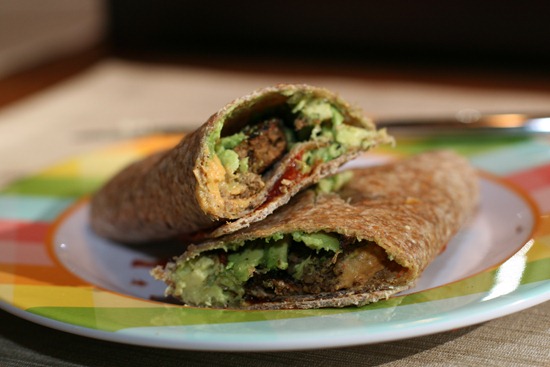 I had: 1 Amy's Texas patty, 1/4 cup red pepper hummus, 1/2 avocado, 2 tbsp tomato paste, and ground black pepper.
I concluded:
It always tastes so much better when someone else makes it!! Why is that?
I felt like I was eating a gourmet meal. Oh He Glows was so proud of himself. It was a win-win situation.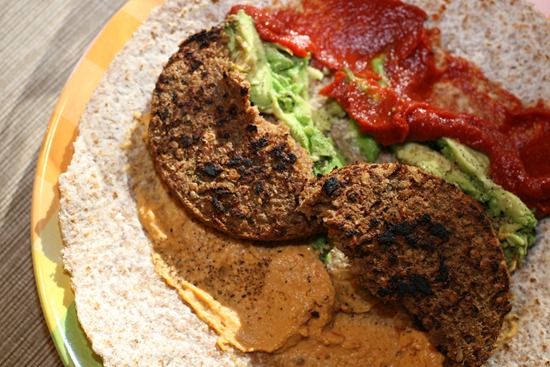 Dessert was an Adore Glo Bar shared with Eric (he demanded the bigger half and I figured he earned it).
I decided that I need to bring some calm back into my life today, so I am off to do 20 minutes of Yoga for Strength with Jackie Casal.
It will be done in the dark.
It will be done with a candle.
It will be done with spookie Sketchie walking all over me and underneath me when I do downward facing dog cat.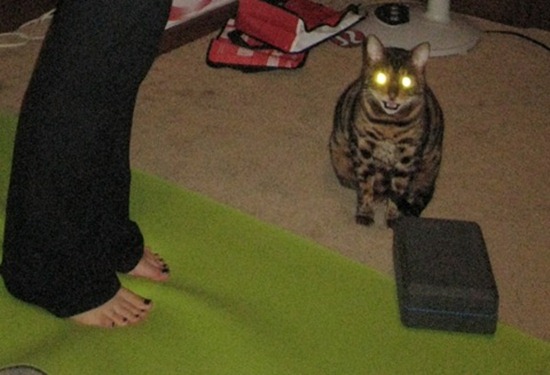 Creeeeeepy. :alien: He is a tough yoga instructor let me tell you!
Eric and I also have a hot date with Tom Papa and Michael Scott tonight that I am excited about. Thursday nights are great for laughter on TV!!
Tonight's question: What is your 'go-to' quick and easy meal when you are tired and don't want to cook something elaborate?
My go-to meal is always frozen veggie burgers. Freezer –> to plate –> in 5 minutes flat. I have never messed up a frozen veggie burger. No kitchen disasters. Just feel-good, wholesome memories. I keep saying I need to make a colossal batch of my In A Jiffy Spelt Veggie burgers and freeze them, but I haven't gotten around to it yet! Some day… :biggrin:
~~~
"Sometimes you have to make your own opportunities and that's why I'm on TV. I wasn't going to sit around anymore, waiting patiently for the damn phone to ring. I had to create my own place- I've always done that." ~ Bette Midler (PS- I updated the quotes page tonight)