Good morning!
Check out some of the new Smiley faces that Eric hooked me up with…
:alien: :angel: :blush: :cwy: :biggrin: :kissing: :sleeping: :w00t: :wub:
Good times.
For breakfast, I craved one thing and one thing only.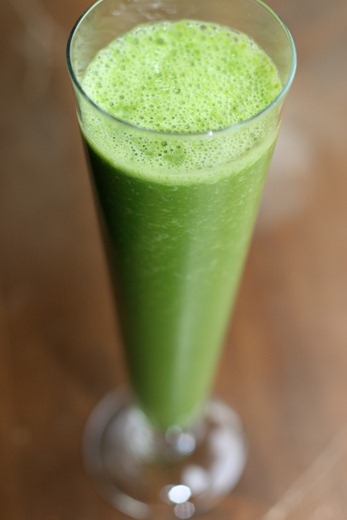 In the Green Monster: 1 frozen banana, 3 cup spinach, 1 cup almond milk, 1 tbsp chia seeds, 1 tbsp peanut butter, 1/2 scoop Amazing Grass Wheatgrass powder, ice.
Engines are revved.
Losing Endurance and How To Get It Back
Last night, I headed out for a run. Since I had my groin pull back in April, I have not been on a long run since the end of March and I have only been on 2-3 runs during all of April. This does not bode well for half marathon training- My race is on May 30th!
However, I knew that I wasn't going to run as long as I felt pain in my groin area. It just isn't worth it to risk injury (groins are notorious for taking a long time to heal).
Now that my groin is finally feeling better, I need to get right back in the game for my half training. My last long run was at the end of March in Florida when I ran 12 miles. That was 5 weeks ago. :blush:
Yesterday, I headed out and decided to see where my body took me. Maybe it would be a long run or a short run, I really wasn't sure. I went out and the first mile, while tough, felt good. I settled into my normal 8:30 min/mile pace and was enjoying being able to run pain free. I finished my first mile, including a large hill, in 8:34 min/mile. I felt good!
However, the next couple miles were a complete struggle. My pace started to drop and I knew immediately that I had lost endurance since being off running for those few weeks.
The symptoms of lost endurance:
More difficulty breathing
Cannot maintain normal pace
Cannot go long distances
Did not feel as automatic or as relaxing
Doesn't feel as fun as usual
My first thought was, OK now I believe the readers who said that swimming doesn't really help with running endurance! :lol: The thing that gets me is that I feel like I am in amazing shape, but all that work I have done on the bike and in the pool doesn't seem to translate into running endurance!
The splits:
Mile 1: 8:34 mile/min (ascent- 164 ft)
Mile 2: 9:10 mile/min (ascent- 95 ft)
Mile 3: 9:20 mile/min (ascent- 61 ft)
Mile 3-3.55: 5:06 mile/min (ascent- 57 ft)
As you can see each mile got slower, even though the ascent decreased.
My overall time was 32:11 mins. with an average pace of 9:11 min/mile, which is not a bad pace by any means, however what matters to me is how I felt while running it. It was a complete struggle and prior to April, I could have done that run in my sleep.
I am 19 days away from my half marathon on May 30th and I am going to try to re-build some of my lost endurance without over-doing it. I previously set a goal for myself to beat my last half marathon time (1:56:33), but in all honesty this race may not be the race to do that! And I am ok with that. Not every race that we sign up for will turn out like we hope. Things get in the way of training and there isn't much we can do about it sometimes. I have also been juggling my try-a-tri training (the race is June 6th) and in all honesty, training for two different events at the same time is not easy.
My goal for this week is to get in another shorter run and then attempt a long run this weekend. I am hoping with some consistency over the next couple weeks, I can get back some of that lost endurance. I may end up running the half with no goal time at all, it really just depends how the next two weeks go!
Today's question- Have you ever taken time off training (for an injury, travel, or to focus on another sport) and lost endurance? How did you get it back?