Hello :wub:
I made it back from my meetings to have a quick lunch of leftovers today! I decided to eat outdoors…but I had to bundle up as it was still chilly!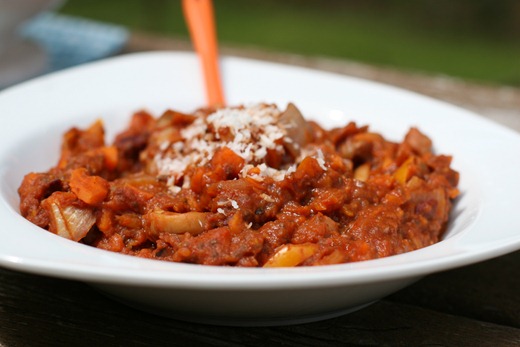 I had a bowl of leftover Delicious vegan Chili from last night.
Along with Mary's Crackers and Red Pepper Hummus.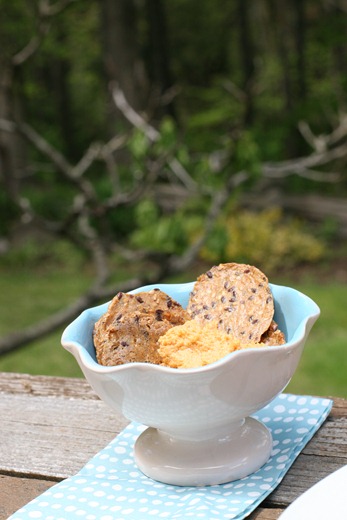 Buzzzz.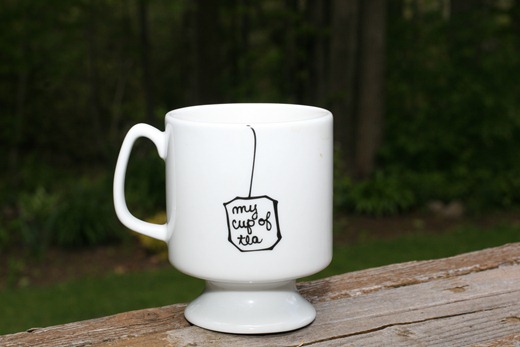 For dinner, I made Coconut Red Lentil Soup that I have been meaning to try for a while by Heidi Swanson. When I saw it on Jenna's blog recently, I knew I had to finally make it. I had great success with Heidi's Red Lentil Soup (see my version here), so I had a feeling this one would be great too.
Coconut Red Lentil Soup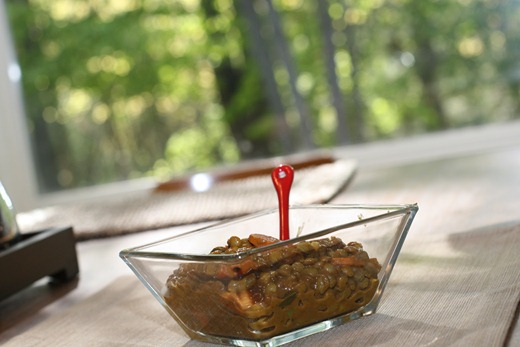 Adapted from 101 Cookbooks.
Ingredients:
1 cup yellow split peas (I didn't have any so I simply doubled the lentils)
1 cup red split lentils (I used green lentils)
7 cups water
1 medium carrot, chopped
2 tablespoons fresh peeled and minced ginger
2 tablespoons curry powder
1 tablespoon extra virgin olive oil (EVOO)
8 green onions, thinly sliced
1/3 cup golden raisins (I used regular sultana raisins)
1/3 cup tomato paste
1 14-ounce can coconut milk
2 teaspoons fine grain sea salt
one small handful cilantro, chopped (I didn't have any)
For the directions and original ingredients, please visit the original recipe's page.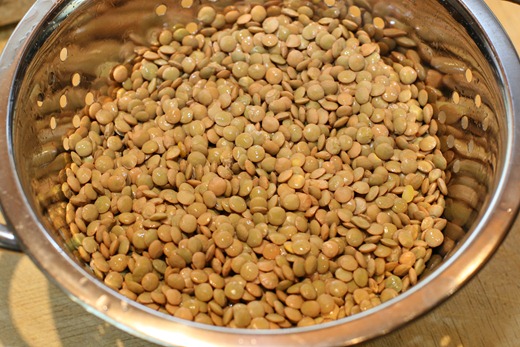 As I mentioned above, I doubled the lentils since I didn't have any split peas. However the peas were sorely missed! The soup was lacking some texture that I am sure the split peas would have added that little bit of crispness to it.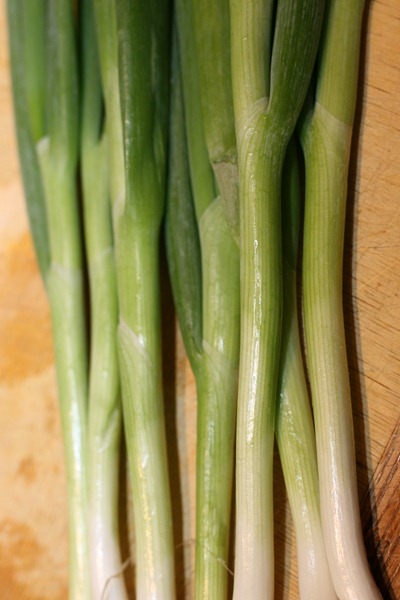 I set aside some of the onion, but of course I forgot to sprinkle them on the soup when it came time to eat!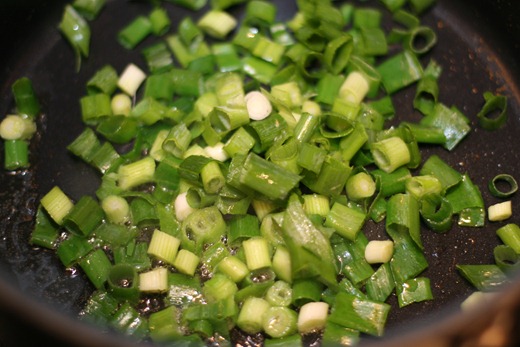 That was an awkward one handed picture. ;)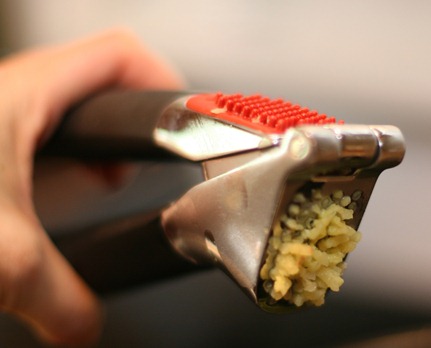 It has been so long since I have had raisins! They are addicting. Next time I would double the raisins as I loved them so much in the soup!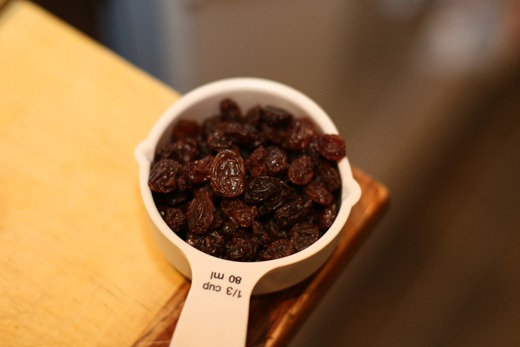 Toasted curry powder. I think I need to upgrade my curry powder because this is no name stuff and it is not the best. Any curry connoisseurs out there?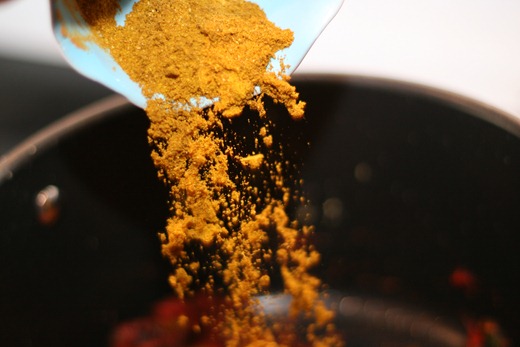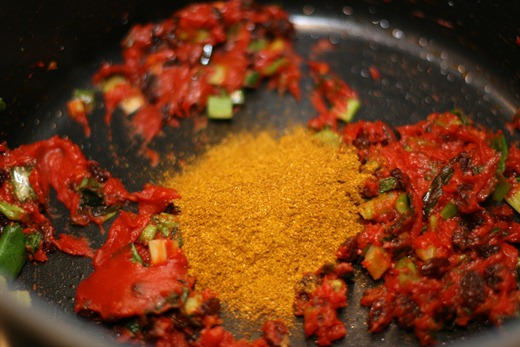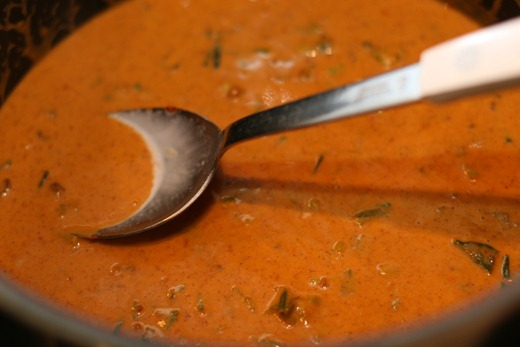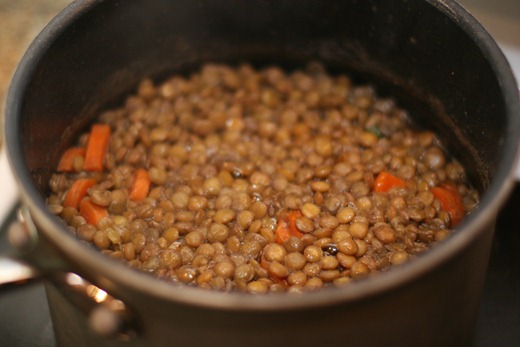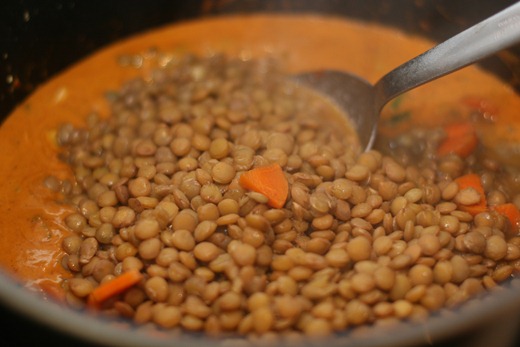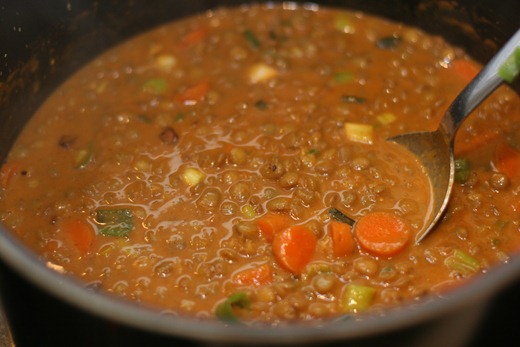 As you can see it REALLY thickened up! I would be more inclined to call this a stew as it was so thick. It would be wonderful over a thick chunk of toasted bread.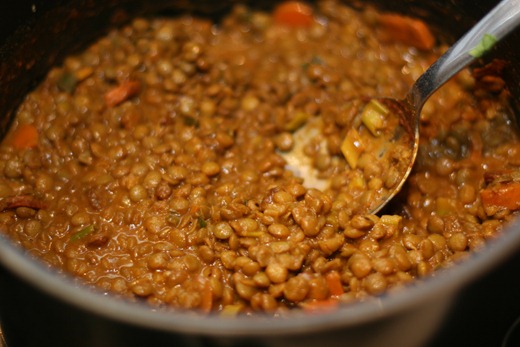 I loved it!
I think this is the type of dish that will be much better the next day so I am excited for tomorrow to see how it compares. Tons of protein too.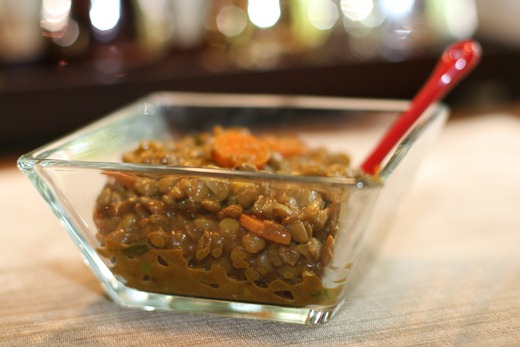 Now you can watch a video of all three of my meals today! :) I switched back to You Tube after not having success with Bliptv last night. You will have to take into consideration that You Tube doesn't let me use my own music so I have to pick from a sad selection!
Updates:
See you tomorrow morning…I will be talking about a troubling running discovery I made tonight.
Goodnight!