Good evening!
Brrrrr…..it is FREEZING outside again today! The winds were super high (40-50 km/hr) and it was just blistery outside. I think it only got to 5C today. Eric and I bundled up and braved the cold for a quick bike ride.
It sure looked nice outside though…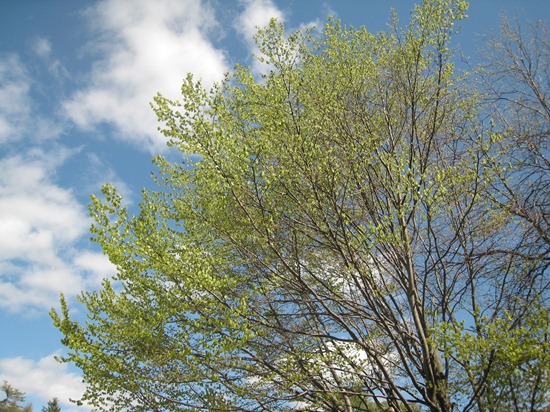 We both had to wear two sweaters and a jacket and we were still freezing!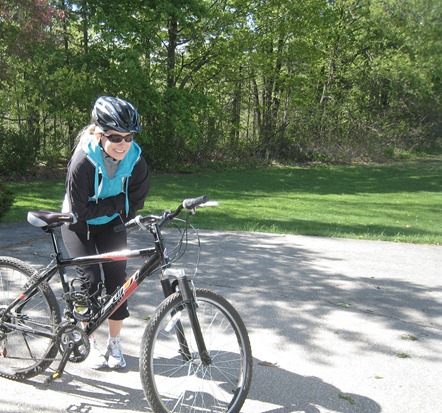 We managed to squeak out a speedy bike ride, despite wanting to turn back several times.
The bike ride:
Time: 26:20 mins
Distance: 4.40 miles
Avg speed: 10 mph
Max speed: 17.4 mph
Ascent: 301 feet
We did a combo of road and trail once again. The trail was fun and it blocked the wind a bit, but it also blocked the sun!
Our hands were FROZEN and red and my toes were starting to go numb when we returned!
Crazy, that just a few days ago it was 26C.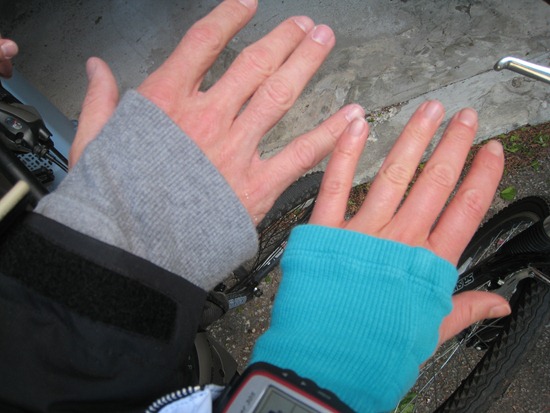 However, it was energizing (once it was all over!), so I am glad we stuck it out. :)
I forgot to mention to you guys, I have been using a new mantra when I swim lately! Sometimes, I jinx myself and start thinking negative thoughts about my performance when I am in the pool. If I have a few bad laps and I am not 'in the zone', I find that it is a slippery slope. Once I start thinking I am doing bad, that leads to more bad laps…
So lately I have been repeating a mantra in my head:
'You are strong, you are powerful, you are capable. You are stronger than you know."
I repeat it over and over and over and it really makes me perform better. I used to use mantras when running, but it can apply to anything in your life.
Delicious Vegan Chili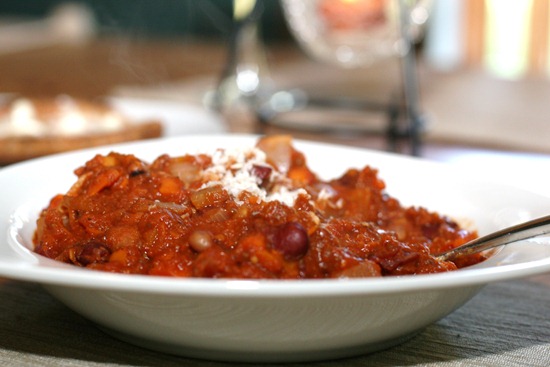 Adapted from Maintenance with Ashley.
Ingredients:
1 tbsp oil
1-3 cloves garlic, minced (I used 1)
2 bell peppers, chopped
1 sweet onion, chopped
3 carrots, chopped
1 tbsp cumin
3 tbsp chili powder
pinch sea salt
pinch cayenne
1 can each: black beans, white kidney beans, red kidney beans (rinsed) (I used 1 large mixed can)
1 can diced tomatoes with juice
2 tsp oregano
1 can organic mushrooms, drained
1 tbsp unsweetened cocoa powder 
juice of 1 lime (optional, I didn't include)
Secret Ingredient –> 2 tbsp CHIA SEEDS (it thickens up the sauce soooo much!)
Directions: In a large pot, add the EVOO and heat over medium. Add garlic, peppers, onion, carrot and sauté until everything is soft, approximately 5 minutes. Add the rest of the ingredients, cover, and cook for about 30-40 minutes on low to medium heat.
It was amazing!! Check out this video of our meal. (Edit: Video seems to be taking a while to load?)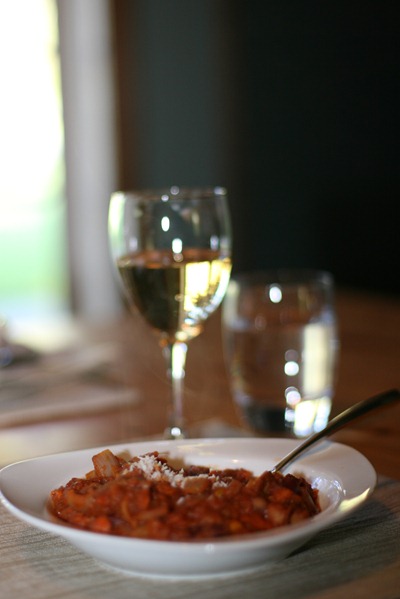 I loved how much the chia seeds bulked up the sauce…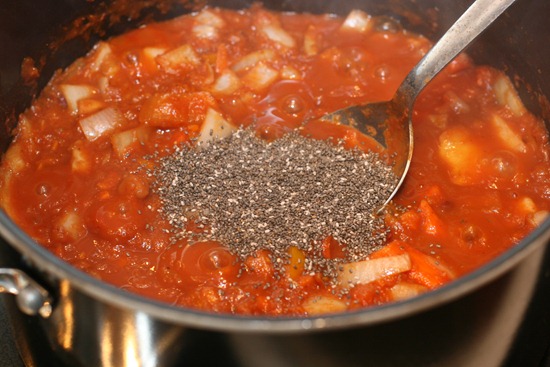 I made this a 'low bean' chili because Eric is not a bean fan. So I just used 1 large can of mixed beans.
Thanks to everyone who sent me a chili recipe on twitter today! Now I have enough recipes to make for the rest of my days. ;)
I'm off for a hot bath. Here's to a warmer start to the week!