Good evening!
Today I enjoyed doing absolutely nothing. I offered to help Eric paint, but he said, 'Ange, just take the day to relax and veg out.'
He is brilliant if I do say so myself. That, or he doesn't want me messing up the painting and didn't have the heart to tell me…
So yes.
I sat. I vegged.
I ate some of this…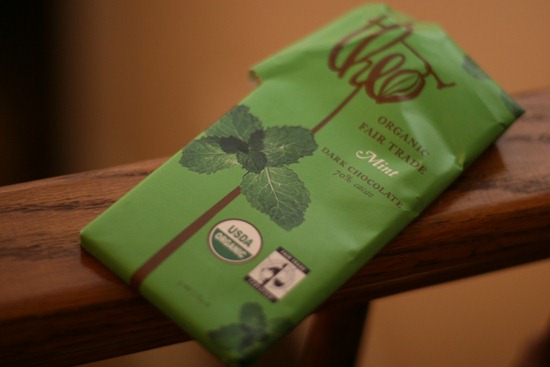 I deemed this The Day of Theo Mint Chocolate.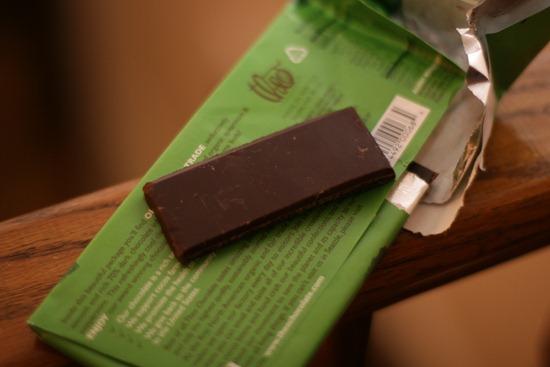 This chocolate is straight from our Florida trip. It has been hidden in my dresser, buried under clothes and I forgot about it for weeks. I know this may sound like I am a 90 year old lady who hides things and then forgets about their location, but trust me, I need to hide this chocolate from myself.
This may help explain…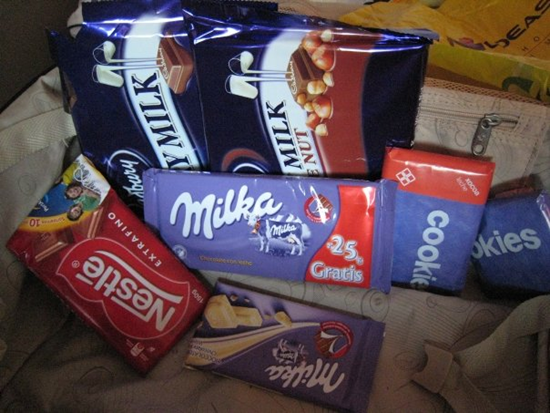 I packed a small suitcase full of European chocolate when Eric and I were at the tail end of our honeymoon. I had to bring a huge stash back to Canada with me. Why is European chocolate so much better?
So yes, I had the most lazy morning and afternoon. It was great.
Around 5:30pm, Eric and I went to the pool to swim laps! We had a lovely swim and we even met a new running/tri friend. :) The pool is turning out to be a great place to meet people! Who knew?
The swim:
40 mins
Alternated freestyle, breaststroke, and flutter board
approx 35 lengths/875 metres
We showered, dried off in the sauna where we met another triathlete/runner, and then headed back to the car. I ripped into this Glo Bar!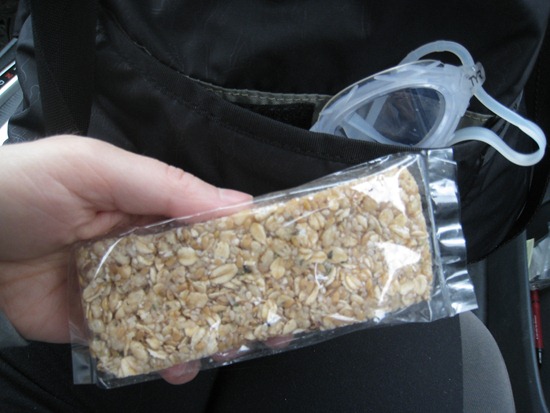 It was 7pm and I was starving. Dinner was not in sight for at least 45 minutes. I saw hubby eying the Glo Bar, so I split it with him. True Love.
We drove home and made this awesome dinner (thanks to a wonderful tip from blog reader, Jen).
Quinoa Salad with Homemade Vinaigrette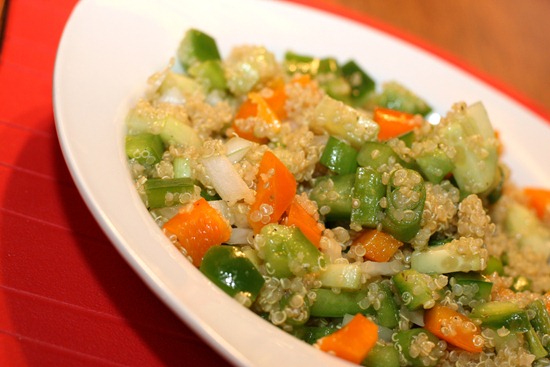 Adapted from Quinoa Greek Salad.
Ingredients:
2 cups vegetable broth
1 cup uncooked quinoa
1 orange or red pepper, chopped
1 green pepper, chopped
1/4 cup green onion, chopped
1/4 cup red onion (or sweet), chopped
Seasonings (Oregano, basil, salt and peppa)
1 clove Minced Garlic (optional) I rarely use garlic because I can't digest it well.
Dressing:
Directions: In a pot, bring vegetable broth to a boil and reduce to medium-low. Add 1 cup quinoa and stir gently. Cook for about 15 mins. stirring often. Set aside when quinoa is cooked and has absorbed the broth. While it is cooking chop vegetables. Throw everything into a big casserole dish and then pour homemade dressing over top. Serve immediately or chill in fridge for a couple hours.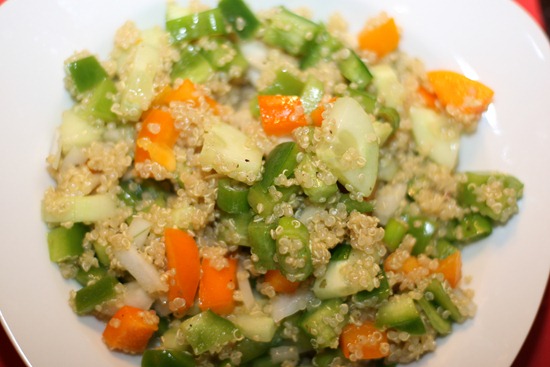 We loved this! Thank you Jen!!! :) The homemade dressing went awesome with it.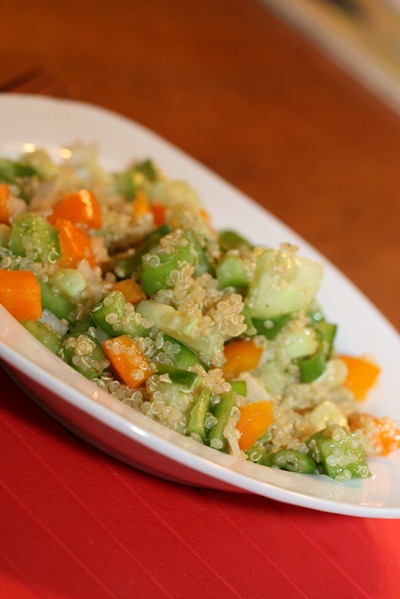 I had seconds…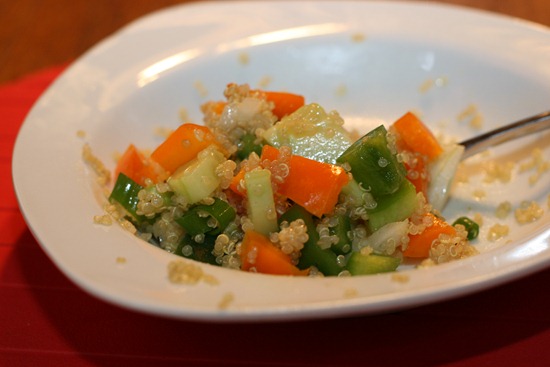 and then more chocolate. ;)
By the way, I have been meaning to tell you about a discovery that my mother-in-law told me about! I always have a huge issue with crying when I chop onions, like many people. Well, my MIL told me to run cold water (just ever so slightly) while chopping the onions and you won't shed one tear. I was very skeptical, but I tried it last week and it worked like a charm! It was so nice to be able to cut onions and not have tears running down my face.
Updates:
I'm off to tame this wild post-pool/no hairdryer hair and then we are going to meet a couple friends for a drink. Hopefully I remember to drink a big glass of water before bed so I don't wake up parched.
Tonight's question- Do you have any tricks up your sleeve that you use in the kitchen when cooking or baking? Do tell.
One of my favourite tricks is to dip a knife into a glass of cold water before spreading icing. Another trick is to make a glaze (made from milk + icing sugar) and coat the cake with a thin layer of glaze and let it dry in the fridge. Once it is firm, then you can ice the cake and this helps prevent crumbs from getting all over the icing.