Good morning!
You probably woke up to a new OSG design this morning, so I would like to say WELCOME! If you did not wake up to a new design, I suggest hitting Control + F5. My long-time readers may remember my first website design which was blue and minimalist. I always felt like that design fit so much better than the yellow design, so I tried to channel the original and bring back the blue! I also changed my tagline from 'Food. Fitness. Fashion. Fun.' to 'Glow from the inside out' because I feel like it better represents my vision for the website. You will also see a 'Follow me' tab on the right hand side. If you click on this, you can find my Twitter, Facebook, RSS, Youtube, and GMM + Glo Bakery websites all in one easy spot.
For those of you asking, the header picture was taken on our honeymoon in Athens! By the way, the European cities that I am featuring in my 1,000 words posts are all from our honeymoon cruise. We hit about 10 cities in 12 days.
This morning I got up and was craving a juice. I still feel like I am dehydrated since I started swimming!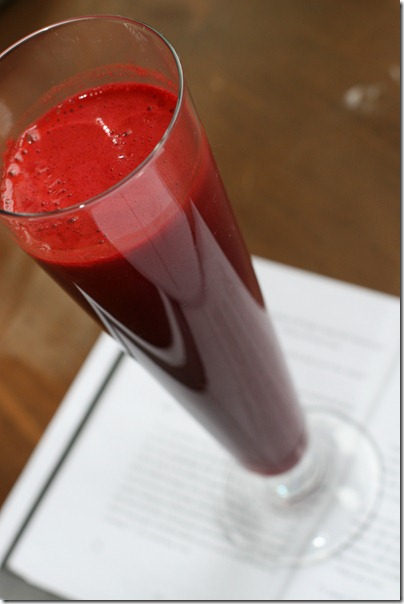 My juice contained: 8 small carrots, 1 large beet, 1/2 lemon, and a piece of ginger.
Felt much better afterwards!
Then I patiently waited for Eric to get up, like I do every morning!
Eric is a big sleeper (what I like to refer to as his 'BS'), and unlike his wife, is not a morning person. I on the other hand love mornings. Ever since I was a child I was an early bird and I didn't sleep much. OSGMOM tells me stories about how I would always kick her at 5am every morning while in her womb. I was also born at 3:13 am!
To pass the time, I cooked, of course.
I know Eric. He is weak when it comes to tempting smells wafting through the kitchen. I knew the lingering pancake smell would travel up to the bedroom and lure him downstairs.
However, sometimes in life, things do not pan out as we hope…
I actually had to drag his butt downstairs because the pancakes were getting cold!!! Hrmph.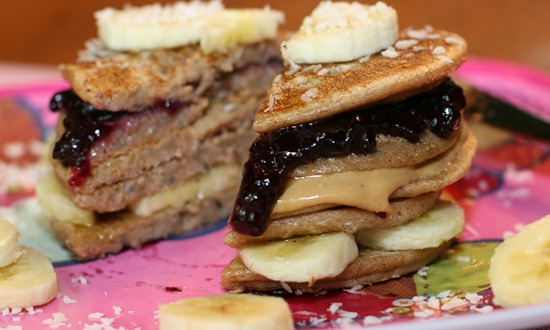 Nut Butter & Jam Pancake Sandwich
Pancakes:
1/2 cup whole grain spelt flour (other flours would probably work although you might have to adjust the milk amount)
1/2 tsp cinnamon
pinch of sea salt
1/4 tsp baking powder
1 tbsp Amazing Grass Amazing Meal Chocolate protein powder (optional)
3/4 tsp vanilla
3/4 cup Almond Milk
Directions: Pre-heat skillet on medium heat and lightly coat with oil (I used coconut oil). Mix the dry ingredients together in a bowl and then add the wet ingredients and use a whisk to mix well. Pour a small amount of the mixture onto the skillet and make tiny pancakes, no larger than about 3 inches in width. Because the pancakes are tiny, you will be able to flip them very easy.
While the pancakes are cooking, slice a banana and gather jam, nut butter, syrup, and coconut.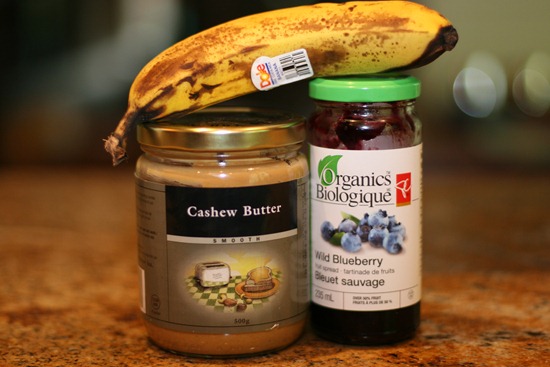 Assemble the layers alternating pancakes with banana slices, jam, and cashew butter. Sprinkle with coconut and drizzle with a tiny amount (1 tsp) of syrup.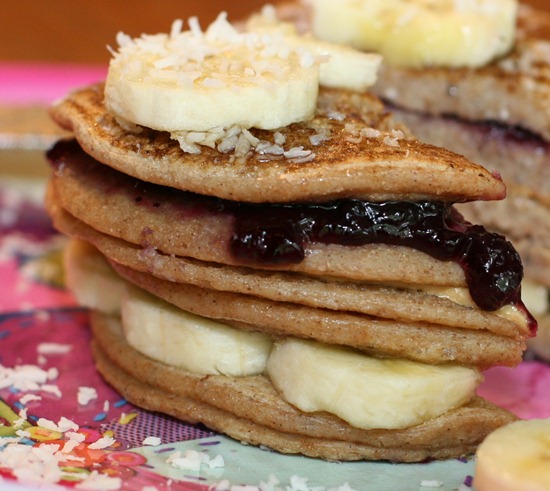 I actually tripled my batch because Eric was very hungry, so I gave him two servings and me one.
With a little ZING on the side…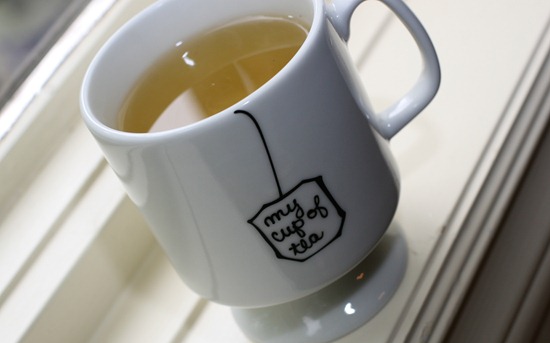 Our weather is the PITS here today. Our beautiful sun and 26C temps are gone. :( It is supposed to rain all day and be about 4C! I am thinking that another trip to the pool is in store later today…
I am going to help Eric finish painting the upstairs hallway today.
PS- That bird is still smashing into our window! After consulting OSG's in-house pro, it was determined that birds smash into windows because they see their reflection in it and they 'mistake the reflected bird for a competitor for territory or mates. It attacks the image in the window, trying to drive the other bird away.'
Yesterday, after making a plea on Twitter for ideas, I put up a stuffed animal in the window.
Oh, Gingy, so cute, yet so creepy.
This was a BIRD SCARE FAIL. It did not work.
After I put this up, it would catch the corner of my eye and scare me all day long! lol. Once I looked at it and I thought it was a person! I hope the neighbours don't see. ;)
I have read that one should put paper or something on the window so they don't see their reflection, but I can't cover all the windows!! He is smashing in 5-6 different ones over and over again.
See ya later alligata!