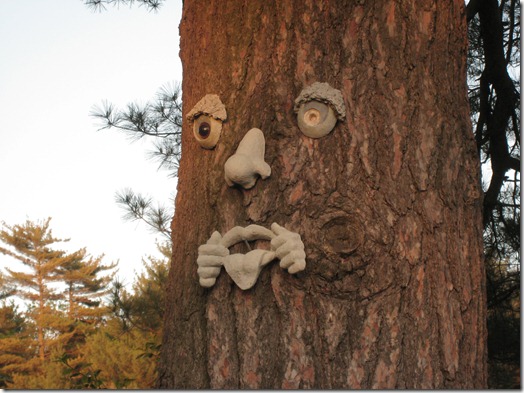 Ok, this is just getting creepy now!!
Last night Eric and I went on our first Brick workout and look what we came across…
Harold's brother!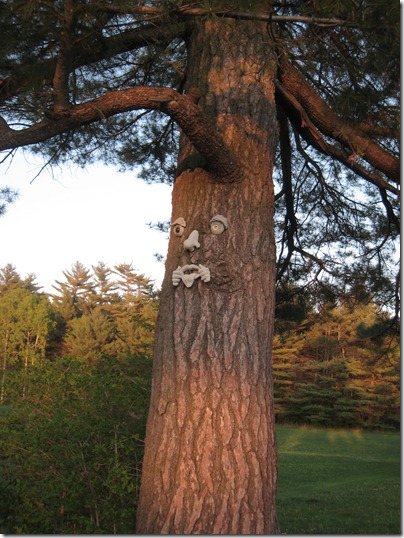 Why have I not noticed these before?! Is my town just really creepy or something? lol.
We went on a beautiful 5 mile sunset bike ride! Half on the roads and half on the trails.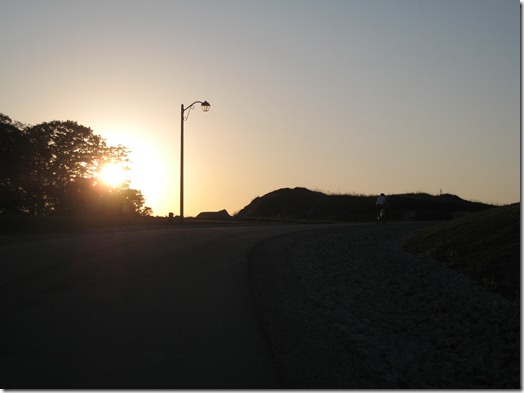 My partner in crime…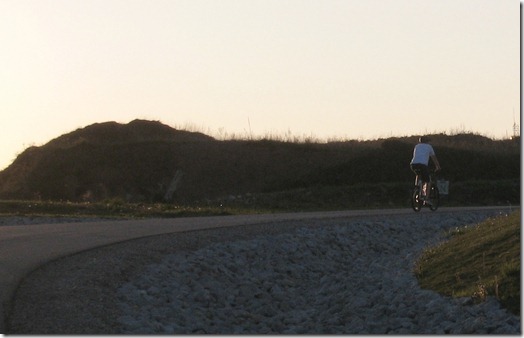 It was a great first leg of the workout!
Distance: 4.98 miles
Time: 35:27 mins
Avg speed: 8.4 mph
Max Speed: 15.9 mph
Ascent (total climb): 380 feet
Eric pointed out a very hardcore looking grease mark on my leg when we were finished.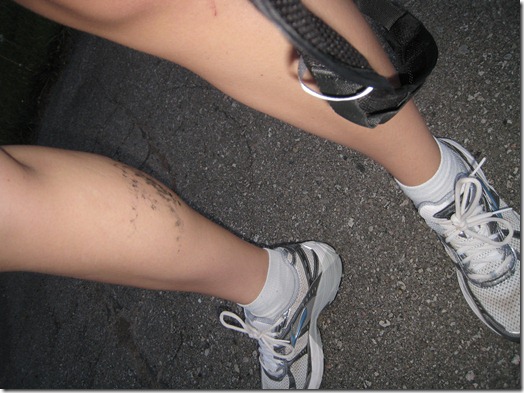 Just a battle wound… ;)
And then the unthinkable happened…
I got my man to run!!!!!!
Doesn't his face scream thrilled? :mrgreen: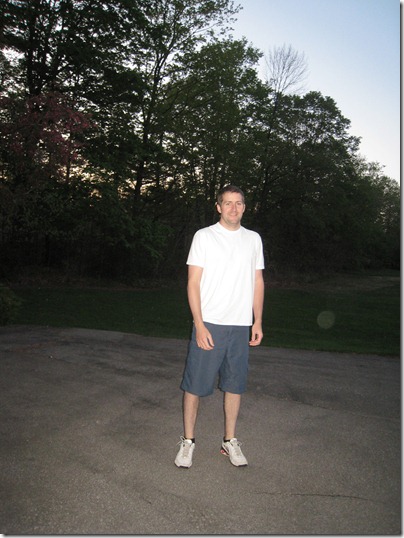 Let me put this into context for you a little so you can understand my excitement for him to be running.
Eric has told me numerous times that he will NEVER RUN and he will never start running with me. I think in the 10 years we have been together we have been on 2 runs together total (and I'm not quite sure how those 2 runs ever happened, I think I dreamed them up…) I used to beg him to go running with me and I think that pushed him away even more.
I said to Eric at the beginning of this run- 'You call the shots. If you want to stop, just let me know.'
We started running, and get this, he blew me out of the water! (err…off the road?)
I had such a hard time keeping up with him! Remember- his long, gazelle-like legs (he is 6 foot 2!) Well, those gazelle legs are fast let me tell you. He had to slow down for ME! It was a hoot!
He was like, 'Wow I feel like I have to take such short strides.' Normally a piece of me would have died inside with that comment, but I put my ego aside because I was just so thrilled that he was running beside me. ;)
He ran 2.5 k/1.55 m virtually effortlessly. We clocked in at 14:29 minutes. I said, 'Wow I think I am more out of breath than you are.' And he said, 'Bigger lungs' :mrgreen: Not only is he a natural, but he's also modest!
The run:
Distance: 2.5k/1.55 miles
Time: 14:29 mins
Pace: 9:21 min/mile
Ascent: 189 feet
My motto is to kill em with kindness. I think one of the keys to encouraging people to workout is to flood them with praise and compliments. By the end of the run, I think Eric was feeling really proud and he maybe started to realize that he can do this…try-a-tri after all?
The Try-a-tri debate:
Now we are also having a little debate about our try-a-tri!
I have told Eric from the beginning that I want to do the try-a-tri by his side the entire event. I want to swim beside him, I want to bike with him, and I want to hold his hand crossing the finish line (I'm a sap like that).
However, my husband wants me to 'go on ahead' and do my absolute best, even if this means leaving him behind along the way. He doesn't want to hold me back, he said.
We are having this little debate! I still would like to be by his side. I think it would make the experience more special, and to be quite honest, I don't think he will be holding me back at all! I think he is capable of much more than he gives himself credit for, and if anything, I might have a hard time keeping up with him!
My questions to you tonight- What would you do in our situation? Have you ever trained for and competed in a race with a friend, family member, or significant other? Did you stick together or part ways?
Updates:
Ta-ta mes amies! :) Going to get back to work. Eric and I are off for a late-night swim at 9pm tonight…hopefully I can sleep! See you for a late-night post…might be a 1,000 words, not sure yet. :)