Bonjour, bonjour!
Trucking-along-Tuesday…
Mid-morning I had another lemon + ginger + H20 juice.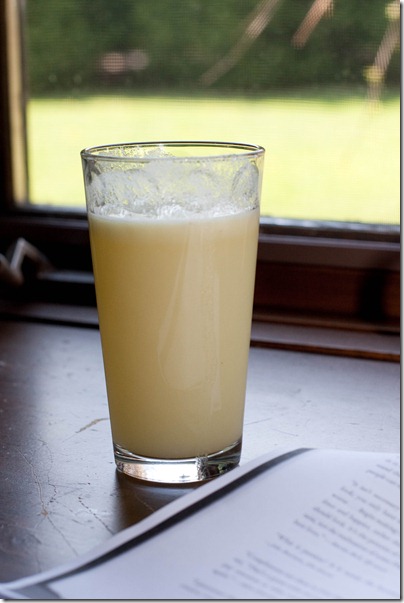 I have determined that my headaches this past week are probably related to female hormones instead of dehydration, but I figured another juice couldn't hurt! ;)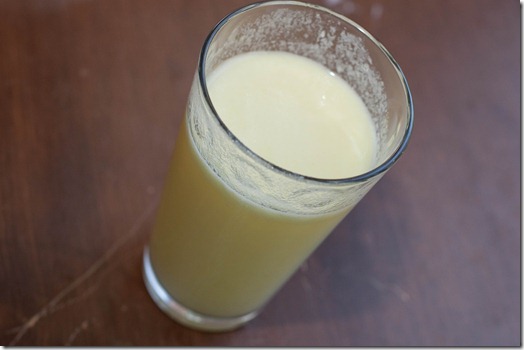 I always feel better after a power drink of lemon and ginger! Ginger is good for the tummy and lemon is detoxifying.
Lunch was savoury avocado toast with tomato paste, an juicy, mouth-watering orange, and crunchy Mary's Crackers: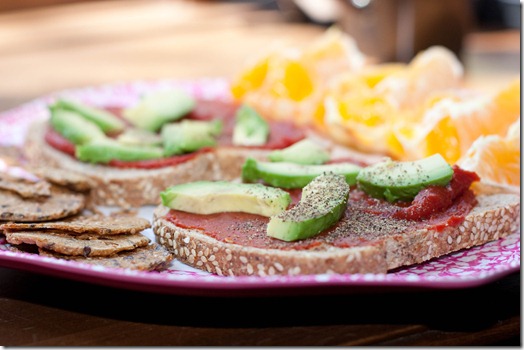 Do you guys ever get a funky avocado? Sometimes, I get one and it FEELS ripe (i.e. squishy), but when I cut it, water drips out and it tastes flavourless. Hrmph!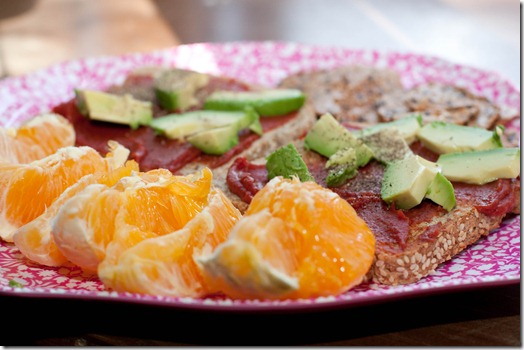 My afternoon snack was a Golden Delicious apple with cashew butter- otherwise known as my favourite nut butter in the WORLD. Creamy and sweet, what is not to like?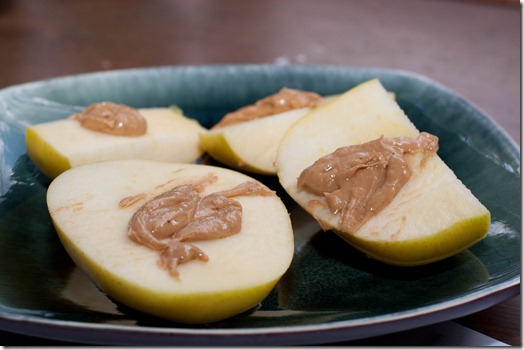 I had a productive work day but I am no where near being close to caught up for tomorrow. The orders were just flooding in today due to the Adore Glo Bar sale and Mother's Day coming up. I didn't have time for a lunch workout, but Eric and I are going to go outside to exercise when he gets home!
I'm hoping we can do a brick workout– and this would be Eric's first brick. Let me tell you though, he is not excited to run. It's a shame really- he has these long, gazelle-type legs– you know, the kind of legs that were just MEANT to run? :mrgreen: I would kill for his legs. (Did I just type that?). I know in my heart that he could be an awesome runner, but of course he has to want to do it!
I will let him call the shots on the run- obviously he can stop when he wants and walk when he wants to! I don't want to scare him off… ;)
Other plans for tonight include working on my website re-design and catching up on last night's gossip girl. Here is a clue about my website redesign- I am getting rid of the horrid, horrid yellow! Blech. I have not liked the colour scheme after I changed it from that soothing blue (my long-time readers might remember!). I just never had the time to fix it, but I can tell you, I can't wait for the new design.
Tonight's questions: Have you ever been successful in motivating someone to make healthy lifestyle changes? What are your secrets? OR are you currently trying to encourage someone to make changes, but are not having much luck?
See you tomorrow morning for a reader request post on a problem with a jealous friend!