Apparently I had a good workout today? :)
But first, delicious FUEL.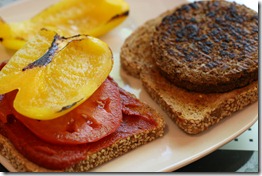 You know, this is all still quite new to me. This whole fueling for a workout thing.
Prior to 2008, I rarely paid attention to fueling properly for my workouts. I was hungry and I had no stamina. I often worked out first thing in the morning and didn't eat before working out, even though I was hungry. I was miserable during workouts and I did the same boring workout day after day after day…
Now, exercise is much more pleasant, dare I even say FUN, when the tank has fuel. There is a delicate balance between too little in the tank and too much in the tank. I like to eat about 1-1.5 hours before my workout so I can digest.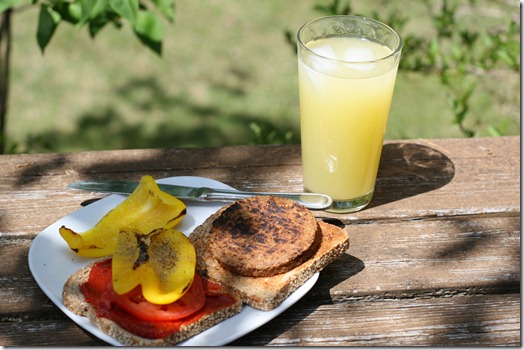 This was an Amy's Texas burger on Sesame Seed Ezekiel bread with a grilled yellow pepper, tomato, and T-paste.
You don't see fruit juice too often in my posts!
I typically don't drink fruit juice because I find most of them too sweet.
The other day, Eric said, 'Just dilute it, that's what I do!'
Apparently Eric has not only cut pop from his life, but he is now diluting his OJ with a bit of water to cut down on the sugar! I never thought I'd see the day when I would be getting health tips from my husband.
and I quite like it! :mrgreen:
So yes, I diluted my OJ and it was perfect. Just a hint of flavour.
I used about 1/2 cup OJ + H2O + ice. It makes getting your water in a bit more exciting.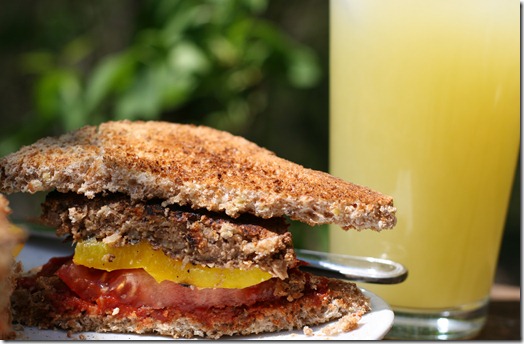 My heart sang.
Then it was time for my first open water swim of the year!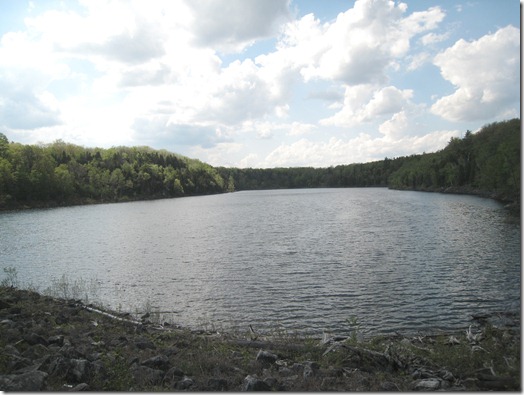 However, I am not a crazy person. That water is COLD!
I biked to a local conservation park and then hit the trails. It was hot, hot, hot outside.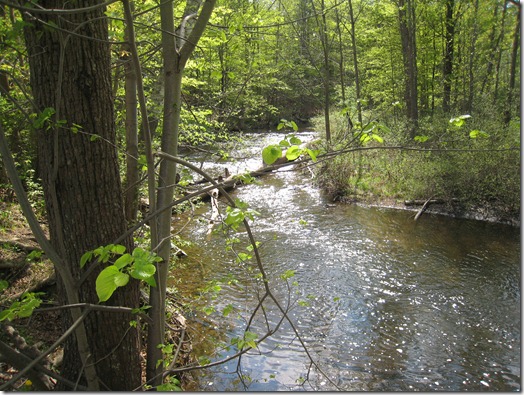 Is that a double black diamond– as in the same double black diamond rating system on the ski hills- or is it just an unrelated trail marker? I guess I should have looked at the trail guide!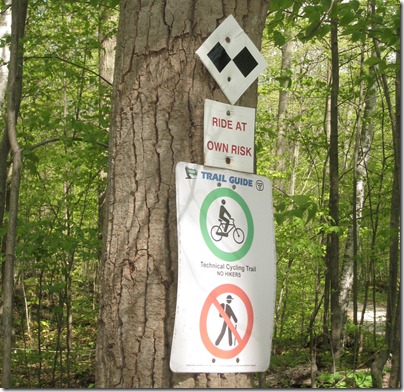 I am not ready to tackle this trail (yet) and I would never attempt it alone!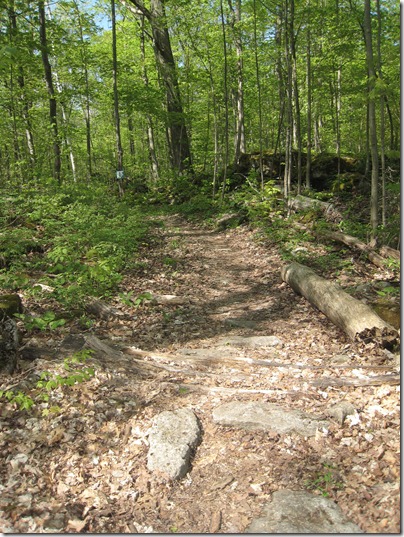 I played it safe and stuck to the trail that I was familiar with.
It was probably my strongest bike ride yet. I felt great! Confidence is still building with each ride, however I concluded today that I want CLIP-INS badly. My feet keep sliding all over the place!
Distance: 7.86 miles
Time: 49:41 mins
Avg speed: 9.5 mph
Max speed: 18.2 mph
My ascent (total climb) was 1044 feet! I love that Dwight tracks elevation and grade. My quads were burning!
I'm off to work on a Mother's Day Glo Bar special + Newsletter. Have a good night!
"It isn't necessary to know exactly how your ideal life will look; you only have to know what feels better and what feels worse…Begin making choices based on what makes you feel freer and happier, rather than on how you think an ideal life should look. It's the process of feeling our way toward happiness, not the realization of the Platonic ideal, that creates our best lives." ~Martha Beck, life coach
What have you done lately that made you feel free?