Saturday morning + May 1st = Awesome.
Last night Eric and I got our swim on. The great thing about having a workout buddy is that when the other person wants to workout, you feel guilt-tripped motivated to go as well. I just took it easy with my laps and continued to practice bilateral breathing.
I also challenged myself with treading water in the deep end when I got bored of laps. I couldn't believe it but I treaded water for 15 minutes straight, almost effortlessly! I don't remember being overly good at treading water when I was young, so I am wondering if running has something to do with it now? I honestly felt like I could go for a half hour or longer. It was so strange!!
Swim #4:
35 mins swimming laps, medium pace (freestyle, breaststroke, board (flutter kicks, front and side)
15 mins treading water
Total = 50 mins.
Oh, Eric now has a MENTOR at the pool. :mrgreen:
He met this guy who was swimming in the competitive lane and he told Eric he has been doing triathlons for 3 years now. He started off doing the try-a-tri too! He told Eric to stick with it and eventually the swimming leg becomes the easiest part of the triathlon (I'll believe it when I see it! haha). He also said that the swim we are doing in Milton on June 6th is horribly, horribly COLD. Because it is so early in the season, the water is known for being frigid.
This is the lake in the summertime: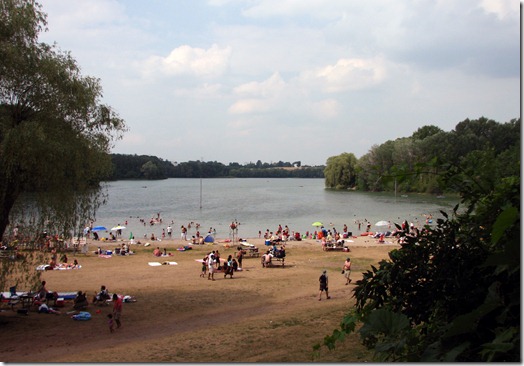 I'm scared.
When they were parting ways he yelled to Eric, 'KEEP SWIMMING!' :mrgreen:
I think this little pep talk really inspired him! Who knows, maybe that will be Eric some day??
We got home and I did not move from the couch all night. Fabulous. We watched The Marriage Ref and it was hilarious!
I have not been having many good hair days since I started swimming, lol.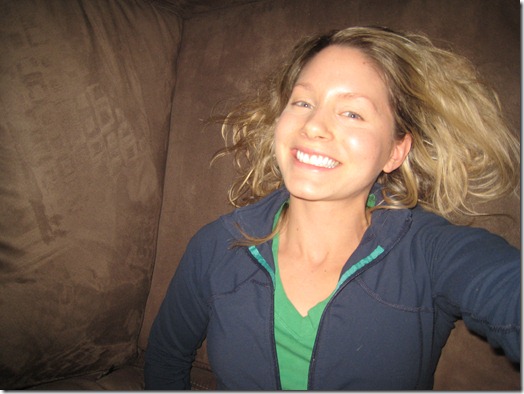 I also woke up with a headache this morning which tells me that I probably didn't drink enough water last night!
I was very hungry for this breakfast too.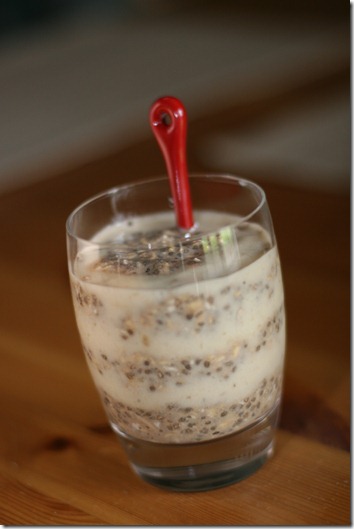 Ingredients
VOO:
1/3 cup regular oats
3/4 cup almond milk
1/2 tsp pure vanilla extract
1 tbsp chia seeds
1/2 scoop (2 tbsp) Amazing Grass Amazing Meal Chocolate Powder
Directions: In a small bowl, mix together with a whisk and throw in fridge overnight.
In the morning, make the Banana Soft Serve: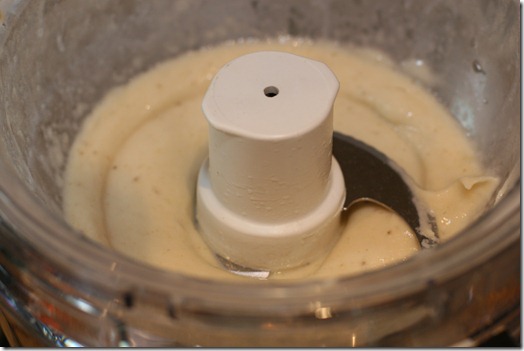 Directions: Take 1 frozen banana and process until smooth. You can add a tiny bit of milk to speed up the process.
Now it is time to layer in a small glass!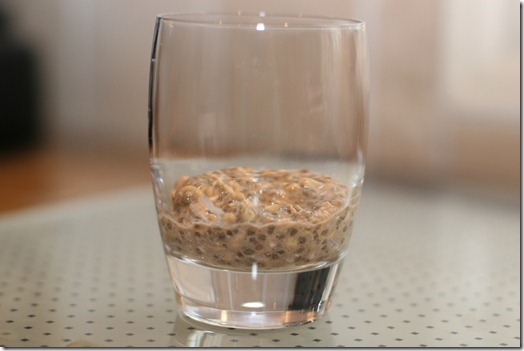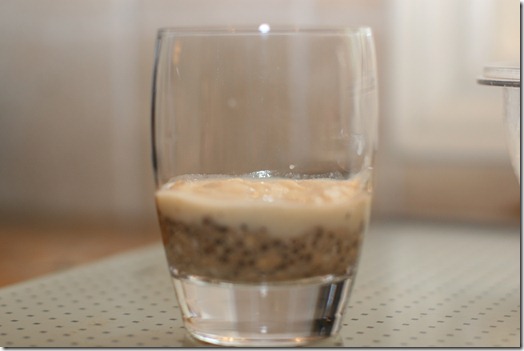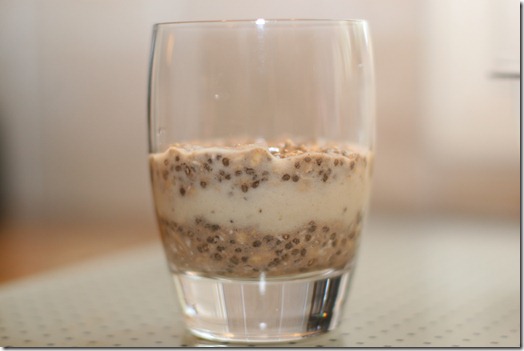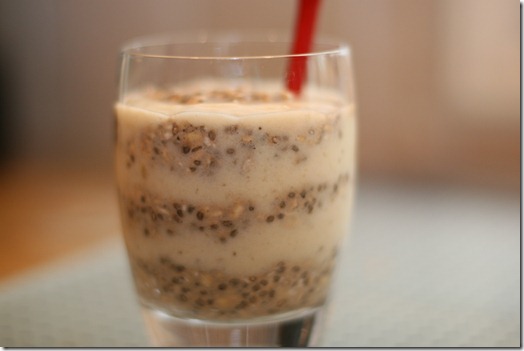 Next time, I would actually layer starting with the banana soft serve because I missed the banana at the bottom!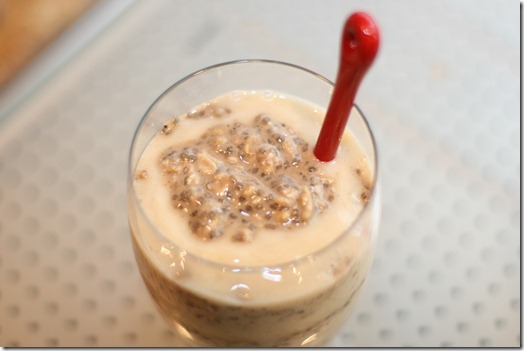 This was sooooooooo good. I loved, loved, loved the banana soft serve + VOO. So refreshing and light!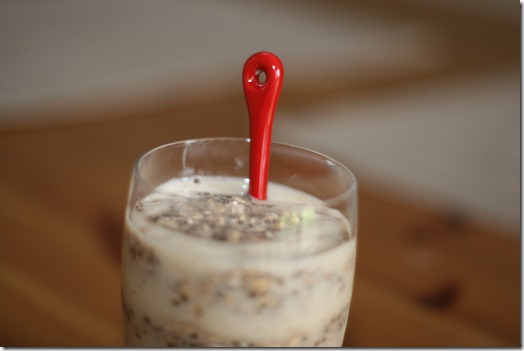 Happy 1.5 Years, Boo.
Today marks exactly 1 and 1/2 years since I started Oh She Glows. My first post was written on October 31, 2008. Since then I have written 1,185 posts. That works out to being an average of 2.16 posts per day.
It all began with a simple BOO on Halloween day. I laugh when I go back and read old posts…It is funny to see how my writing style and voice changes over time. I will always be ME- quirky and energetic – but I hope that my writing will always continue to progress as the years go by.
Now I have some questions for you today. :)
1) If you are a blogger yourself, when did you start blogging?
2) Whether you have a blog or not, when did you start reading blogs?
3) If you don't currently have a blog, do you think you ever will start one?
I started reading blogs about a year before I started my blog on Oct 31, 2008. I kept saying to myself, 'I want to start a blog up', but it took me a good year before I did. I love blogging because I get to combine all of my passions- writing, fitness, nutrition, helping others- into one spot!
See you for 1,000 Words this afternoon! Have a great day. :)