Goooooood evening!
So yes. We got caught in a torrential downpour on our bike ride today! The heavens just opened up and it was beautiful. We knew we were getting soaked one way or another so we just had fun with it. I felt like a kid again.
On another note, swimming seems to have unleashed the hunger monster in me. I see a peak in my appetite the next day, similar to how I feel the day after a long run. Eric called me on Friday from work and he said, 'Guess where I am?' and he was beside Fresh restaurant. He kindly took a 'to-go' order for me and brought it home for me. The only snag was that they took 45 minutes to get him his to-go order. I can't believe he was patient enough to wait that long…I felt so bad!
For dinner tonight, I had the…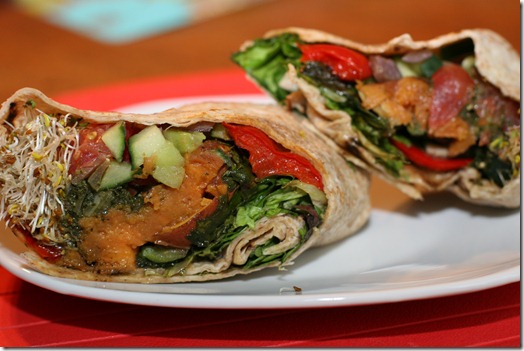 I had it without the vegan mayo.
As you can see, the half on the right is no longer a half. That's because I almost inhaled it after my swim last night. I seriously had to use all my will power to save this wrap for today!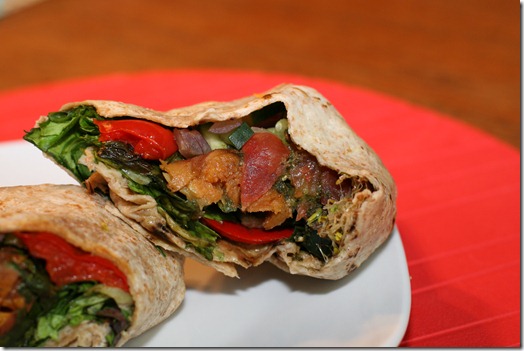 It was so, so good.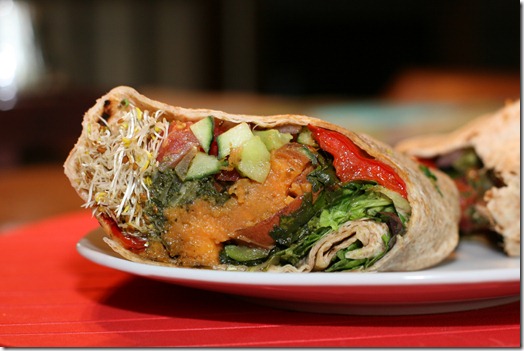 I am totally envious of how good they fold wraps! I wish I could find a good tortilla (i.e., huge, stretchy, and THIN) like they use. I find our selection of tortilla wraps is so limited in Canada as opposed to the US. Well, the US has a much better selection of all foods, but that is another can of worms!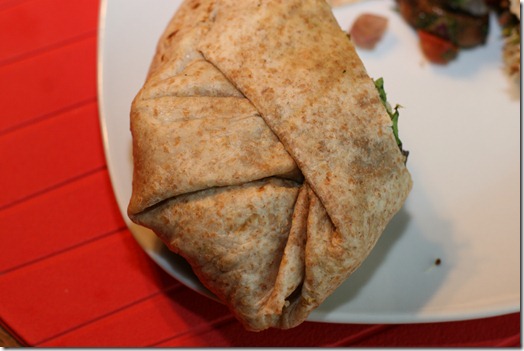 This is the pesto wrap that Eric had at Fresh last year, with cheese: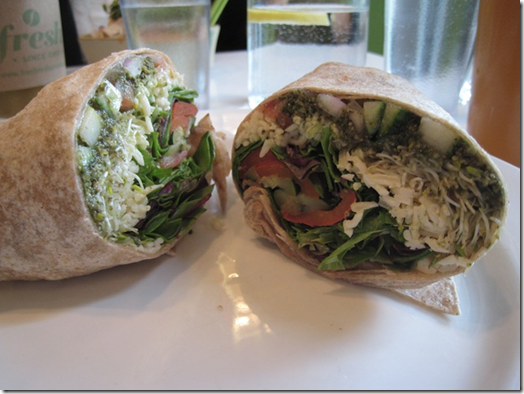 Pesto rocks my socks. I need to make it again.
We also went back to…
We decided to rent our wetsuits for our Try-a-tri instead of purchasing them. We want to see how this Triathlon goes and then if we end up wanting to do them on a regular basis we are going to purchase them down the road. Tri wetsuits are BIG bucks!!!
They are $35 to rent at Swim & Sports and you get the wetsuit for a full week. I think that is reasonable. We pick them up on Wednesday June 2nd. We are planning to do 2 open water swims in the lake with our wetsuits on- hopefully the Wednesday and Friday before the race. As good as swimming laps in a pool is, it will be NOTHING, absolutely nothing, like the open-water swim. I am quite nervous about having so many people around me, choppy water, elbows to the face, etc.
Our race is Sunday June 6th.
We are going to have to practice putting the wetsuit on and taking it off before the race! Thankfully they showed us the proper technique or it would have been an utter disaster!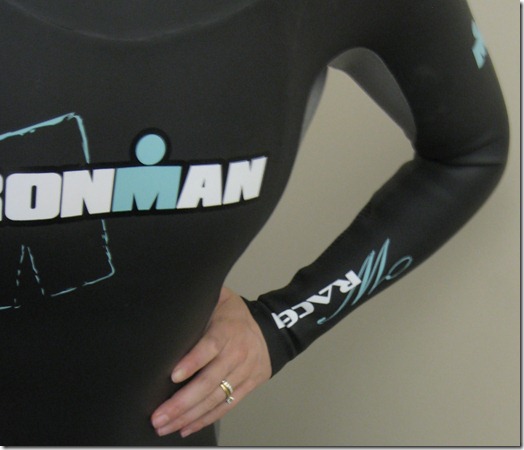 I LOVE the wetsuit.
In fact, I would do a triathlon just to be able to wear the wetsuit! I felt amazing in it!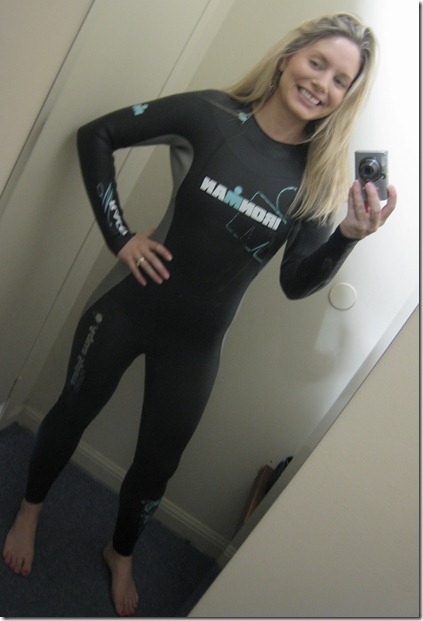 Does that not scream Bad to the Bone, or what? :mrgreen:
Although, I would change one thing…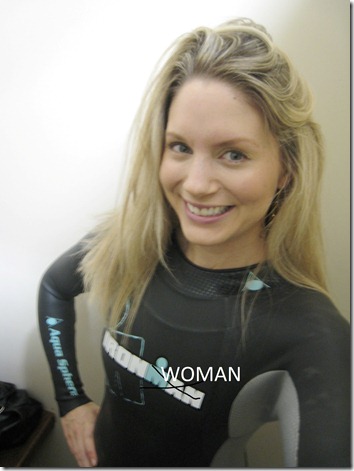 Ladies, you feel me?! ;)
We are off to a friend's place tonight for some good ol' R & B (Relaxation and brews)!!
I leave you with a quote that brought tears to my eyes today. I hope you enjoy it as much as I do…
"You never know what you can do before you try it. And each time you go out, it's an experiment, a work in progress. You learn an awful lot about yourself- about your limits, your endurance, your capabilities…I think that everybody has a certain level of fear. The question is how we manage it. And I have managed to be able to control it enough in order to do my job."
~Christiane Amanpour, international correspondent