Hello!
After another trip to Swim & Sports, Eric ended up getting the same goggles as me, except in men's. The TYR Nest Pros are great fitting goggles!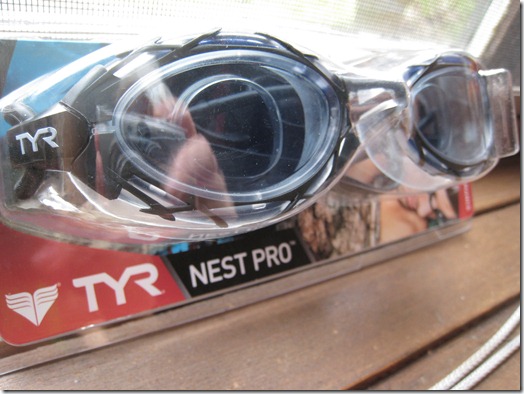 I got Finis ear plugs: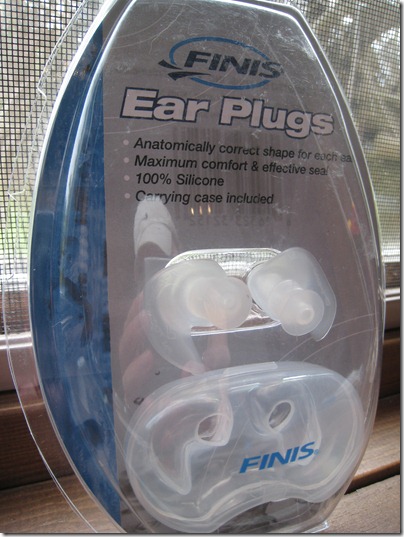 We also found out that Swim & Sports rents wetsuits so we will probably rent a wetsuit from them for our Try-a-tri. Unfortunately, I think the Costco wetsuits are the kind made for water sports and not triathlons.
Sketchie watched the little bunnies outside! They are all around our house and I think they live under our deck! Sketchie talks to them through the window…almost like a gasping meow (his mouth moves but no sound comes out!).
I actually didn't get my work accomplished today because we ended up doing a bunch of boring errands. Errands are such a weekend time suck! We had to go to Home Depot, Canadian Tire, and Home Hardware (my 3 worst nightmares!) and get groceries too. I am going to have to double up tomorrow and have an extra long day of work.
I was longing to go swimming all day. Luckily the pool had another adult length swim on early this evening! I was looking forward to it all day. Eric decided to sit this one out as he is quite stiff from last night's swim.
I am loving the TYR suit so far! It doesn't ride up at all, which is a first for me and swimsuits. It stays put and is very comfortable. Two thumbs up!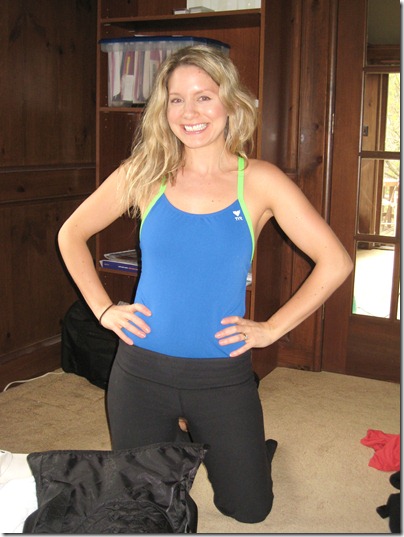 I decided to play 'let's see if I can beat last night's time' for a fun game.
Today's swim:

Last night it took me 40 minutes to do 30 lengths/15 laps/750 m and tonight it took 28 minutes! I still stopped quickly after each length to catch my breath so I wasn't pushing too hard, but I definitely pushed harder than yesterday! My arms are feeling it tonight…hopefully I can bake tomorrow.
What I learned, Day 2:
Try not to look at the bottom of the change room floor or the pool floor…ignorance is bliss! I won't tell you what I saw on the change room floor tonight. ;)
After the swim: Shower first and then go in the sauna so you can dry off before getting into clothes
Baby powder on the inside of the cap + ear plugs help (no water logging tonight)
Create games or challenges in the pool to prevent boredom
If you feel a hair on your body, pretend it is a phantom hair
Meditate while in the sauna and zone out
I need double the amount of shampoo + conditioner after swimming as compared to just washing my hair at home. Must be the chlorine!
Make sure you don't go on a hungry stomach
I dearly miss MUSIC while swimming!!! Are there any gadgets to listen to music in the water?
It was a great workout! I came home absolutely famished though. Next time I will make sure I have more fuel in me an hour before leaving.
All I wanted when I got home was FUEL + WATER!
Operation hydrate quickly became the theme of the meal. Eric told me to go on ahead because he was doing work outside.
I had a chilled green tea…
A delicious bowl of Cheesy Savoury Oats (for recipe see here):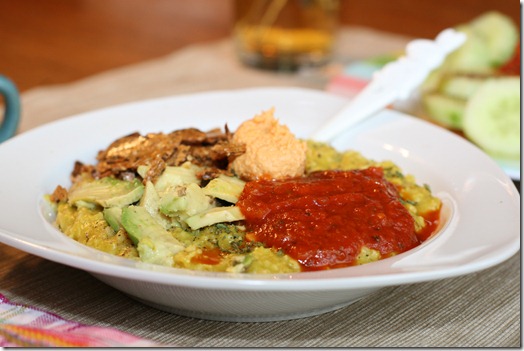 I just love these savoury oats! The key is to have lots of flavourful toppings. I particularly enjoy tomato sauce.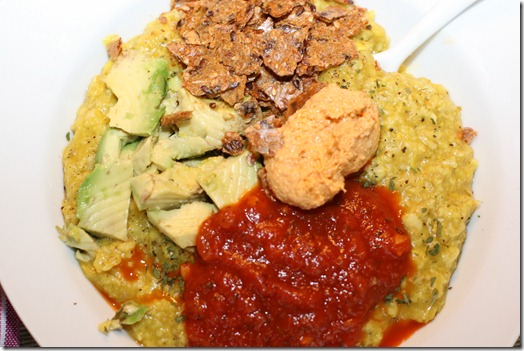 1 English Cuke + salsa + Ground pepper: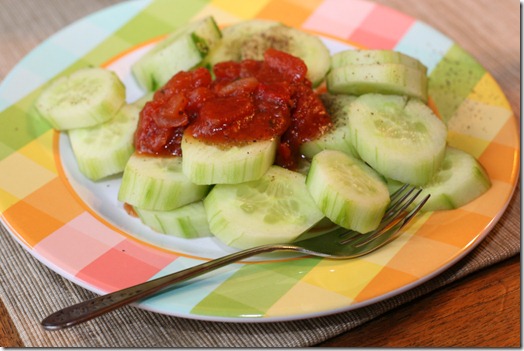 And half a grapefruit. I bailed on the grapefruit because my tummy was a bit water logged! In all honesty, what I really want is dark chocolate, so I will probably have some while relaxing later tonight. The grapefruit can wait until tomorrow. ;)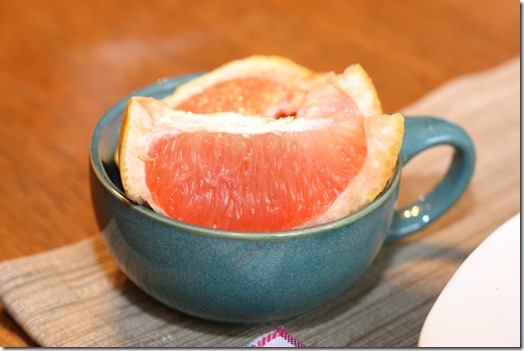 It was the perfect post-swim meal!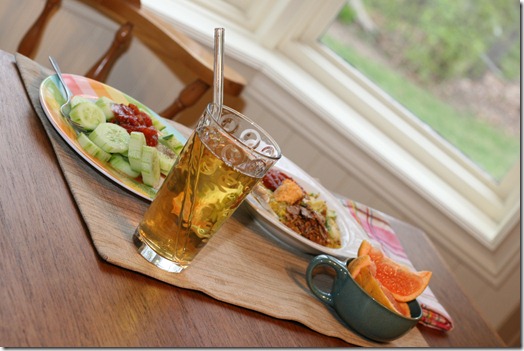 Updates:
New Green Monster recipes are up
I now have a category on the left sidebar called 'Triathlon: Try-a-tri training'. I will be filing all of my triathlon training posts under this category
I'm off to do a bit of work on the website re-design and start laundry (gulp!). Eric and I have a movie planned while snuggling on the couch later. I can't wait to just relax. :)
Have a wonderful evening!
~~
"If you only do what you know you can do- you never do very much."
Tom Krause