Swimming laps is FUN!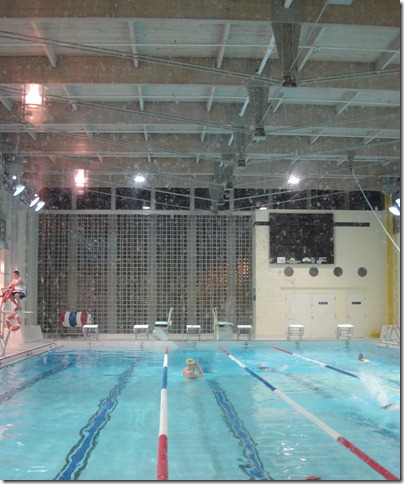 But first, the winner of the 4lb Amazing Grass giveaway!

Congrats to CARLY!!!
Carly said, "My turning point was when I got sick of being in a body I didn't feel comfortable with. I didn't want to be a the beach for another summer feeling the same crappy way. During the same time I also became completely inspired by reading your blog and so many amazing other health blogs! Watching these strong, confident, driven women made me realize that I am the same way and I can do it too! Thanks for all your inspiration Angela!

p.s. I made my first green monster today!"
Carly, please email me ([email protected]) with your mailing address.
For those of you who didn't win, Amazing Grass is offering Oh She Glows readers a special 20% off discount code- just use 'OHSHEGLOWS' in the checkout!
~~~
Before leaving for the pool last night, I was so excited and nervous. However, once I put my new swimsuit on, I felt confident. There is something to be said about a new piece of workout gear for inspiration!
I had a few almost freak-out moments once we were there, in the flesh…

1) Seeing a gross band-aid stuck on the garbage can in the change room.
2) Two minutes before 8pm, our swim was about to begin. I FROZE with fear. I was this close to saying to Eric I didn't want to go in the water. We decided to sit on the sidelines for a couple minutes and just watch. I visualized myself rocking the laps!
3) Walking 4 feet to the pool without my flip-flops on. Ick.
4) Seeing a small white mystery object floating underwater, approaching me as I swam closer. I dodged it like a bullet and hoped that it sunk to the ground. Whew.
Here is what I ended up doing:

I swam 750 metres (30 pool lengths) in 40 minutes. I took plenty of rest breaks and just took it nice and easy with no pressure! After lap 1, my body was in shock and I was panting for air. I found that I got used to it after a few laps and got into a nice rhythm. I alternated between the front stroke and breaststroke.
Question: If our pool length is 25 metres, what is considered a lap- 25 m or 50 m?
What I learned after Day 1:
The slow lane is our friend
Leave about half a length in between me and the person in front
Bring two towels. I only brought one towel and it got soaked before I even showered.
GET EAR PLUGS (many of  you mentioned this). I still have water logged in my right ear this morning. Anyone know any tricks to get it out?
Good goggles are essential. I loved my new goggles and they work great!
It really isn't as scary as I thought it was going to be!
Peeling off a swim cap hurts
Bring a lock for the locker
Saunas feel amazing after a swim
A lesson would be very helpful
After we got home we were hungry and thirsty and each snacked on a Glo Bar: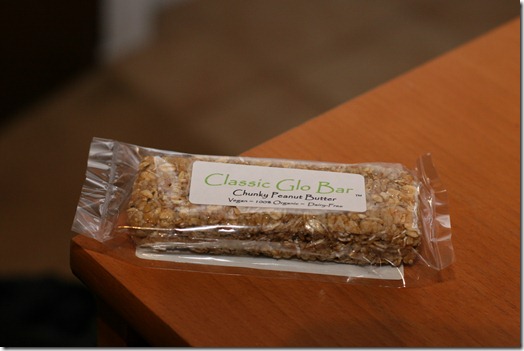 This morning my tummy was rumbling and I had a lovely bowl of Vegan Overnight Oats waiting for me! I love coming down to breakfast ready to go.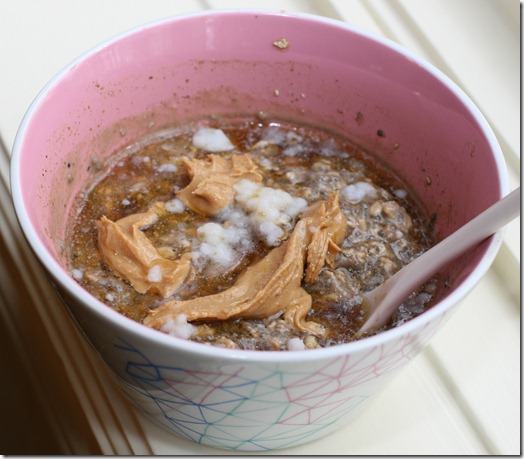 After coming out of the fridge overnight: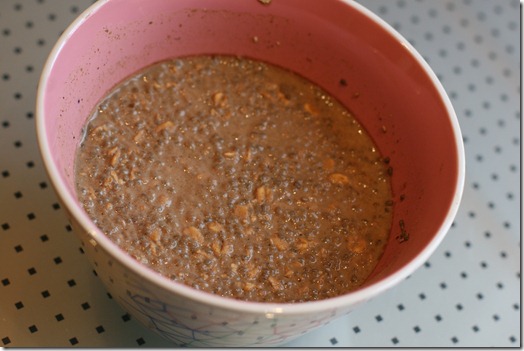 In this bowl: 1/3 cup oats, 1/2 scoop Amazing Grass Chocolate Powder, 1 tablespoon chia seeds, 1/2 tsp vanilla, 3/4 cup almond milk, 1 banana, mashed.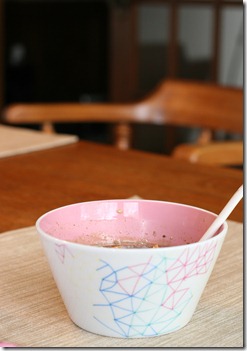 My toppings included Nuts 2 You cashew butter (this brand isn't as good as Artisana) and my Reduced-sugar maple coconut syrup.
Oh this was soooooo good. I am absolutely hooked.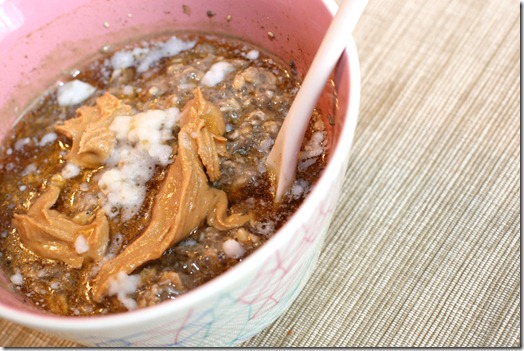 I had it along with a fresh juice: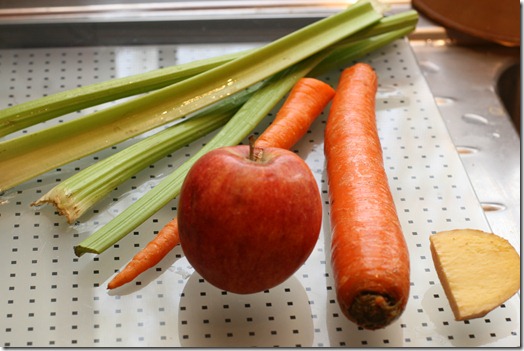 I have come to the conclusion that I do not like celery in my juice! It tasted murky.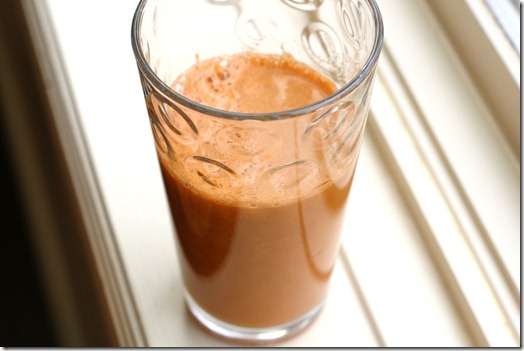 With my creation (along with crazy bed head!)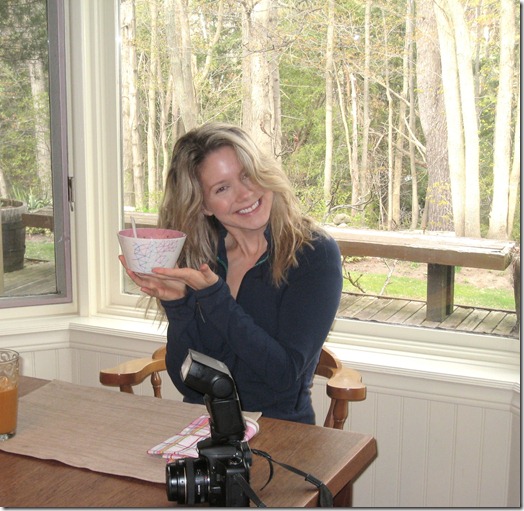 By the way, I am so proud of Eric!!
He did awesome last night. Especially for someone who has never had lessons before. We chatted about it more and I think he is now open to the idea of taking a lesson with me so I am going to look into it.
When Eric was a young boy, his class had to do 3 swimming sessions together. Well, Eric couldn't swim and he got teased by all the kids! Him and another boy had to wear lifejackets to help them swim during these sessions and the kids teased them and laughed. He was so embarrassed because he couldn't swim well.
He said ever since then he has disliked it and had no confidence when it came to swimming. I am so proud of him that he is conquering this huge fear of his. I am really trying to encourage him as much as I can and help build his confidence. I don't want him to get overwhelmed, but just to take it one day at a time. He was really worn out and out of breath so I just encouraged him to take lots of breaks and get out of the water and drink water. I think that really helped him and he didn't feel pressure to crank out a gazillion laps.
Today's question- Were you ever teased about something as a kid that stuck with you for years? Did you ever find a way to get past it?
When I was young I got my share of teasing! One thing that sticks out in my mind was a boy who told me my arms were too big and muscular. This happened in grade 7 and it stuck with me for years and years. When Eric and I started dating he confessed to me that he loved my arms and thought they were so attractive. It took me YEARS to believe him and to start appreciating my arms for what they do for me each day.
Including BAKING, which is where I am going now for the next several hours! Eric is going to be working on renos today. After that we are going back to Swim & Sports to get some ear plugs. :)
Have a great Saturday!