Hello :)
Thank you so much for leaving such wonderful comments for Becky today! You guys just warm my heart. There are so many inspiring stories that will help not only Becky, but many others as well. Becky emailed me and she said a huge THANK YOU for your support.
I am very excited to share this yummy dinner recipe with you tonight!
Feelin' Good Stew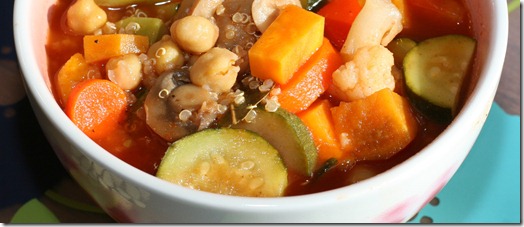 Adapted from Fat Free Vegan Kitchen's Succotash Stew.
This was not only delicious, but a great way to sneak in lots of vegetable servings. It makes a huge pot, so you can have leftovers for quick and easy lunches and dinners throughout the week.
Ingredients:
1.5 cups frozen vegetables
7-8 cups of vegetable broth
1 small can of tomato paste
2 zucchinis, chopped
1 red pepper, chopped
1 can mushrooms, drained
1 large sweet potato, peeled and diced
3/4 cup quinoa, drained and rinsed
1 can of chickpeas, drained and rinsed
1/2 teaspoon freshly ground black pepper
1 teaspoon paprika
2 cloves garlic, minced
1 teaspoon PC sun-dried tomato seasonings (optional)
2 bay leaves
Sea salt, to taste
Directions: In a large soup pot, add vegetable bouillon and water. Bring to a boil and stir until dissolved. Add in all ingredients and seasonings and stir well. Bring to a boil again and then simmer on low, stirring occasionally. Cook until sweet potato and other vegetables are tender for approx. 30 minutes. Add sea salt to taste. Serve with crackers and a dollop of hummus on top. Serves 6-7.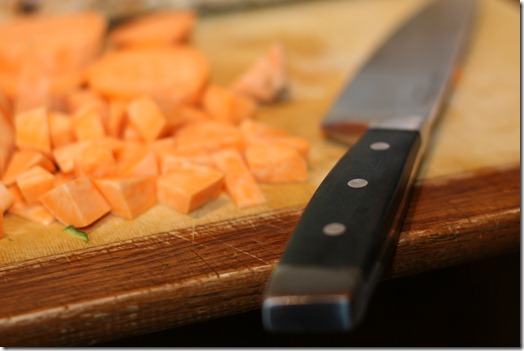 The prep time for this soup was only about 10-15 minutes. Then you can just leave the room as it simmers for half an hour. You can't beat that.
Bring to a boil…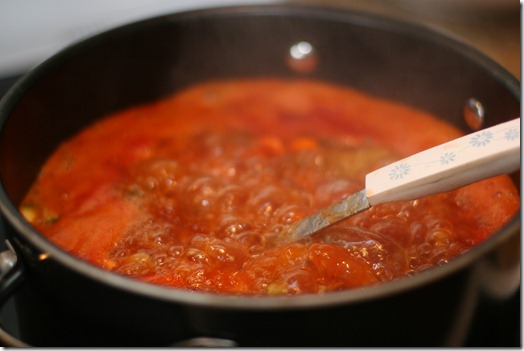 simmer for about 30 minutes…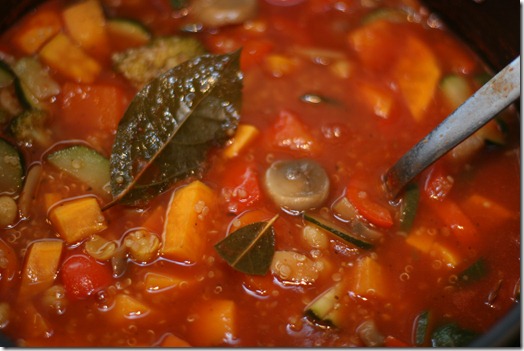 I am sure this recipe would work in a slow cooker too.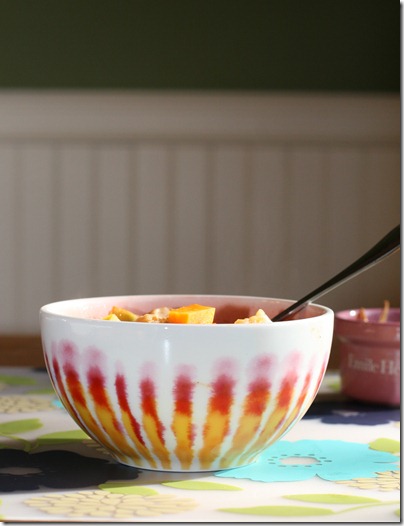 Try not to burn your tongue like I did! ;)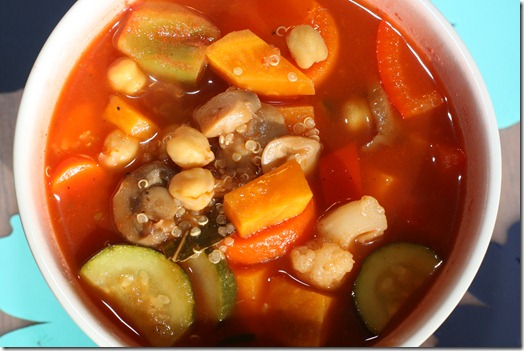 With a side of Mary.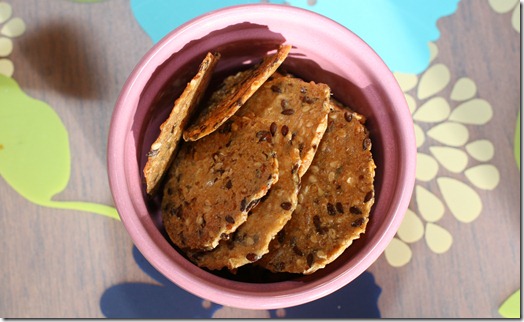 I swear sometimes I almost break a tooth on those crackers!! Anyone?? ;)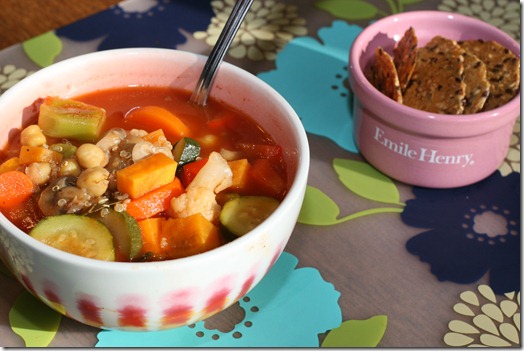 An energizing and feel-good bowl of stew! :) Two big thumbs up!
~~~
Eric and I are going to talk about our TRY-A-TRI training tonight. We haven't had any luck in finding a try-a-tri training program online yet. The only thing I have been able to find so far is a sprint distance program. I will likely be doing a mix of morning and evening workouts during training for the tri (June 6) and my half marathon (May 30th). More details to follow!
Tonight's question- What time of day do you workout? Do you workout alone or with a buddy?
I have always been a first thing in the morning exerciser, however I will likely be doing more evening workouts to train with Eric for the tri. I think the key to evening workouts is to workout with a BUDDY! Knowing that I have Eric by my side will make it easier to stay motivated after a tiring day of work.
~~~
Speaking of workouts…I didn't have make time for one today. Will have to get back on the wagon tomorrow. :)
Night!