Greetings!
I hope you had a wonderful weekend and enjoyed some lovely spring-time weather!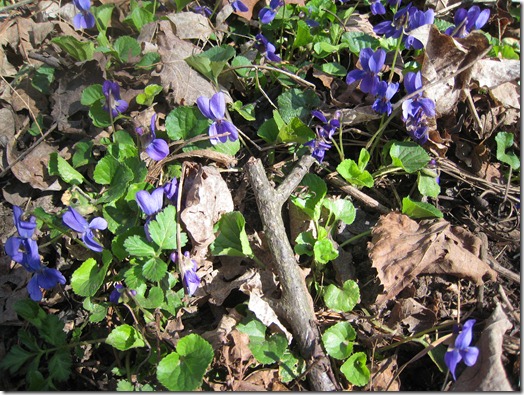 I had to share with you this awesome comment I received about the Nut Butter Parsnip Fries from Jennifer:
"O.M.G. These are seriously SOOOOOOOOOOO good!  Made them last night and my husband still can't stop talking about them and how they are absolutely restaurant material! They are definitely one of the best things to come out of our kitchen in a LONG time…..my husband just corrected me and said that they are one of the best things to come out of our kitchen EVER!!!! Thanks for sharing! I wish I would have bought more parsnips!!! Oh, and they are awesome with sweet potatoes too, I mixed them for a half and half combo—-DIVINE!!!"
Love the enthusiasm! :)
For about 5 hours this morning I worked on OSG's website re-design! Hair pulling and headaches ensued, but I actually made a lot of progress (with Eric's help). I am trying to get it done ASAP because I need to strike while the iron is hot! I am hoping to have it launch really soon…as in maybe tomorrow or Tuesday…!
Lunch today was wonderful and green!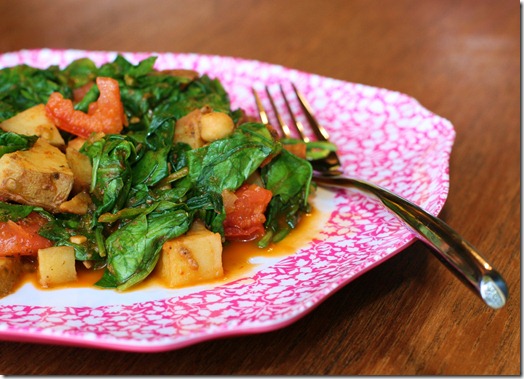 You know Operation Spinach Week? Well, I looked in the fridge today and I STILL had two huge bins of spinach to use up! I barely made a dent last week. Luckily, I think these two Costco bins will last at least another week or two, so I should be ok! :)
I threw into the wok 4-5 cups of organic spinach along with some Crisped Potato, Chickpea, and Carrot leftovers from last week.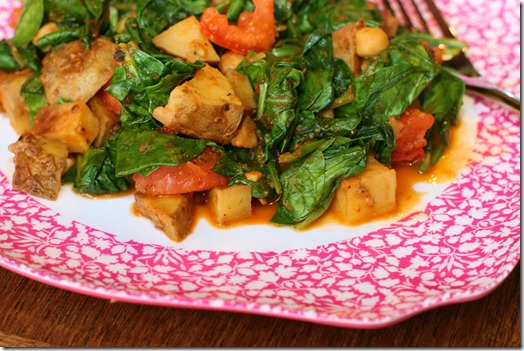 I also added about 1/3 of a cup of Simply Natural Organic Tomato Sauce.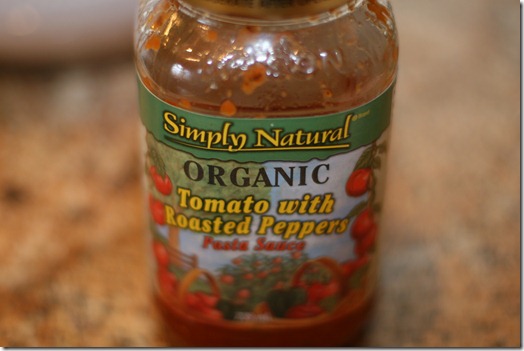 I heated it until the spinach wilted. It was lovely and bursting with colour.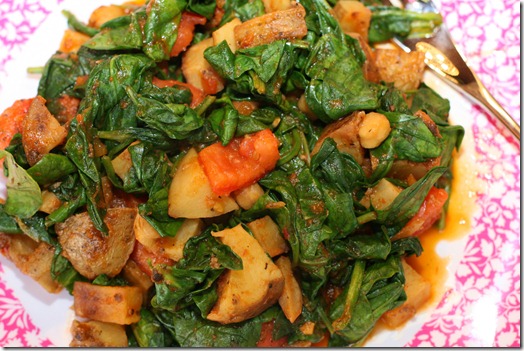 I also enjoyed this random picture I snapped of our dining light…
I had my lunch along with a Yellow Pepper and Fontaine Santé Roasted Red Pepper Hummus. I am obsessed with Fontaine Santé hummus! [You can find it at Costco in big tubs and at Loblaws, FYI]. This is by far the best brand I have tried (and I have tried a lot). I need to get back to making my own, but I just can't stop buying this!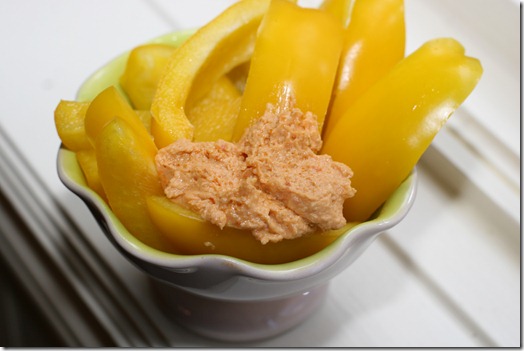 After lunch I was feeling pretty bummed about not being able to race today (that makes THREE races so far in 2010 that I have not been able to run!) and I was kind of getting down on myself. It is hard when you want to do something so badly, but the body tells you otherwise, isn't it?
I get a lot of emails from many of you who have sustained injuries and I am always asked how I got through it…
The KEY, my friends…is to stay BUSY!
If you are injured you must find a way to fill that time with an activity you enjoy.
Whether it is reading, lifting weights, painting, writing, attending a photography workshop, knitting, volunteering at the SPCA, whatever you enjoy…you must fill your time with something you look FORWARD to each and everyday. Schedule something in just like you would schedule in a workout!
So today, I did just that. Since I couldn't run (safely anyways!), Eric and I decided to fill that time with a rejuvenating hike in the sun! It was just what I needed to perk myself up and remind myself that it is not the end of the world when plans don't happen as you intend.
Life goes on. We make the best with what we have. Deep breath.
Don't I look HAPPY?? :mrgreen: We had a ball.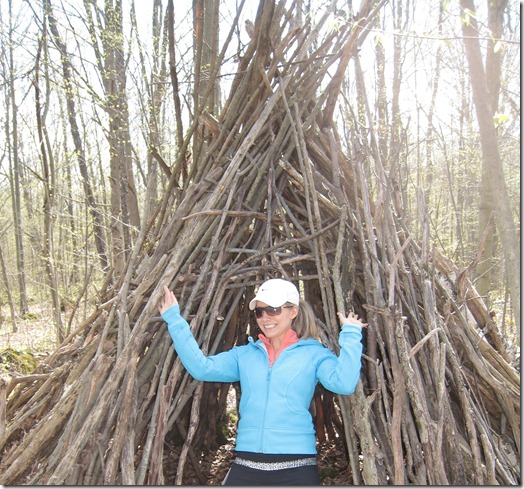 I was!
Is it funny that Eric and I know who Sony is??? Gotta love small towns…lol.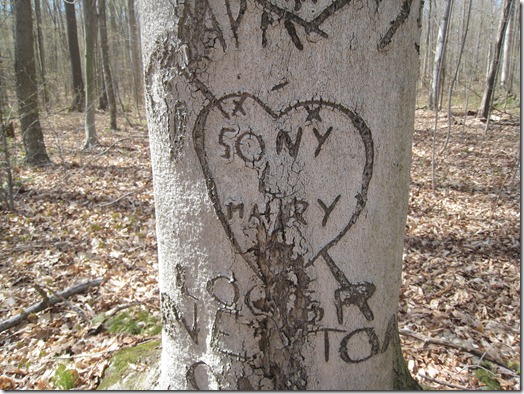 So pretty!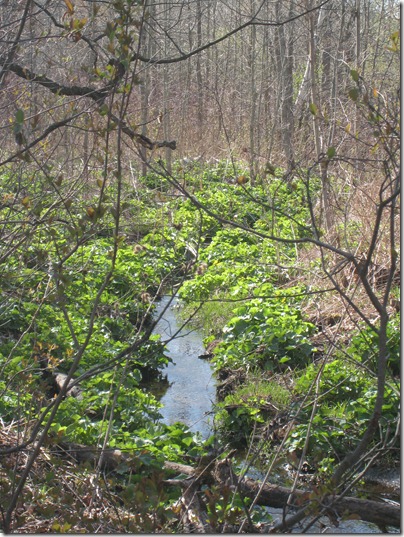 Eric has lived here for most of his life, so every time we go hiking he tells me amusing stories about his childhood. He was quite the hooligan! [He is a LEO, FYI…all the Leos I know are bad a$$, lol!]
The hike was awesome today! It cheered me right up. Unfortunately Dwight was DEAD (I must have left it on overnight), so I have no fun stats to report. We hiked for over an hour though. Good times!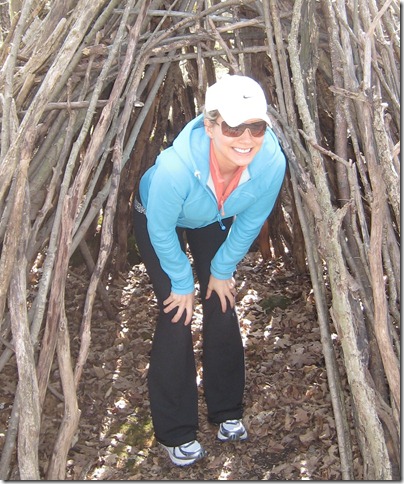 I look calm as a cucumber, but don't be fooled each stick was hiding a potential snake…
When we got home, I was starving like a mad woman. I had a (trial 14) GF + raw Glo Bar with a tablespoon of chunky peanut butter on top. Awesomeness. It held over my hunger for 3 hours until dinnertime.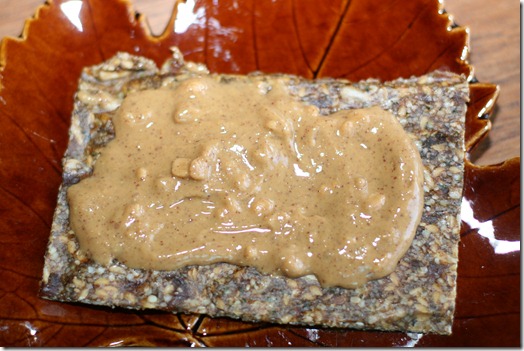 Tonight's question: What's your sign, baby? :mrgreen: Do your personality traits line up with how your sign is described?
I'm a Taurus BULL (how endearing isn't it?):
Dedicated
Stubborn
Focused
Loving + playful 
Easy-going (most of the time, but I have many stressed out moments fairly often)
Patient (I am not patient, although I try)
Loyal partner or friend
Good with money (MOST of the time, heh)
~~~~
Coming up tomorrow on OSG: My all-time favourite vegan casserole recipe!