Happy Friday to you all. :)
Despite, feeling like it was Wednesday on Monday, this week actually flew by for me! I felt like I got a lot accomplished too, so that is always nice.
Since I was wide awake at 5am this morning (why, why why can't I sleep this week?!), I decided to make some progress on my new GF Glo Bar. I worked on the nutritional information for a while and it is looking awesome!
My groin area is still feeling a bit tender after my tumble earlier this week. I am a bit worried that I am not going to be able to run my 15k race this Sunday that I am signed up for, but there is not much I can do about it at this point. I am going to continue with icing and stretching and hope that leads me to a quick recovery for Sunday's race. If it turns out that I can't race, I will still be cheering my girlfriends on from the sidelines and screaming my little heart out!
For breakfast, I wanted comfort food…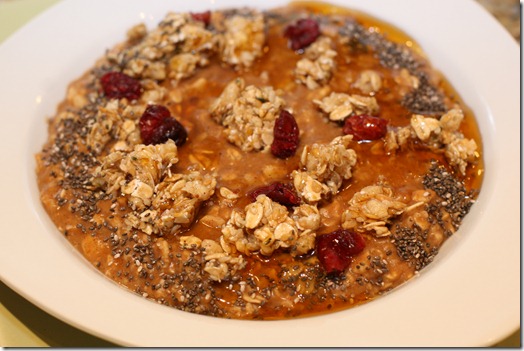 Pumpkin Spice Makes Everything Nice
Ingredients:
Into the pot goes…
1/2 cup extra thick Bob's Red Mill Oats (or regular is fine)
1 cup water
1/2 cup almond milk
pinch sea salt
1/2 teaspoon vanilla
2 tablespoons canned pumpkin
1 teaspoon pumpkin pie spice (or mix of 1/2 t cinnamon, 1/4 t nutmeg and 1/4 ginger)
1/2 banana, chopped
Directions: Throw everything into the pot and stir well over high heat. Bring to a boil and reduce to low, stirring frequently off and on for about 10 minutes. Serve and add your toppings!
Toppings:
1/2 Classic Glo Bar
1 tablespoon Chia seeds
few dried organic cranberries
Drizzle of pure maple syrup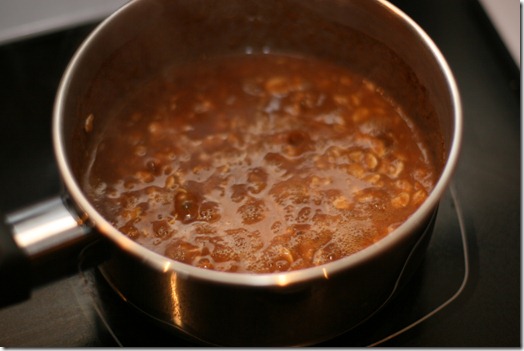 Oh, it smelled divine! Almost like pumpkin pie. :)
Half of a Classic Glo Bar for a topping…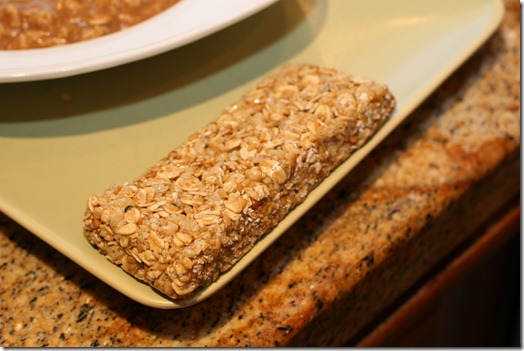 Chia seeds floating in the river!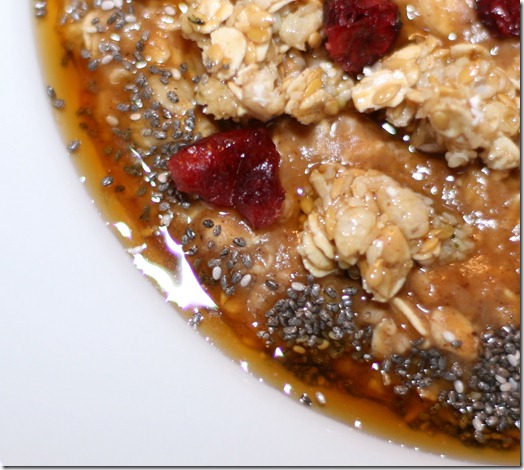 With a mix of Four O'Clock Japanese Sencha loose leaf and white loose leaf to wake me up.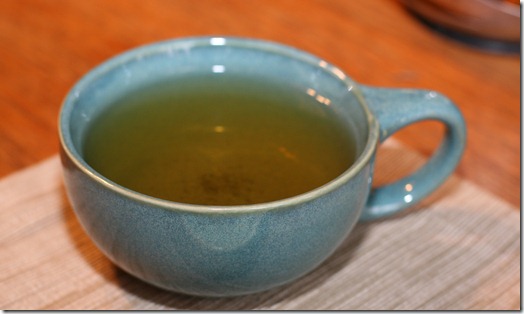 This bowl was really filling…so much so that I couldn't finish! I had about 3/4 of my serving. This should keep me going all morning long.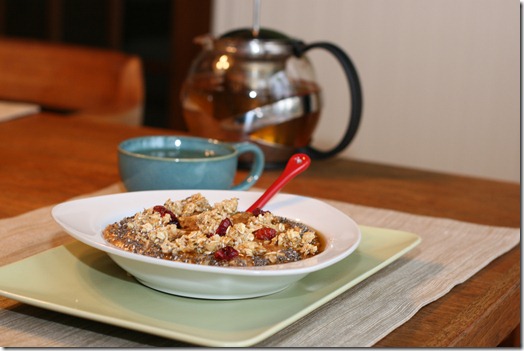 I also made a birthday list (as requested by hubby).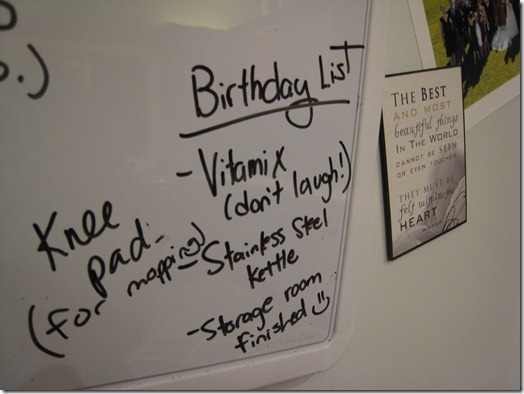 My birthday isn't until May 16th, but Eric wanted some ideas, so ideas he got…
On my birthday list:
Knee pads for scrubbing the hardwood (I'm 26 going on 80, apparently!)
Stainless Steel Kettle (our current $8 kettle is possessed)
Storage room finished (Eric is in the process of building me a storage room for the bakery)
VITAMIX (don't laugh!)
He saw that I asked for KNEE PADS for scrubbing floors and he said, 'That is a joke right? You are trying to trick me! Obviously I am not buying you knee pads for your birthday because everyone will think I am a horrible husband!
But…I actually really need them!!!! :( Can't a gal just want some knee pads? lol.
I have been asking for a Vitamix for over 2 years now on every occasion I can think of…Christmas, Valentine's, Birthday, Anniversary, St Patty's Day, Halloween, Earth Day, National Pie Week (April 23-25th, FYI), etc. Every time I put it on my list, Eric laughs and says 'KEEP DREAMING!'…and a little piece of me dies inside. :( However, I was always taught to persevere in the face of resistance. He is going to tire of my complaints and heavy sighs about my broken & leaking KitchenAid blender one of these days!
Do you have any big ticket items on your wish list? What are they?
I'm off to try and fix my computer issues with the Canada Post shipping module (lots of computer issues this AM!!!), test the GF Glo Bar, catch up on the week's paperwork, and start re-designing OSG. I am giving the blog a makeover in the days to come…keep your eyes peeled for a snazzy new design.
Enjoy your day!