Good morning to you!
We didn't end up going to Costco last night, but we did go on a hot date to the local air pump. ;)
It looks like my back tire is busted! Eric thinks he over-inflated the tire and popped it. The road to TRY-A-TRI might be more bumpy than we originally anticipated! We need to bring our bikes in for a tune-up anyways so they can fix up my tire for me then.
My groin area is still quite sore after yesterday's tumble, so I am going to continue to ice it today and see how it feels. All I wanted to do this morning was go outside for my workout so I am quite bummed that I am still sore. I have learned my lesson though; it is always best to listen to my body. Like my sports medicine doctor once told me, if you have pain it is your body's way of telling you to STOP the movement until the pain goes away. It seems simple and obvious, but it was very hard for me to learn and put into practice…
Breakfast was new and a bit scary…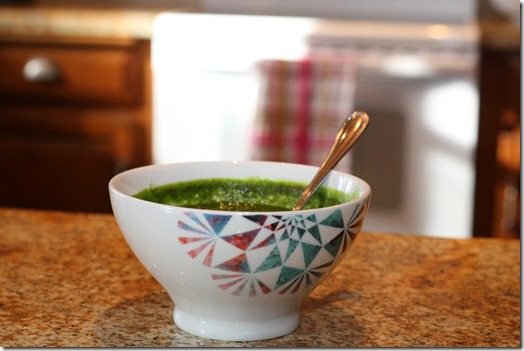 Yesterday, I spotted a wonderful spin-off of Vegan Overnight Oats over at Savvy Eats called Monster Overnight Oats! A hybrid of a Green Monster and Vegan Overnight Oats? Naturally, I was game.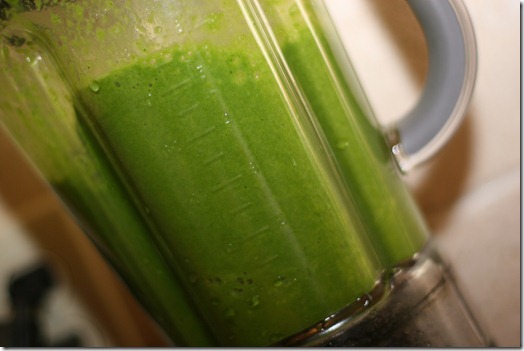 Step 1: Blend up a Green Monster
I used:
1 cup almond milk
1/2 of a large, ripe banana (Save other half for below)
2-3 handfuls of spinach
BOOM: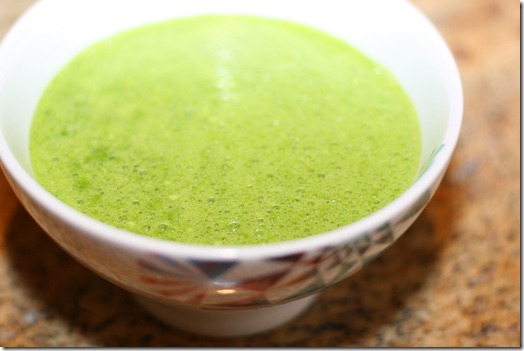 Step 2: Mix in your 'overnight oat' ingredients…
I used:
1 tablespoon chia seeds
1/3 cup regular oats
1/4 teaspoon pure vanilla extract
Other half of the banana, cut into chunks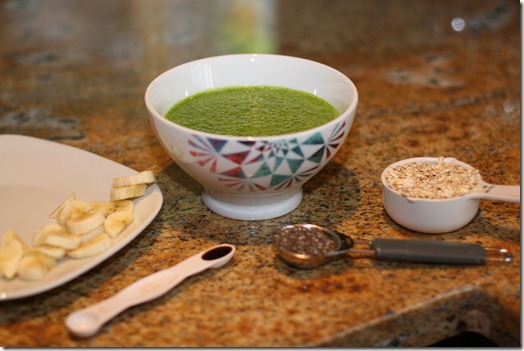 Dump said ingredients into the green monster…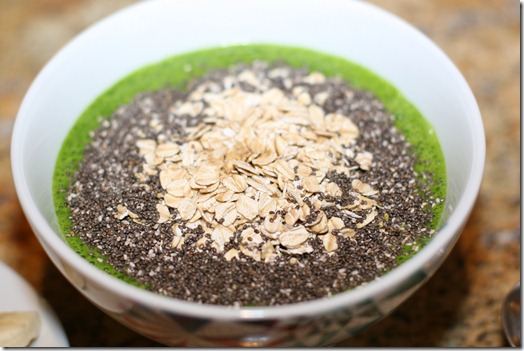 They float!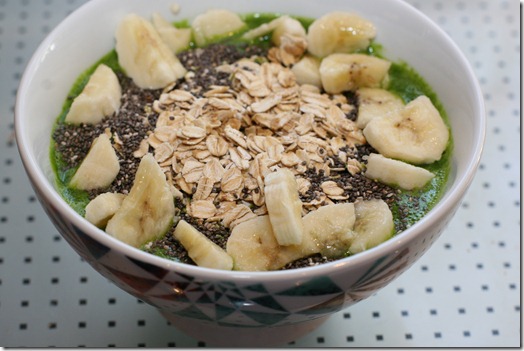 Stir your little heart out. Now place in the fridge overnight.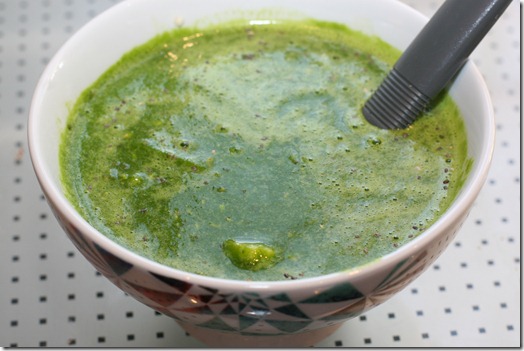 Sleep.
Dream of rainbows, puppies, and shooting stars. ;)
Awake.
Yawn.
Think about breakfast experiment in the fridge.
Leap out of bed! Slowly get out of bed.
Look at experiment. Cringe.
I'll be the first to admit that this looks gross…!!
But you know the saying, 'Don't judge a book by the cover'.
Try to prettify the scary bowl of green…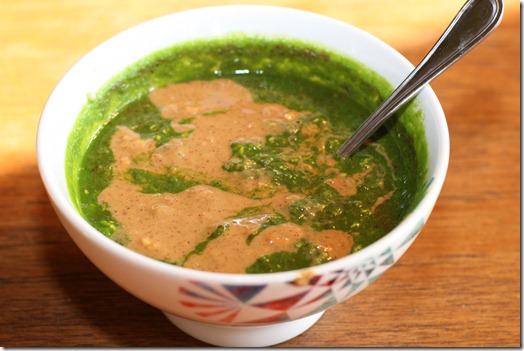 I drizzled a tablespoon of peanut butter over top and dove in!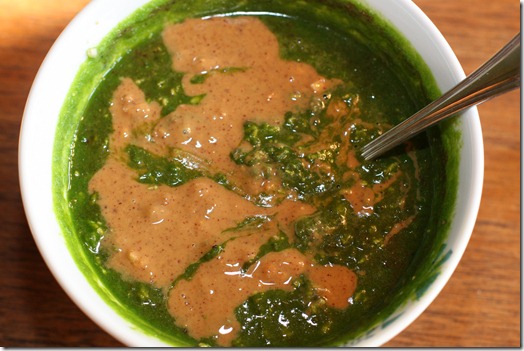 It was actually really tasty, but I could not get over the whole clumpy green oats part of it. This was a bit past my comfort zone. I don't mind drinking green in the morning (if it's smooth), but I was not so sure about this. It really did taste good though… :)
I finished off this week's episode of Gossip Girl as I ate. This show is the bee's knees.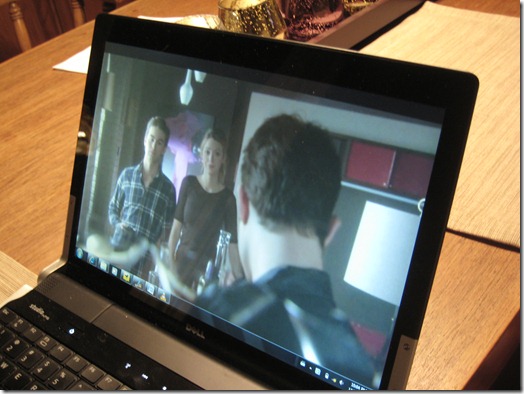 Today's question- Do you consider yourself a texture person when it comes to food? Are there certain things you won't eat because of the texture or appearance? What foods?
I actually didn't know about 'texture aversions' until I met Eric. :) He is a huge texture person and he won't eat several foods because of their texture alone. His examples include:
Pulp in juice (he will drink pulp but doesn't enjoy it!)
Oatmeal
Beans (he says 'especially the canned beans in sauce!')
Eggplant
Creamed potatoes (mashed is ok though)
Pumpkin pie filling (The horrors!!!)
Jell-O
Flaky pastries
My mother-in-law has quite a few texture aversions too. I got her hooked on chia seeds, BUT she really dislikes when chia seeds get wet + slimy! What my mother in law does is quite funny. She puts the dry chia seeds on a plate next to her cereal bowl and then she takes a spoon of chia and puts it in her mouth followed by a spoonful of cereal. She said this helps prevent the seeds from getting slimy and sticking to her teeth! I found this quite amusing! That is dedication. :)
As for me, I don't really have many texture aversions aside from maybe things like mussels and other slimy sea things. I tried squid when I was young and I hated how rubbery it was. I also used to dislike onion rings and Tapioca pudding when I was little, but I'm not sure if I would feel the same now since I love cooked onions and I have grown to love chia seed pudding which looks a lot worse than Tapioca.
Updates:
Have a great day!