Good evening!
Thanks for your comments on this morning's post! Apparently we need a wetsuit made for triathlons and not for surfing! Seems obvious, but I wouldn't have thought about this had you guys not mentioned something. It looks like I will have to check out the Costco ones a bit more closely and see what kind they are. My gut feeling is that they are probably surf wetsuits, but I will have to check… [This article was also a great read!]
Today was going swimmingly…until I took quite the tumble!
I was carrying a big 40 lb pail of flax seed and the metal handle came loose on me, swinging the pail out of control. I had to move fast and lurch to the side to avoid the pail landing on my foot and I took a nasty tumble on the ground. It hurt…big time! Now my right leg is quite sore in the groin area and I have been icing it on and off. I am thankful that the pail did not land on my foot (I swear it would have broken a bone!) and hopefully I will be fine tomorrow after some TLC!
I was not in the mood to cook. Dinner was a spin-off of lunch! Two meals for the price of one and ready in 5 minutes…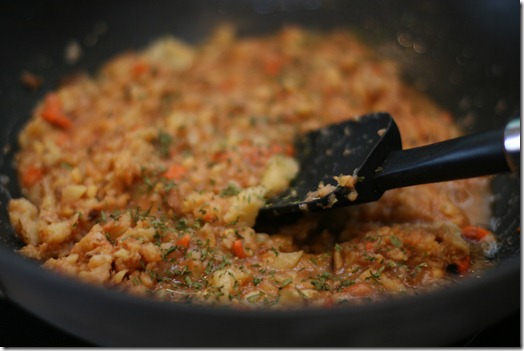 Potato, Chickpea, and Carrot Stew over Ezekiel Toast
Ingredients:
Directions: Boil water and add to wok with 1/2 a bouillon cube. Dissolve fully and cool. Pour veggie broth and about 2 cups Crisped Potato, chickpea, and Carrots with homemade ketchup (including the leftover ketchup too!) into blender. Process for just a few seconds on 'chop' setting. I left my stew chunky. Now transfer stew mixture back into wok and add seasonings. Heat and serve over toast.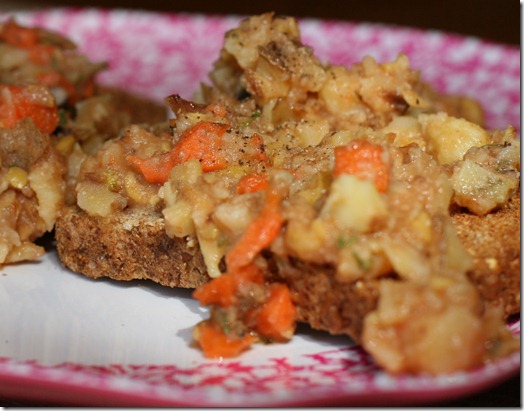 I sure got my tater fix today, didn't I? :)
As I ate, I prepped for my meeting tomorrow. Lots of rules and regulations for vendors I am finding out!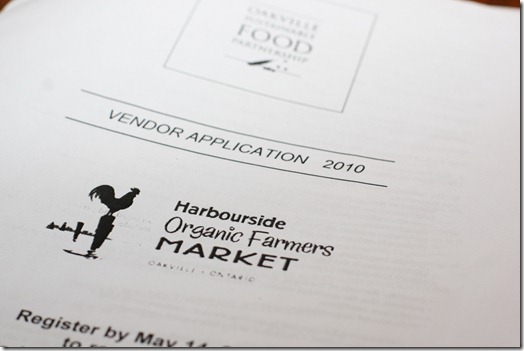 I love pouring stew-like things over toast.
Ready in a few minutes and gone in a few minutes!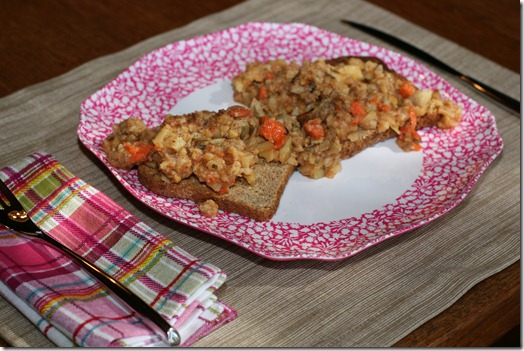 Pink plate is from Target…I miss Tar-jay!
THE [maybe] GOOD NEWS? Target really is rumoured to be coming to CANADA!! I will explode with delight when/if that store plants itself on Canadian soil! I swear I am going to sleep in a tent overnight for the grand opening.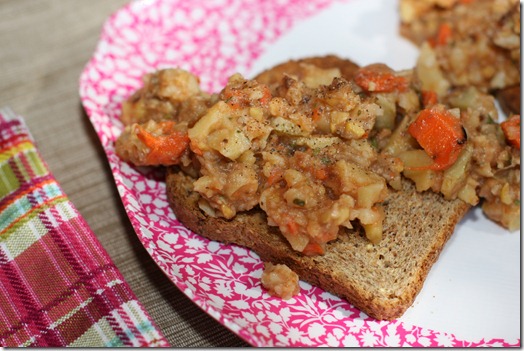 Please excuse my desperation. I love me a good deal and cute stuff.
Tonight's question- What are your favourite stores to shop at, for the following:
1) Clothing
2) Food
3) Home decor + furniture
4) Gifts
Mine are:
1) Forever 21, Lululemon, Target (my first clothing purchase from Target found here!), Jacob, Bebe, and occasionally RW & Co.
2) I don't have a favourite right now…we buy our groceries at Loblaws though. Whole Foods is about a 45 minute drive from us (which is probably a good thing because I would spend too much money there). I still have going to my first Trader Joe's on my US destination wish list! Perhaps if I attend HLS in Chicago there will be a Trader Joe's nearby??
3) Craigslist. It's fun to recycle cool house items! We buy a lot of used things for our house- including our couch off Craigslist. We got it almost new for a fraction of the original cost. Our family has also given us a lot of used home items that they didn't need anymore. I love hand me downs! :)
4) For unique gifts- Urban Outfitters can be good for the hard to buy for person. It really depends on who I am buying for though!
I'm off to ICE, ice, baby.
~~
The only people we can't forgive are the ones we are still afraid of. ~Gramma Mildred