Good morning!
Thank you so much for all of your amazing comments in last night's Kicking the Coke habit!!! Eric and I read through all of them together and we were blown away by your encouragement and personal stories. I think he definitely feels like this is something he can conquer!! :) If you are looking for some encouragement to kick the soda habit or to just stick to a healthier lifestyle, I suggest reading over the comments because they are super motivating!
I purchased two huge bins of organic spinach at Costco on the weekend only to come home and realize that I already had two bags of spinach in the fridge! Opps. This week has been deemed SPINACH week in our house.
My morning consisted of a beautiful Green Monster packed with as much spinach as I could fit…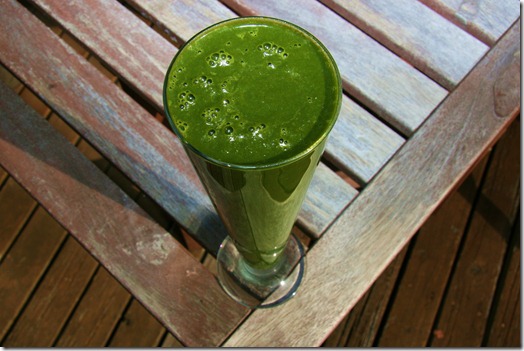 [Winter was hard on our Ikea outdoor table this winter!!! Guess we should have brought it inside…oops]
Enjoyed outside in the sun. I love Spring!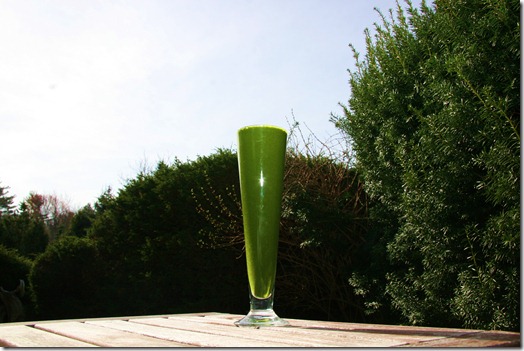 Ingredients:
1 cup unsweetened almond milk
2 ice cubes
4 cups spinach
1/4 cup pumpkin
1 tablespoon chia seeds
1 tablespoon Artisana Raw Almond Butter
1/2 teaspoon raw maca powder
1 frozen banana
1 scoop Amazing Grass Chocolate Meal Powder
Eric wants to tear out our rotting deck this summer and build a new one (not sure if the budget will allow for this however!). We are also talking about building a vegetable garden!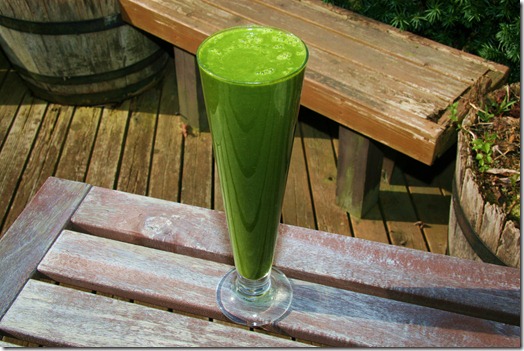 Exciting Announcement!
Yesterday Eric and I had quite the interesting discussion on our hike!
We got on the topic of fun outdoor activities that we can do this summer and Eric started talking about how he wants to get into Mountain biking. We have so many conservation parks within a few miles of us and there are so many challenging trails to tackle. He also wants to get clip-ins for his mountain bike which is something I wouldn't mind getting myself, especially if we were going to do it on a regular basis.
THEN…we started talking about swimming in lakes. Saturday at Costco, we came across these awesome wet suits for just $33 (don't you love Costco?). We'd love to get some to wear in the lake up at Eric's parent's house (the water doesn't warm up until about July or August!).
We chatted some more and then Eric said it would be fun to train for a triathlon!!!!!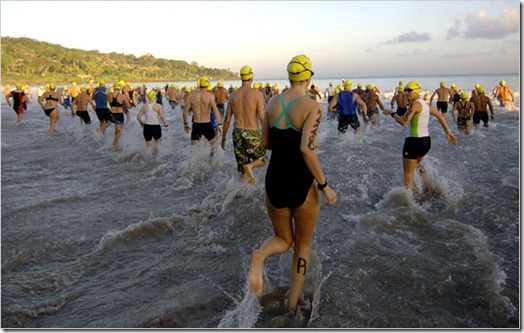 [source]
My jaw dropped. I have never heard Eric say he wanted to compete in a sport. He used to play sports in high school (football, basketball, volleyball, etc), but he was turned off by the overly competitive nature of it. He really dislikes when people take sports too seriously and he says it took the fun out of it for him.
Here's the thing.
Eric is not a swimmer (from his lips, not mine!). He never took lessons and he considers himself a very poor swimmer. He loves swimming in lakes, but as for actually doing strokes and whatnot, he says he is horrible at it and really doubts his ability.
He also really dislikes running.
So you can see my total shock at him saying that he wanted to try a triathlon! This is bringing him WAY out of his comfort zone.
I told Eric about the Subaru Triathlon Series with TriSport Canada that is really popular in Ontario. I know about it because I was going to train for a triathlon last June (and didn't tell you guys!!), because I chickened out and never signed up! I just couldn't bring myself to try it. This time last year I was also scared to run in a RACE and after my first 10k race I discovered that it wasn't scary at all!

The Subaru Triathlon Series offers an entry level race called 'TRY A TRI' for beginners doing their first triathlon.
We checked it out online last night and Eric told me that he wants to SIGN UP! GAH!
The great thing about this Subaru Triathlon Series is that they have several locations in Ontario and different dates to chose from. We decided on the Milton Kelso location because we will be able to do some of our training on the actual course as it isn't too far from us!
The TRY A TRI is VERY beginner friendly and I think anyone could do it:
Swim 375m, Bike 10km, Run 2.5km
Course Map [click to enlarge]: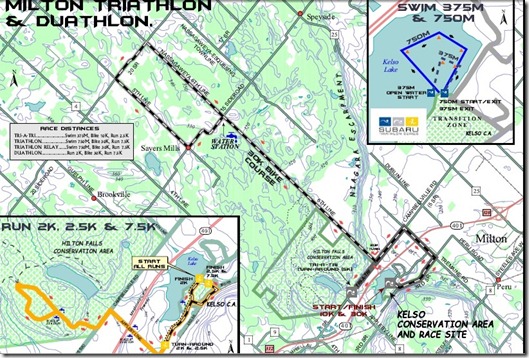 Eric and I will be not only competing in our first triathlon on JUNE 6th 2010, but we will be doing it TOGETHER!
I am just so excited that he wants to do this. I would run to Yukon and back if he asked me to. I want us to support each other during our training and conquer our fear of swimming in lakes! I can't believe we are really signed up!!
Today's question- Do you consider yourself a good swimmer? Do you have a fear of swimming in open water like we do? Would you ever train for a triathlon or have you ever competed in one?
I consider myself an OK swimmer. When I was young I used to take swimming lessons and I swam competitively in grade 1, however I have not done any lessons in over 12 years and I feel really out of tune. I have always had a fear of swimming in lakes and not being able to see all the wonderful creatures around me…I'm hoping with some practice (and a wet suit) we will feel more comfortable.
Enjoy your day!