The sun is back after a rain-filled week…Hallelujah!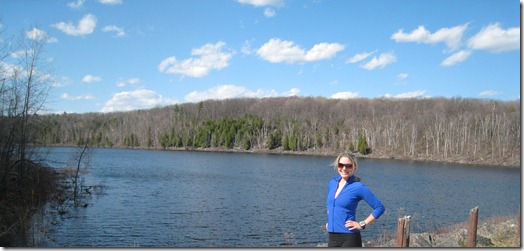 Eric and I took advantage of the nice weather to get outside for our first hike of the year.
We weren't the only Canadians with Spring Fever! We could barely find a parking spot…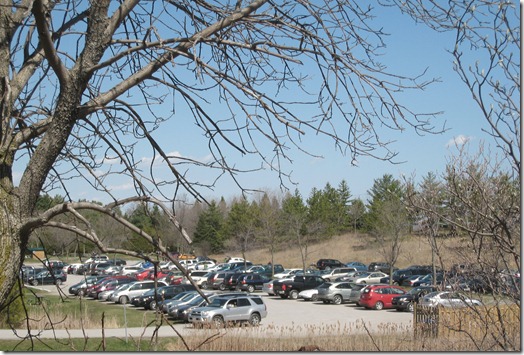 Ladies and Gents…meet Dwight K. Schrute! Or just Dwight for short. ;)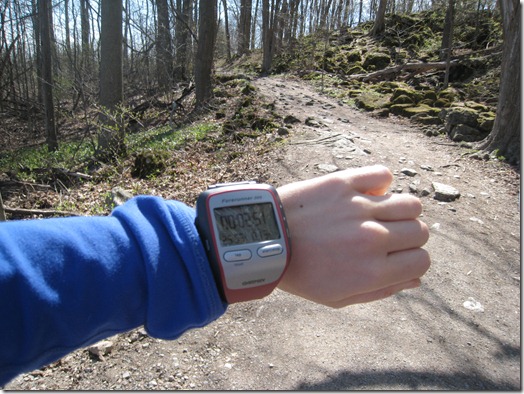 I picked myself up a Garmin Forerunner 305 at Costco this weekend!!
I have been wanting one for over a year now and my Polar RS200 has been broken for several months so I finally forked over the cash for a Garmin. Costco seems to have the best deal in Canada (aside from one sketchy website which I deemed was perhaps not the most reliable).
Eric couldn't stop laughing at how HUGE the watch looks on my wrist. I had to explain to him that it's a runner's thing and I am PROUD to wear this beast!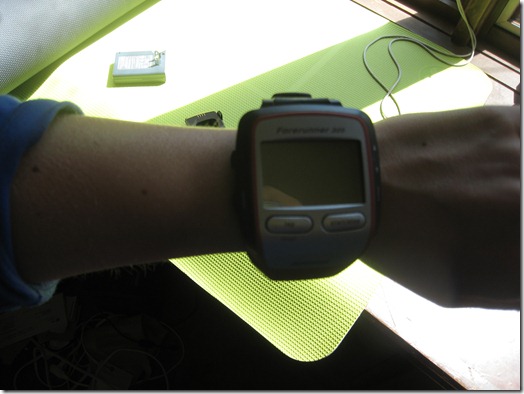 If you are an Office fan you will understand where the Dwight name comes from. On the show, Dwight is known for wearing a huge calculator watch, which the Garmin kind of reminds me of. ;)
I can't get over how many cool features this watch has. You can train or race against a 'virtual partner'. This will be so motivational for me on solo runs. You can also upload all of your workouts and track/compare with the software. I still have half of a manual to read, but so far it has been quite easy to figure out! I can't wait to use this on my 15km race this Sunday!
We tested out Dwight on the hike today. I set up the automatic pause feature, so the timer pauses every time I stop for a rest. At the end of the workout (or during) you can look at how much 'rest time' you had. It prevents the need to keep pausing and starting the watch each time you stop.
It was about 18C today and just perfect for a hike!
So peaceful.
Winter BE GONE!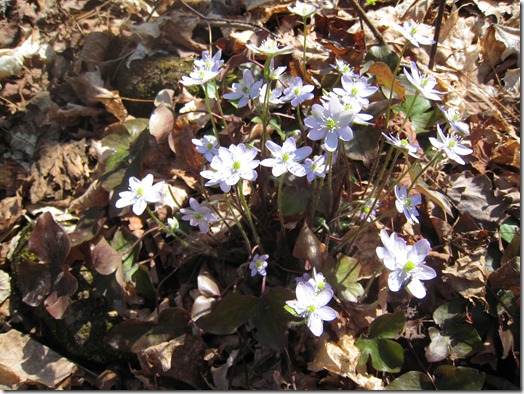 We brought some of these on our walk for a snack: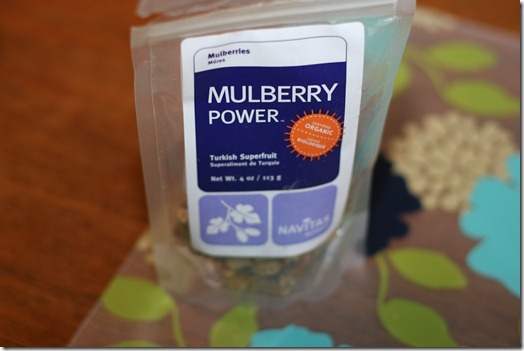 Eric and I love going on hikes together because it gives us uninterrupted time to just talk about anything and everything…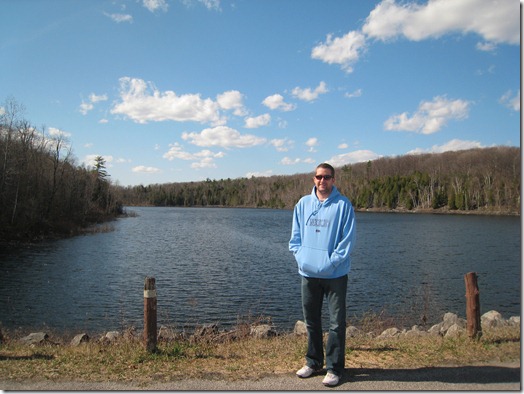 We had one VERY interesting talk that I will be telling you about soon. :mrgreen: Oh, it's a DOOZEY!!!!
We walked for an hour and covered 2.9 miles of hills, rocks, waterfalls, and rays…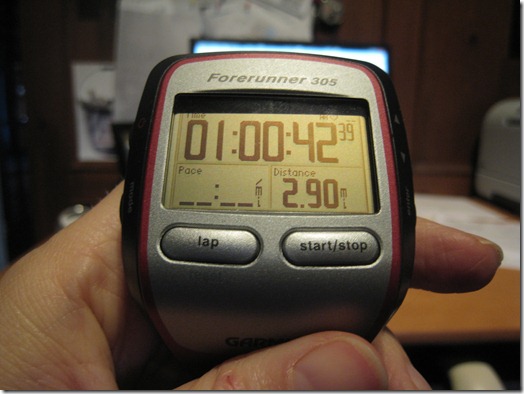 We worked up appetites for lunch…
A protein packed spinach, lentil, hummus, and tomato Ezekiel wrap:
My breakfast this morning did an OK job of holding me over. Not as good as my first batch of vegan overnight oats for some reason (I may have just been extra hungry this morning though!).
An apple which was way too soft and not very good…(I like crunchy apples!)
and a handful of dried organic apricots and a dark chocolate:
I spent the afternoon organizing my bakery stock and taking inventory. It feels so good to get a jump start on the work week. This week is going to be VERY busy and EXCITING as I am training my first employee, meeting with the organic farmer's market director, finalizing the new GF Glo Bar, and of course doing my regular orders!
In my last post, I told you that Eric is trying to kick something COLD TURKEY from his diet!
If you guessed COKE you were right!
And no, not the illegal kind of coke…this kind… ;)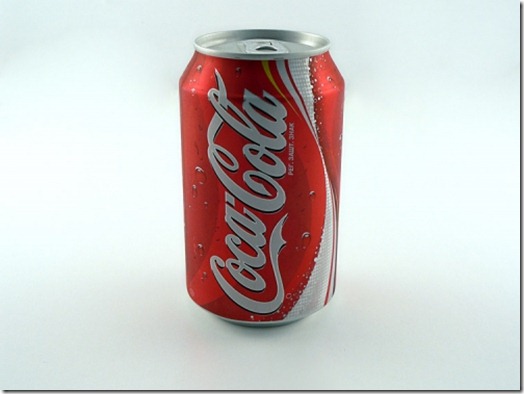 Eric has been addicted to Coke since he was a young boy. In university, he often drank up to 6 cans a DAY as a way to be able to stay awake. He cut back a bit after university, but he still drank about 2 cans during the work day. I used to encourage him to drink healthier things, but he never showed ANY interest in stopping so I dropped it years ago.
Well, what does he do totally out of the blue last week??
He tells me that he decided to cut Coke (and all pop) COLD TURKEY out of his diet!!!!
He has not had a Coke since the beginning of our vacation in Florida, and not one sip at work. Apparently, his coworker bought him a Coke last week and set it in front of him and Eric didn't even drink it after much teasing from his coworker. I was so proud when he told me this story I almost shed a tear! lol. I gave him a big, beaming bear hug because I am just so proud of him!
I asked him why he decided to do this all of a sudden and he said, 'It is the one consistent thing in my diet that is bad for me and I realized that I could replace it with something healthier.'
When the craving strikes, he is trying to beat it by making tea or having 100% pure orange juice.
So far it has been working…BUT, he admitted to me this weekend that he is craving one REALLY BADLY and he is worried that he might crack and have one and then be hooked again.
I immediately thought of you guys and I knew that you could help Eric! I said, 'MY AMAZING BLOG READERS CAN HELP YOU!!!!' :mrgreen:
He needs the encouragement now more than ever and I was hoping that you guys could leave Eric a comment below and encourage him to stick with cutting Coke out of his life. Then he can read the comments when he is craving some. Actually, this could help ANYONE out there who is trying to cut something out of their diet. Eric REALLY wants to stick with it, but he is afraid that he is not strong enough!! Any encouragement you can offer is greatly appreciated. :) maybe those of you who are also trying to kick pop out of your life can offer each other support!
Today's question- Do you have a story to share about pop/soda? Do you like it and have you ever tried to cut back? What about diet pop?
My story with pop is a simple one- I always disliked pop since I was a very young child. I have never been a fan of carbonated drinks for some reason! The only pop I ever drank was the orange or pink stuff…and I drank it very rarely because I always preferred juice as opposed to carbonated drinks. I know a lot of women who are addicted to diet pop…they drink about 6-8 cans a day and can't kick the habit.