Let the weekend begin!
Not going to lie, I started the weekend off by celebrating with some wine. :)
Thank you for your congrats on my Glo Bars hitting Ambrosia! I couldn't be happier to have your support. :) Also, great discussion going on in My Breakfast Story– it is really inspiring to read about your journey, so thank you all for sharing your experiences.
Fit Sugar had a wonderful post today called 'What do you think about when you run?'. Fit Sugar wrote about a recent opportunity to meet two elite runners Jenny Barringer and Sarah Bowman at the New Balance Women's Running Summit.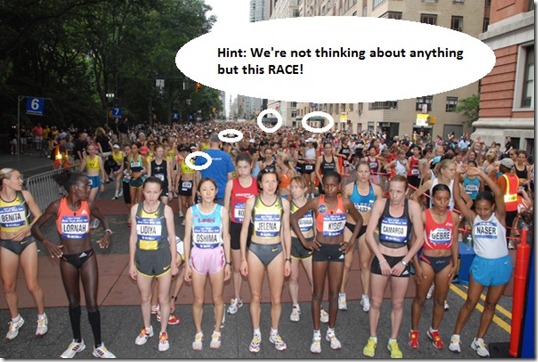 When the elite runners were asked what music they listen to when they run they simply chuckled and said they don't listen to music…ever. When asked what they think about when they run, they simply said, 'running'.
I thought this was so interesting, although not overly surprising, that elite athletes would have their mind on the training, and not anything else.
Another tidbit that I thought was fascinating was that for every hour they are running, they spend 2 hours on strength training, stretching, and icing their muscles! Reading this makes me want to stick with my strength training, stretching, and icing when sore!!! I think it also speaks to how hard running is on the body and how we need to ensure our muscles are strong so they can support the wear and tear of the sport.
When I used to play competitive fast pitch we had training in sports psychology and we learned about the importance of tuning out all distractions. It is supposed to improve not only your mental game, but your physical performance too!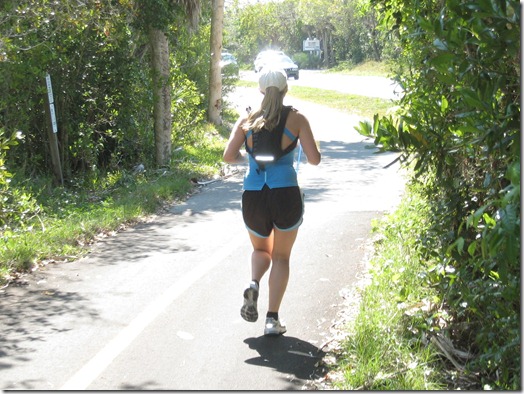 On this particular 12 mile run, I was thinking…
Damn, it's hot. It's getting hotter with every mile too! Oh crap…
Thank God I have a Camelbak now!! *takes gulp*
I hope I don't see one of these!
How much longer? I sure wish my Polar wasn't broken!
I wish I lived here ;)
Oh good song, crank volume and repeat.
I had Eric by my side (on bike) so I talked to him most of the time! Had I been alone I would have been thinking all kinds of things to pass the time.
I had to ask myself the same questions after I read this article:
1) I tend to always listen to fast and upbeat music, and
2) What I think about on runs varies in great part by the type of run that I am doing. For example, when I go on long, slow-paced runs, I let my mind wander and I think about so many things…family, friends, blogging, to-do lists, the bakery, etc. However, when I do speed work, like the 10k mock race on Monday, I typically only think about running, my goal, my pace, my form, and how much longer I have to pant for! There isn't much energy to think about much else.
One of the things I LOVE about running is that it gives me time to think and be with my thoughts. I have created Glo Bar flavours and dreamed up new dinner recipes on some of my long runs! I consider that a productive run… ;) Other runs, I just soak up the scenery. It really varies!
I like having the freedom to take running seriously on some days and take it very lightly on other days. I think there is a time to train and a time to play and that is how I like it.
What about you- what do you think about when you run (or just exercise in general)? Do you let your mind wander or do you just zone out and not think about anything? What about during a race?
Updates:
My RAW and gluten-free Glo Bar was a smashing success-finally after SO many trials over the past several months!!! More info to come next week… :)
Is anyone else having their comments disappear on them after hitting submit? It has happened to me a couple times and also to another reader. I'm wondering if it is due to this new plug-in I installed…
Enjoy your Friday night :) Coming up tomorrow a VERY delicious dinner recipe you will want to try this weekend!