Good morning!
Yesterday was all about the spin-offs…
Spin-off #1:
I made a spin-off of my loaded oats by making curry flavoured loaded oats! They were deelish.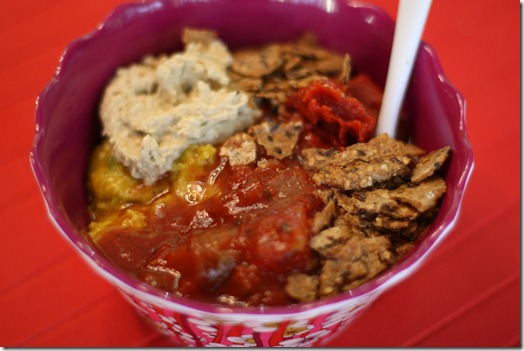 Curry Loaded Oats
Ingredients:
1/2 cup regular oats
1 cup almond milk
1/2 cup water
1/2 cup frozen veggies
1/2 teaspoon curry powder
1/4 teaspoon tumeric
No Salt Added PC seasoning
Black pepper
Pinch of sea salt
1/2 tablespoon nutritional yeast (optional)
Directions: Throw everything into a pot and mix well over high heat. Bring to a boil and reduce to low and cook for 7-9 minutes. Pour into a bowl and add your favourite toppings!
Topping ideas:
Mary's Crackers
Hummus
Salsa
Tomato Paste
Avocado
Stir-fry or roasted veggies
Chickpeas
Shredded coconut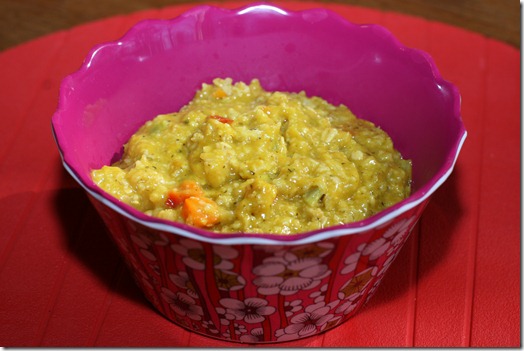 The key to making delicious loaded oats:
1) Lots of toppings
2) Some crunch + texture (think Mary's Crackers!)
3) Some type of creamy mix-in like hummus, nutritional yeast, or milk
4) Treat oats like any other 'savoury' grain like rice, quinoa, couscous, etc.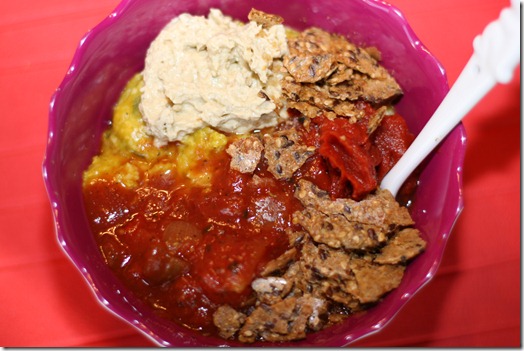 Hop, hop.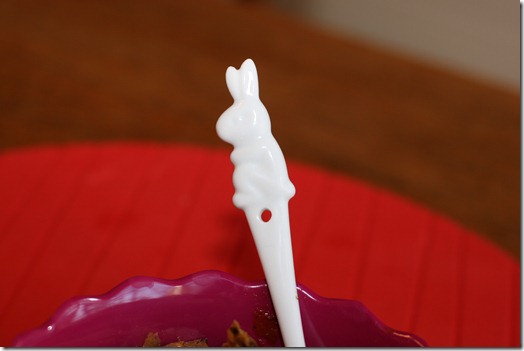 Isn't this bowl cute? A reader named Christine gave me this bowl at the Orlando meet-up! The bowl is from Target's new spring collection. Does she know me well or what? ;)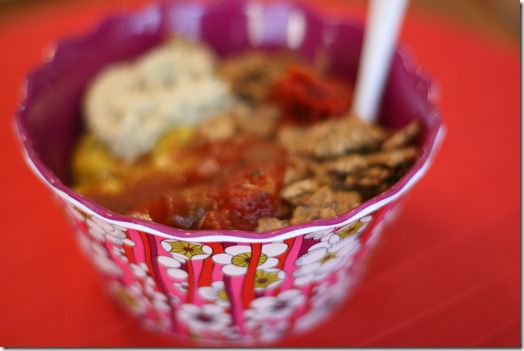 This bowl of oats was amazing. Loaded oats are my favourite new quick lunch or dinner lately! I just can't get enough of them…they are so filling too.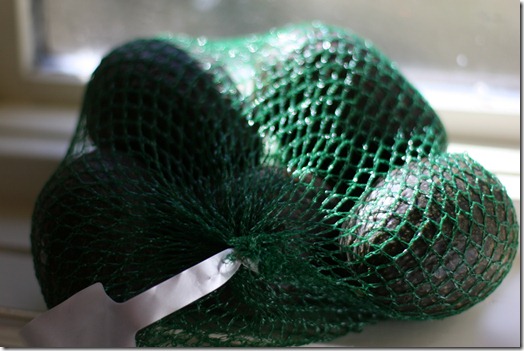 Sadly there was no avocado in this bowl!
Downfalls of coming back from vacation:
1) No food,
2) Waiting for everything to ripen when you do buy food!
Is it weird that I put avocados on the windowsill to ripen faster?? lol…what can I say I love avocados!
Spin-off #2:
Meet my newest spin-off of banana soft serve! Other spin-offs include fudgicle soft serve.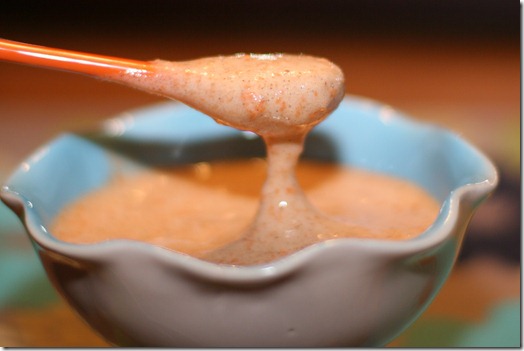 Carrot Cake Soft Serve
Ingredients:
1 frozen ripe banana
1 small carrot, peeled and coarsely chopped
1/2 teaspoon cinnamon
splash or two of almond milk
pinch nutmeg (optional)
1/2 tablespoon nut butter (I used cashew butter)
Directions: In a food processor process the carrots until fine. Add milk and frozen banana and process, scraping the bowl frequently until mixture is smooth. Now add in the spices and nut butter and process more. Add more milk if necessary. Serve and enjoy!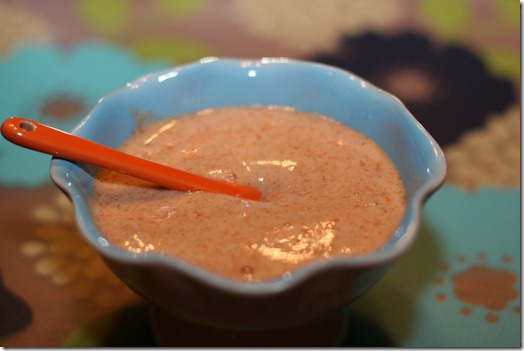 It tasted a lot like carrot cake batter which is always a good thing. :mrgreen:
Race Updates
I still haven't decided about the 10k race this weekend. The only thing that is holding me back is that the race is a 1 hour 15 minute drive from me and I have no one to drive down with! Doesn't make for a very fun trip! I shall play it by ear though…
However, I am officially signed up for the 15k in Guelph on April 18th and I have two girlfriends running with me so far! We are going to have a slumber party here the night before and drive down together. :) Give me a shout if you are running in either race and maybe we can meet-up!
Today's question- Do you have a limit for driving somewhere for a race or sporting event? What is the farthest you have ever driven (or for a partner/child)?
The farthest I have driven for a race was my first 10k race in wine country- the drive was about 1 hour 45 minutes. Luckily I had Eric by my side to keep me company! The other 3 races I have run were all in Toronto and took about 1 hour to 1 hour 30 minutes to drive to. Eric was with me for all of those trips too. Because of where we live we don't have many races that are close by. All of the major races are at least 1-5 hours away from us. I don't mind going a fair distance when someone else is going with me or when I am running with other people, but I hate the thought of driving somewhere far in the early morning and running by myself with no one I know at the finish line! One of the things I want to do is do a race in another province or country and make a big road trip out of it and run it with friends. I think that would be really fun!
When I used to play fastpitch we would drive all over for our games…sometimes across two provinces to get to the playoffs! We had many long road trips. It was fun though because there was usually a car load of my friends with me!
I am thinking that maybe I need to do a race ALONE though…just to say I have done it…sort of like going to a movie by myself or eating at a restaurant by myself… ;)
Time to get crack-a-lackin!!