Good evening!
Hope you are having a hoppy day ;)
The Easter Bunny found us last night and we came out to this…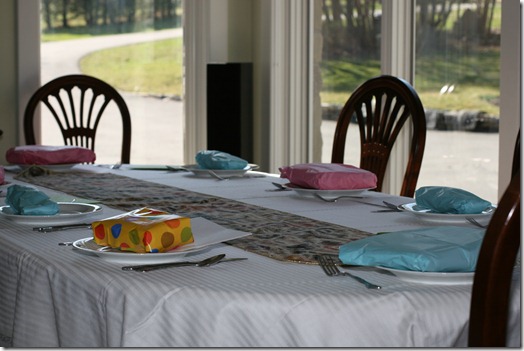 Score!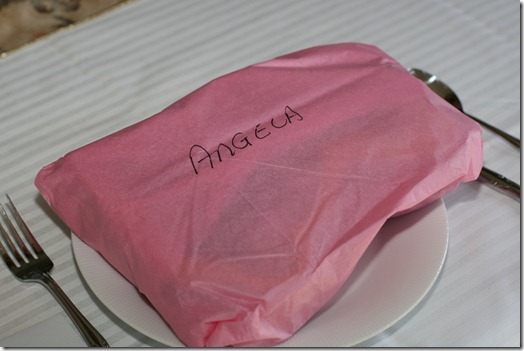 My breakfast was a huge fruit bowl, cereal, and an English muffin.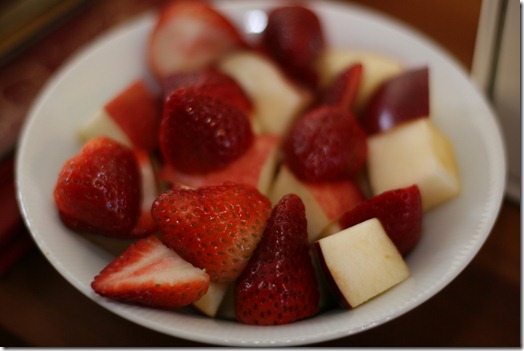 Split with Eric…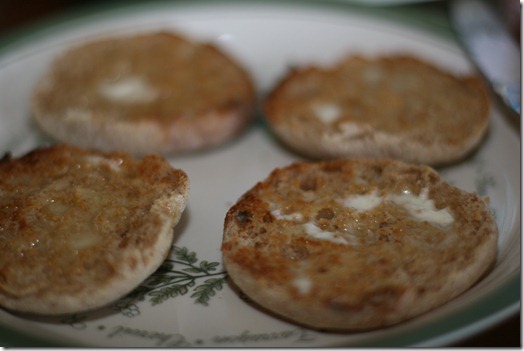 and some handfuls of cereal (not photographed).
Eric has made a couple healthy switches to his diet recently. He now eats Nature's Path Raisin Bran instead of Kellogg's Raisin Bran. He also drinks skim milk and occasionally almond milk instead of 2% (which he swore he would never drink that 'water'!). He is discovering that he actually likes the taste of these foreign health foods. He can surprise me with flowers or clean up the kitchen for me, but nothing pleases me more than seeing him make healthy changes to his diet on his own free will! He used to suffer from really bad migraines and he hasn't had any for over a year. Now who is to really know what caused them, but I would like to think that some of the healthier food choices had something to do with it.
My mother in law has made a lot of healthy changes to her diet (and dropped several pant sizes)and my sister in law has recently lost 30 pounds. I love witnessing positive changes in other's lives. Kudos to all of you who are working hard to make changes to your own diet and health…it is hard work, but it is also what I consider FUN work because the rewards are immense.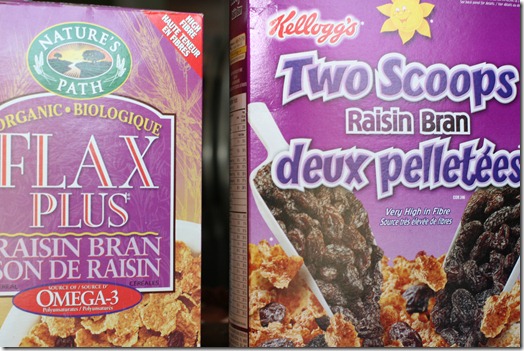 As you can see, the Nature's Path (below left) doesn't have 1) glucose-fructose (aka glucose-fructose is what Canada calls HIGH FRUCTOSE CORN SYRUP!) or 2) hydrogenated vegetable oil like Kellogg's Raisin Bran (below right). Eric says that Nature's Path tastes better anyways!
However today he had a big Irish Easter breakfast! ;)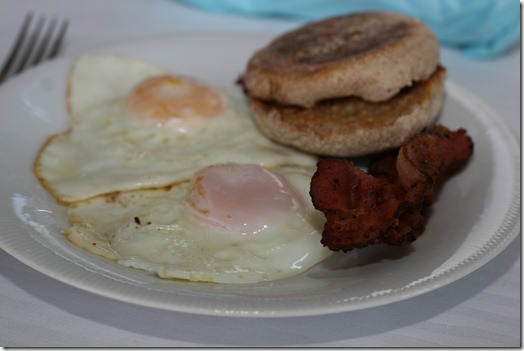 Then it was time to go outside…and play in the warm sun!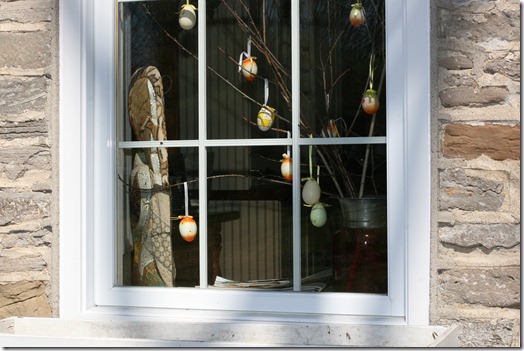 I'm like a plant after a long winter… :mrgreen: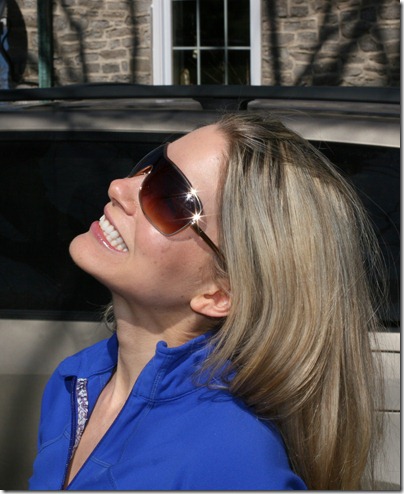 My niece had an Easter egg hunt!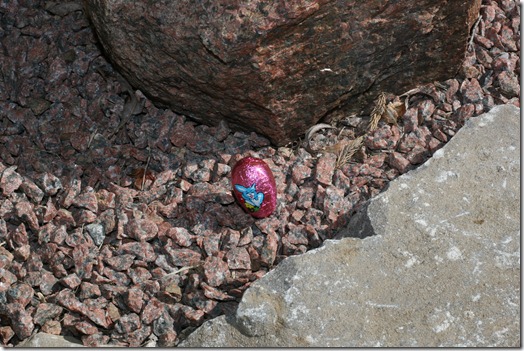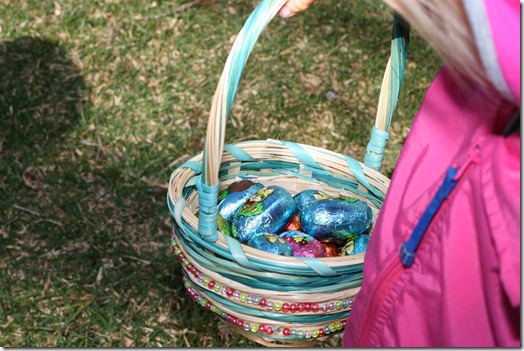 She did well! I'm sure the parents had a lively drive home. ;)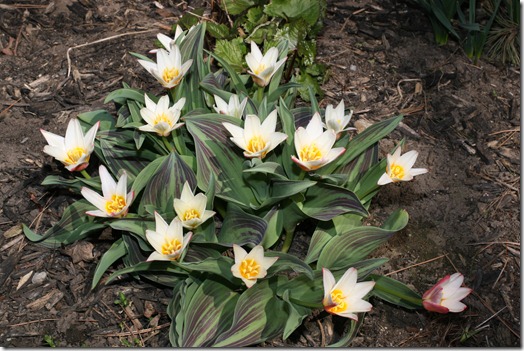 My healthy hottie…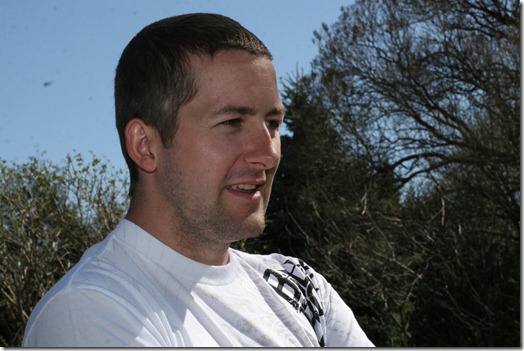 BENNY! Golden's are the happiest dogs, aren't they? Eric and I have a special voice that we use just for this breed. It goes like this…'Ahhhhhh DUHHHHHHHHHHHHH.' lol.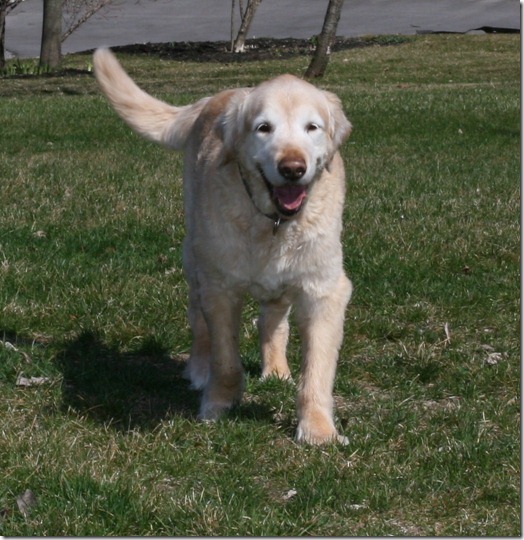 Then we flew a Tinkerbell kite…what more could you ask for? ;)
Is he grabbing her butt?!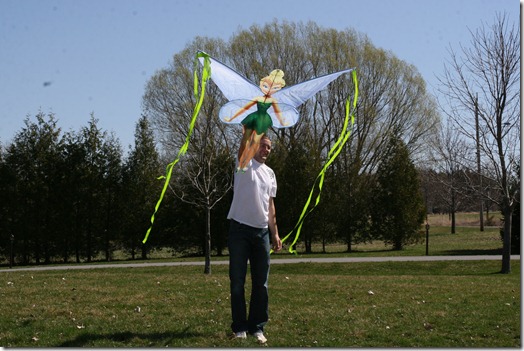 A late lunch was enjoyed…an Ezekiel wrap (officially obsessed!!), curry stir fry, olive oil, lentils. I must apologize dear Ezekiel wraps for I judged you prematurely. They are awesome. I actually now love how chewy they are!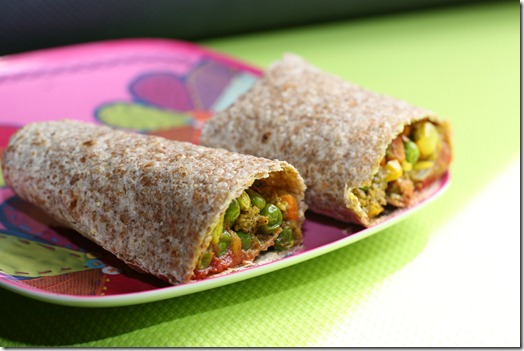 With tomato paste of course.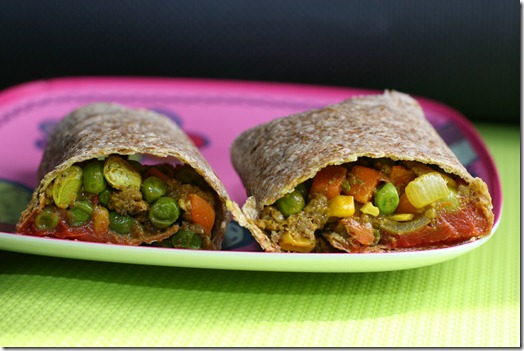 And dinner was leftover curried stir-fry with an Amy's veggie burger crumbled in.
With a bunny spoon OSGMOM got me while in Florida…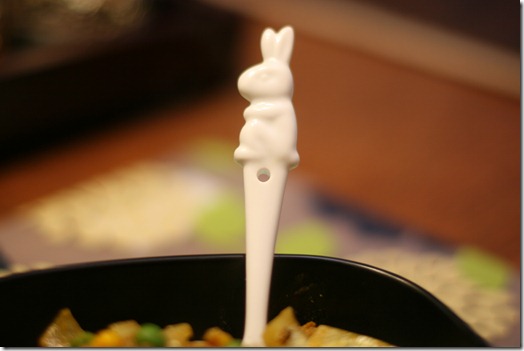 Steam, steam, steam.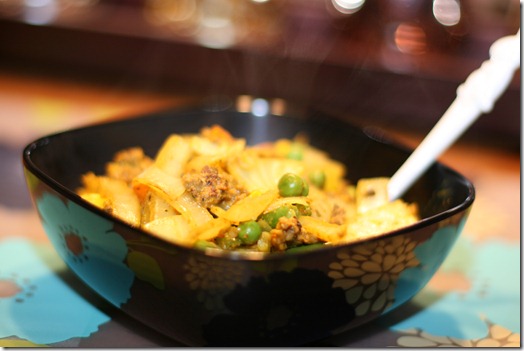 As much as we enjoyed the restaurants and cafes we went to while on vacation, I am really happy to be back cooking my meals in my kitchen! Not only does it save a TON of money, but it is really satisfying to create healthy meals that are quick and easy.
I have also been munching on these dark chocolate rounds all day too…I think I had about 5434 of them today. ;) Hey, it's Easter!
They are green tea dark chocolates from Teavana…I may or may not have bought 3 tins of them!
Today's question- Do you avoid High fructose Corn Syrup (or its' other names such as glucose-fructose here in Canada)? Have you given up any products or brands because they contained HFCS?
I'm off to unpack (again!), finish laundry, and wish my family a Happy Easter.
NIGHT!