Greetings! :)
Back to the 7 course vegan feast last night…
This is what really good food does to people… ;)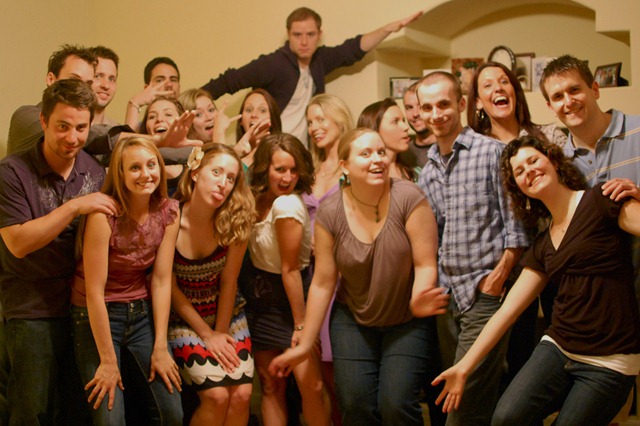 Attendees:
Lindsey and her husband, Ross
Ryan and my boyfriend, Evan
Caitlin and her husband, Kristien
Me and Eric
Megan and her friend, Mark
Ashley and her boyfriend, David
Katy W. and her husband, Lucas
Katy H. and her husband, Adam
Evan's brother's fiancee, Dana
Kelly and her boyfriend, Anthony
[List Stolen from Ryan!]
Yes, we were excited. Even the non-vegans were super impressed!
Ryan and Lindsey hosted a 24, 24, 24 event with Foodbuzz last night and invited about 20 of us over for this amazing vegan feast. Wait til you see this…
Course 1:
An Italian appetizer of Tomato Basil Bread Crostini with a Bruschetta consisting of tomato, basil, lemon, extra virgin olive oil, cannellini beans and a sweet balsamic reduction.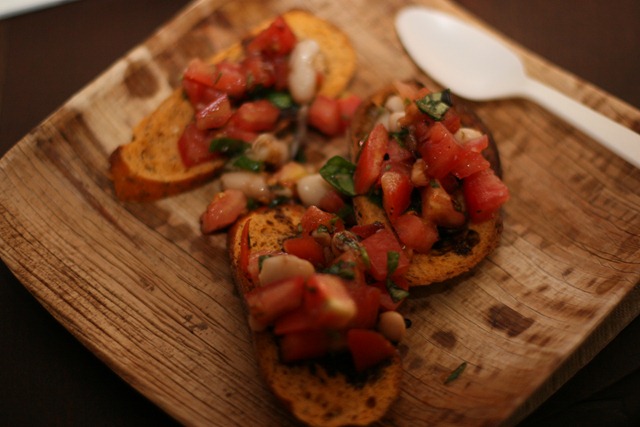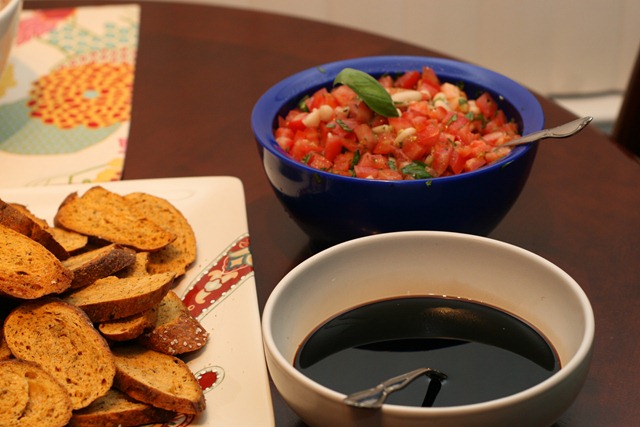 This was incredible! I loved the touch of drizzling the vinegar over top. It made the dish.
Each course was introduced by Ryan or Lindsey and it was so professional! They did an amazing job.
Course 2:
An African Sweet Potato and Peanut Soup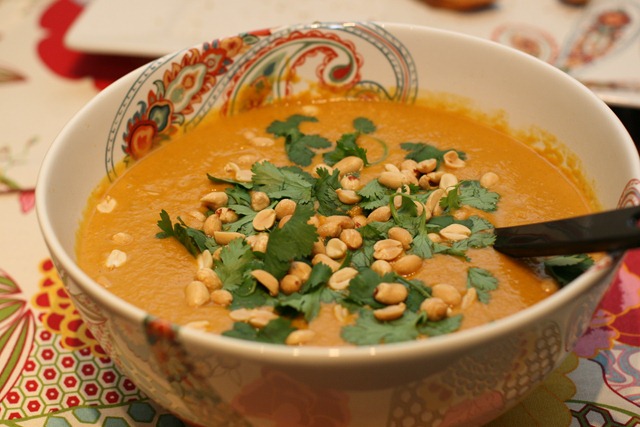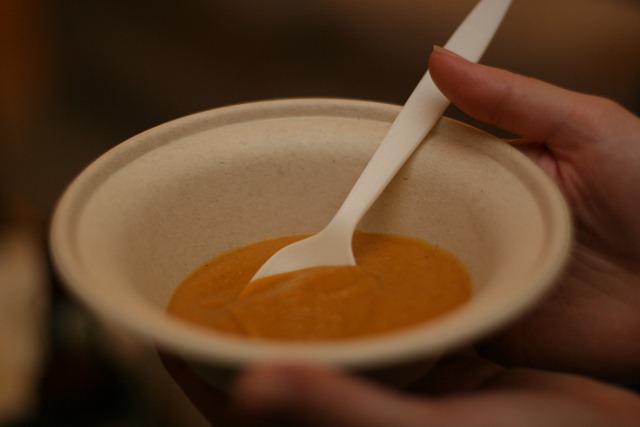 Soup was amazing! I could easily have had another big bowl but I was pacing myself as I still had 4 courses to go.
We were so impressed!!
Course 3:
A French vegan version of  a Nicoise Salad.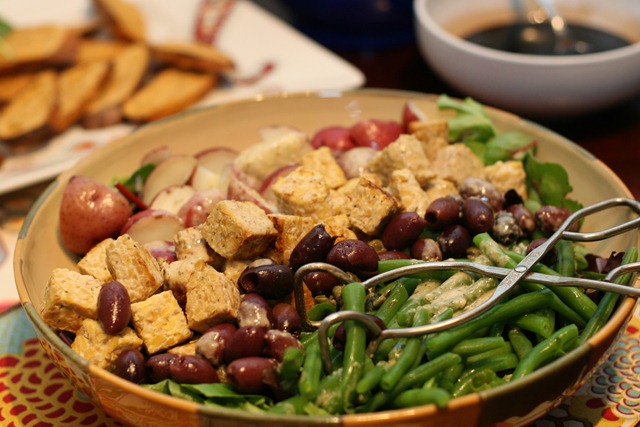 My plate: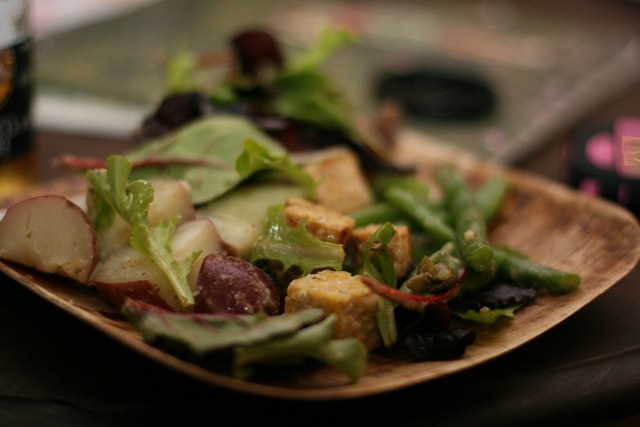 I feel so normal around other bloggers! We crowded the table to take pictures. :mrgreen:
Course 4:
A simple palate cleanser of a Moroccan Mint Sorbet with coconut water, coconut milk, lime and fresh mint.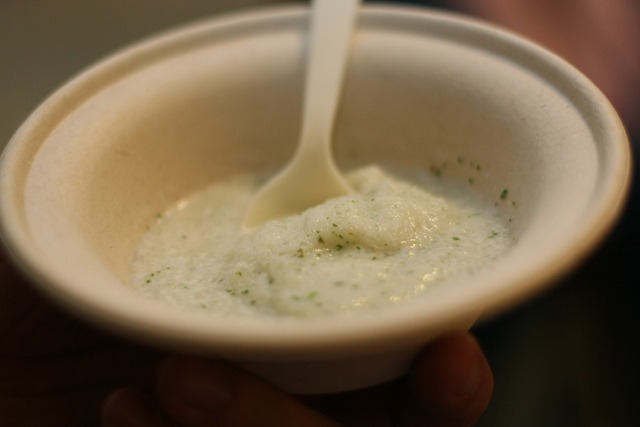 YUMMMMMMMMMMMMMMMM.
All the men were saying I LOVE VEGAN FOOD! lol. Eric gobbled up everything in sight!
Course 5:
Mexican Vegan Tamales with Masa and a Black Bean, Salsa Verde, Corn and Green Chiles Filling.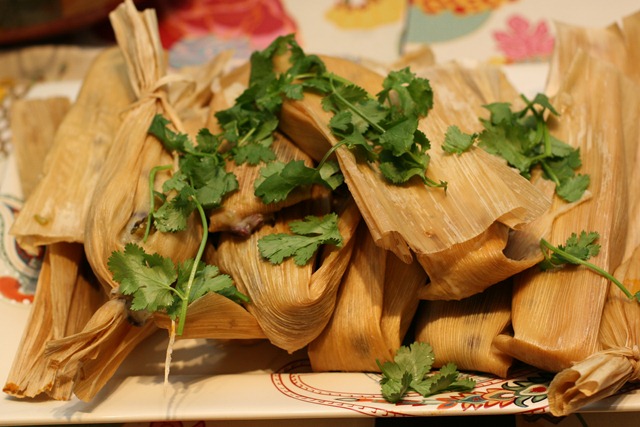 Have you ever seen food wrapped in a corn husk??? I have not. So cool. And no, you don't eat the husk! ;)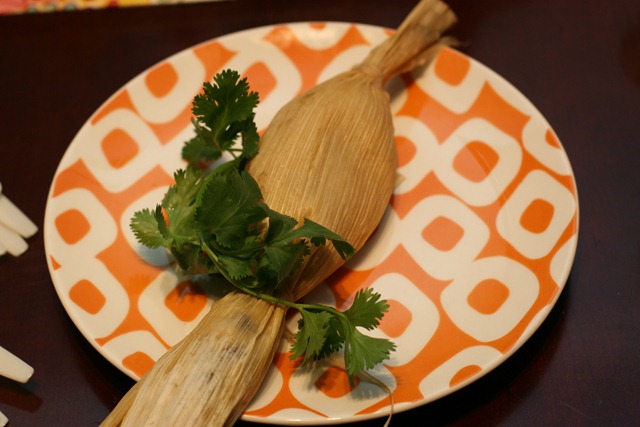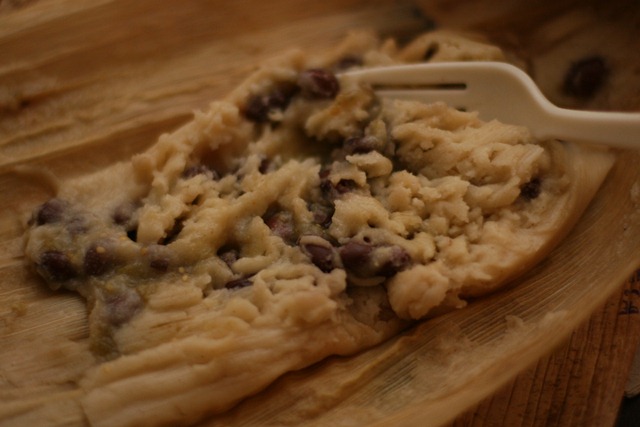 Course 6:
Jamaican Jerk Seitan with raw Plaintain Chips.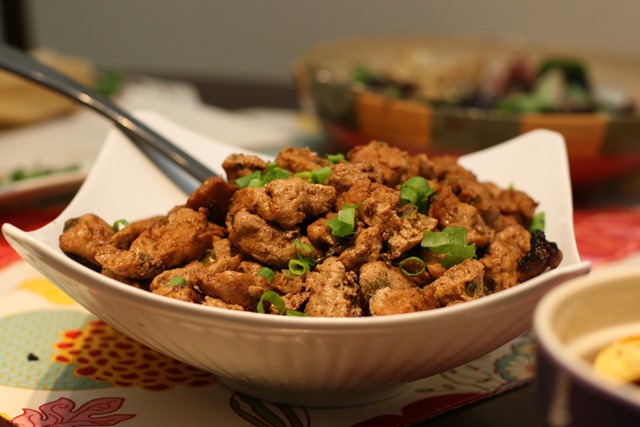 Both dishes were firsts for me!
I enjoyed the dehydrated plantain. The Seitan was interesting- it had a texture just like meat. Seitan is gluten protein and I'm told you can make it by soaking a loaf of French bread and massaging it until the starch wears away and just the gluten remains. I probably wouldn't make it or buy it myself, but it was fun to try.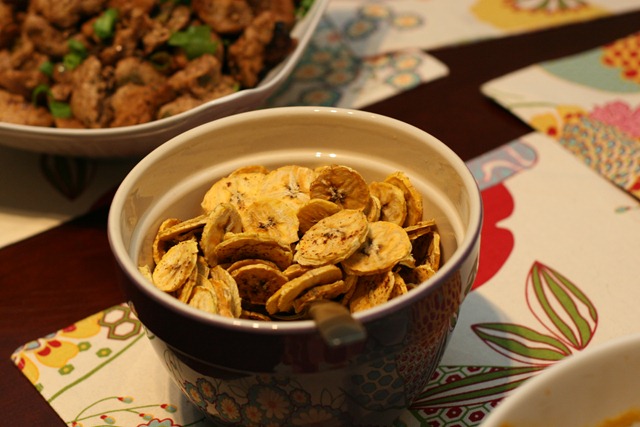 My plate plus more chips as we chatted.
No one could believe that I had never tried plantain before!
Course 7:
An All American, Vegan and Raw classic dessert of S'mores (Pure2Raw twins recipe!).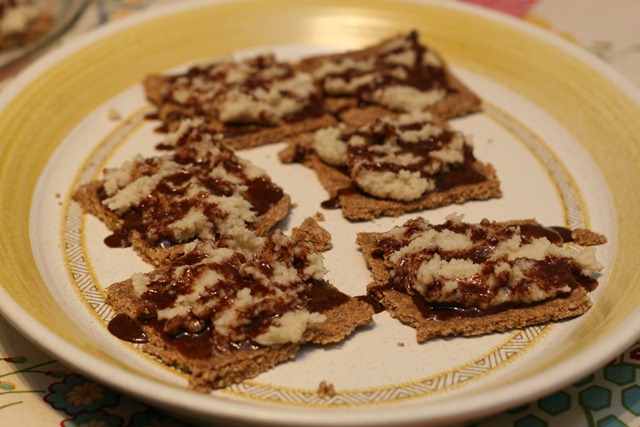 I had a square and then I handed out a box of Adore Glo Bars before we left.
An additional Birthday Dessert for Katy of a Vegan Chocolate Chip Cookie Cake: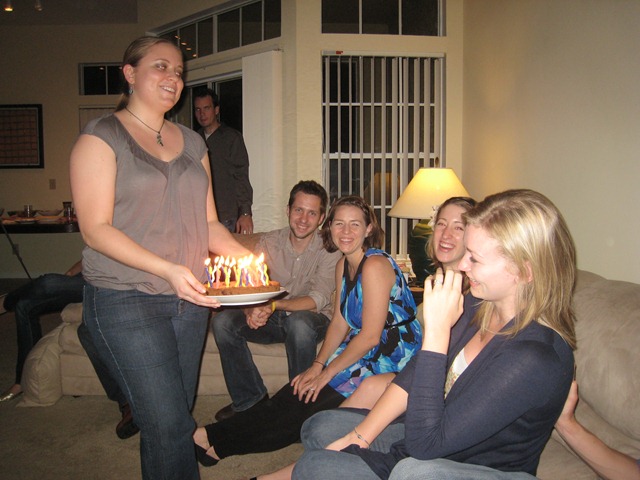 Needless to say, we were all pleasantly stuffed!!!! I stuck to the safe side with alcohol yet again and just had 1 beer as we had another early morning wake up call! Getting up early to travel with a hangover is not fun.
This morning we left for St Pete's to meet up with family! We met at Denny's for breakfast. I checked out the menu last night and found some oatmeal and fresh fruit, so I knew I would arrive with a PLAN! :) When I got there they were very reluctant to make the oatmeal without milk, but finally they said they could. I had fresh fruit and dumped it over top.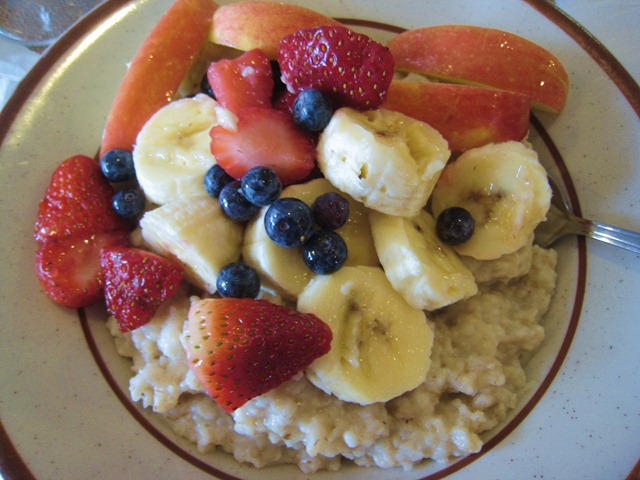 The fruit was pretty good, but I won't lie the oats were AWFUL! lol. It tasted like cold grits or something. My stomach was a bit queasy. At least I had something though. I knew I had lots of food waiting for me in the car so I wasn't too worried.
Me with my Uncle Jeff and my Grammie (my dad's mom). I had not seen my Uncle Jeff in almost 12 years!!!!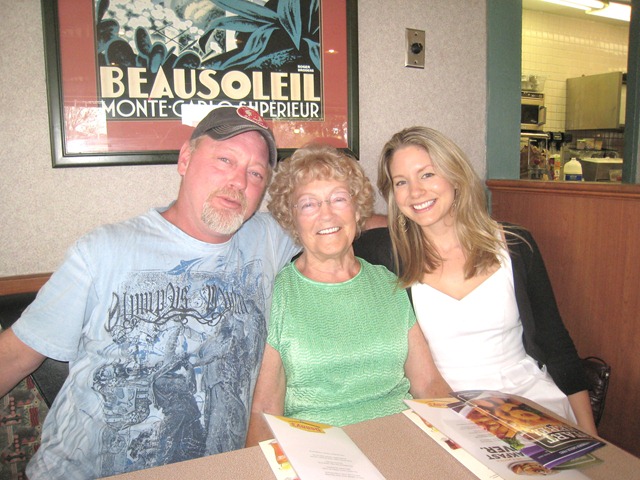 Then we were Sarasota bound!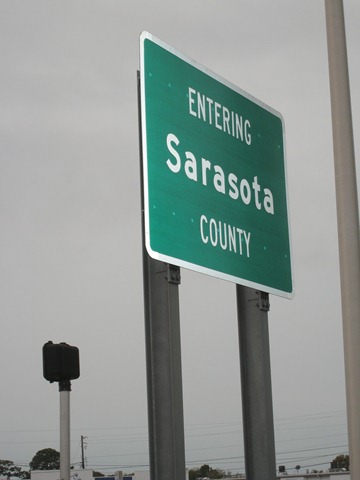 The only problem was the weather…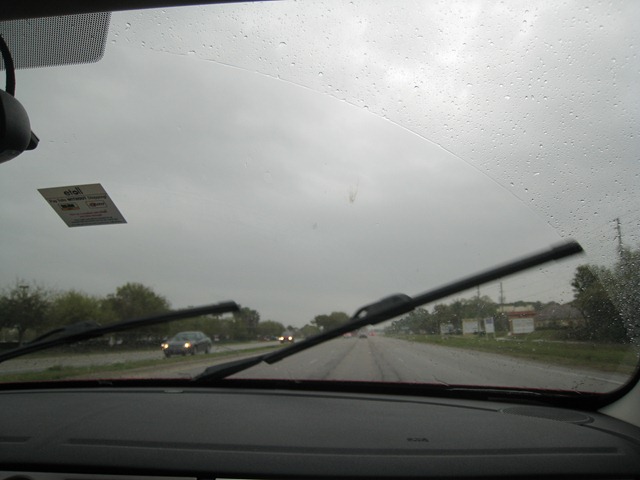 Stay tuned to find out what we did. :)
PS- For those of you asking about where I got the purple dress and teal dress, they are both from Urban Outfitters. :)