Good morning!
This post is going to be lightening fast as we are rushing off to Universal Studios this morning! :)
We arrived safe and sound to Caitlin's yesterday! It was about a 3.5 hour drive from Fort Lauderdale to Orlando. The drive was quite boring and I dozed on and off most of the trip. The weather however continues to be glorious and hot! We drove with the top down for some of the drive.
Oh, by the way we got some car snacks from Whole Foods before we left!
Unfortunately Kashi TLC crackers are not vegan so I couldn't have any but the 365 Wheat thins are!
We also picked up 1/4 of a bushel of tangerine's at a rest stop! They are sooooo good here!
I was so excited when we finally pulled up! Look who greeted us:
Note: NOT my leg…bahhahaha
That would be James and Maggie and they are the cutest dogs!!!
We relaxed at Caitlin's for a bit and then I showered and got ready to go to our meet-up. Caitlin and I hit it off immediately. I still think it is funny how you can know someone though a blog and know so much about them and when you meet them you don't have to ask them all of those get to know you questions. I even knew what the inside of her apartment looked like before I saw it! LOL.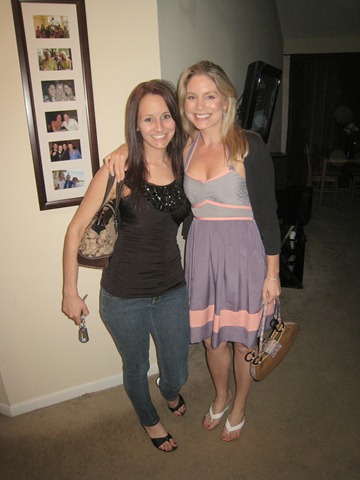 She is sweet as pie and has the cutest Southern Accent! :mrgreen: Her husband, Christian, is also really nice and has an English accent of his own that I quite took a liking too! He has a really good sense of humour and was always making us laugh.
We went out to The Wine Bar in downtown Orlando! The meet-up was huge- I think 20-25 people for this one.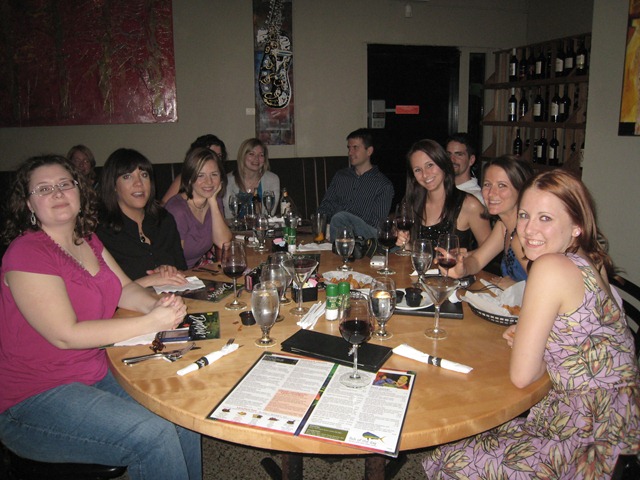 It was very fun meeting everyone after reading their blogs for so long!
Blogger in action..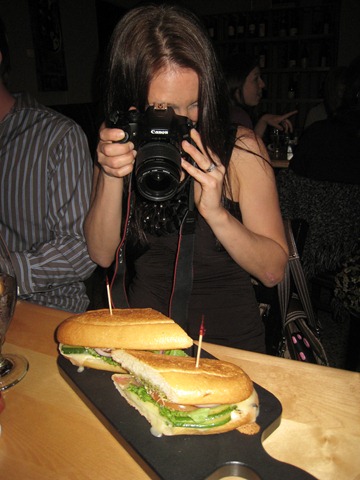 Eric and I still weren't in a big drinking mood, so he just got a Red Stripe and me some red wine.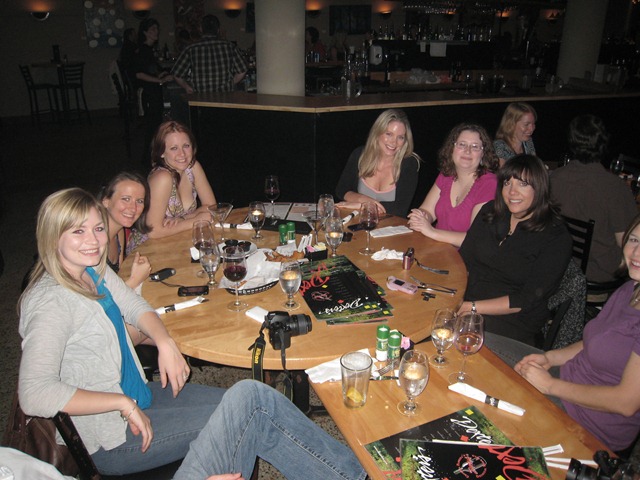 Everyone was so much fun, I only wished we had more time together.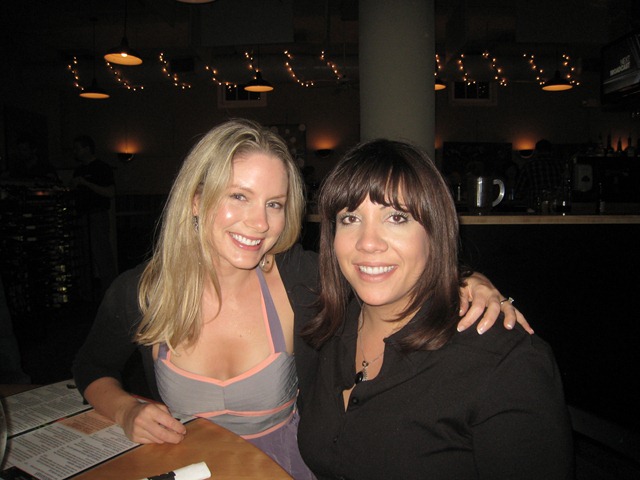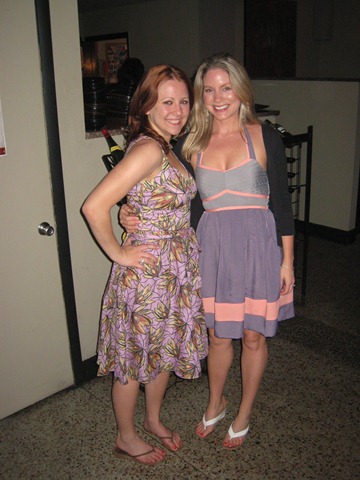 My stomach was not feeling very well last night so I wasn't going to order anything, but at the last minute I got a salad just as some filler to go with my wine.
The sweet potato chips rocked!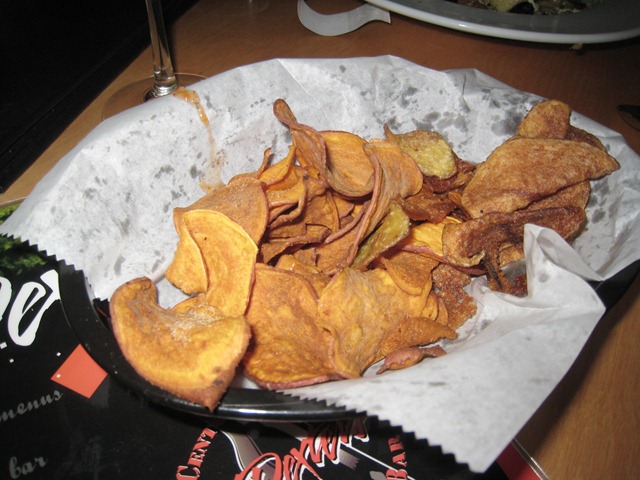 The boys…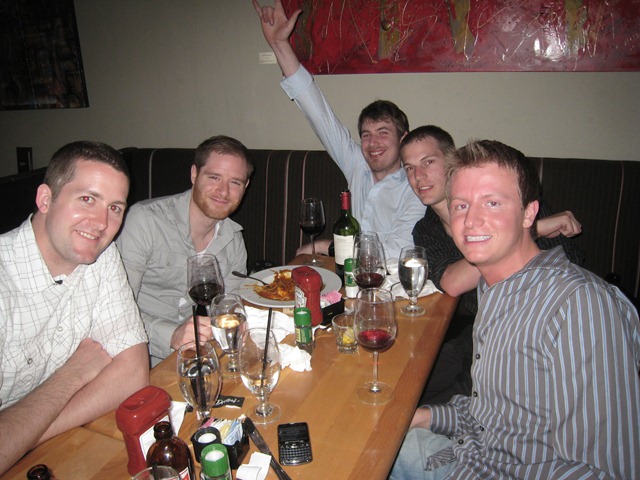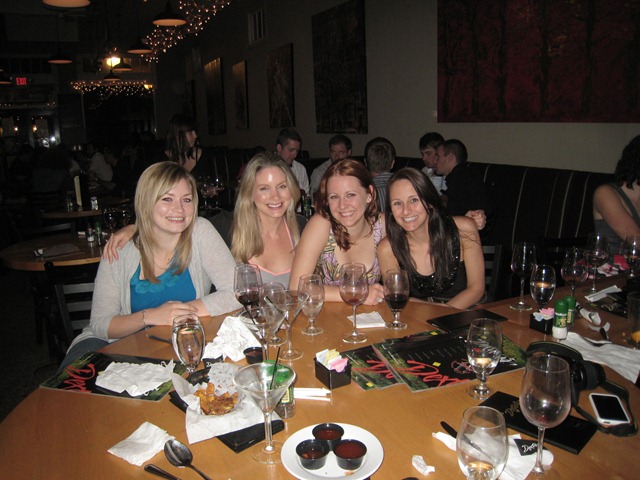 Everyone makes fun of us when we say EH…and we make fun of them when they say Ya'll. lol.
We headed next door to a sports bar for a bit…it was LOUD!!! I guess it is March Madness?? :) However, we were not in the party mood. I guess we are getting OLD!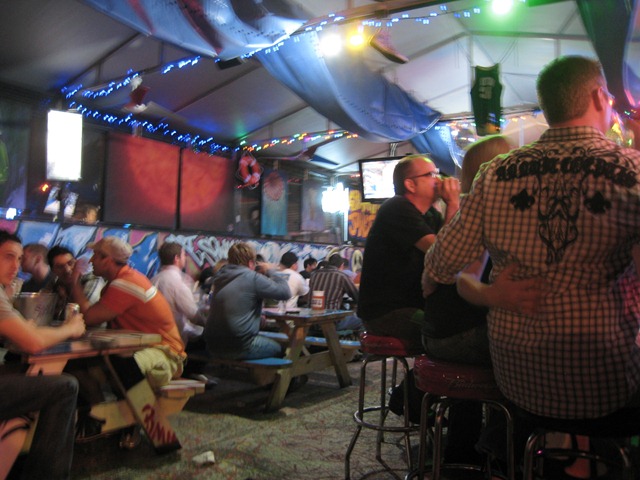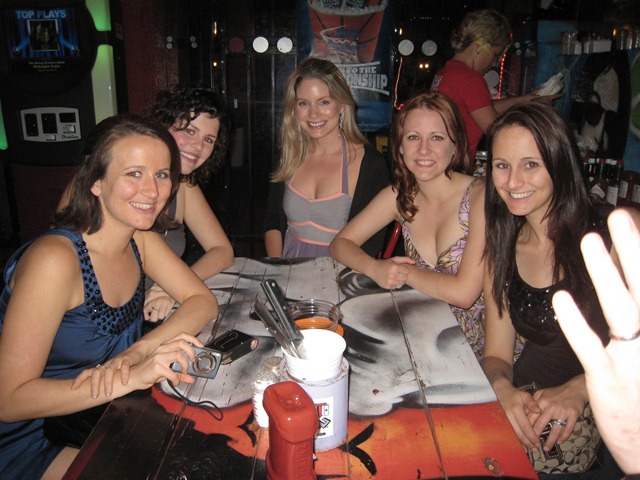 Me water, Eric beer. :mrgreen: I was sooooo tired last night! Traveling makes me tired. Don't I seem tired in the pics?? It was till so much fun though!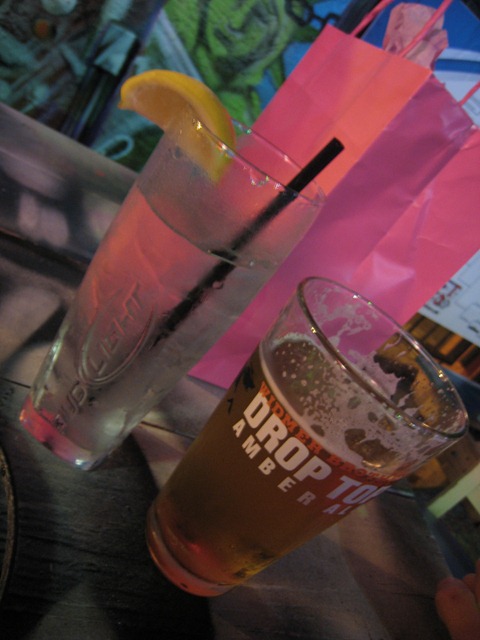 It was a fun night! We are currently rushing to leave for Universal Studios now!!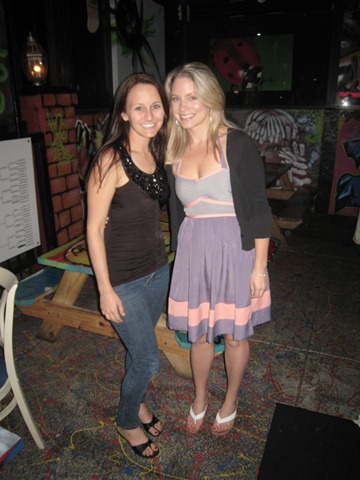 Today's question: Have you ever been to one of the Disney parks or Universal Studios or any other park in FL?
I have been to Disney and Universal when I used to live here back in the day- I think I was only in kindergarten and grade 1 so I don't remember much at all.
I'm going to ask Caitlin if she will make me a chocolate cherry BOMB smoothie!!! :mrgreen:
Have a wonderful start to your weekend!