Hey guys!
The technical issues persist on!! I thought I lost all of my pictures from the meet-up last night because I went to load them on my laptop and all I got was a memory card error. Gulp. I tried to stay calm because I know Eric would save the day- and he did! :mrgreen: He recovered the pictures this morning so now I can post!
Yesterday, Eric and I finally had a really, really lazy vacation day. It was so needed after our late night. We lounged at the hotel pool and laid under a cabana with tons of shade.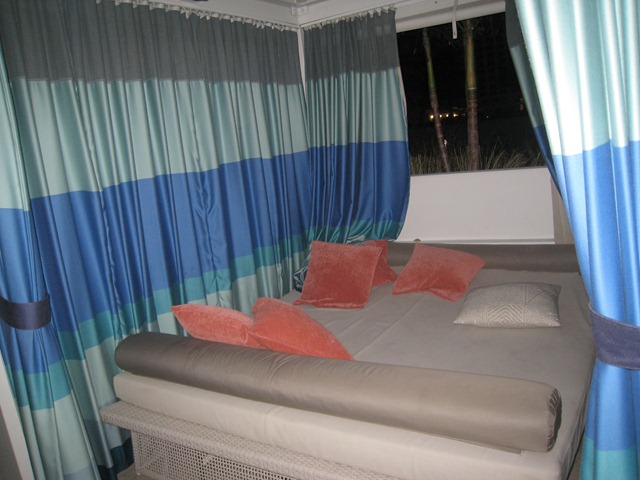 It was grand. :) We napped for most of the day. I think I nap best when I'm not trying. When I say to myself I'm going to bed to nap, I can't…but when the conditions are ideal and I don't feel like I have to sleep, it often comes naturally!
I don't have food pictures…I left my camera up in the room and was too lazy to go get it. lol. I ended up having a veggie burger and sweet potato fries. Soooo good. I always crave carbs after a night of little sleep so it hit the spot!
We came up to the room late afternoon and a whole lotta TV watching was done…complete with plush white robe and alligator!!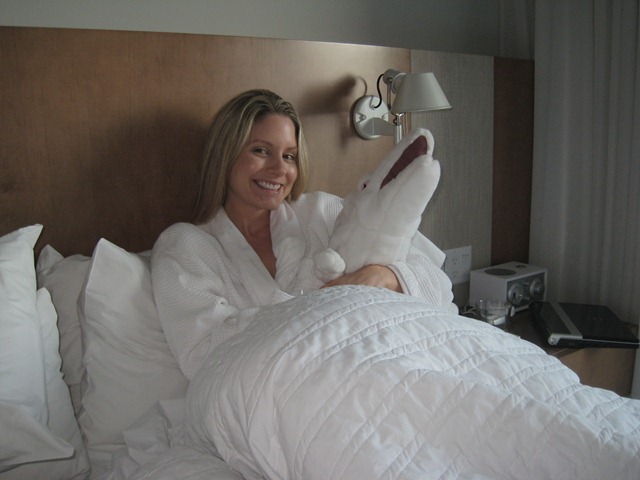 PS- I LOVE American television!!!!! Oh man, there are soooo many things to watch! I don't think I would ever leave my house…haha. ;)
Finally, we pulled ourselves out of bed and got ready for the Sublime meet-up!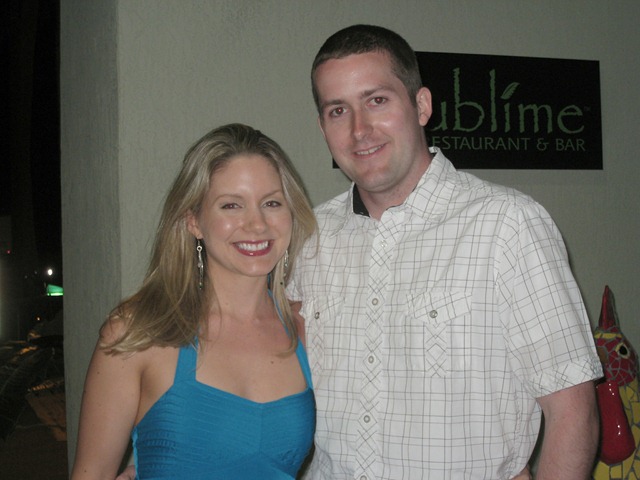 Here is the group trying to smootch the rooster ;) [tip- don't try to sit on the rooster. It is made of mosaic glass and hurts! lol]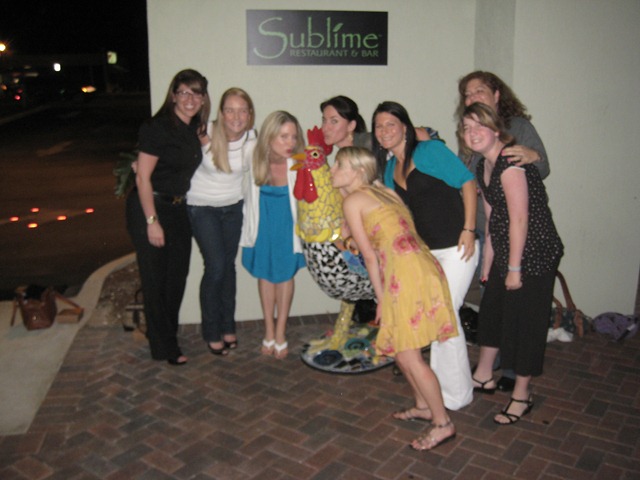 Everyone was so nice!!!
A table shot…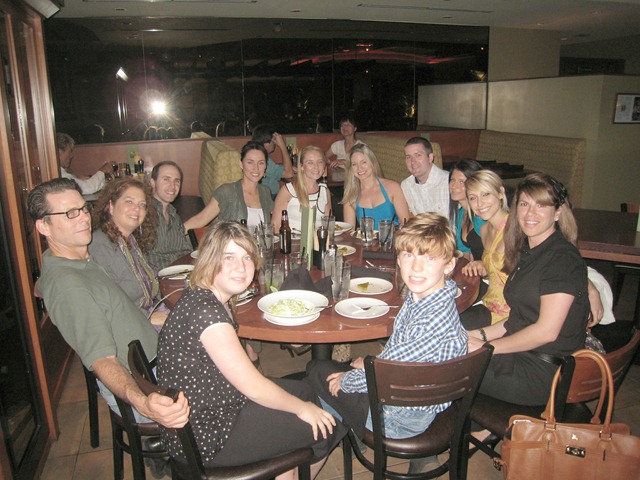 Starting with me going counter-clockwise: Me, Lesley, Eliana, Marc, Jewel and family, Jelena, Stacey, Kelly, and Eric! :)
It was such a fun and lively group! We had a ball. :mrgreen:
Now onto the food!
Lesley and I split the Frito Misto – crispy cauliflower, sweet chili sauce, sesame seeds. Everyone raves about this as being the best dish in the restaurant!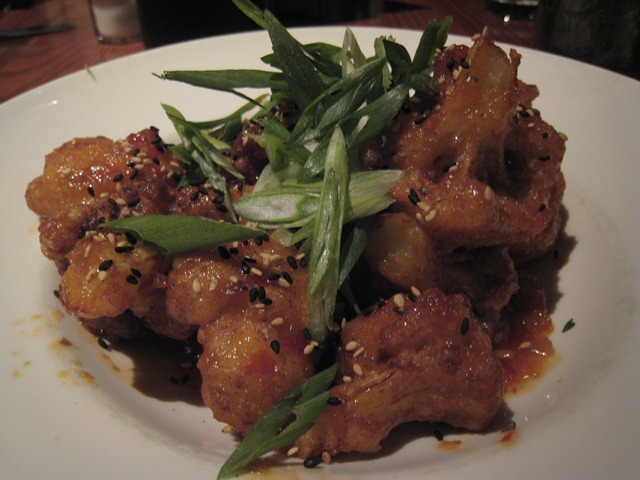 Needless to say, it was amazing. Picture sweet and sour chicken balls, but made with cauliflower pieces!!! So cool.
Compliments of the chef- some corn pesto 'bread' It was quite tasty!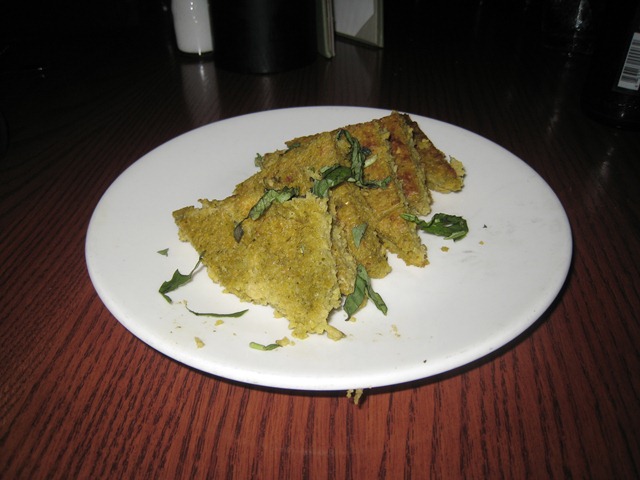 For the main course I got the Bangkok Raw – bok choy & Napa cabbage, cucumbers, peppers, carrots, broccoli, cilantro, basil, mint, garlic-ginger sauce
I knew that I wanted to eat something very healthy for my dinner, given our wild night last night. ;) I had it with a slice of Eric's pizza as well as the mushroom pizza given to me by Kelly and Stacey.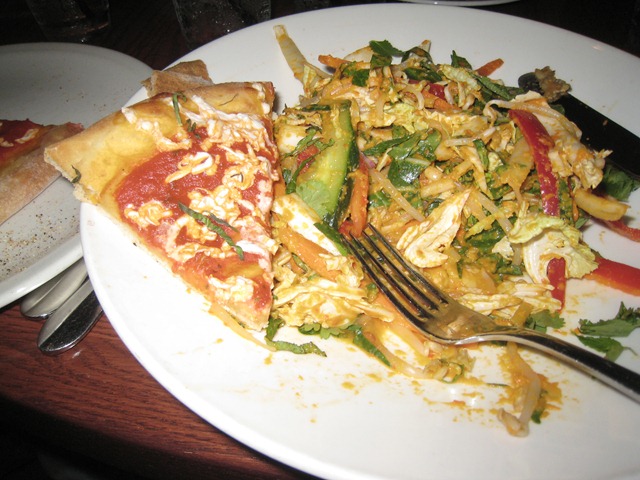 YUM!
Fun fact- Pamela Anderson loves this restaurant and frequently visits.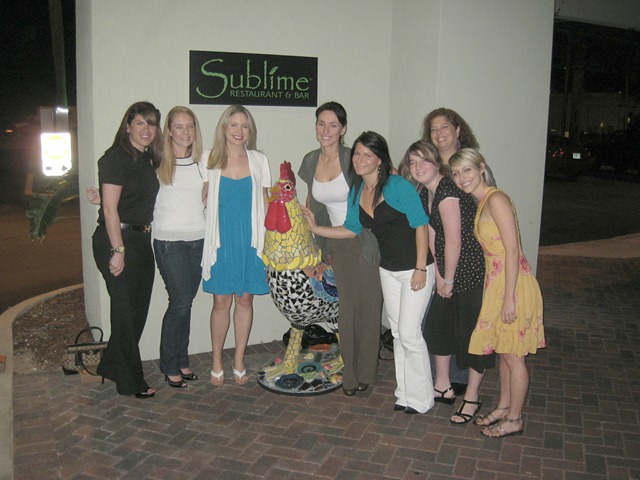 It was such a fun time. I am sad because I won't be able to see these wonderful ladies for a long time! :(  I slept a solid 8 hours and feel like a million bucks today! Whohooo.
I woke up to this…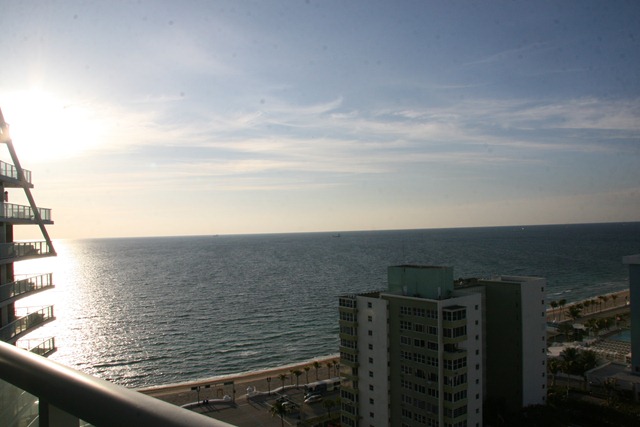 and was super excited to go for my first run along the boardwalk!!! I got up grabbed a Glo Bar and hit the road.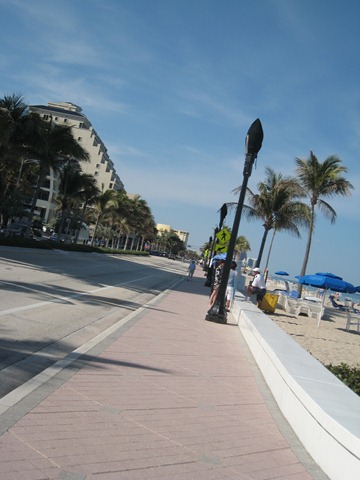 I ran for 45 minutes up and down the boardwalk. It was SUPER windy out there! I have no idea how far it was, but I was going pretty fast. I stopped at CVS and got a water half way through the run that was soooo needed.
There were tons of people out walking and running, eating breakfast in the outdoor cafes…it was so much fun. I ran by this elderly  man and he starting clapping and cheering when I ran by…he was like whohoo! It was SO FUNNY.
Then I saw this other man walking with a parrot on his shoulder!!! So random. When I ran by, the parrot looked at me and simply said, 'Helllllloooooo'. Yea, I almost died laughing. :mrgreen:
It was such a great run…the best part was when Taylor Swift's song 'Today is a Fairytale' came on and I blasted it. Yes, I'm a total nerd, but I love that song!!!! It is great to run to. ;)
We are off to checkout and then to an outdoor cafe for a very late breakfast. We decided to skip West Palm Beach because we got a great deal on another hotwire hotel in Ft. L. We love it here and wanted to stay 1 more day! Better get going…
I will try to post later tonight in the new hotel. Enjoy your day! :)