Good morning!
Ohhhh Saturday mornings are my absolute favourite time of the entire week! Eric and I watched some cartoons and ate cereal. Good times. :mrgreen:
I realized this morning that I have been keeping something from you all. Well, two things actually.
The first one is what I like to call Fudgsicle Soft Serve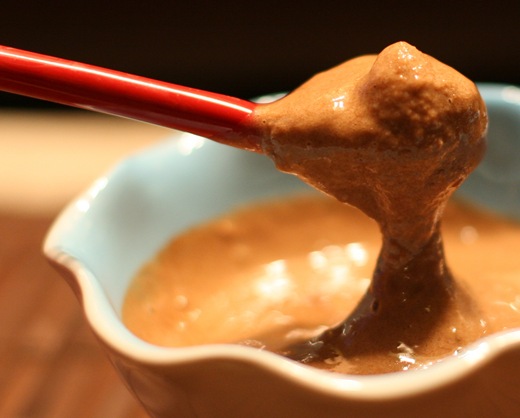 Oh yes.
1 large frozen banana, a glug of almond milk, and 1/2 tablespoon of cocoa powder! It tastes just like a soft, melting fudgsicle. Process in a food processor for a couple minutes and…BOOM.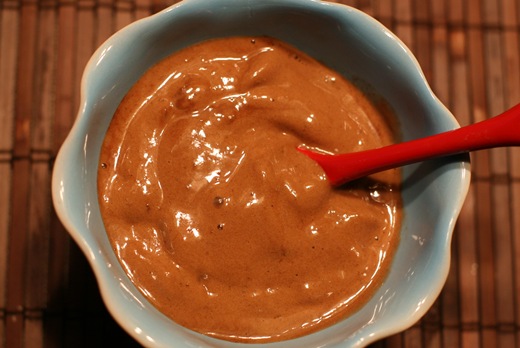 Now onto salad talk.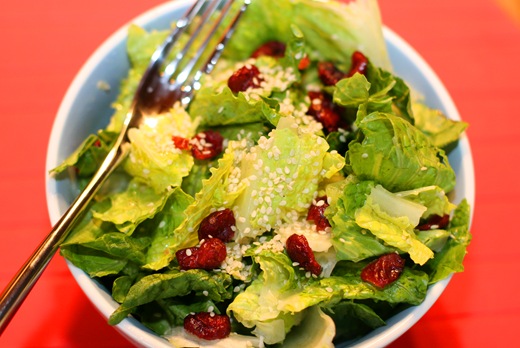 Salads are a staple in my diet. I love experimenting with different toppings and dressings. The lettuce is really like a blank slate- what ever you decide to put on it always comes out fabulous.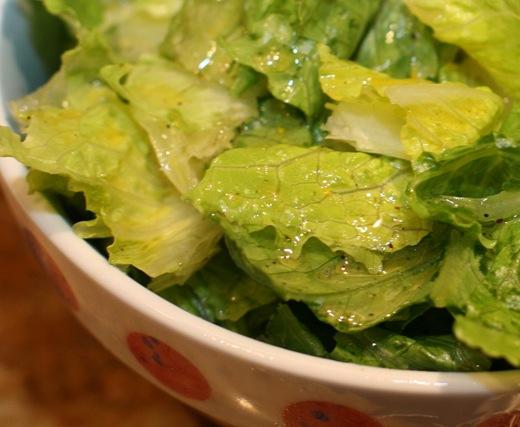 Better Than Bottled Balsamic Vinaigrette
The easiest and most delicious homemade dressing I have ever made!
Adapted from Dreena Burton's Eat Drink & Be Vegan 'Back-to-Basics' dressing.
Ingredients:
2.5 tablespoons balsamic, white, or red wine vinegar
2 tablespoons apple cider vinegar
1 teaspoon Dijon mustard or regular mustard
2 tablespoons pure maple syrup
1/4 teaspoon sea salt
Ground black pepper to taste
1/2 minced clove of garlic (optional)
2 tablespoons extra virgin olive oil
Directions: Toss all ingredients into a bowl and whisk! Makes about 1/2 cup of dressing.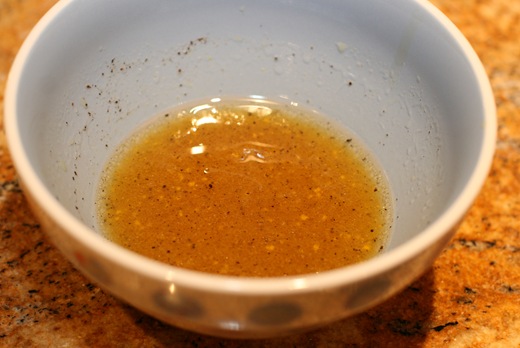 This was sooooooo easy. I can't believe I bought bottled stuff for all those years!
This dressing has an array of delicious flavours:
sweet– maple
tang– vinegar
Buttery and smooth– olive oil
It is SO GOOD!
I had a hunch this would pair perfectly with some dried cranberries. I also sprinkled on some sesame seeds for fun.
The next get together I host I am definitely going to make this dressing. It tasted like a gourmet salad!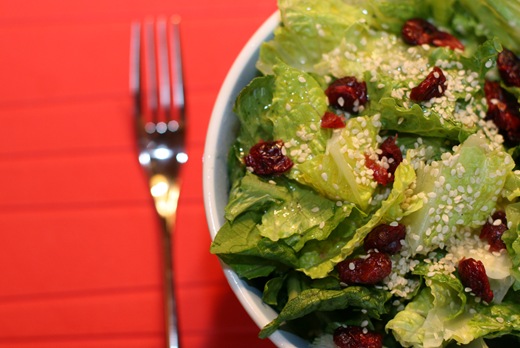 Confession #2:
I have recently weaned myself off a long fat-free salad dressing kick.
I bought the fat free stuff for years and years. I was a die hard fan…even though I admit, I couldn't pronounce many of the ingredients on the bottle.
I always thought that if I used the regular stuff with oil I would be consuming too many calories. But you know what I discovered? A little bit of the GOOD stuff- with fat!- is much more satisfying than drowning the salad in fat free dressing. I have just a couple tablespoons of this homemade dressing on my salad and it is perfection. The olive oil gives the salad more satiety too.
When you use the real stuff, less is more.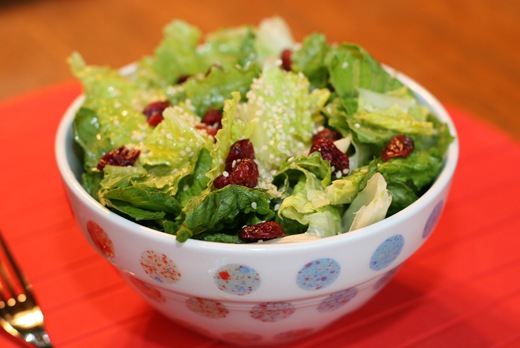 I used to be the fat free QUEEN, my friends. I bought fat-free cheese slices, fat-free yogurt, fat-free ice cream, fat-free cool whip, fat-free candy, fat-free cookies, etc!
It is quite funny because now I eat a ton of healthy fats in my diet, from avocados to nut butters, chia seeds to olive oil. I never used to eat any of these things in the past because I was scared of the fat. My poor body was deprived of healthy fat for years. Luckily I am making up for lost time! :mrgreen:
~~~
I'm off to shower and then hit the road to meet Krissy at a huge outlet mall. So excited!!The perfect activity for this rainy Saturday.
At least the snow is almost gone…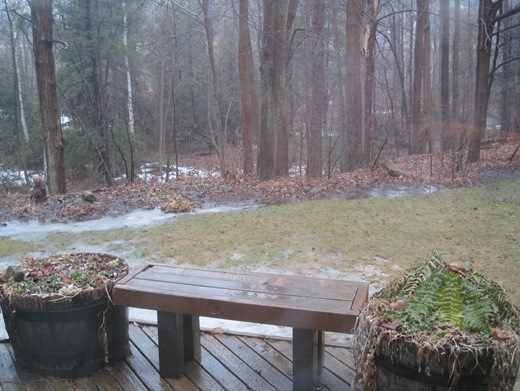 Have a Fabulous Saturday!

Happiness is a way station between too much and too little.
~Channing Pollock