Top of the mornin' to ya!
Despite my horrible sleep on Tuesday night, I slept like a log last night. 
Don't you find that sleep after a bad night's sleep is always so restorative and deep?
It's the same with workouts the day after a rest day…they are always strong!
And don't cravings for salads and fruit suddenly appear after a weekend of unhealthy fare?
Our bodies always find a way of balancing it all out! It is amazing when you think about it.
One of the best lessons I ever learned was to TRUST my body. My body is smart and so is yours. It knows how to function. The reason we get into trouble is that we start to second guess what our body is trying to tell us. We ignore that little voice that says, 'Your leg just doesn't feel right, you shouldn't go for that run' or 'You are hungry and should eat more today.'
We are taught to ignore our bodies signals.
I talked briefly the other day about how my hunger that was off the wall. I felt like I had a hole in my stomach! In the past I would have ignored it and not allowed myself to eat more. This would often lead to a binge.
Now, if I am hungry I allow myself to eat more. I don't binge anymore and I haven't in probably 3 years. Sure, on occasion I still may overeat (I'm only human and I love food!!!), but I would take this any day over bingeing and the extreme guilt that comes with it.
Trusting my body seems so obvious to me now, but it was such a hard concept for me to learn after years of depriving myself.
Onward to my morning!
This morning I was up around 5:45am after a solid 7 hours sleep. After doing about 1.5 hours work on the computer with a warm cuppa, my body told me it needed food.
Vegan French Toast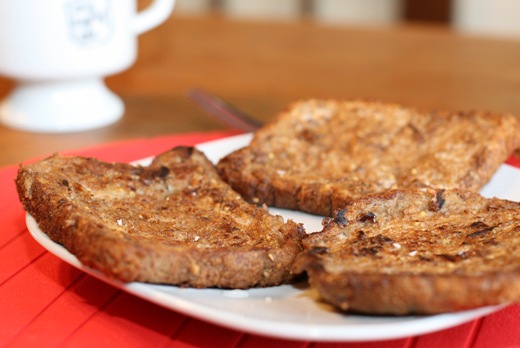 One food I thought I would never have again after going vegan is French toast. I came across a vegan French toast recipe and decided to give it a shot. This recipe is adapted from Vegan Coach. I was absolutely blown away by how similar this recipe tastes to the non-vegan version.
Ingredients:
6 slices bread
1 cup non-dairy milk
2 Tablespoons silken tofu  (I used 1 tablespoon coconut butter instead)
1 Tablespoons nutritional yeast
1 tablespoon sucanat or brown sugar
1 tsp. vanilla
1/2 tsp. sea salt
1/2 tsp. cinnamon
dash of nutmeg
EDITED to add: 1 banana!!!
Directions: Put all ingredients except bread into a blender and blend until smooth. Preheat a skillet with some oil (make sure to also use a non-stick pan!). Dip the slices of bread into the liquid mixture and then place onto the skillet. Cook on both sides until browned. Serve with fruit and pure maple syrup if desired. Serves 2-3.
The taste of the batter was fantastic! It reminded me a lot of regular French toast.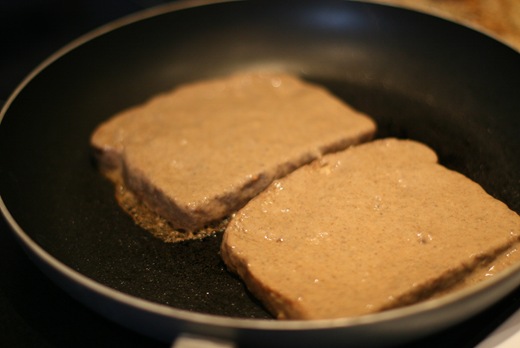 Make sure you use a non-stick pan and oil it really well.
Or this will happen…doh!!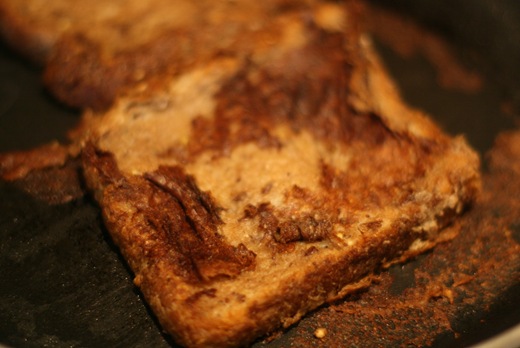 I'm not sure if this was due to my pan or to the batter, but my French toast never got crispy on the outside. I haven't had French toast in a long time, so I can't remember if it is supposed to be crisp or not! Anyone? :)
It also may have been due to my substitution- I used coconut butter instead of silken tofu.
Regardless though, it tasted fabulous.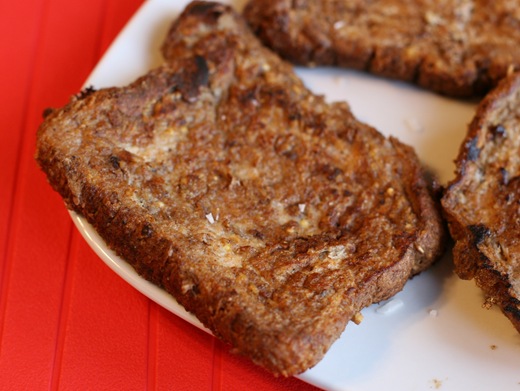 I thought it was going to need maple syrup or some nut butter to go with it, but it was just perfect plain! Eric really enjoyed it too.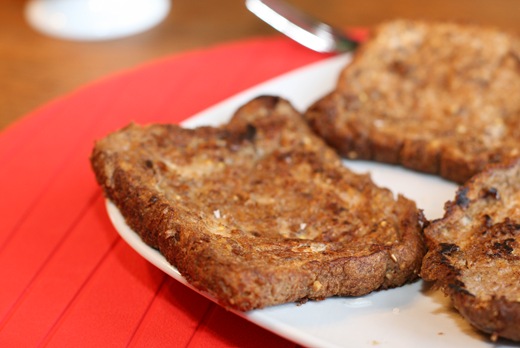 Tea was had…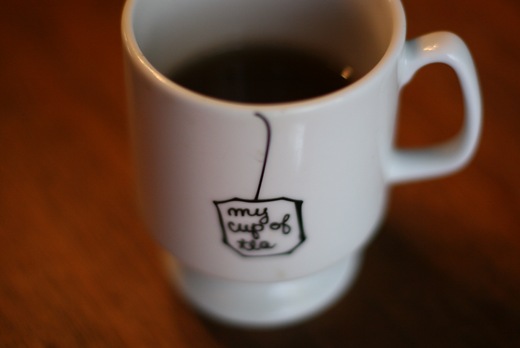 We shared a big bowl of juicy cantaloupe: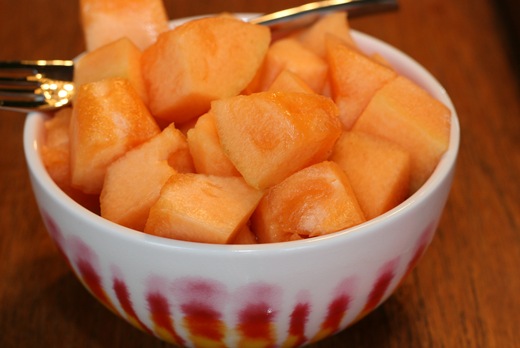 Just a quick note about Glo Bars:
Sold out glo bars have been replenished in the cart! 
Heaven, Refresh, and variety packs are also on sale 
Please note: The last day to place an order and have it shipped out before I leave for vacation is Monday March 15th!! If you need to stock up, now is the time as I won't be back to the bakery until early April.
Hope the sun is shining where you are!! :)

Not being able to sleep is terrible. You have the misery of having partied all night… without the satisfaction.
~Lynn Johnston