Happy International Women's Day!
To my mom, sisters, grandmas, girlfriends, and amazing readers- thank YOU for being amazing and inspiring women in my life.
Today was a crazy start to the work week. I had a huge stack of orders to tackle, stock to order, paperwork, a delivery, shipping, etc. Nothing like starting Monday off with a bang. It was a gorgeous 14C and sunny outside. Peeps were driving with their convertible tops down! lol.
The great news is that Fedex is working out like a DREAM so far. I received a few reports from US customers that their packages arrived in just 3 business days!!!!!!! Amazing. This makes me so happy. I only wish that I switched to Fedex sooner.
My appetite was through the roof today. I probably ate twice as much as I normally do. I used to fight my hunger on days like this, but I have realized that it is better to honour my hunger instead. Obviously, if I am ravenous all day long it is probably for a reason and my body must need the fuel!
Dinner was FUN…and most importantly, easy.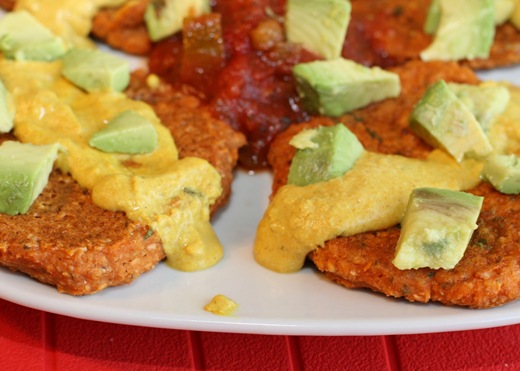 Mini Pizza Pancakes
Recipe adapted from Heather Eats Almond Butter
Ingredients:
DRY
1 cup regular oats
1 tablespoon Italian Seasoning
1 teaspoon nutritional yeast (optional)
Dash of S & P
1/2 teaspoon baking powder
Dash of paprika
Sprinkle of dried parsley
WET
2 tablespoons tomato paste
1 clove minced garlic (optional)
1.5-2 cups water (depending on how thick you want the pancakes)
2 tablespoons ground flax or ground chia seeds (I used ground chia seeds which seemed to absorb more water and my batter was very thick!)
Directions: Process the oats in a blender or food processor until they form a flour consistency. Mix together the dry ingredients in a medium sized bowl. In a small bowl, whisk together the wet ingredients. Add the wet ingredients to the dry and stir well. Pour mini (they will be easier to flip) pancakes onto a pre-greased and pre-heated skillet. Cook on medium heat until pancake is firm enough to flip. Try not to flip them too early like I did and make a big mess! Cook on remaining side until browned. Serve with Mae's humnut sauce, salsa, and avocado- or whatever pizza toppings you desire! :) Makes about 7 thick, mini pancakes (3 inches in diameter).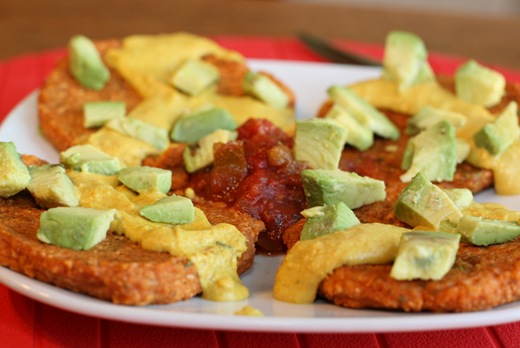 These were quite delicious!
The only problem I had with them is that I think I made the batter too thick because they didn't cook enough in the middle. Next time I would use more water (2 cups instead of 1.5) and see if that helps make thinner pancakes which would cook faster. I used ground chia seeds, so I am not sure how the consistency of the batter would be using ground flax. I think that chia seeds absorb more water so that is probably why I had to use much more water than I anticipated.
I also think that stir-fry veggies would be fabulous over these pancakes. Pepper, zucchini, carrots, etc.
Eric even enjoyed it and I thought there was no way he would eat them. Must have been the ZAAAAAAAH (in our house, we call pizza 'zah').
Zahhhhh Burger!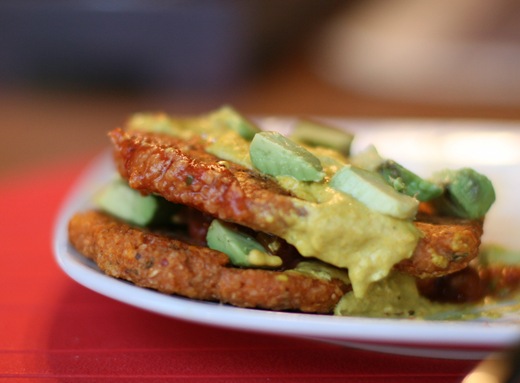 No workout for me yet today! I am feeling very unmotivated so I might take my second day off in a row. I am going to play it by ear and see what the night brings…
Updates:
I thought I would do a fun quiz tonight about social media and its' place in your life!
Do you use the following and if so, how often?
Twitter
Gmail Buzz
Texting
iphone
Instant messenger (AIM, G-chat, MSN, etc)
Facebook
I'll begin!
Twitter- Yes, daily…I initially resisted it, but now I love it and see that it has so much value.
Gmail Buzz- I tried it out, but I can't get into it.
Texting- I cancelled the data plan on my cell to save money…so nope!
iphone– I have an ancient Blackberry the size of a football :mrgreen:
Instant messenger (AIM, G-chat, MSN, etc)- I use G-chat once in a blue moon
Facebook- I log on about once or twice a month.