Happy Friday!
Wasn't The Office hilarious last night? Definitely one of the best episodes of all time.
It is Beeee-u-tiful outside today in Southern Ontario! What a mood booster. :) I am hoping to get outside today for a run on my lunch break. Spring is on its' way!!
I had this great Purple Monster for breakfast: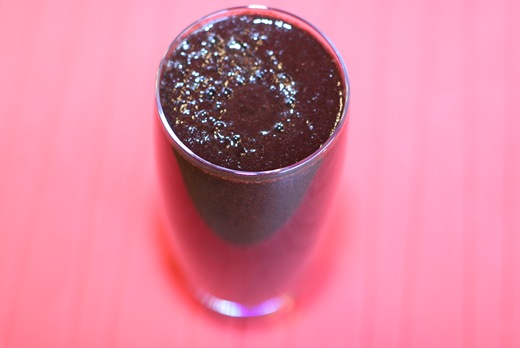 It included: Spinach, hemp milk, Manitoba Harvest Hemp Protein powder, Amazing Grass Wheatgrass, BEET, frozen banana, tsp maca, ice.
Strength Vs. Cardio:
Yesterday I decided to do my strength workout before my run. I was inspired by our conversation the other day about benefits of doing strength training first or cardio first.
The majority of you thought that you should train first what you want to work on the most. So if I am training for a half marathon, I should run first and ensure that I can run strong.
After thinking about it some more, I decided that variety is best for me right now. Why not mix it up? Some workouts I will run first and some workouts I will strength train first. I think that will keep my body challenged and always guessing.  Mind you, I often don't do both on the same day, but occasionally I do (maybe once a week?).
I also probably wouldn't strength train on a day that I had scheduled a difficult speed work session. I think that is setting my body up for injury.
Yesterday I decided to try my strength training first and see how I did on my run afterwards. I always used to do my run first and then strength second so this was going to be a challenge for me…
The Strength:
I did the Booty Camp Fitness DVD Advanced level which is a 55 minute full body workout. It includes a warm-up, stretching, leg workout, arm workout, core workout, plyometrics, and a cool-down + stretching. It whoops my booty. After the video I was doubtful if I was going to be able to run, but I was actually surprised once I got going. I decided to start off the run at a really easy pace and see how I felt.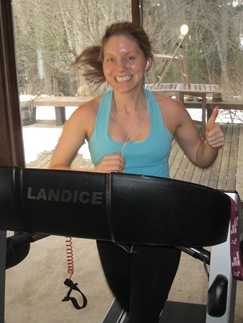 The run:
Mile 1: 6 mph, incline 1% (I felt great so I upped the speed to make it more challenging)
Water break
Mile 2: 7 mph, incline 1%
Water break
Mile 3: 7.5-8.5 mph, incline 1% (very hard mile)
Total time: 26:34
I actually felt pretty loose and my muscles felt much warmer than they do when I normally start a run. I think this is a sign that I need to warm-up longer when I do cardio first!
Another option is to strength train only my arms on run days.
Health News Round-Up
It has been a while since I did a Health News Round-Up! Months, in fact. I thought I would bring it back as a weekly feature to the blog.
Here are some health related posts that I enjoyed reading this week:
What were some of your favourite stories, articles, or posts this week?
I'm off for a very busy day of work. I hope you have a wonderful end to your week!

Insist on yourself. Never imitate.
~Ralph Waldo Emerson