Greetings! :)
I had so many hiccups with work today. It was just one. of. those. days. I won't bore you with the details though…!!
If there is one thing having my own bakery has taught me, it is that my own personal meals need to be QUICK, easy, yet still nutritious.
After a slight set back during clean up (I spilled a huge bag of GF rice crisp all over the kitchen! DOH!!!!!!!!), I dove into dinner mode.
I am on a huge savoury oats kick. I am really smitten over something when you see it on the blog more than once or twice. [See here and here for my first two successful attempts.]
Tonight my goal was to make the creamiest and cheesiest bowl of savoury oats yet. Did I just say cheesy? Why yes I did, and its' name is nutritional yeast! Nooch for short. ;)
Sneaky Peaky…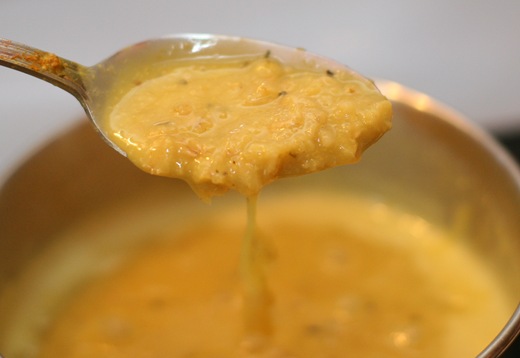 Chia seeds were my best food find in 2009. My best food find in 2010 is nutritional yeast (so far anyways!). Although I started to use nutritional yeast in 2009, I didn't really appreciate it until recently!
What is nutritional yeast?
"Yellow in color and with a nutty cheesy flavor, nutritional yeast is an inactive yeast that is a favorite amongst many vegans because of its unique flavor and similarity to cheese when added to foods. Sprinkle some on hot popcorn or garlic bread, or add a generous spoonful to a stir fry or pasta sauce. Nutritional yeast can be found in the bulk foods or supplement section of your health food store. [Source]

"It is a source of protein and vitamins, especially the B-complex vitamins and is a complete protein. It is also naturally low in fat and sodium. Some brands of nutritional yeast, though not all, are fortified with vitamin B12.' [Source]
Nutritional yeast is a great way to reduce your cheese consumption, yet still create fabulously cheesy and decadent dishes! It is basically a vegan's dream, but anyone with any diet can incorporate this into their meal plans.
This was by far my favourite bowl of savoury oats…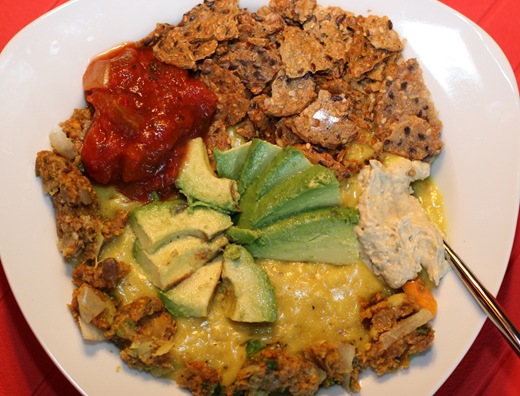 'You're So Cheezy' Savoury Oats
Ingredients:
1/2 cup regular oats
1 cup water
1/2 cup almond milk
1 tablespoon olive oil
1 tablespoon nutritional yeast (the cheeze factor!)
1/6 block vegetable bouillon cube (or to taste!)
Dash or two of turmeric
Dash or two of the little black dress of seasonings (see below)
Salt, if necessary
Directions: Mix all ingredients together in a pot and bring to a boil. Reduce to low and cook for 10 minutes, stirring frequently.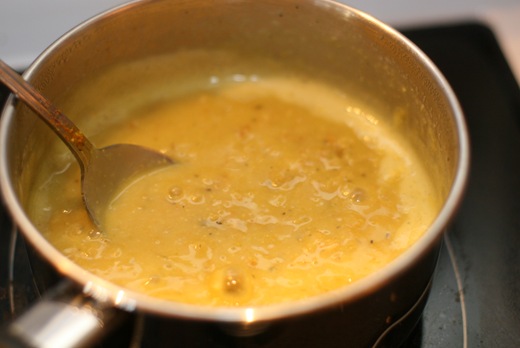 Best Buds: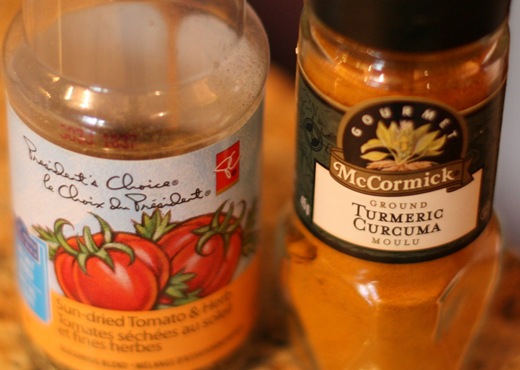 Creamy goodness. You will not be disappointed when you try this.
I couldn't find the new Mary's twists in Whole Foods the other week! Hope they arrive soon. Anyone tried them?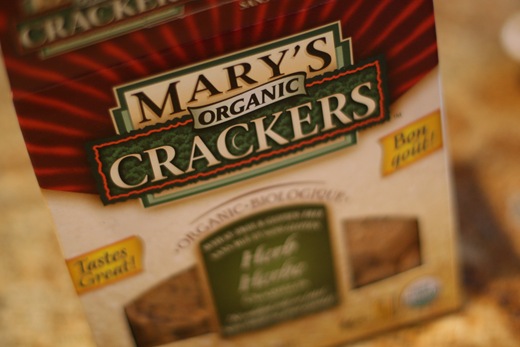 Toppings:
Mary's Crackers, crunched up
1/2 avocado
Salsa
Veggie burger flop from last night (it tasted BAD today! blech!!)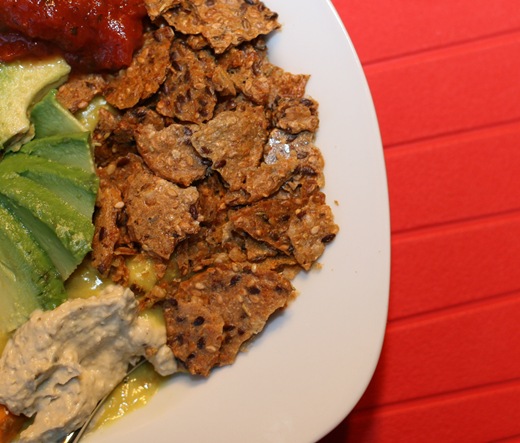 Steam coming off the spoon!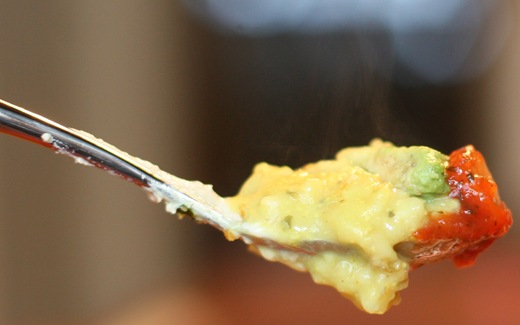 Thanks to those of you who suggested adding nutritional yeast to my oats!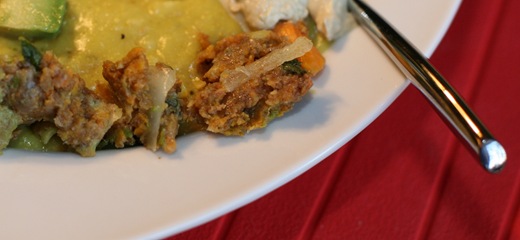 There are really no words for this. But I'll try. :mrgreen:
It was the most beautiful and decadent tasting dish I have had in a long time. Yet healthy, vegan, and packed with superfoods! You could even add a tablespoon of chia seeds to the oats for an extra kick if you are feeling down right crazy.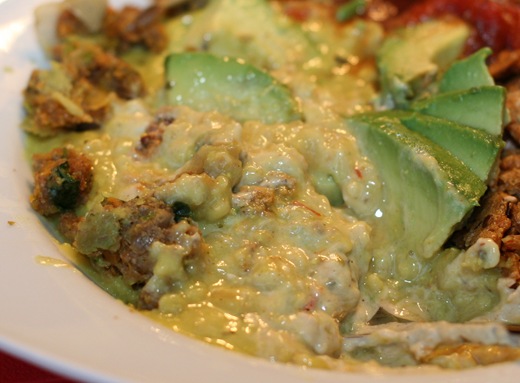 BOOM: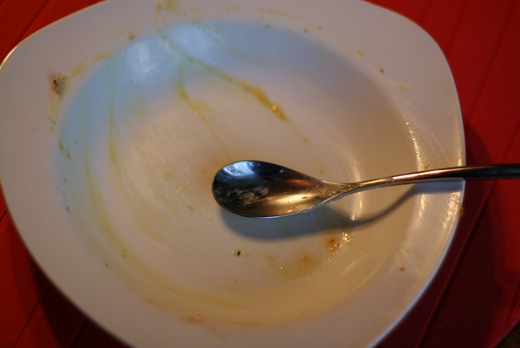 Eric and I have this inside joke between us involving the word BOOM. If you have seen the movie Couples Retreat you will know what I'm talking about. In one scene the yoga instructor teaches a class to the couples. He twists and bends the women's bodies all over the place and as he moves their body, he says BOOOOOOOOOOM in this really creepy voice. It is just hilarious and we were dying laughing as we watched it.
Anyways, now Eric and I always say BOOOOOOM at random things and we laugh our heads off. Eric saw that I wrote boom in Sunday's post and he said, 'No one is going to know why you say that you weirdo!' lol. So…FYI!
Dessert- dried organic apricots. Booooooom.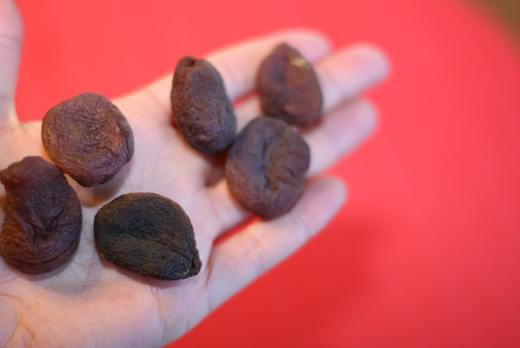 Nature's iron supplement, I call these!
What is your best food discovery (or favourite meal) so far in 2010?
Updates:
A Glo Bar giveaway over at Fit This Girl! 
This morning's Peppermint Pudding was featured on FitSugar today
Do you know a baby girl in your life? Check out Baby Enchanted's newest site just for girls called Trixi Lou Couture! Through the month of March, US residents receive $10 off any purchase of $50 or more. Just enter code OSG10 at checkout to receive this special offer. You can also check out their Facebook page here.
I'm off to workout. I wasn't going to, but after the stress of the day I really think my body will thank me for releasing some endorphins! Need to focus on how good I will feel afterwards…think happy thoughts…

Take calculated risks. That is quite different from being rash.
~George S. Patton