Friday once again!
Does anyone else find that Friday workouts are always easier? I find that Monday is always the hardest and Friday is always the easiest. I just have a bit more kick to my step on a Friday.
Lately I have been incorporating some speed work into my runs. I haven't done speed work since before my injury back in January 2009! Part of the reason why I think I got injured was because I was pushing myself way too hard doing 2 mile army fitness runs. I decided that I am going to work on my speed again- but do it in a safe way this time.
The run:
Few mins. walking warm-up
Mile 1: 6mph, incline 2%
Mile 2: Intervals (1/4 mile at 7.0 mph, 1/4 mile at 7.5 mph, repeat) incline 2%
Mile 3: Intervals (1/4 mile at 6.2 mph, 1/4 mile at 7.0 mph, repeat), incline 1%
Mile 4: Repeat mile 2 intervals
Mile 5: 7.2-7.8 mph, bringing incline down to 0%
Walking cool-down
This run was tough but very satisfying! I did 13 poses for runners and some yoga afterwards. Felt so good to stretch! I find running makes the muscles sooooo tight. I often don't realize how tight my muscles are until I stretch.
Tomorrow will be my 3rd rest day of the week. I have an exciting 10k on Sunday with a couple girlfriends so I need to rest up!
Feeling Feisty Loaded Mexican Oatmeal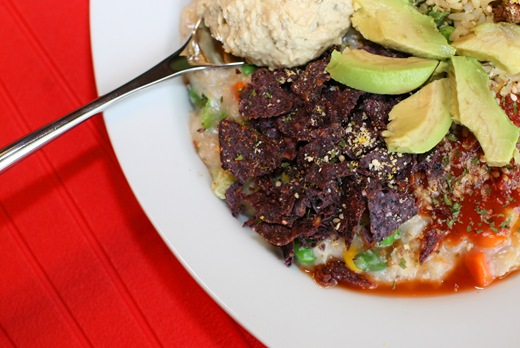 This is a spin-off of the Loaded Lunchtime Oatmeal I made a while back. I was feeling like Mexican and this little creation was born!
Ingredients:
1/2 cup regular oats
1 cup water
1/2 cup almond milk
1/3 cup frozen veggies
pinch sea salt
Black pepper
Touch of EVOO
1/2 scoop Manitoba Harvest Hemp Protein Powder (optional)
Toppings:
Salsa
Tortilla chips, crumbled up
Rice
Veggie burger, crumbled up
Dried Parsley
Hummus
Directions: Throw oats, water, milk, frozen veggies, and seasonings into a pot and stir. Bring to a boil and cook over medium to low for about 8-10 minutes. Pour into a bowl and add toppings. Enjoy your Mexican getaway without leaving the house!
Naked Oats!
Let's get these oats dressed for lunch…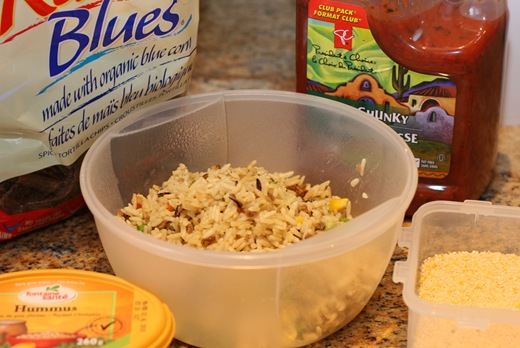 Much better.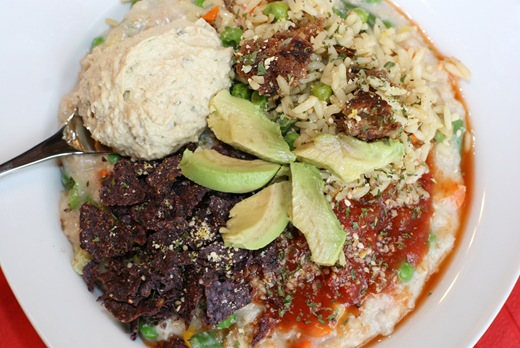 For anyone who is squeamish about trying savoury oats, my suggestion is to put your fears aside and dive in!
If you just think of the oats as another grain like rice or quinoa, you can really add anything you want to them.
I like to think of the grains in my meals as like a pair of long johns– on their own they are nothing to write home about, but once you add some layers everything comes together!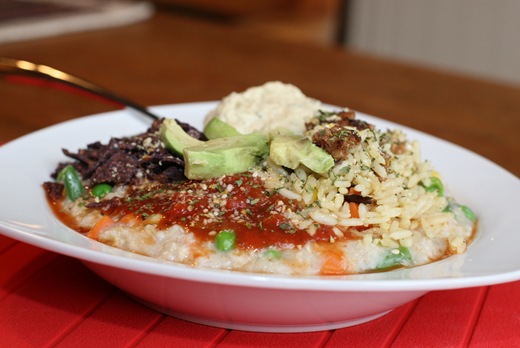 Satisfying in every way imaginable. I will be making this on a weekly basis for sure.
Can you tell I have had avocados to use up this week?? I made Green Goddess Pizza, Choco-cado Pudding, and now this. I'm not complaining! ;)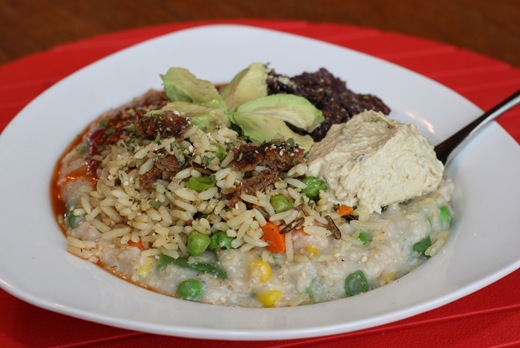 A burrito on a spoon: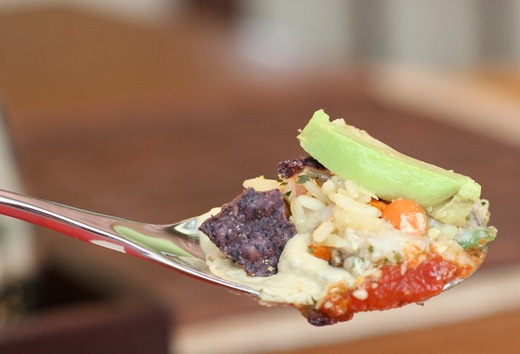 Mmmm.
Updates:
Do you have a health or food blog and would like to be a part of my blog resource list? See this post for details. The reason why I am creating this list is because there are so many amazing blogs out there and I want everyone's efforts to be recognized in one spot! Your blog can be small or big, it really doesn't matter!
Are you interested in attending a meet-up in March in Florida or Toronto? See the bottom of this post for the dates and locations.
Size Healthy Around the Blog World:
Ok back to work for this kiddo. I'm baking orders as well as glo bars for a fun charity donation today.
I will be streaming the USA hockey game on my laptop this afternoon. Going to be fun stuff!