Good morning!
A quick note- Run and Renew Glo Bars are available in the cart once again! Thanks for your patience.
Thankfully I did not have any regrets yesterday after my decision not to race. My muscles in my legs were quite sore all day long and I just didn't feel myself. I took it easy and had a nice Sunday!
What a hockey game last night!! It was a heartbreaker, but I really think Miller deserved that win last night. He was smokin, wasn't he?
I had so much fun going through all of your Size Healthy submissions. What an uplifting feeling! I am just imagining so many of you looking at the tag and smiling each day because that is what I have been doing myself.
My friend Jess was so excited she made a TrulyJess styled inspirational video:
How amazing is she!
Her jeans: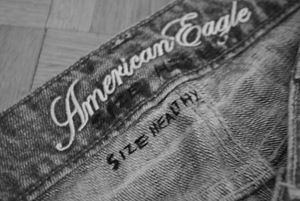 Tiina from Finland wrote:
I do feel pressure but I guess the pressure is much bigger in the States and Canada. Here in Finland the pressure to be size 0 is not same as in e.g. Hollywood but still we do have skinny models in magazines and I feel like clothes today are smaller than they used to be. For example,  today's size L (US 8) is the old M(US 4) or S (US 6).  So I have to buy larger clothes than normal.  Is this because the fashion industry wants us to think we are too big? Not everyone has to be like catwalk models.
Here, normally, nobody asks about your size. But people measure you by their look. We have tons of magazines about how to lose wait and leave healthy. I do understand the tips from the media on how to eat and leave healthy as some say Finnish people are the fattest nation in the world (I don't agree).  But sometimes it gets overboard.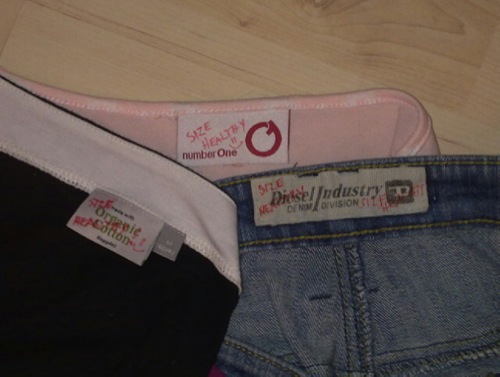 Monica wrote:
I am loving this "Size Healthy" idea. I just told my mom the other day that I needed pants, but didn't want to buy them because I don't want to buy anything in the size that currently fits me :( Well, forget that number – it's size healthy now!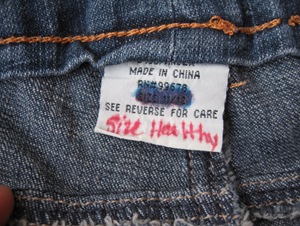 Paige said:
Hi Angela! I think your size healthy post is such a cool idea. Hope it's not too late to get in my "size healthy" picture in to you.
This is on a pair of my Banana Republic jeans. In my opinion, this store is the epitome of vanity sizing.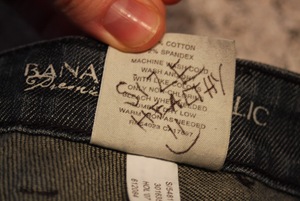 Heather: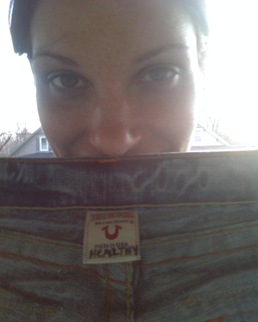 Morgan wrote:
Thanks for the awesome contest!  It was a great reason for me to write this post.  Even though I've always been skinny, that didn't mean I was always healthy.  So the size on the pants really was NOT an indicator that I was doing right by my body.  For me – size really does not matter!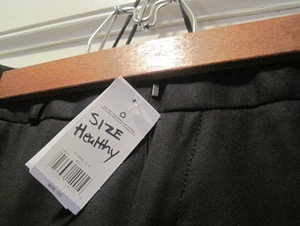 Liz: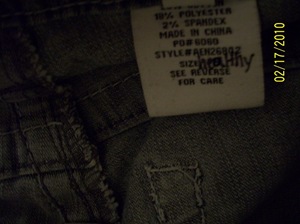 Melanie wrote:
I know I didn't write it on my tag but I got a little creative and thought, "Why not show it to the world?!" Wear "Size Healthy" on my belt. Let everyone know I'm healthy – stretch marks and all!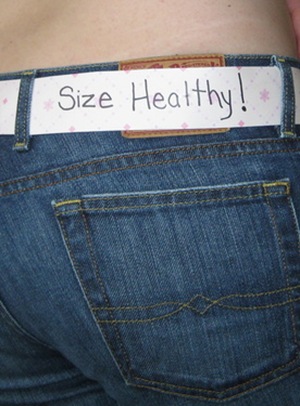 Michelle: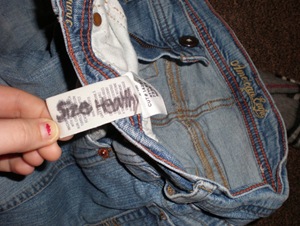 Joy wrote:
This was actually a hard challenge for me because I cut sizes out of
my clothes when I buy them – but these are new leggings to wear under
my run shorts.
And to answer your 3 questions
Do you think there is too much pressure on women today to attain that
size 0 or even 00? Yes – I am miserable if I am not XYZ sized
What do you think about vanity sizing?
It makes me NUTS!
Have you ever been asked by someone what size you are?
ALL. THE. TIME!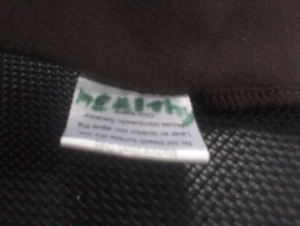 Angela, thank you so much for doing this contest…even if I don't win, I'm so excited to cross out the size of everything I own and write "healthy" instead!  What a great reminder :)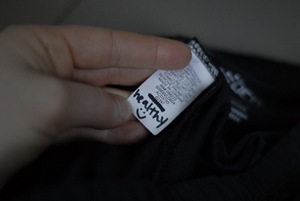 Click below for the rest of the post!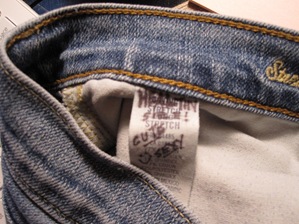 Kelly wrote:
Here is my Size Healthy pic.  It is absolutely true, and actually really frustrating that even different styles within the same brand might have different fits – meaning you have to try on each and every pair, knowing that you might be a couple of sizes up or down in each one.  Wonderful idea!!  :) 
I will also post a link to your post on my tumblr blog: pugtails.tumblr.com  this is the post: http://pugtails.tumblr.com/post/397469061/size-healthy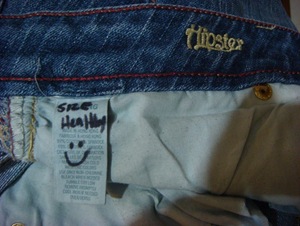 Sarah: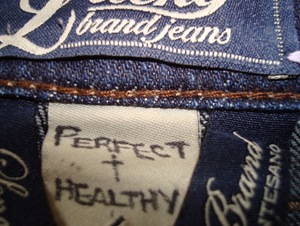 Ashley: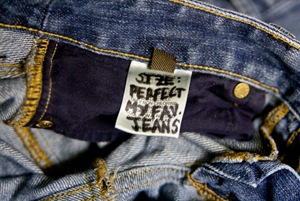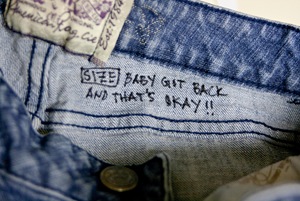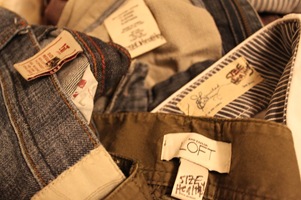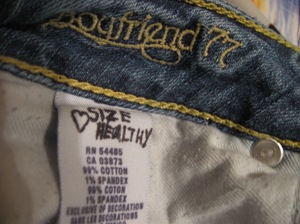 Brooke wrote:
Thank you so much the idea to write "size healthy" on our clothing tags.  I think it is so important to know that the numbers don't matter as long as we are healthy.  I have attached a picture of my jean tags with your inspirational message!
Thank you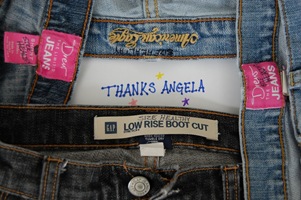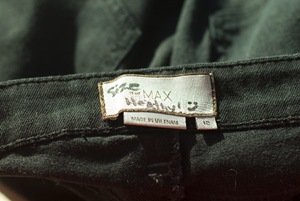 Courtney: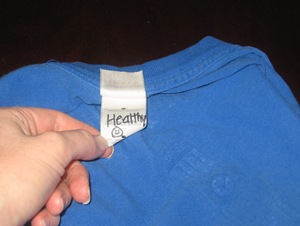 Jimena wrote:
Hi Angela
It was such a good idea and I decided to start with my favourite t-shirt that reads
¨Je suis Belle et Superbe¨ it just boosts up my mood whenever Im down.
Wish You the best!
Kimberly wrote:
Yay for "size healthly"!!! My body has changed SO much since become pregnant with my first child and to be honest, it's not easy to see those numbers rise on the scale. BUT, I have never felt more beautiful, feminine, or sexy. Yes, sexy. Round belly and all. Size doesn't matter!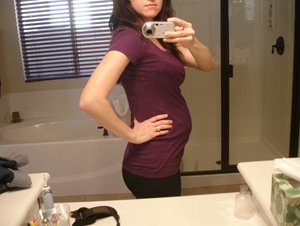 Kayzilla wrote:
These babies are actually a smaller size then the rest of my pants I own, but I never took much notice to them. All I care about is how comfortable they are… but, As the tag says,  still makes my booty look cute. Lol, am I vain or what! :P I don't mind though. I like 'em. They fit. That's how pants should always be.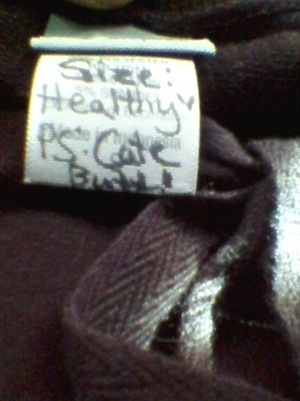 For the next week or two, I will be featuring a few bloggers every day who posted about Size Healthy.
Check out Size Healthy Around the blog world:
And now for the three randomly selected winners for Glo Bar gift certificates:
Sarah R.
Congrats!!!! Thank you to everyone who participated. Please email me (angela [at] ohsheglows.com) to claim your prize.
In other news:
March Meet-Ups:
March 7th: Toronto- lunch
March 22nd: Naples area, FL- dinner
March 24th: Ft. Lauderdale- early morning run + breakfast
March 26th: Orlando- dinner + bar
March 28th/29th: Sarasota- tentative
If you are interested in attending one or more of these meet-ups, please email angela [at]ohsheglows.com with the subject line MEET UP. Please tell me which locations you are interested in attending. :) Hope to meet you in March!
High ho, high ho…